Year:
2004
A week in the Bay Area has come and gone, and I'm back in my long black Neo-esque wool coat, lugging groceries home in the Seattle rain, fingers numb in my gloves. But no matter. Though it was delicious to have a full seven days with people I adore in what may well be the best part of this enormous country, nothing could match my contentment last night upon returning to my cold little apartment after midnight, cranking up the heat and a gritty old Rolling Stones album, unpacking my suitcase, putting everything in its place, and folding myself into my poofy white bed. This is how vacation should feel.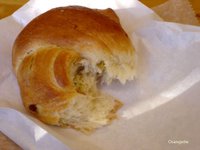 But as promised, you, dear reader, get the two-dimensional dregs of my San Francisco stay. From Arizmendi Bakery's eggy brioche knot flecked with cinnamon and golden raisins to Max's obscenely huge dark-chocolate-dipped macaroons (approximately one pound each and best if bought at the to-go counter and brought home for quartering and sharing), Dungeness crabs, and the Acme pain au levain and olive bread, it was a delicious week indeed.
And the holidays would be nothing without a few little adventures and last-minute errands for crafty present-related odds and ends, such as 9" red zippers at JoAnn Fabrics, where my very petite cousin Katie found the wall of cheap fake flowers very appealing.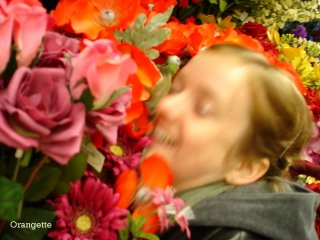 And while a snowy white Christmas is appropriate every now and then, I never object to a Christmas Eve walk at Tennessee Valley and out to the beach with the twins, all of us bundled ever-so-lightly in hooded sweatshirts and scarves.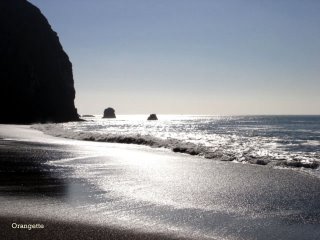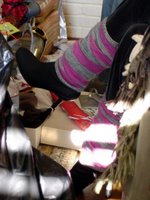 And as for Christmas morning, there was the requisite wearing of gift bows around our heads, and there were the oddly perfect gag gifts, such as my mother's legwarmers, carefully selected by Sarah and Jim. After all, every Pilates instructor needs pink-and-gray legwarmers to wear with her high-heeled boots (aptly and unabashedly called "fuck-me heels" in this family).
Best of all, my kitchen reeled in quite a load of gifts, such as a long-awaited pair of poultry shears (no more standing on my tip-toes for knife-handling leverage; no more breaking a sweat!); a sparkling white 9- by 13-inch French porcelain baking dish; Katie, Sarah, and Jim's The Little Family Cookbook; and an instant-read thermometer. There were also gifts for my geeky brain, such as Women Who Eat and Edward Tufte's The Visual Display of Quantitative Information. And there were gifts that shocked and awed in the best possible way, such as the twelve-quart stainless-steel All-Clad Multipot picked out for me by my half-brother David and his fiancée.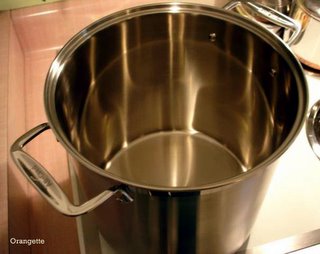 I'd always thought I'd have to wait for a wedding gift registry to get one of these heavy, gleaming beauties, but I apparently underestimated the generosity of my relatives. This may be the most luscious piece of steel I've ever seen. I held it and stroked its every curve and ridge. I'll be with this pot for the rest of my life, and that's a long time. Between me and this pot, it's till death do us part.
So it was only appropriate that I get it down and dirty that very night and put it, naturally, to the old trial by fire. Indeed, my new stockpot was perfect for whipping up the evening's first course, a double batch of apple and butternut squash soup with curry, cardamom, and mace. It's a recipe my mother has been making for years, and it's well-traveled, having led off a very raucous, drink- and dancing-filled French-style Thanksgiving dinner in Paris in 1999. Also in its favor is the fact that it's very, very simple to make, assuming that you're not averse to a bit of chopping and have some sort of blending apparatus handy. Smooth and warming with an undertone of curry, it's just the thing for a San Francisco Christmas dinner, or Seattle winter nights with young Mick Jagger.
Apple and Butternut Squash Soup
If possible, make this soup a day or two ahead; its flavors meld and deepen after a day or so of sitting the fridge.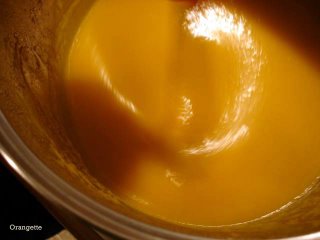 ¼ cup olive oil
1 2-lb butternut squash, peeled, seeded, and cut into 2-inch pieces (about 4 cups)
2 flavorful apples, preferably Gala, peeled, cored, and cut into 2-inch pieces (about 2 cups)
1 large onion, peeled and coarsely chopped (about 1 cup)
¾ tsp curry powder
¾ tsp ground mace
½ tsp ground cardamom
1 cup good-quality apple cider
1 quart chicken stock (vegetable works fine as well)
½ tsp salt
¼ freshly ground pepper, preferably white
Heat oil in a large stockpot over medium-low heat. Add the squash, apples, and onion, and stir to coat with oil.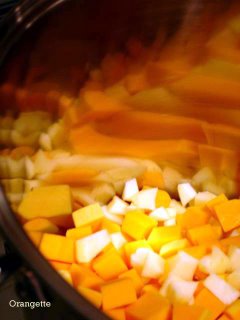 Sauté uncovered, stirring occasionally, for ten to fifteen minutes, or until onion is transparent.
Stir in the mace, curry, and cardamom, and continue cooking until the onion begins to brown.
Add the cider. Bring the mixture to a boil over medium-high heat, and cook for three minutes. Add the stock, lower the heat to medium-low, and simmer the mixture, partially covered, for another 35 minutes, or until squash is tender.
Working in batches, blend mixture in a food processor or blender until smooth (be careful to not overfill, as hot liquid could expand when machine is switched on, making a huge, burning-hot mess). Return soup to the stockpot. Reduce the soup, uncovered, over medium-low heat, to about one-fourth. Stir occasionally. Stir in salt and pepper, and serve hot.
Serves 4-5.