It's a bit after eleven. My apartment smells of frittata; the bed is pristine and pale green with fresh sheets; and my social calendar is recently ridiculous. A late Friday night home alone is fine indeed. This being-single thing is quite time-consuming: people to see, spontaneous things to do, loss of sleep to angst and scandal. It's fantastic. I think I'll do it for a while.
Tonight Keaton and I had dinner chez moi, a cozy plan for a chilly, off-and-on rainy evening. We broke open a bottle of Red Truck California Red Table Wine (not the most promising name, but perfectly drinkable) and settled into an evening of catching up. Dinner began with last winter's favorite broccoli soup, courtesy of Chocolate and Zucchini's Clotilde, sopped up with slices of the Essential Baking Company's Columbia Bread. Meanwhile, a zucchini-and-Pecorino frittata was browning slowly on the stovetop,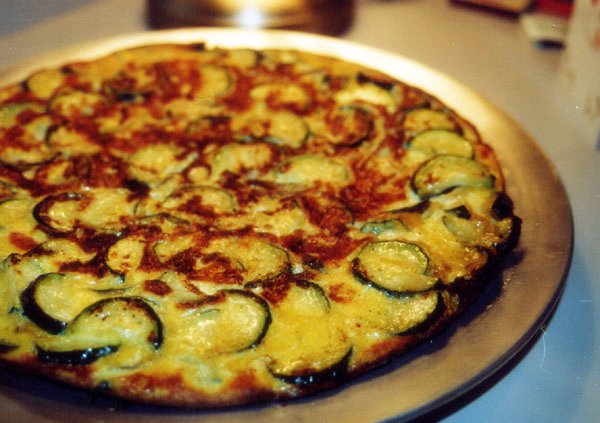 to be later sliced into wedges and served alongside halves of roasted delicata squash with olive oil and fancy-schmancy fleur de sel. And although Keaton complained of a tentative stomach, she put away a decent share of the last of the defrosted chocolate gâteau fondant de Nathalie. Along the way, the stereo provided accompaniment with a bit of Richard Buckner and then "What a Day That Was" from the Talking Heads' Stop Making Sense, for which I did an odd but appropriate running-in-place dance. Keaton did her part by gallivanting and gyrating with the poofy, cupcake-y, petal-pink dress I'll be wearing in my brother's wedding next May. I adore that girl, and not only for her dancing and eating abilities.
After all, it was Keaton who introduced me to the Old 97s one fateful day long ago in our nasty Mirrielees apartment with brown shag carpet. This past Tuesday brought them in all their indie country-rock glory to Seattle's Showbox, which meant that I got in a couple hours of my odd but appropriate "shovel dancing" and wistful gazing at lead singer Rhett Miller. Sadly, Keaton had begged off on this particular opportunity, having gotten mysteriously ill on recent outings to the Showbox, but Kate proved a willing recruit.
As pre-show fuel, Kate and I attempted to make a dinner of tilapia, a plan we reconsidered after shrieking and convulsing and threatening to go into the fetal position upon peeking inside its body cavity and glimpsing its weird white worm-like innards. Damn that man at the Asian market who didn't clean the thing thoroughly, damn him. Plan B was garlicky sautéed shrimp, garlicky sautéed escarole, and brown rice, along with some cheap and tasty Smoking Loon Pinot Noir.
And dessert was, of course, Rhett Miller. He's so pretty that he should be kept under lock and key. Short of that, he should at least be barred from looking at his audience so flirtatiously; as a married man with a child, he's being downright unfair. I'd be shocked if there were a single person in the audience—male or female, gay or straight—who wasn't pining for him by the end of the evening. Yours truly woke up Wednesday morning bright-eyed and bushy-tailed on only five hours of sleep, invigorated solely by the previous night's eyefuls of Mr. Miller. I tore through the day's editorial projects with unusual passion. Old 97s for Men of the Year!
So tonight, in a spirit of generosity, I regaled Keaton with recreations of my shovel dance—picture lots of grinding hip action and dirt-heaving arm movements—and vivid descriptions of Rhett Miller's red lips and sweaty girly hair. I sent her home with a leftover-frittata care package, and she generously bestowed upon me the rest of the wine. Now a bath and my bed await, and the promise of restorative sleep. Tomorrow I've got to buckle down with a cold frittata sandwich, volume five of A History of Private Life, and purposeful thesis-oriented thinking about solidarity and social security. I've been making merry entirely too much, but well, I think I'll do it for a while.
Zucchini-and-Pecorino Frittata
Adapted slightly from Torakris' recipe on eGullet
3 Tbs olive oil
1 red onion, halved and thinly sliced
1-1 ½ lb zucchini, thinly sliced into half-circles
2 Tbs fresh basil, chopped
6 large eggs (preferably free-range, please)
S & P
½ cup good-quality Pecorino Romano, grated
In a 12-inch nonstick skillet, heat 2 Tbs olive oil over medium heat. Sauté onions until wilted, about 5 minutes. Add zucchini and cook, stirring occasionally, until tender, about 10 minutes. Add basil and remove from heat. Drain in colander.
Crack eggs into a medium bowl and whisk with a fork. Add salt and pepper and cheese, stirring to mix. Add zucchini and onion and stir to mix evenly.
Heat remaining Tbs oil over medium heat. Add egg mixture, using fork to distribute evenly over pan. Reduce heat to low and cook until set, 12 to 15 minutes or so. Remove from heat and slide frittata onto a large plate. Place skillet over plate, and invert frittata back into skillet. Cook a few minutes more. Invert frittata onto plate to serve. Eat at room temperature or cold. Serves 6-8 as a first course or 4 as a main dish.