My weekend in the Bay Area wasn't entirely about traipsing around without a schedule and sleeping like the dead. I had work to do.
My mission, dear reader, was to serve as a bridesmaid to my childhood friend Jennifer, who I've known since I was three and she was five, when our backyards butted up against one another and we met over the fence. Together we terrorized more than one hapless babysitter, not to mention the other neighborhood kids we'd frighten by blacking out our teeth with stage makeup and dressing up in the dregs of an old Dolly Parton costume. We also had our own "radio" show, recorded on junky cassette tapes, featuring DJs Alfonso (me, of course) and Bock n' Bowl Jennifer and with lots of fake toilet-flushing noises in the background. And like any good friend, Jennifer helped me get my childhood quota of Cinnamon Toast Crunch cereal—forbidden fruit in my family's house—by not complaining when I (constantly) raided her kitchen cabinets. She also made a mean egg-drop soup with chicken bouillon cubes. As pre-teens, we gave code names to our crushes and jointly wrote stories about them in a notebook covered with stickers. Then when Jen was dating her first "real" boyfriend, I milked her for sordid details and provided, in accordance with my thirteen-year-old sensibilities, the requisite sounds of awe, disgust, or horror. And last Wednesday, after twenty-three years of this sort of girly goofiness, I found myself on a flight down to the Bay Area—Jen's home for the past five or six years—to take part in her wedding.
First of all, I must admit that I cry at weddings. A completely visceral reaction, yes, largely irrational. I'm such a girl. And for this particular wedding, I pulled out all the stops, officially beginning my crying at the rehearsal dinner.
The dinner was held Friday night at Ramekins in Sonoma, and we started with wine, bread, and local cheeses on the patio. Jen looked poised and beautiful, the quintessential bride, in red patent-leather Betty Boop heels. I had a glass or two of Homewood Zinfandel, which was delicious with the nutty Vella Dry Jack cheese and purple-tinted slices of walnut bread. My mom arrived just in time to scoop up the last of the cheese, having flown in from Oklahoma only a few hours earlier. She looked incredible, as usual, with her brown ponytail, an off-white silk shantung pants suit, and a gorgeous Fabrice resin flower pin with seed-pearl-tipped stamens. My mother is a total bombshell.
The seated dinner for 150(!) began with a mixed-greens salad with slivers of sundried tomato and creamy chunks of goat cheese, and then we proceeded on to seared salmon on a bed of too-salty rice with slivered scallions. The rice aside, it was a very impressive spread for such a large crowd. Dessert, miniature pear tarte tatins with little pools of caramel and crème anglaise, arrived just as the first toasts began. My eyes welled up immediately, as if on cue. My mom, having had perhaps a bit too much Chardonnay, sprang unexpectedly from her seat and was the third or fourth to speak. She too was weepy, but with a few deep breaths, she muscled through. Jen and her fiancé Dave were absolutely glowing as they sat and listened to no fewer than two dozen of their friends and family members speak for them and their future. I managed to get myself under control after about a half hour of this, but there was still Saturday—and the actual wedding—to get through.
The ceremony took place on Boot Hill at Kunde Estate Winery and Vineyards in Kenwood, a spectacular site resembling something you'd see on the pages of an Italian cookbook.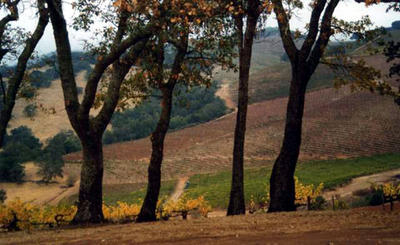 At 4:30, the sky was overcast and the breeze blustery, but we carried on, ten bridesmaids in strapless tea-length dresses.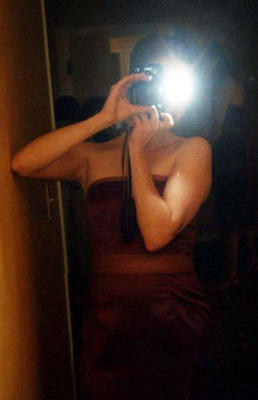 It was freezing, and I was visibly shivering. But the ceremony was solemn and heartfelt, and I only cried for a minute or two, when I saw Dave's eyes fill with tears as he watched Jen came down the aisle with her father. I was not, as I had dreamed, the Foxy Bridesmaid, but rather the Red-Eyed and Blue-Lipped Bridesmaid. But no matter. Jennifer was radiant.
The reception began under towering oak trees strung with lights, next to a fire pit. A table was laid with fresh figs, Serrano ham, cherry tomatoes, bread, and Northern California cheeses: Cowgirl Creamery's Mt. Tam, Cypress Grove's Humboldt Fog, and more. Kunde Zinfandel to drink. Dinner and dancing took place under a clear tent lit by white Chinese lanterns, and I dug into fork-tender slices of beef tenderloin with caramelized onions, a mixed-beet salad with feta and slivered red onions, halved roasted potatoes with a dot of sour cream and minced chives, and green beans with (I think) marjoram. The wedding cake was three-tiered and minimally decorated outside—which I much appreciated—with a raspberry mousse-like filling. But the groom's cake was the real show-stopper: two-tiered and dense with chocolate mousse and ganache. Much dancing followed, with me trying not to fall out of my strapless dress and Mom being whipped around the dance floor by eternally-playful family friend Richard Parry. We finally left at ten with very sore toes all around and a sore throat for me.
So there end my Bay Area adventures, dear reader, but for an outstanding Sunday breakfast at Larkspur's funky Easy Street Café: fresh-squeezed orange juice, (my first ever) huevos rancheros, and a plateful of not-corned-beefy-enough corned beef hash for the table. And true to form, I flew back with loot from my travels: a bagful of Acme breads (herb slab and pain au levain) and a wedge of Vella Dry Jack, which has already been ravaged. Jennifer called last night, just to make sure I was safe and sound.
Seattle feels good, but "home" means many places, happily untethered.