I've never read Ted Kooser's poetry, but I love the following excerpt from the September 12 New York Times Magazine:
"Q: How did you find out you'd been selected as the new poet laureate?
Kooser: I was informed by a phone call. I was so staggered I could barely respond. The next day, I backed the car out of the garage and tore the rearview mirror off the driver's side.
[Insert lots of other good-natured, self-effacing talk.]
Q: Are you always this agreeable?
Kooser: I try to be."
I was never very good at this sort of thing—this being pleasant, affable, agreeable. Take, for example, sharing. I can think of several instances in which a grade-school classmate, having forgotten his or her pencil case at home, tried to borrow something from me: I'd shake my head haughtily and refuse, reminding my bewildered classmate that we were supposed to come to class prepared. By some benevolent stroke of luck, I was not maimed and killed, à la Lord of the Flies, by my peers. Indeed, I've survived to see the error of my ways, and I even enjoy sharing. In fact, I give things away whenever I can, and with enthusiasm. And I even come to class unprepared occasionally, which makes me feel giddy and wicked, like knowing I'm wearing racy lingerie under my clothes.
I remember, at some point in my childhood, consciously deciding to train myself in the daily courtesies of American culture: smiling frequently, saying hello, asking "How are you," telling someone to have a nice day, etc. I was shy, and these mundane niceties didn't come naturally. I had to actively reach outside of myself to claim them. Each word and act had weight, and they became mine with a certain solemnity, a heavy sense of meaning. One day in particular stands out as a huge first in my young life: I was riding my pink banana-seat Schwinn down our street, and I managed to eek out a hello to an elderly man on his daily walk. I was so proud that I immediately rode home to tell my long-suffering mother.
Today I feel a small private thrill when I stoop to pick up and hand back a bag dropped by the woman behind me in line. And only a month or two ago, I took a tottering old woman by the arm and helped her across the street. I am so nice! So reformed! So human! And there's that timid-seeming older man at the grocery store: I love taking the time to smile, to be present with him for an instant, to look him in the eye when I ask for the biggest chocolate cupcake. He reciprocates with a broad grin and, of course, the prizewinner of the pastry case.
Now, some of you may not have kindly old men with cupcakes standing by, ready targets for your politesse. But all is not lost: make your own cupcakes. The following recipe makes about thirty-six of these small wonders,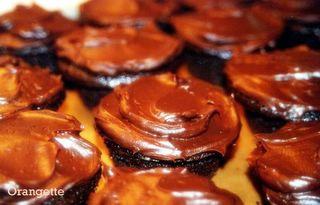 so there will be plenty for you to eat and plenty to share, as I snootily did not do with my pencils, protractors, or Elmer's glue. Think of this as a token of my hard-earned kindheartedness.
Far-from-Disaster Cake
Adapted from Epicurious
This is the cake recipe that I used for my near-disaster cake (albeit with a different ganache frosting, so fear not), as well as birthday cakes for a couple of very happy friends. It is extremely simple and requires nothing more complicated than a bit of time and a very large bowl for mixing—you'll have a lot of batter. I will be shocked and horrified if you don't find this to be the most deeply-flavored, moist-yet-fluffy chocolate cake you've ever tried. This recipe makes two 10" layers, three 8" layers, or roughly 36 cupcakes. [As a side note, I've been wanting to try taking a syringe or a turkey baster and injecting seedless raspberry jam into the cupcakes; if you do this, report back.] Unfrosted and tightly wrapped, the cakes freeze beautifully for a month or two, so you can spread your generosity over multiple occasions.
3 oz fine-quality semisweet chocolate, such as El Rey (my preference) or Callebaut
1 ½ cups hot brewed coffee (I use decaf—again, a remnant of the straight-edge days)
3 cups sugar
2 ½ cups unbleached all-purpose flour
1 ½ cups unsweetened cocoa powder (not Dutch process; I use Ghirardelli)
2 tsp baking soda
¾ tsp baking powder
1 ¼ tsp salt
3 large eggs
¾ cup canola oil
1 ½ cups well-shaken buttermilk
¾ tsp pure vanilla extract
Preheat oven to 300 degrees. If you're making cupcakes, line the wells of your pans with fluted paper liners, or grease and dust them with flour or cocoa. If you're making larger cakes, grease pans and line bottoms with rounds of wax paper. Grease paper.
Finely chop chocolate and in a bowl combine with hot coffee. Let mixture stand, stirring occasionally, until chocolate is melted and mixture is smooth.
Into a large bowl sift together sugar, flour, cocoa powder, baking soda, baking powder, and salt. In another (very) large bowl, beat eggs with an electric mixer until thickened slightly and lemon-colored (about 3 minutes with a standing mixer or 5 minutes with a hand-held mixer). Slowly add oil, buttermilk, vanilla, and melted chocolate mixture to eggs, beating until combined well. Add sugar mixture and beat on medium speed, bracing yourself against puffs of cocoa-and-flour dust, until just combined well.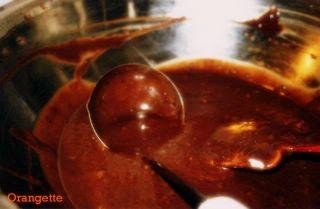 Divide batter between pans. Bake in middle of oven 20 to 25 minutes for cupcakes, or 50 to 70 minutes for larger cakes, until a tester inserted in center comes out clean.
Cool cakes completely in pans on racks. Run a thin knife around edges of pans and remove cupcakes, or invert larger cakes onto racks. If making larger cakes, carefully remove wax paper. Cakes may be made one day ahead and kept, wrapped well in plastic wrap, at room temperature.
Ganache Frosting
Again, adapted from Epicurious
1 lb fine-quality semi-sweet chocolate, such as El Rey or Callebaut
1 cup heavy cream
2 Tbs sugar
2 Tbs light corn syrup
½ stick (¼ cup) unsalted butter
Finely chop chocolate. In a 1 ½- to 2-quart saucepan, bring cream, sugar, and corn syrup to a boil over moderately low heat, whisking until sugar is dissolved. Remove pan from heat and add chocolate, whisking until chocolate is melted. Cut butter into pieces and add to frosting, whisking until smooth.
Transfer frosting to a bowl and cool, stirring occasionally, until spreadable. You may want to place the bowl in the fridge for a bit, but stir it now and then until it cools to your desired consistency. Spread.