1. Got home from work very very hungry and went straight for a cold spoonful of saltylicious peanut butter. I'm so all-American.
2. Tonight I inaugurated fall by roasting the first cauliflower of the season. Perhaps the coming of autumn isn't so bad after all, if it means more caramelized cauliflower.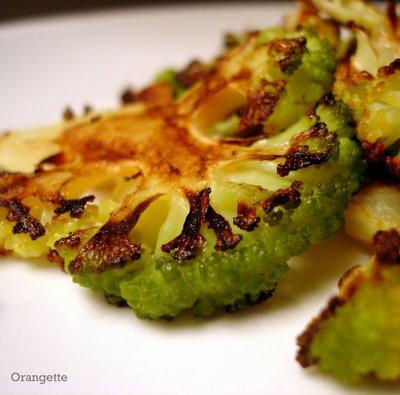 This may well be the most delicious vegetable preparation ever conceived—thank you, Jim Dixon! I restrained myself and only ate half a head. I also roasted a delicata squash and loosely scrambled some pretty brown eggs, and then I ate very dark chocolate.
3. Tim Harrington is at it again. A few very dedicated readers may remember when, in my first-ever post, I mentioned as a source of great inspiration this balding, red-bearded frontman of the indescribable Les Savy Fav. I was first won over when he climbed the walls and shoved whole oranges into his mouth at Paris' Le Trabendo. Then there was the show at Seattle's Graceland in which he took off all but his underwear and a towel-turban, climbed down into the crowd, and, passing me, offered the mic. And now this: "I start pretending like I can't get out—you know, it's slippery—so that I can stay there a little longer 'cause the mud felt really good. It wasn't mud so much as like a slick clay. It felt great." This man is a mad genius. I watch and take notes, just in case I ever get brave enough.

Caramelized Cauliflower
Adapted from Jim Dixon
1 head of cauliflower, white or green
Olive oil
Fine sea salt
Preheat oven to 400 degrees Fahrenheit. Place the head of cauliflower on a cutting board, and slice it top-down into ¼-inch slices, some of which will crumble. Toss cauliflower in a large bowl with plenty of olive oil and a bit of salt, spread it in a single layer on a heavy sheet pan (or two, if one looks crowded), and roast until golden brown and caramelized, turning bits and slices once or twice, about 25 minutes. Devour.