This morning's heavy fog turned the parking lot outside my window into an abstract painting—maybe a Jasper Johns, a soft gray with faint white diagonal lines and tiny brown spots where leaves had fallen. Oh dear reader, I am windblown and sleepy. My kitchen table is filthy with crumbs, oil smears, and a streak of blue cheese. There's sand inside my shoes and between my toes.
I can't complain. It's Monday.
Last night was a potluck dinner for four. [Jess would have made five, but she was absent due to an unfortunate bout of onion-ring-and-Velveeta-dip-induced food poisoning.] We made do. Robert baked a slab of king salmon in parchment paper and doused it with a sauce of honey, lime, and soy sauce. Sam steamed baby bok choy with shiitakes, tofu, and scallops, and Teresa brought crusty bread and a terrific green salad with walnuts, Spanish blue, and apples from her yard. Following my usual tendency towards dessert, I made a French prune plum tart.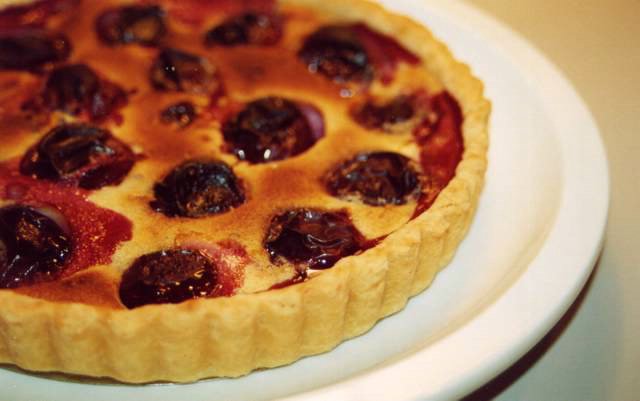 Although it was certainly lovely on the plate and the tongue, I have to admit that the raw pâte brisée was the most satisfying part: rolling it out was like working with a thick sheet of fabric, smooth and cold. Martha Stewart may be in prison, but her pâte brisée recipe remains untarnished.
Sometime after dinner, Sam finished the beer in my fridge, along with the last of my beloved Plymouth gin. He then tried (unsuccessfully) to conceal the evidence by refilling the bottle with water, but I like him anyway. There was much discussion of nakedness, family, and loves lost or thwarted; a bit of tickling and squealing; and some lying around on the floor. I hoped to scandalize them, but I failed. Instead I made everyone touch the razor-sharp calloused edge of my pinky toes. They marveled, and then they went home. I tumbled into bed around one.
I dragged myself back out at seven. Dear photographer-friend Margot arrived at 7:45, camera bag in hand, and we sped out to West Seattle and the ferry that would take us to Vashon and Maury Islands.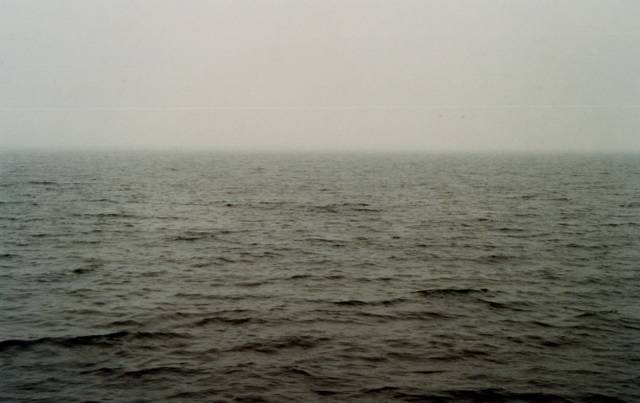 We drove to the tip of Maury, where a lighthouse was bleating through the fog, and, after a bit of scouting,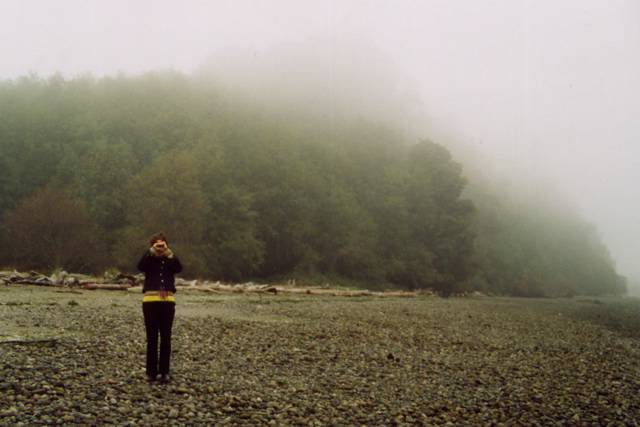 we got down to work.
The theme is reproduction, Margot-style. She's been making little plaster fetuses for months, forming and painting them and unintentionally frightening family and friends. Last Friday night she had me crouched over a kerosene lamp in a wooden shed, wearing a plain but old-fashioned red dress from Goodwill and a dainty white apron, pretending to examine tiny fetuses hatching from latex rocks. In today's shoot, I was to wear the aforementioned dress and pretend to collect rocks—presumably baby-filled rocks—on the beach. She shot rolls and rolls of me barefoot amidst pebbles and seaweed and shards of shells, trying to look as though I were not freezing to death and half blowing away, which I was. But the fog was otherworldly; the fishermen kindly ignored us; and we saw a dead jellyfish and iridescent purple mussel shells scattered everywhere. And Margot, ever considerate of her models, had brought me a thermos of hot tea. On the way home we talked longingly of sleep and filled ourselves enormous sandwiches of Swiss cheese, slivered bell peppers, fresh basil leaves, olive oil, salt, and pepper.
Tonight there will be more plum tart, and my bed.
Tarte aux Quetsches, or Prune Plum Tart
Adapted from Saveur
This recipe makes one 12-inch tart, or—as I found—one 9-inch and one 7-inch tart. The directions below are for the latter.

1 recipe Martha Stewart's pâte brisée
2 pounds prune plums, halved lengthwise and pitted
2 eggs
¼ cup sugar (I used unrefined cane sugar)
3 Tbs all-purpose flour
¼ cup heavy cream
¼ cup 2% or whole milk
Preheat oven to 375 degrees Fahrenheit, positioning a rack in the top one-third of the oven.
Remove chilled pastry dough from the refrigerator and let sit at room temperature for five to ten minutes. Roll into two rounds and ease into removable-bottom tart pans. Gently press dough into the corners of pan and trim off excess, or fold it over to reinforce the side rim. Prick the bottom of the pastry all over with a fork, and set aside.
Arrange plums, cut side down, in a single layer inside pastry shells. Whisk together eggs, sugar, flour, heavy cream, and milk in a medium bowl until smooth, and then pour custard over plums.
Carefully transfer tart to the oven and bake until plums are soft and top of custard is golden, about 45 minutes to one hour. Transfer tart to a rack to let cool completely before serving.