Some nights were made for Jeff Buckley and my stove—many nights, in fact, and especially when the city is draped in a misty, blue-gray cloak of fog. Tonight I'm exhausted, but it only makes my singing voice more dramatic.
It's the time of year when we all do lots of giving and receiving, and I've decided to do what I should have been doing for ages: make Christmas presents with my own two hands—in my kitchen, of course. My wallet is chronically malnourished, and anyway, my kitchen offers real benefits over the mall: no aggressive, blindingly sparkly decorations; no plastic figurines blaring carols; no tearing-out of hair over parking spaces; no sad, picked-over stacks of turtlenecks; no need to put on real clothing; and, best of all, easy access to nourishment and appropriately raucous or melancholy music. Sixteen pounds of apples, twenty-two Kerr jars, four cups of walnuts, two candy thermometers, several late nights, and more than a pound of butter later, I feel like a regular sugar-plum fairy. Unfortunately, because I've needed culinary advice and people to entertain me while I work, nearly everyone on my list knows what they're getting for Christmas. But they're not complaining, and wisely so.
And aside from all the other perks, I've learned an important lesson from all this Christmas craft-making: nothing (but nothing) is more satisfying that canning. Add this to the list of reasons why I'd make a good Depression wife. Thanks to Heidi from 101 Cookbooks, I've been able to transform apples, cider, lemon juice, sugar, cinnamon, and cloves into something lasting, a little jar that could—if you're very careful and disciplined—sustain you through winter.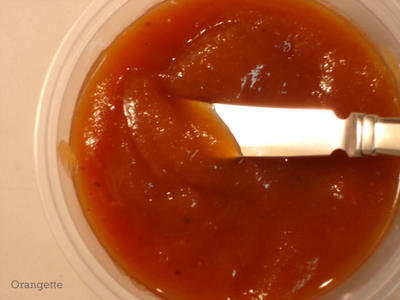 There's something magical about a pot of fruit simmering on the stove, slowly darkening and thickening, growing shiny and smooth, becoming apple butter. Then there comes the ladle and the tongs, a cauldron of boiling water, and the gentle pop of the lid as it seals. If you repeat this process four times, as I did, you'll have twenty golden-amber jars to line up on the counter and admire. It's tempting to keep them all, like a squirrel hoarding nuts, but the stuff is so delicious—spicy, sweet, and with a zing of lemon—that you might want to give it away, if only for the compliments you'll get in return.
Speaking of compliments, my mother has long been legendary for her toffee, and with her blessing, I hope I'll soon be too.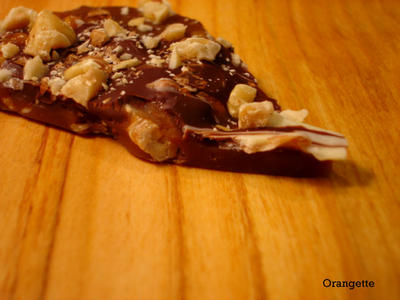 It's only slightly less addictive than crack, and infinitely tastier. Toffee lovers on coasts east and west, as well as in that skillet-shaped state called Oklahoma, have gushed over its deep caramel-coffeeness and toothsome crunch. It's pretty too, its topcoat generously marbled with white and dark chocolates. And if you're very lucky, it could snag you a choice gift at your holiday party at work, as it did for me: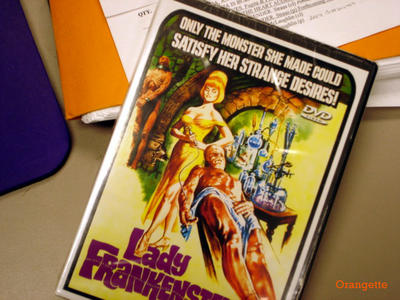 So tonight I'll stay in, out of the fog and away from the carols sung in electronic voices. I'll open a bottle of wine, steal another taste of toffee, and perhaps do a little song-and-dance number on the linoleum in the kitchen, sticky though it is with apple butter splatters. Lady Frankenstein, however, will stay securely sealed in her plastic wrapping.
[Special thanks and many squeezes to Mom for the brand-new digital camera(!) and to Nicho for the beautiful handmade cherry cutting board, which makes a very sophisticated backdrop for the toffee above, no? I do love giving, but sometimes receiving is even better.]
Coffee-Walnut Toffee
Adapted ever-so-slightly from Bon Appétit Christmas (1994)
It may just be me, but anything that requires a candy thermometer seems daunting—and that's even before taking into consideration the boiling, roiling, burbling sugar, something between molten lava and a swamp in a horror movie. But surprisingly, this toffee is remarkably easy and non-threatening to make, especially if you have your mise en place (your ingredients, prepped and measured) ready and waiting. If you're like me, you'll feel a goofy, giddy shiver as you happily dump into the pot little pre-measured bowlfuls of this and that, just like Julia or Martha would do. And remember, the candy thermometer is your friend. Trust it, and you'll have a long, happy, toffee-filled holiday season.
2 cups walnuts
1 cup sugar
1/3 cup packed golden brown sugar
2 tsp instant espresso powder
½ tsp ground cinnamon
¼ tsp salt
1/3 cup water
1 Tbs dark unsulfured molasses
4 ½ ounces fine-quality bittersweet chocolate, finely chopped (I used Valhrona 64%)
4 ½ ounces fine-quality white chocolate, finely chopped (I used Callebaut)
1 ¼ cups (2 ½ sticks) unsalted butter
Preheat oven to 325 degrees. Spread walnuts on a cookie sheet and toast in the oven until fragrant, about 5-10 minutes, making sure they don't burn. Allow to cool for ten minutes; then coarsely chop. Remove 1 ½ cups to a bowl. Finely chop remaining ½ cup; then place in a separate bowl.
Prepare your mise en place: in a medium bowl, combine sugars, espresso powder, cinnamon, and salt. In a small bowl or measuring cup, combine water and molasses. Place chopped chocolates in their own separate bowls.
Butter a cookie sheet or jelly roll pan. Melt butter in a heavy 2 ½-quart saucepan over low heat. Add sugars, espresso powder, cinnamon, salt, water, and molasses; stir until sugar dissolves. Attach a clip-on candy thermometer to side of pan. Increase heat to medium; cook until thermometer registers 290 degrees (and no less!), stirring slowly but constantly and scraping bottom of pan with a wooden spatula, about 20 minutes.
Remove pan from heat, and quickly stir in 1 ½ cups coarsely chopped nuts. Immediately pour mixture onto prepared pan; do not scrape saucepan. Tilt sheet so that toffee spreads to ¼-inch thickness. Sprinkle chocolates by generous tablespoonfuls atop toffee, alternating bittersweet and white chocolates. Let stand one minute. Using back of spoon, spread chocolates slightly. Using the tip of a knife or the tongs of a fork, swirl chocolates to create a marble pattern. Sprinkle with ½ cup finely chopped nuts. Refrigerate until toffee is firm, about one hour. Break toffee into pieces.
Makes about two pounds. Can be made two weeks ahead and stored in the refrigerator in an airtight container. Serve cold or at room temperature.