Winter in the Pacific Northwest means dusk at 3:30 in the afternoon, with sunset around 4:15. Six in the evening might as well be midnight. When I look out my rain-streaked window at 5pm, I'm met with the luminous glow of wet asphalt under the streetlamps in the grocery-store parking lot. So picturesque you are, Seattle.
These long, cold nights and short, dark days call for rousing breakfasts. We've all got to stoke the proverbial fire, but in winter such small rituals feel truly fortifying, somehow more deeply nourishing than during summer's more carefree months.
That said, I should admit that — regardless of the season, gentle reader — each day I wake expressly for the purpose of eating the exact same breakfast.* Never mind the bus I've got to catch or the work to be done. Nothing can keep me from my crimson glass breakfast bowl.
Behold, the routine:
1. Get out of bed;
2. Put on fleecy black bathrobe;
3. Wash face and put in contact lenses;
4. Turn on NPR;
5. Enter kitchen;
6. Pour glass of water, preferably cool to cold;
7. Take down aforementioned bowl from shelf;
8. Deposit in bowl two handfuls of Heritage O's cereal, a few spoonfuls of granola and a few of raisins, and big scoops of Brown Cow plain yogurt;
9. Thoroughly mix contents of bowl with spoon; and
10. Eat.
As mystic G. I. Gurdjieff said about something, "everything else is nothing."
Now, maybe you're raising your eyebrows. Granted, this breakfast won't win any awards for aesthetic value, and it certainly wasn't crafted with what one typically thinks of as a gourmande's spirit. But honey, it certainly fills the void within. And regardless of your stance on plain yogurt or health-foody cereals, this homemade granola is mighty toothsome: amber-brown, hearty but delicate, fragrant with cinnamon and orange zest, toasty with almonds.
Morning is not to be missed, even when it's still dark outside.
*Sometimes there's Irish oatmeal, but not often. There's also the occasional homemade scone. But honestly, variety in breakfast food is overrated.
Rancho La Puerta Granola
Adapted from The Rancho La Puerta Cookbook: 175 Bold Vegetarian Recipes from America's Premier Fitness Spa, with thanks to jolly Bill Wavrin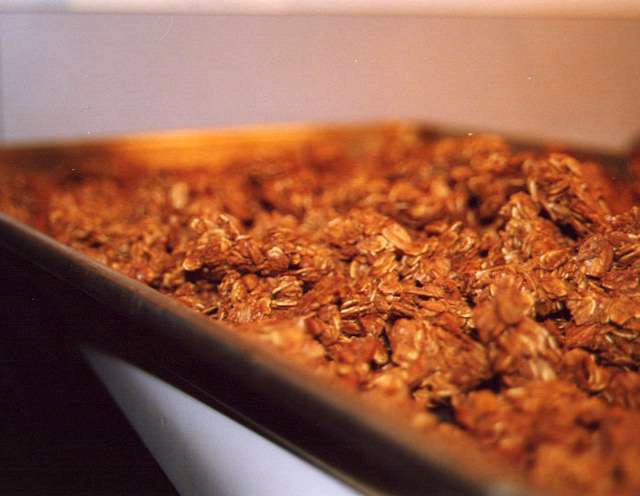 3 cups old-fashioned rolled oats
½ cup chopped raw almonds
½ cup sunflower seeds
¼ cup whole-wheat flour
¼ cup oat or wheat bran
1 Tbs ground cinnamon
¾ tsp ground ginger
¾ tsp ground cardamom
¾ cup honey
½ cup unsweetened, unfiltered apple juice
1 Tbs vanilla extract
2 tsp canola oil
2 tsp grated orange zest
2 Tbs fresh orange juice
Preheat oven to 250 degrees. Lightly coat a baking sheet with vegetable oil spray.
In a large mixing bowl, combine rolled oats, almonds, sunflower seeds, flour, bran, cinnamon, ginger, and cardamom.
In another bowl, whisk together honey, apple juice, vanilla, and oil until the honey is thoroughly incorporated. Add the orange zest and orange juice.
Pour wet ingredients over dry ingredients and mix well. Spread the granola evenly over the baking sheet and bake for 1 ½ to 2 hours, checking every 15 or so minutes. When the granola begins to brown, stir and turn over gently with a spatula. Take care that the outside edges do not burn. Your house or apartment should, by this point, smell spectacular. When golden and dry, scrape onto a cool baking sheet and set aside to cool. Granola will crisp as it cools. Store in an airtight container, preferably in the refrigerator.