This Thanksgiving, the focus wasn't on the ritual turkey and stuffing; it was on a wedding engagement. After all, my (half-)brother David has certainly made us wait.
David was fifteen when I was born. A mid-seventies transplant from Baltimore, he took Oklahoma City by storm with his stylish and shiny Farrah Fawcettesque hair, striped knee socks, and devilish ways. Although he kept himself busy scandalizing various cities and defying death and teachers, he also took care to do the requisite brotherly things: asking me (à la Telly Savalas), "Who loves ya, baby?" and training me to say, "You do!"; sitting on me and tickling me until I couldn't breathe; harassing me about boys; and giving me a beer-derived nickname, Molson. The Kojak game is now long over, though it was only around age fourteen that I was able to convince David that tickling is not okay. And as for the harassment, it has today happily morphed into a lively banter, at times risqué enough to make him flinch. He pauses, gives me a high-five, and then returns the off-color punch. And of course, I'm still Molson.
But we've been waiting. He's not getting any younger, and Carée is a fantastic catch, to say the least: strong, smart (a professor of health and human sexuality, complete with tabletop condom trees and penis light-switches), pretty, sophisticated, willing to tolerate David's goofiness, able to put him in his place, and well-versed in dirty martinis. So finally, one blustery weekend last winter, he got down on literal and proverbial bended knee and offered up a very impressive diamond. Carée, caught straight out of the shower in a bathrobe and towel-turban, bravely accepted.
And this past weekend, we celebrated.
David and Carée arrived in Oklahoma City on Thanksgiving Day with a cooler full of Malpecq oysters, which David shucked using our father's tried-and-true oyster knife. We gathered around the butcher-block island in the kitchen, Champagne flutes in hand, everyone but (scaredy-cat) me loudly slurping oysters. Watching David and Carée together, I was struck by how solid he seems with her, how confident, playful, happy he is. My mother tells me that he wants to have speakers installed in the kitchen of the house he and Carée have just bought: he wants to be able to kitchen-dance. It's so beautiful.
But all this was only a prelude: the true celebration came Saturday night, when forty or so of my parents' friends joined us to fête David and Carée's engagement. David cleaned up—even taking off the backwards baseball cap, his daring gang-member look—to resemble the suave businessman he is, and Carée looked gorgeous in a sleeveless, cowl-neck dress. I got to play hostess (a talent I prize but use far too infrequently) and managed to work the crowd for over two hours without getting a face ache from too much smiling. But best of all, there were biscuits—sweet-potato biscuits.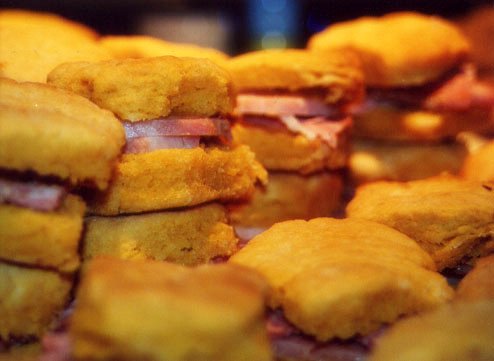 For as long as I can remember, we've had sweet-potato biscuits with ham and Honeycup mustard ("Uniquely sharp!" the label warns) on the party rotation. For this particular occasion, Mom did a bit of research and found, via David Rosengarten, what is purported to be the finest ham in all of America: Murcer's bone-in ham from Enid, Oklahoma. It was indeed a lovely, honey-tinged, and luminously rosy specimen, redolent of smoke, its aroma wafting up from the kitchen into my father's bathroom, where I was prettifying for the evening's festivities. Paired with a generous slathering of Honeycup mustard on a buttery sweet-potato biscuit, it was intoxicating. The bartender also kept my wine glass very full.
Faithful readers may have noticed that I've been talking biscuits a lot lately, but with winter's cold closing in and many dark months ahead, consider all this buttery richness a pre-emptive strike against hypothermia. As my French host-father used to say, "C'est nourrissant!" So allez, mangez: come spring, you'll thank me. Carée, with wedding-dress fittings no doubt menacing, will not.
Congratulations, you two.
Sweet-Potato Biscuits
(Adapted slightly from Martha Stewart)
1 3/4 cups all-purpose flour
2 Tbs light-brown sugar
2 1/2 tsp baking powder
1 tsp salt
1/2 tsp baking soda
6 Tbs chilled unsalted butter
3/4 cup chilled sweet potato puree (read: peeled, boiled, and pureed sweet potatoes)
1/3 cup buttermilk
To make the dough:
In a large bowl, whisk together 1 3/4 cups all-purpose flour, 2 Tbs light-brown sugar, 2 1/2 tsp baking powder, 1 tsp salt, and 1/2 tsp baking soda. With a pastry blender or two knives (or not-too-warm fingers), cut in 6 Tbs chilled unsalted butter, cut into pieces, until mixture resembles coarse meal, with some pea-size lumps of butter remaining. In a small bowl, whisk together 3/4 cup chilled sweet potato purée and 1/3 cup buttermilk; stir quickly into flour mixture until combined (do not overmix).
To shape the biscuits:
Turn out dough onto a lightly floured surface, and knead very gently until dough comes together but is still slightly lumpy, five or six times. (If dough is too sticky, work in up to 1/4 cup additional flour.) Shape into a disk, and pat to an even 1-inch thickness. With a floured 2-inch biscuit cutter, cut out biscuits as close together as possible. Gather together scraps, and repeat to cut out more biscuits (do not reuse scraps more than once).
Baking the biscuits:
Preheat oven to 425°, with rack on lower shelf. Butter or spray an 8-inch cake pan. Arrange biscuits snugly in pan. Brush with 1/2 Tbs melted butter. Bake until golden, rotating once, 20 to 24 minutes.
Yield: 8 biscuits.