Month:
December 2005
When I was a little girl, Christmas was a spiny, sparkly tree floating on a sea of shiny, sparkly boxes. I'd wait 364 long days for a few hours of stockings and presents, a morning so exhilarating and so exhausting that I'd spend the afternoon comatose on the green shag carpet of our living room, my arms locked around the day's best loot. But like most things, from monkeys to morals, Christmas evolves. In my case, it evolved from the living room to the kitchen, from the twinkly tree to the blue-flamed stove, and from tissue-wrapped stuffed bears to foil-tented roasted turkeys. If nothing else, that's got to be proof of some sort of intelligent design—or at the very least, of good breeding.
In my family, Christmas takes place in the kitchen. You've heard the old saying: give them an inch, and they'll take a mile. Well, give us Christmas, and we'll turn it into 48 hours in the kitchen, a 25-pound turkey, five quarts of asparagus soup, four dozen scones, three gallons of egg nog, two dozen biscuits, two fillets of beef Wellington, a case of Veuve Clicquot, and a bushel of spinach, creamed.
This year we descended fifteen-strong upon the home of my brother David and his wife Carée, and though the house was plenty roomy, we made quite a crowd in the kitchen. In the weeks beforehand, David set the ground rules—Christmas Eve would be beef, and Christmas Day turkey—and we set out planning menus, making lists, and calling dibs.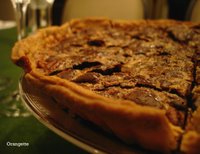 David and Carée would take care of the beef, the turkey, the oysters, wine, champagne, egg nog, cheeses, creamed spinach, sautéed mushrooms, and snacks, should we need them.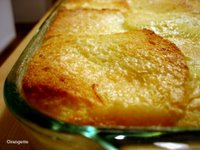 My sister Lisa would make a cream of asparagus soup, cranberry sauce, two flans, stuffing, a chocolate-pecan tart, and of course, her Scottish scones. My mother would make her favorite bread pudding: layers of buttered bread sandwiching mincemeat and marmalade, doused with cream and eggs, baked until puffy as a quilted pillow, and slathered with hard sauce. My niece Hillary would make silky salt-roasted fennel with olives and herbs, a grapefruit-pomegranate tart, a salad with arugula and pears, and for breakfast, lemon-ricotta pancakes and truffled egg toasts. I offered biscuits, butternut squash purée with maple syrup, and leeks with cream and tarragon, baked to limber and lush. And for his part, my nephew Brian would wander the house with his new kid-friendly cookbook, pointing at the pictures of paella and folding down pages.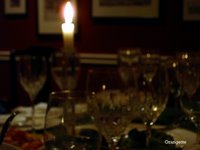 Needless to say, we had food enough for twelve days of Christmas, but being of strong constitution and eager appetite, we made quick work of it in two. We shared oven mitts and clinked glasses; we spilled, toasted, and went teary-eyed; and come bedtime, we each slept as though we'd eaten for three—which we had, for better or for worse.
And 360-some days from now, we'll do it all over again. In the meantime, I plan on a 2006 full of excuses for champagne and a full kitchen, menus and lists and, first of all, those leeks. In fact, I'd be baking up a batch for New Year's Eve, had I not already called dibs on a different sort of dish, one involving a party dress—black! strapless! with feathers!—and Balthazar, Brandon, and a very Big Apple.
Leeks with Cream and Tarragon
Adapted from Fresh from the Farmers' Market



We served these leeks with beef Wellington, but they would be a lovely compliment to any roasted meat. The original recipe calls for a full teaspoon of tarragon, but being easily overwhelmed by its assertive flavor, I prefer my version with a bit less. I want just a whiff of tarragon, just enough to lend intrigue to the leeks' unctuous bath of broth and cream.
8 leeks, each about ¾ inch in diameter
½ cup heavy cream
½ cup homemade or good-quality chicken broth
½ – ¾ tsp minced fresh tarragon
Salt
Freshly ground black pepper
Preheat the oven to 375 degrees Fahrenheit.
Cut off the dark green tops of the leeks, leaving only the white and pale green stalk. Trim the roots away, but leave the base intact. Cut the leeks in half lengthwise, leaving about 1 ½ inches together and uncut at the root end, so that the leeks will remain intact in the oven. One by one, rinse each leek under cool water, taking care to wash away any dirt trapped between its layers. Arrange the leeks in a shallow baking dish just large enough to hold them in a single layer.
In a small bowl, whisk together the heavy cream, chicken broth, tarragon, and a pinch or two each of salt and pepper. Pour the mixture over the leeks, and slide them into the preheated oven. Bake for 30 minutes; then remove the leeks from the oven and turn them over with tongs. Return them to the oven and continue baking for an additional 30 to 45 minutes, until they are lightly golden and very tender and have absorbed most of the creamy sauce. Serve hot or warm.
Yield: about 6 servings