Once again, I'm hawking priceless family treasures over at Seattlest. Last week, it was my great-grandfather's swashbucklingly boozy egg nog, and this week, it's my sister's scones.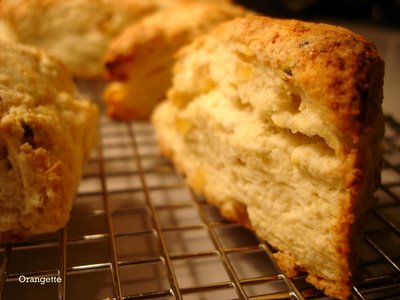 Each Christmas, my sister Lisa takes a simple recipe for Scottish scones—a formula given to her, appropriately, by a Scottish friend—and spins it into a half-dozen delicious varieties. In our family, these scones are a much-anticipated Christmas-morning tradition—perfect for eating with one hand while tearing at wrapping paper with the other, and with nary a greasy fingerprint to be found. I've written previously about a summery rendition of these rugged beauties, but come Christmas, it's only appropriate to trot them out again—and this time, in a warming, wintery incarnation spiked with crystallized ginger and daintily freckled with finely chopped pistachios.
If you're looking for me next Sunday morning, head for Washington, D.C., and follow the crumbs.
Happy holidays, very dear reader. xo