Maybe it is a product of our time, a generational thing, or just a matter of pheromones, but I keep falling in love with vegetarians. I spent nine years in their camp, so perhaps I'm predisposed. I may dally with a meat-and-potatoes man, but fate has it that my love is meant for herbivores only. One might argue that my sample size of two is too small for statistical significance, but it's all I intend to have, and that's significant enough for me. The first man to win my cooing and swooning was a devout vegan with the bumper stickers to show for it, and together we lasted for three meatless—if occasionally buttery, and blissful—years. The second has, in the twenty-four years since his birth, not once eaten meat, but his palate has ventured farther than most ardent omnivores. I refer, of course, to my wonderfully food-obsessed New Yorker. If push came to shove, I'd take him over a plate of sausage any day, and as you know, dear reader, that is saying a lot.
But no amount of love can change a cold, hard fact: the holidays are a lonely time to be a vegetarian. With a turkey here and a roost goose there, here a tenderloin, there a spiral-sliced ham, everywhere a canapé involving caviar or crustaceans, December can be a cold, mean month. There is Tofurky for the brave, but faced with such odds, the braver will abstain. There are mashed potatoes, breads, biscuits, and yams this way or that, but no matter how many starches on the plate, they do not a meal make. All too often, a table set around meat—as most holiday tables are—looks a little off-kilter when its fleshly centerpiece is removed. A well-stocked plate has an intrinsic balance, an organization that depends on a variety of flavors and textures, a nebulous something that lands softly but satisfyingly on the tongue. So while I am solidly a meat-eating girl, the love of a good vegetarian has taught me a keen respect for the art of so-called side dishes, the sides that make a main meat irrelevant. When I say side dish, I mean creamy, garlicky, herb-flecked white beans.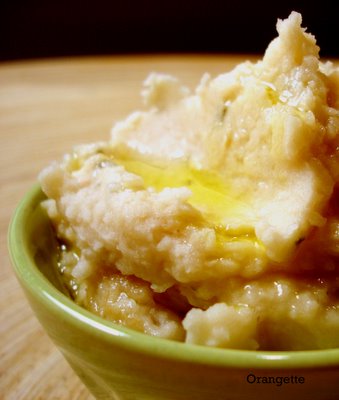 Though humble to the eye, this silky, lusty purée sings in the mouth. Unabashedly aromatic with garlic, olive oil, rosemary, and sage, it perfumes the entire kitchen with a warm and welcome mid-winter rush of fresh herbs. These beans have appeared at my family's Christmas parties and its bat mitzvahs—a testament, one could say, to our interfaith gourmandism, but more accurately, to this purée's universal appeal. On the plate, it plays well with pork, beef, or poultry but is sturdy enough to take center stage among herbivores, carnivores, and those in between. It's good enough for the love of a good vegetarian, and as you know, dear reader, that is saying a lot.
Dreamy White Beans
Adapted from Mollie Katzen's Vegetable Heaven
These beans are wonderfully easy and effortless to make, requiring only the foresight to soak the beans a day ahead of time. As a side note, please forgive the recipe's title; it is Mollie Katzen's, not mine, and as Brandon notes, "She's such a hippie." Nonetheless, I owe her quite a debt of gratitude, and soon, you may too.
2 cups dried white beans, soaked overnight and drained
2 large rosemary sprigs
About 12 sage leaves, tied together with string
1 ½ Tbs minced fresh garlic
1 tsp salt, or more to taste
Freshly ground black pepper
Extra virgin olive oil, for serving
Good-quality balsamic vinegar, for serving
Place the beans in a large pot, and cover them by 2 inches with cold water. Add the rosemary and sage, and bring the pot to a boil over medium-high heat. When the water boils, lower the heat slightly and maintain the pot at a simmer, skimming off any white foam that rises to the surface, until the beans are tender, about 45 minutes.
Meanwhile, place a large bowl in the sink, and set a colander inside the bowl. When the beans are ready, remove the herbs, and drain the beans into the colander, reserving their cooking liquid in the bowl beneath.
Place the drained beans, garlic, salt, and a grind or two of pepper in the bowl of a food processor, add a ½ cup or so of the reserved cooking liquid, and process to puree, adding more liquid until the beans reach your desired consistency. You can make them fairly thick, like rustic mashed potatoes, or you can add more water to make them a thinner, spoonable puree. I like them somewhere in between.
Taste and adjust seasoning as necessary. Spoon the puree into a large bowl, drizzle with olive oil and balsamic vinegar, and serve.
Yield: about 6 servings.