I started with the best of intentions. When I set out for Oklahoma a week ago, I planned to return with rapturous photos of a bronze-skinned turkey; my mother's tried-and-true gravy secrets; the complete, unabridged tale of Brother Timothy's stuffing and the decades-old Junior League cookbook from which it springs annually in full glory, with pork sausage, chicken livers, toasted almonds, spinach, Parmigiano Reggiano, and brandy; and at least a few presentable photos. All for you, dear reader. But I got a little distracted. There was plenty of rapture, yes, and the turkey and stuffing were certainly up to snuff, but when I dragged my suitcase back into Seattle on Sunday night, all I had to show for myself was a bargain-priced 10" All-Clad skillet, a half-dozen predictably failed photos with Brandon, and a lone recipe. Luckily for all of us, the recipe in question should make up for my shortcomings. I started with the best of intentions, and by god, I've brought you a cranberry Linzer tart.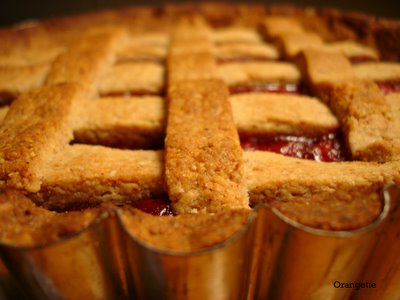 I hope you'll see fit to forgive me.
This delectable thing has been making regular appearances on our holiday table for a decade now, since a very snowy, fortuitous, and fateful getaway to the Wooden Goose Inn in Cape Neddick, Maine. I was only 17, and obviously very impressionable. The innkeepers, two unabashed gourmands by the name of Tony and Jerry, treat their guests to elaborate breakfasts and teas each day, and we quickly fell under the sway of their kitchen. I've already written a paean to their elegant but buckle-busting breakfasts, but tea-time left us equally wide-eyed and weak-kneed. I wasted no time in choosing a favorite among the array of homemade tarts and pastries, and ten years later, I haven't budged an inch. For me, each afternoon in Maine meant a rich, black cup of coffee and a hefty wedge of cranberry Linzer tart, sweet, sour, and almost spicy, in a sandy almond crust fragrant with cinnamon, cloves, and orange peel. And today, for my mother and me, each holiday season means an afternoon of measuring cups and a full, hefty pan of cranberry Linzer tart.
So this Thanksgiving, I got my fix of Mom, man, and tart. My mother kindly cast a blind eye to all our cutesy carrying-on, and in return, Brandon—bless his huge, thumping heart—charmed her with brown-butter mashed potatoes and daily doses of his trademark fennel salad, weeded out her old pots and pans and a few dead electronics, and plowed through her pantry full of old, rancid oils and crusty vinegars. Were I less susceptible to so much delicious distraction, I would have chronicled every second. But instead, I sat back, gave a lot of thanks, and ate a lot of Linzer tart.
Cranberry Linzer Tart
Adapted from the Wooden Goose Inn
This beauty may look like a lot of work, but it comes together quite simply. First and foremost, keep in mind that the lattice top is only as complicated as you want to make it. We don't usually bother with a lot of fancy weaving; just lay a few strips of dough in one direction, and then lay a second layer on top, perpendicular to the first. If you're feeling especially festive, you could even try topping the tart with a mosaic of cookie-cutter shapes instead of a traditional lattice. It's the holidays, after all, so you're allowed to get a little schmaltzy.
For the filling:
2 cups granulated sugar
¾ cup cold water, divided
12 ounces fresh cranberries, picked over and rinsed
½ cup golden raisins
1 tsp grated orange peel
2 Tbs cornstarch
For the crust:
1 ½ cups unbleached all-purpose flour
1 ½ cups toasted almonds, finely ground
¾ cup granulated sugar
1 tsp ground cinnamon
1 tsp grated orange peel
¼ tsp ground cloves
A pinch of salt
6 Tbs unsalted butter, at room temperature
2 egg yolks, beaten with 1 Tbs water
Water, as needed
Whipped cream, for serving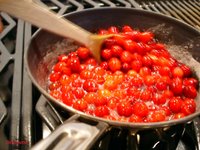 To make the filling, combine the sugar and ½ cup water in a medium saucepan. Put the pan over medium heat, and stir until the sugar has dissolved. The mixture will look cloudy. Stir in the cranberries, raisins, and orange peel. Bring the mixture to a boil, and cook, stirring constantly, until the cranberries pop, about 6 minutes. In a small bowl, blend the cornstarch with the remaining ¼ cup water, and stir it into the cranberry mixture. Set the saucepan aside, and allow the filling to cool completely. It will thicken as it cools.*
To make the crust, preheat the oven to 400 degrees Fahrenheit. In a food processor, combine the flour, ground almonds, sugar, cinnamon, orange peel, cloves, and salt. Add the butter, and process until the mixture is crumbly. With the machine running, add the egg yolks mixed with water, and process until combined. Squeeze a handful of the dough in your fist; if it is still on the dry, crumbly side, add little splashes of water—about a ½ Tbs at a time—with the machine running, continuing to pulse the dough until it coheres nicely to itself when squeezed. This dough is pretty forgiving, and you need not really worry about overworking it. Reserve 1 ½ cups of the dough for the lattice top. Press the remaining dough evenly into the bottom and up the sides of a 9" removable-bottom tart pan. Bake it for 15 minutes.
To assemble the tart, spoon the cooled cranberry filling into the crust. On a clean surface, pat and roll the remaining 1 ½ cups crust dough into a flat circle about ¼ inch thick. With a pairing knife, cut the circle into rough ¾-inch strips. Working carefully—the dough is delicate—overlay the strips to form a lattice on top of the filling. Bake the finished tart for 30 minutes, until nicely browned. Serve slightly warm or at room temperature, preferably with lightly sweetened and loosely whipped cream.
*Note: The cooled filling should have the consistency of a chunky chutney or jam. If you find it a tad loose, as we did this year, simply spoon out some of the excess liquid until you reach the desired consistency; then spoon the filling into the crust.
Yield: 8-10 servings