Peanut butter on toast. A soft-boiled egg with salt and pepper. Butternut squash boiled in cider and mashed. A carrot dunked in lemon-tahini dressing. A cold apple, cored and cut into sixths. Spaghetti squash with sea salt. A glass of milk and a pile of graham crackers. Three-quarters of my diet looks and sounds like something you'd find on the tray of a high chair, or at snack time in preschool. I'm totally blowing my cover, I know. There's much to be said—and written—for complexity, for nuanced flavors and saucy, sophisticated stuff, but dear reader, woman does not live on intricately crafted dishes alone. I love my salt cod tarts and my soufflés, my hand-rolled pastas and panades, but plain, uncomplicated Jane is also pretty in her own way. Give me a handful of Newman's arrowroot alphabet cookies and I'll play contentedly for hours.
Daily life may not be photogenic, and no one needs instructions for putting peanut butter on bread, but I've been woefully remiss in giving good, gritty, everyday grub its due. Some dishes are quiet; they don't sit up and tell stories begging to be written and retold. Instead, they get under our skin and into our kitchens in other ways, namely through outright, all-out, drag-down deliciousness. Take, for example, my favorite spin on the beans-'n-greens genre, a dish I've made no fewer than four times in as many weeks: braised winter greens with chickpeas, onions, and garlic.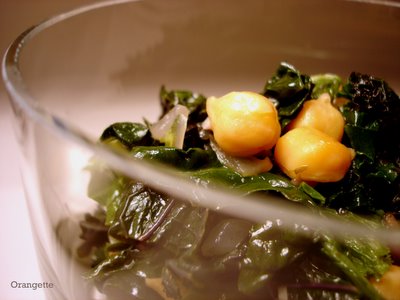 These days, most of us have eaten our fill of wilted greens, whether in a salad or as a ubiquitous restaurant side dish, sautéed with olive oil and lemon. But cooked more slowly, braised with only a few clinging drops of liquid and a couple of aromatics, winter greens arrive at the table a different dish entirely, one I'm hard put to put down. Longer, gentler cooking brings out a low, earthy sweetness in chard, collards, or kale, an uncanny flavor that plays well with other things grown close to the ground. The coarse, dark leaves slowly melt into a tangle with onion, garlic, and olive oil, handily trapping nutty, sweet chickpeas onto the fork. It's a dish perfectly calibrated in its simplicity: a handful of common, everyday ingredients treated uncommonly well, with no sauces or emulsions, no garnish or glitter, no adornments or adult-rated appointments. And for me and Plain Jane, it's happily so.
Braised Winter Greens with Chickpeas, Onions, and Garlic
Adapted from Fresh from the Farmers' Market, by Janet Fletcher
This dish sounds so commonplace that I've been hesitant to write about it, but its flavors are so unusually well-balanced that I don't want to keep it to myself. It would be a delicious side for sausages, roasted pork, or roasted chicken, and it would make a welcome bed for a poached egg. Most often, though, I take it as a perfectly plain, perfectly satisfying main dish, with fruit, cheese, and bread to make a hearty meal. It's ideal for these mid-holiday times, when we find ourselves otherwise surrounded by cookies and cakes and heavy-handed spicing.
The original version of this recipe calls for only chard, but I prefer to use the pretty "sauté mix" from Willie Green's Organic Farm, which—as far as I can tell—contains ruby chard as well as young leaves from Lacinato (also known as dino) kale, green Winterbor kale, purple Redbor kale, and maybe even mustard greens. I've also used collard greens, and to very good effect. These latter greens are a bit heartier than chard, so if you use them, which I highly recommend, choose specimens that are on the younger, more delicate end of the spectrum. I don't recommend spinach, which goes limp and slippery almost the second it hits the pan. Whatever you use, make sure they are fresh, good-tasting greens with crisp, plump-looking leaves. This recipe is the ultimate in simplicity, so be sure to use the best ingredients possible.
2 bunches chard, kale, collard, or other winter greens, about 1 ½ pounds total
3 Tbsp. olive oil
2 large cloves garlic, minced
½ medium yellow or red onion, minced
1 can (15 ½ ounces) chickpeas, drained and rinsed
Salt
1 ½ tsp freshly squeezed lemon juice
Trim the central ribs from the greens, and discard them. You should wind up with about 1 pound of leaves, or a bit less. Wash them well in a pan of water, and drain them well in a colander. Some water will cling to the leaves, and don't worry—you want it to. Stack the leaves a few at a time, and slice them crosswise into ¼-inch-wide ribbons. Set them aside.
In a 12-inch skillet, warm the olive oil over medium heat. Add the garlic and onion, and sauté until the onion is soft and edging toward translucent, about 5-10 minutes. Add the chickpeas, and stir to mix. Add the greens, season well with salt, and stir and fold gently to blend. The leaves are bulky, so you may need to add them in batches, letting them cook down slightly before adding more. Cook, stirring occasionally, until the leaves have wilted enough that you can cover the skillet. Cover, lower the heat—you want to keep the contents of the pan cooking gently and slowly, with no aggressive sizzling or burning—and cook until the greens are tender, about 15 minutes. Remove the pan from the heat, and stir in the lemon juice.
Serve warm or at room temperature, but not hot. Taste and adjust the seasoning just before plating.