I've been thinking for days, days, about what to call this dish.

It's not that somebody else didn't already name it, because they did. It's called Cream of Scallop Soup, and I found the recipe in Gourmet a month or two ago, although I can't remember which issue it came from, exactly. (I don't have room to save magazines in their entirety – only chosen pages – and the page that includes this recipe has no issue date.) Cream of Scallop Soup is a perfectly reasonable name, but it's boring. Also, when I hear it, I envision, unfortunately, raw scallops and cream whirring in a blender. I probably shouldn't have told you that, should I? Either way, this dish deserves a more special name. It deserves a name that reflects how stunningly lovely, how drop-your-spoon-in-shock delicious, it is.
So, what could we call it instead? Maybe we should try a French translation. Most things sound better in French, I think. (Except my name, which winds up sounding like Moe Lee.) How about Crème de coquilles Saint-Jacques? Or, fancier, Coquilles Saint-Jacques dans leur bouillon a la crème fraîche? Maybe too fancy. How about Poached Scallops in Crème Fraîche Broth? Or Scallops 'n Cream? It could be like Cookies 'n Cream. Only different.
Whatever we choose to call it, I suggest that you bookmark this recipe right now – or go tear it out of your own copy of Gourmet – and squirrel it away for a festive occasion. It might be a little bit extravagant, both flavor-wise and money-wise, for an everyday dish, especially during these post-holiday weeks, but I wanted to go ahead and write about it, because it is so, so good. And also because Olaiya and Ben, two of our friends who ate it with us on New Year's Eve, have requested the recipe, and I mean to deliver.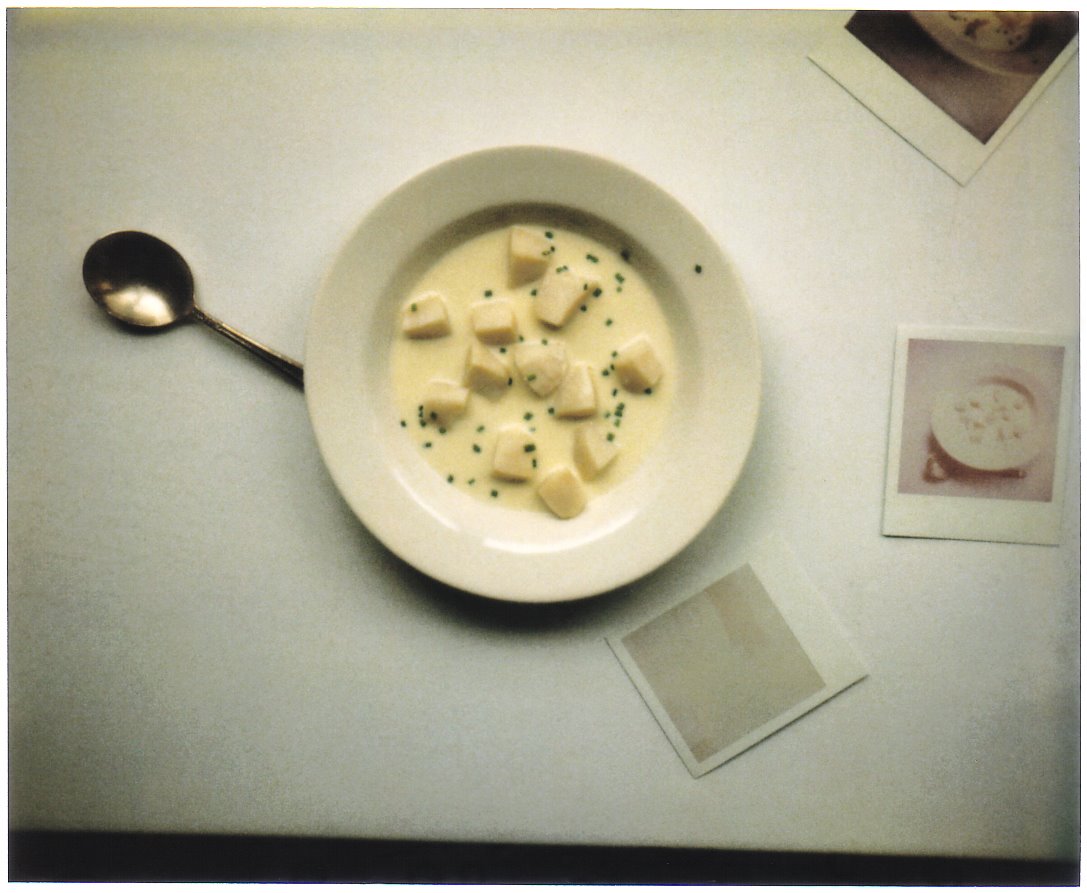 Our New Year's Eve dinner was a potluck, and this dish was my main contribution, aside from a pan of brownies for dessert. (There was also, of course, the céleri rémoulade, and a grated carrot salad, but Brandon did most of the labor on those.) Olaiya had requested seafood, and I happened to have this recipe lying at the top of my file, so I took it as a sign. I hadn't made it before, but the list of ingredients made my mouth water: sea scallops and crème fraîche, fish stock and white wine, shallots, thyme, and egg yolks. The recipe also had a very fine pedigree, having been adapted, the magazine noted, from brothers Jean and Pierre Troisgros of the famed restaurant Troisgros in Roanne, France. I don't usually like to make dishes for the first time when there are lots of other diners involved, but the worst that could happen, I figured, was that it might turn out terribly and we would be forced to skip straight to the brownies, which would be fine with me anyway.
So I got some fish bones and made the required fish stock. It was my first go at fish stock, but it went swimmingly. (Sorry. Couldn't resist.) Then I went out and splurged, since it was New Year's Eve, on some stunningly gorgeous fresh scallops. And then we gathered the ingredients and went to Olaiya's, where I had such a nice time with everyone and the champagne and the céleri rémoulade and the flash on my camera that, when the time came for our main course, I proceeded to cook the absolute crap out of those innocent scallops. They were tough and rubbery and so, so sad. I was even sadder. But we had to at least try the finished dish, I decided, and so I marched on, dividing them among our soup bowls and dousing them with their creamy broth, a fragrant amalgam of the stock and some crème fraîche, scented with shallot and thyme and thickened ever so slightly with egg yolk.
We sat down to eat it, and everything went silent. No one spoke for at least a minute. If you have ever experienced such a phenomenon, you will know that it can mean only one of two things: a) that your dining companions are completely speechless with ecstasy, or b) that they cannot talk because they are desperately preoccupied with finding a place to spit out the food that they are chewing. I feared the worst. But then Ben raised his head, smiled, and slowly, solemnly, pronounced my name, which, in his personal dining language, means that everything is well.
Actually, it was better than well. The overcooked scallops may have had less textural appeal than a pencil eraser, but the rest of the dish was supple, silky, completely spectacular. The broth itself was complex and aromatic, rich but not the least bit heavy, a sequence of flavors that opened with the brightness of wine and lemon and closed with the sweetness of cream. I don't know any better way to describe it than to say that it seemed impeccably French, which is to say that it tasted harmonious and refined and very Old World fancy, as though it should be presented by a waiter in a tuxedo with flawless posture and a perfectly waxed mustache. I made it again tonight, just to be sure that it was as good as I remembered – only the best for you – and with properly(!) cooked scallops, it most certainly was. I am not a great fan of Mondays, but if they all ended this way, I might change my mind.
And speaking of great things, thank you so much for your enthusiasm about the book cover. It blew me away. Really. After two years of relatively solitary work on this book, it's hard not to be nervous, I have to admit, about beginning to share it. Thank you for making it feel a little bit less scary, and a lot more fun.
Cream of Scallop Soup
Adapted from Gourmet and The Nouvelle Cuisine of Jean & Pierre Troisgros
Be sure to read through this entire recipe before you start. Once you begin, you'll want to move quickly, or else the scallops will get cold. For a very sophisticated dish, it's fairly quick and simple to pull together, especially if you make the white fish stock (which is also fairly quick and simple) ahead of time. I made my stock the day before, and when it came time to make dinner, all I had to do was retrieve it from the fridge.
Oh, and about sources: Trader Joe's sells fantastic frozen scallops for $10.99 a pound, which is a great price. The package is labeled Wild Japanese Scallops, I believe. They were just as tasty as the more expensive ones from the Sea of Cortez that I bought on New Year's Eve. Also, for the fish stock: to get bones, call your local fish market. If you give them a day's notice, they should be happy to set aside some bones for you. I called my old faithful, Wild Salmon Seafood Market, and they gave me all kinds of halibut bones and scraps, free of charge.
¾ lb. sea scallops, tough ligament removed from side of each if attached
Salt
1 cup white fish stock
½ cup dry white wine
1 small shallot, chopped
1 thyme sprig
¾ cup crème fraîche
2 large egg yolks
Black pepper
2 Tbsp. finely chopped chives
Rinse the scallops, and then pat them dry. Quarter them, and season them with 1/8 tsp. salt.
In a heavy medium saucepan, combine the stock, wine, shallot, thyme, and ½ tsp. salt. Bring to a boil over medium-high heat, cover, and boil for 5 minutes. Strain through a fine-mesh sieve into a bowl, pressing on the solids before discarding them. Return the liquid to the saucepan. Bring it to a boil, then stir in the scallops and simmer, covered, stirring occasionally, until the scallops are just cooked through, about 2 minutes. (Do not overcook. If anything, leave them rare; they will continue to cook after you remove them from the heat.) Remove the scallops with a slotted spoon, and keep them warm, covered. Reserve the cooking liquid in the saucepan.
Meanwhile, put the crème fraîche in a small saucepan, and bring it to a simmer over medium-low to medium heat. Simmer until it reduces slightly, about 3 minutes. Add it to the cooking liquid in the medium saucepan, stir well, and simmer together for another 3 minutes.
In a small bowl, whisk together the egg yolks, ¼ cup of the crème fraîche-cooking liquid mixture, and ¼ tsp. pepper. Add half of the remaining crème fraîche mixture to the yolk mixture in a slow stream, whisking constantly. Then pour it all back into the medium saucepan, whisking. Cook over very low heat, whisking, until just slightly thickened, about 1 minute. Do not boil. Remove from the heat, taste for seasoning, and salt as needed.
Divide the scallops among 4 small soup bowls, and then ladle the soup on top. Sprinkle with chives. Serve immediately.
Yield: 4 servings