It recently occurred to me that I don't often mention books here, which is kind of weird, since I am pretty fond of them. I'm almost as fond of them, in fact, as I am of food, which is saying quite a bit. Then again, I have an almost pathologically bad memory for plot, so I'm not sure what I would say about books anyway. The other day, I was talking with a friend about Persepolis, by Marjane Satrapi, which I read a few weeks ago and loved dearly, and I realized that, aside from a scene about the main character's grandmother removing her bra and flower petals falling from its cups, I could hardly remember a thing about it. It's sad.
So before I forget the details of my most recent read, the lovely memoir The Tenth Muse, by renowned editor Judith Jones, I wanted to be sure to tell you about it. Not only because it was lovely, and lovely really is the word for it, but because it gives a glimpse into a seminal time in cookbook publishing. (Jones helped launch the careers of Julia Child, Madhur Jaffrey, Marcella Hazan, and lots of other people whose names, go figure, I now can't remember.) Also, it inspired me to make céleri rémoulade, which I hope I don't forget about anytime soon. Or ever.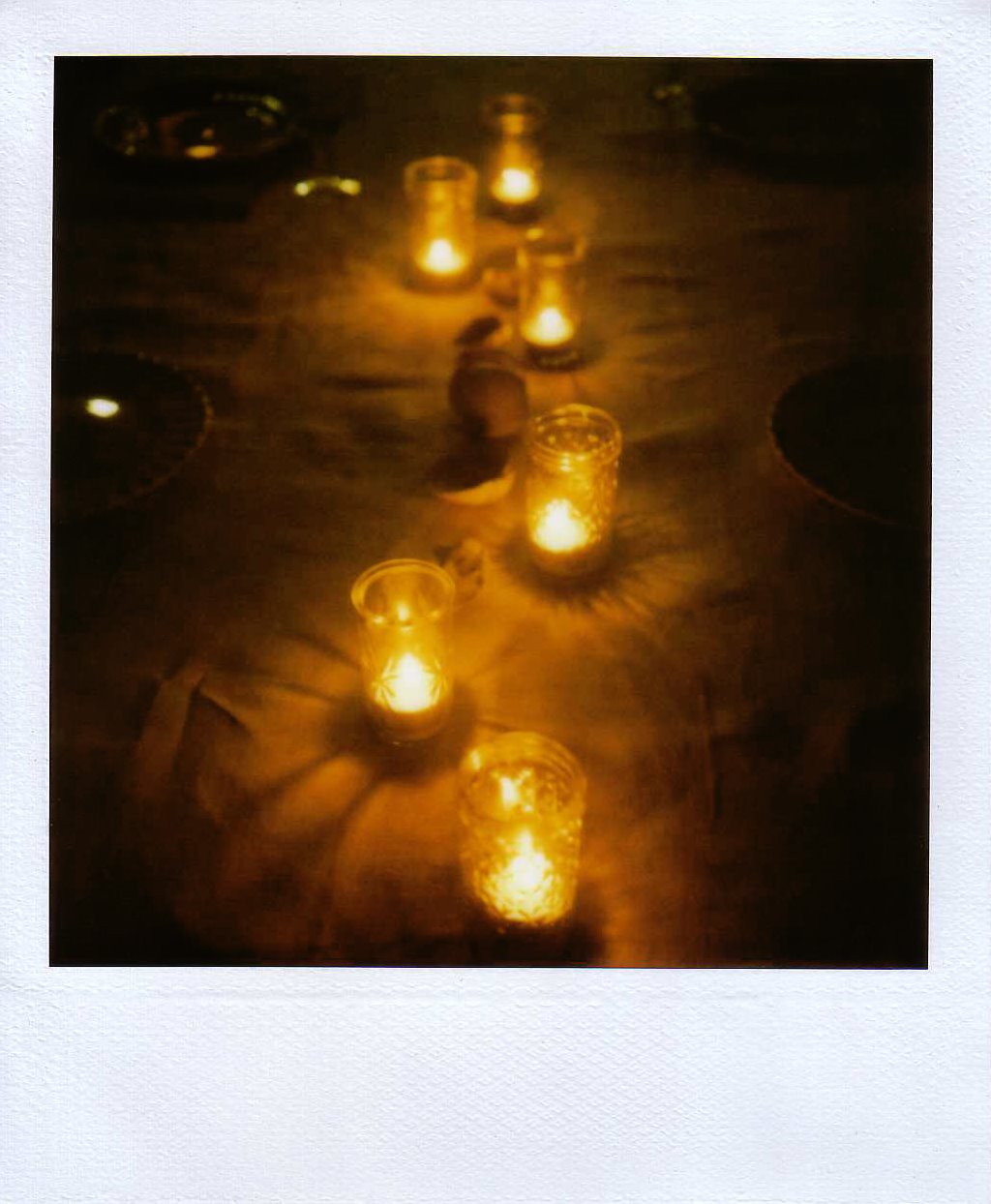 If you've been reading for a while, you may remember that I have a thing for celery root. It's sort of the Philip Seymour Hoffman of vegetables: pale and a little scruffy, not exactly handsome by common definitions, but rippling, rippling, with integrity and talent. Vegetables can have integrity, right? And talent? I hope so, or else I'm going to have to find a new analogy, and that could take a while.
Most of the time, when I buy celery root, I use it only for soup. But for a while now, I've been thinking about céleri rémoulade, a salad composed of julienned celery root tossed in a mayonnaise-based dressing. It's a fairly common, old fashioned thing in France, where it can be purchased ready-made at almost any grocery store and is often served as a starter in very traditional restaurants, alongside salads of grated carrot or cubed beets. I never felt particularly excited about it when I lived there, to tell you the truth. It always seemed sort of lifeless and fusty, like the smell of the canned green beans that my childhood babysitter Virginia used to boil into oblivion. But in recent years, ever since I started using celery root in my own kitchen, I've wondered often about old céleri rémoulade, and about how delicious it might be, especially if made with homemade mayonnaise. So when Judith Jones mentioned it in her memoir, even going so far as to include her recipe, I decided that it was time to try.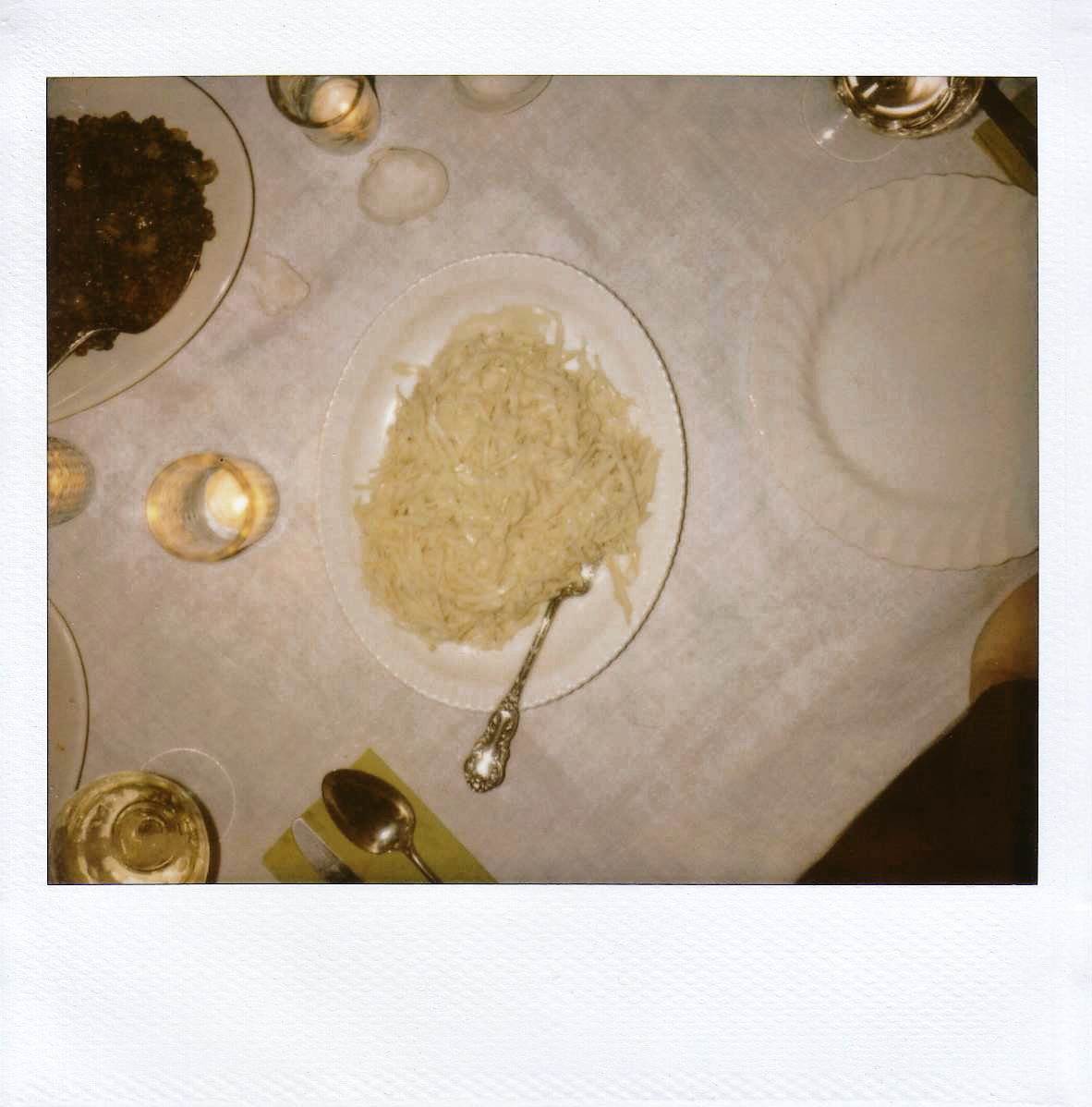 I apologize for not having a prettier photograph to show you, but Brandon and I made the céleri rémoulade for a New Year's Eve dinner party at our friend Olaiya's house, and when I took this picture, it was long past dark and I was wearing my new party dress and had had two small crab cakes and two glasses of champagne, which, in my person, is not enough food to counter the powerful effects of champagne, one of which is to make me turn on the flash and take awkward pictures of everything, including the old pair of black heels I was wearing.

Also, céleri rémoulade is not an attractive dish, so I'm not even sure that a prettier photograph was possible. Prettiness is not what it's about. It's about the clean, fragrant crunch of celery root, and the alchemy of mayonnaise and Dijon mustard. It is wonderfully creamy, yes, and somewhat rich, but its flavor is light, bright, even hungry-making, a perfect start to a meal. We all had second helpings, even though there was more food coming, and I cursed myself for having waited so long to try it in the first place. Don't make the same mistake. We served ours as part of a trio of salads, along with a carrot one and a lentil one with fennel. We then moved on to a cream of scallop soup that, despite its total snore of a name, is one of the most delicious things I ate in 2008. I'll tell you about that next week. (And no, for the record, I am not pregnant in the photograph above. Or in real life. It's just a poof in my dress.)
And while we're on the topic of books, I'm so happy today to show you the cover of mine! I've been wanting to share it with you, but I had to wait until it was 100% finalized, and that took a little while.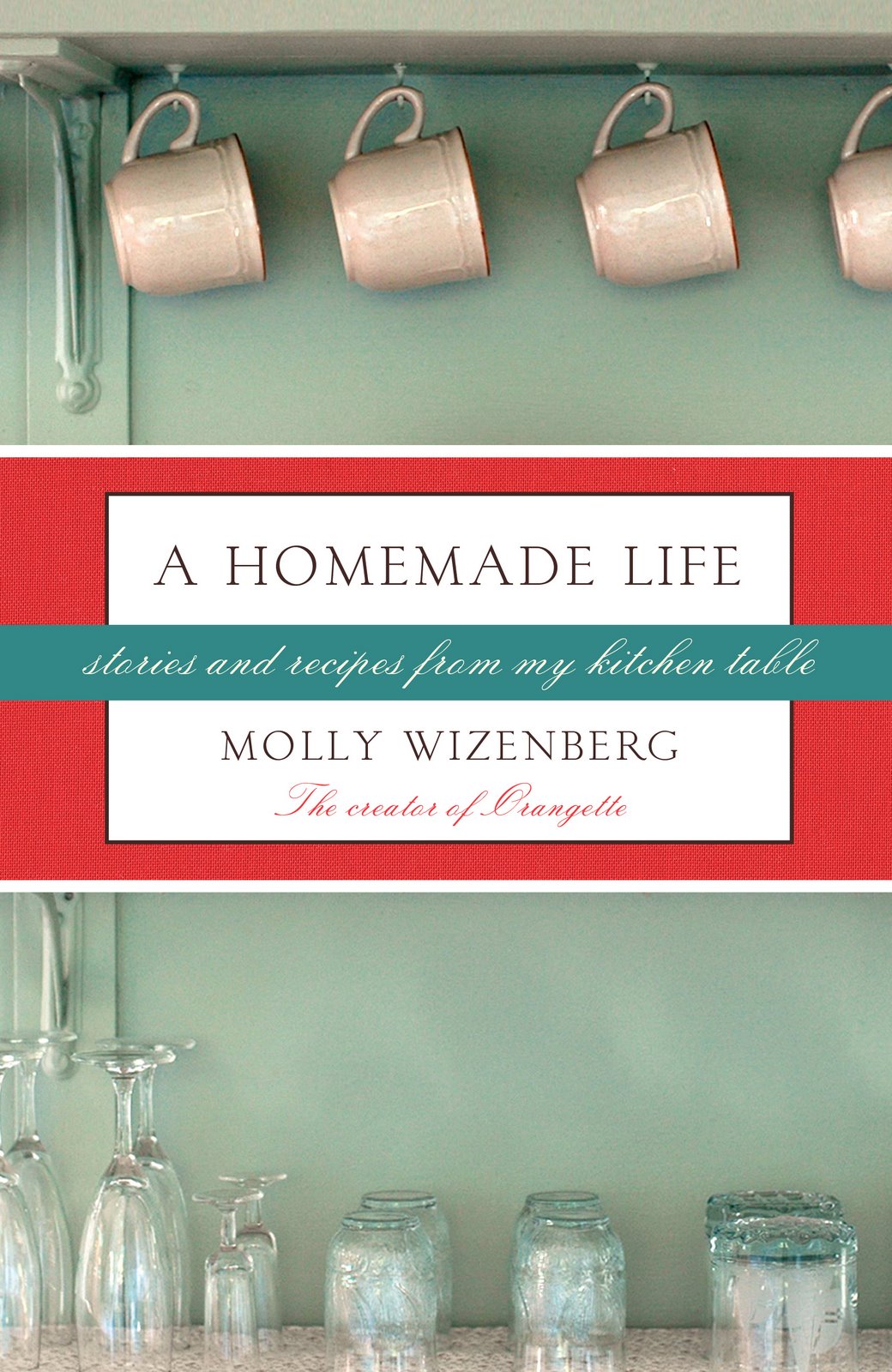 If you recognize the image, it's because it appeared in this long-ago post about our honeymoon. I took it in Brentwood Bay, BC, at a sweet little spot called the Boathouse, where we stared at giant purple starfish under the dock and I tried to wrap my head around the fact that I was somehow a married woman. At the time, the book was still deep in gestation, and I had no idea that those mugs, and those glasses, and that dreamy greenish cabinet would ever go anywhere but into my camera and, possibly, onto this site. This life of mine has been very surprising.
The book comes out in less than two months now, on March 3. You can read more about it here, and you can order it, if you feel so moved, at any number of places, like this one or this one or one of these. I'm thrilled to say that I will be doing a tour, visiting a handful of cities for readings and signings and whatnot, and hopefully, I'll get to meet(!) many of you. When the time gets a little closer and I have more details to share, I'll let you know. I can't wait.

Céleri Rémoulade
Adapted from The Tenth Muse, by Judith Jones
Some recipes call for grating the celery root here, but I find that grating makes for strands of celery root that aren't quite substantial enough, or crunchy enough. I prefer to julienne mine.
1 small to medium celery root, about 10 ounces
6 Tbsp. mayonnaise, preferably homemade
1 Tbsp. plus ½ tsp. Dijon mustard
2 Tbsp. whole-milk plain yogurt
Salt, to taste
Lemon juice, to taste
Sugar, to taste (optional)
First, prepare the celery root. To peel it, use a sharp vegetable peeler or chef's knife to trim away the dirty outer "skin." One end may be especially hairy-looking: you'll want to use the knife to trim it clean.
Next, julienne the celery root. If you have a food processor with a julienne attachment – not a shredding attachment; that's not quite right – try using that. That's the easiest way to julienne. Or, if you have a mandoline with a julienne attachment, you can try doing it that way. However, keep in mind that celery roots are very dense and hard, which could make using the mandoline a bit dangerous. Instead, you might want to julienne by hand, with a sharp knife. To do so, cut the celery root in half. Position one half on its flat side, so that it is steady, and cut it into very thin slices. Then lay those slices flat on the cutting board, stacking them if you like, and cut them into matchsticks. Repeat with the remaining half. It's a tedious process, to say the very least, but it's worth it.
In a medium bowl, stir together the mayonnaise, mustard, yogurt, and a pinch of salt. Taste, and adjust seasoning as necessary. Add the julienned celery root, and toss to mix. Taste, and adjust seasoning again as necessary. We found that ours needed a little bit of lemon juice (about ¼ teaspoon) and a pinch of sugar, as well as more salt.
Chill until serving. Judith Jones recommends making this salad a few hours ahead of serving, so that the flavors can develop, but we liked it best shortly after it was made, when the celery root was at its most crisp and crunchy.
Yield: 4 servings