On a Sunday afternoon in January, it is very important to bake an apple cake.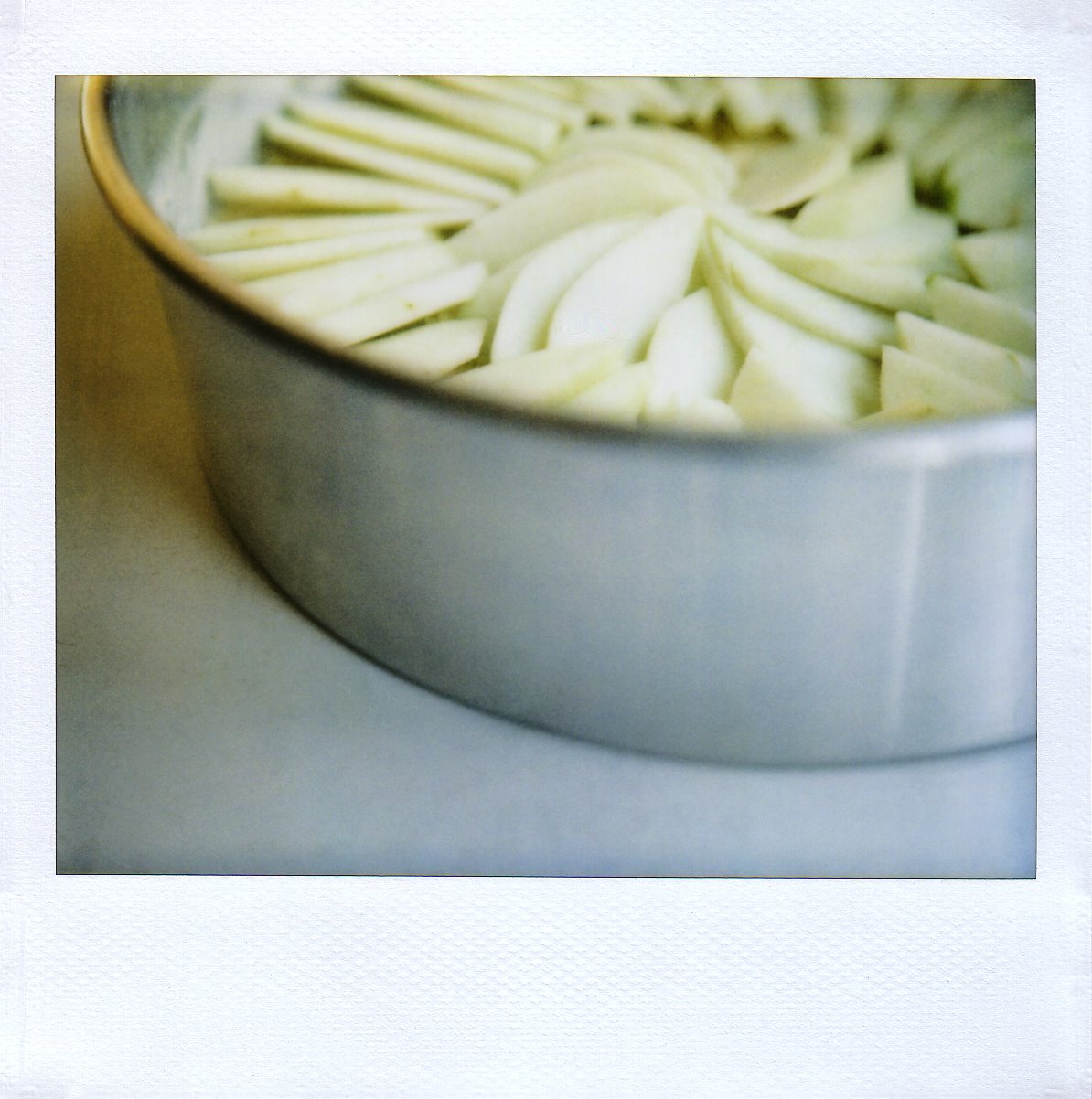 Especially if the sun is shining, which it doesn't often do in Seattle, and if you can open the front door for an hour or two and your dog can sit on the stoop without his tiny, ridiculous Polarfleece coat, which is a minor miracle, because he is a major sissy about cold weather. And especially if the apple cake in question is this one, with a rich, buttery base that crisps lightly at the edges, a layer of fanned-out apples, and a thin cinnamon glaze that puffs ever so gently as it bakes.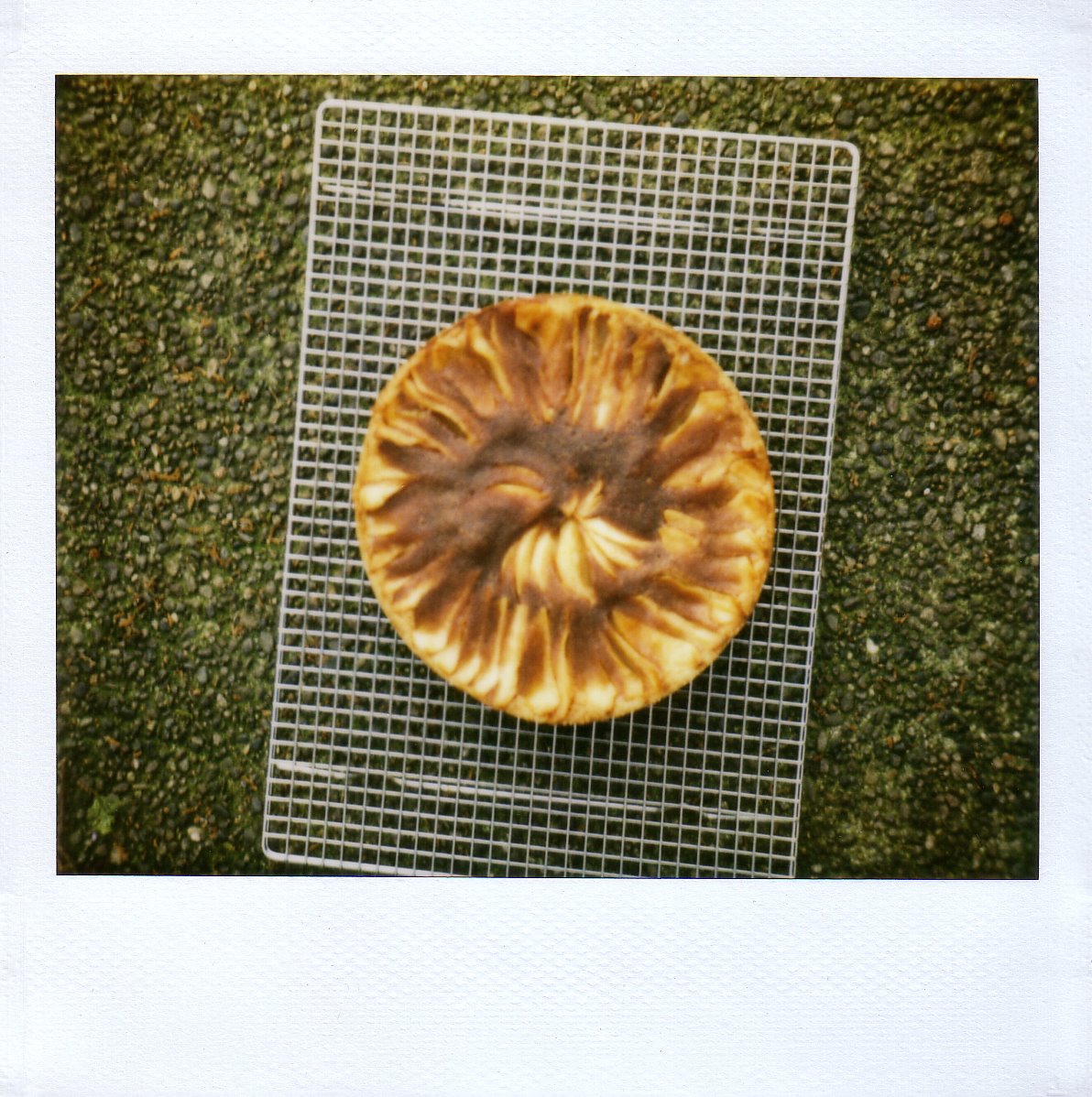 Actually, now that I'm typing this, I don't know whether to call this thing a cake or a tart. It has elements of both, but it isn't decisively either. The recipe comes from my friend Judy Amster, and I'm not sure what she would call it. One day last November, I ran into her at the home of her son, my friend Matthew Amster-Burton, and she pressed a folded piece of paper into my hand, explaining simply that it was the recipe for an apple dessert, and that I would love it. When Judy says that kind of thing, I listen. She has not only an encyclopedic knowledge of food, but also the most enormous cookbook collection I have ever seen. She has the kind of cookbook collection that, in some people, causes spontaneous weeping. This particular recipe, she explained, came not from her bookshelves, but from a friend of a friend in Canada, who originally got it from a Canadian magazine. It was delicious, she promised. It took me two months to find the time to try it, but I listened. I listened, Judy. I know what's good for me.
But, yes, back to its name. How about an apple tart cake? It's a little confusing, but it's fitting. I like it. You can call it whatever you want, frankly. The recipe Judy gave me, printed from an e-mail, had no title at all. Instead, it began matter-of-factly with the command, "use a springform cake thingo, butter and flour it." I love that. That's all I needed to know, really.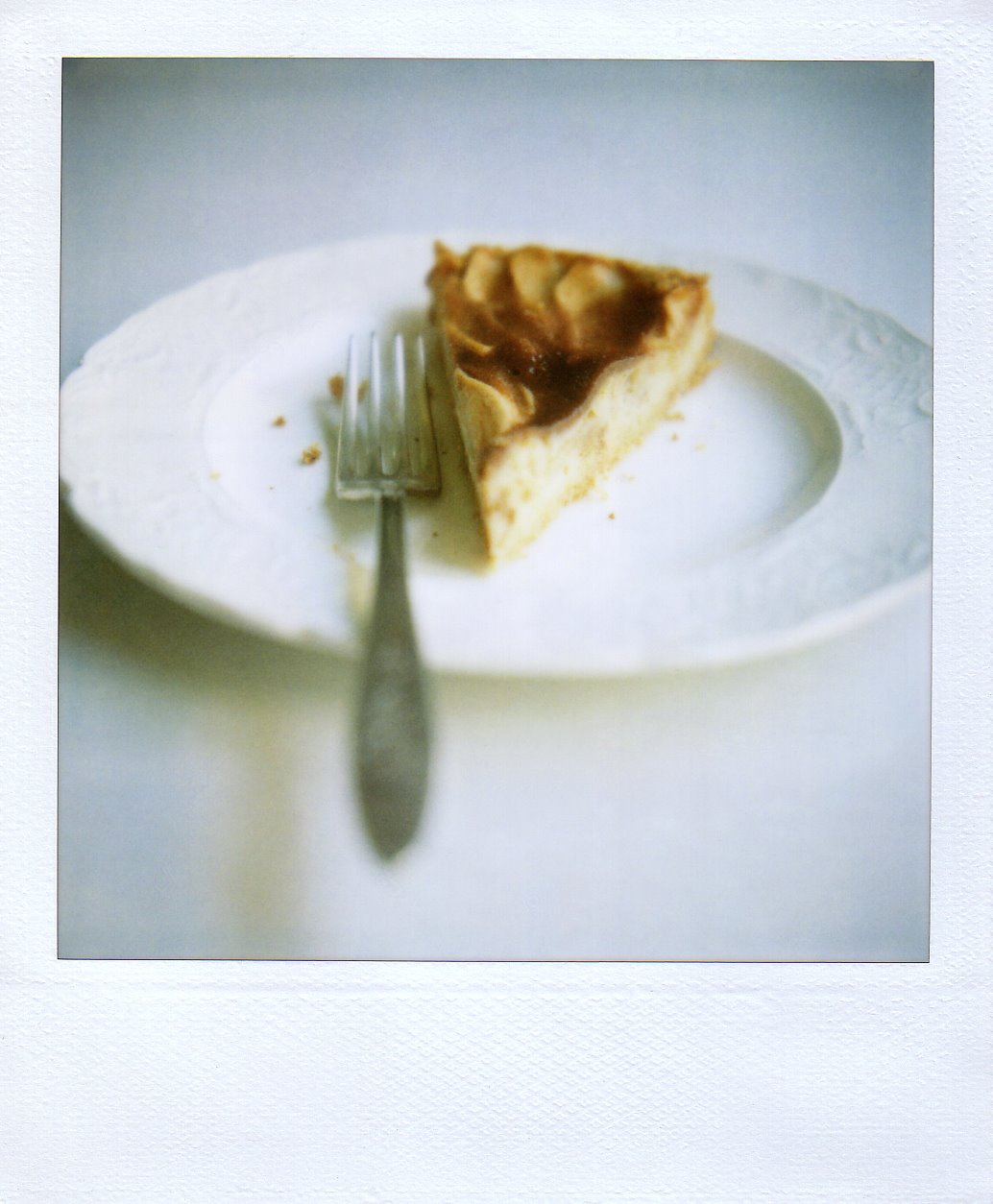 The ingredients for this dessert are basic pantry staples, but I'd never made a recipe quite like it before. The base – the cake-like part – is assembled in the food processor, a mixture of sugar, flour, baking powder, butter, vanilla, and egg that you pulse until it resembles cornmeal. You dump that into your buttered, floured springform cake thingo, and you spread it evenly across the bottom. Then, atop that, you arrange thin slices of apple – preferably a tart kind, like Granny Smith – in a circular pattern, like a frilly French tart. Then you bake it for a little while, during which the apples start to soften and go fragrant, and the cake-like base begins to firm. Then you pull it from the oven and spoon over it a topping of melted butter, sugar, cinnamon, and egg. It looks very runny and completely wrong, but when you return it to the oven, it slowly sets, puffing just a little bit, forming an opaque, burnished glaze on top of the apples.
We ate it last night, while we watched Jaws on DVD, and that Judy, she was so right. The base was nubbly and chewy and moist, but along the very bottom and the outer edges, it crisped like the edge of an oatmeal cookie. The apples on top were soft and juicy, and the cinnamon topping lay over it all like a thin blanket, maybe cashmere with satin trim, binding the whole thing under the warmth of cinnamon. I loved it. And today, when I had another slice after lunch, it was even better. It had mellowed overnight, relaxing its sweetness and letting the apple flavor come to the fore. I was hoping to save some for a special inauguration-watching breakfast tomorrow – a new president definitely, definitely, calls for cake – but I just ate the last pieces after dinner, so I guess that won't be happening. Unless I get up early to bake another one. Which I might.
P.S. Hey, speaking of the inauguration, I'm looking into the possibility of going to Washington, DC, on my book tour in March, and I need your help. I need to know how many of you might come to an event there, if I did do one. It would likely be held in the evening during the week of March 16, at one of my brother's restaurants: DC Coast, Ten Penh, Ceiba, or Acadiana. DC will probably be my only East Coast stop, so if you think you might want to come, leave a comment here, and please don't be shy. It would be so nice to meet you.
P.P.S. The DC event has now been confirmed! You people are the greatest. Click over here for more information.
Apple Tart Cake
Adapted from Judy Amster's friend
For this cake, it is particularly important that your oven temperature is accurate. If it runs too hot, the base of the cake could burn before the apples are fully cooked, and the topping, too, could burn before it has time to set.
Also, if your apples aren't terribly tart, you might consider reducing the sugar in the base a little bit, down from 1 cup to maybe, say, ¾ cup.
1 cup granulated sugar
1 cup all-purpose flour
1 tsp. baking powder
5 Tbsp. cold unsalted butter, cut into a few pieces
1 tsp. vanilla extract
1 large egg, lightly beaten
3 large Granny Smith apples, peeled, cored, and sliced very thinly
For topping:
3 Tbsp. granulated sugar
3 Tbsp. unsalted butter, melted and cooled slightly
1 tsp. ground cinnamon
1 large egg
Preheat oven to 350°. Butter and flour a 9-inch springform pan.
In the bowl of a food processor fitted with the steel blade attachment, combine the sugar, flour, and baking powder. Pulse to mix. Add the butter, and pulse until no large lumps remain. Add the vanilla and the egg, and blend well, until it resembles cornmeal. Dump it into the prepared springform pan. Nudge it around with your fingertips to distribute it evenly, and then gently press it along the bottom of the pan. You're not trying to really tamp it down; you just want to compact it a little. At the edges, let it curve up ever so slightly, like a tart shell with a very low, subtle rim. Arrange the apple slices over the base in a tight circular pattern. It may seem as though you have too many apple slices to fit, but keep going. Really squeeze them in. Slide the pan into the oven, and bake for 45 minutes.
Meanwhile, make the topping. Combine the ingredients in a small bowl, and whisk to blend well. After the cake has baked for 45 minutes, remove it from the oven, and spoon the topping evenly over it. Bake for another 25 minutes or so, until the topping looks set. Transfer the pan to a wire rack, and cool for 20 minutes. Then run a thin knife around the edge to release any areas that may have stuck, and remove the sides of the pan. Cool completely before serving.
Note: This cake is even better on the second day. So if you can, make it a day ahead: just wrap it in plastic wrap and leave it at room temperature until you're ready to eat it. We ate ours plain, but I think it would be great with vanilla ice cream.
Yield: about 8 servings