You already know by now, I'm sure, that I like the idea of a simple recipe. For whatever it's worth, I like the notion that you can take a few well-chosen, high-quality ingredients, treat them kindly, and come out with a pretty nice meal. When I started this blog, I had no idea that this was a schtick of any sort, much less my schtick: it's just sort of happened that way. It's how I like to eat.
It also, however, gets me into lots of trouble sometimes. I am constantly – I mean constantly, people; it's pathological – falling prey to cookbook and magazine recipes that are way too simple, with too few ingredients to taste like much of anything. I mean, it's one thing to take a can of tomatoes, five tablespoons of butter, and one halved onion, bang them into a saucepan, and call it tomato sauce. That's fine. That's classic. But to take four pounds of thinly sliced tart apples, three measly tablespoons of sugar, and two even more measly tablespoons of butter, bake them together overnight in a low, low oven (while you toss and turn, I might add, waiting for the house to burn down), and expect a magical transformation, a delightful gâteau aux pommes, something that looks and tastes like the burnished, beautiful top of a tarte Tatin?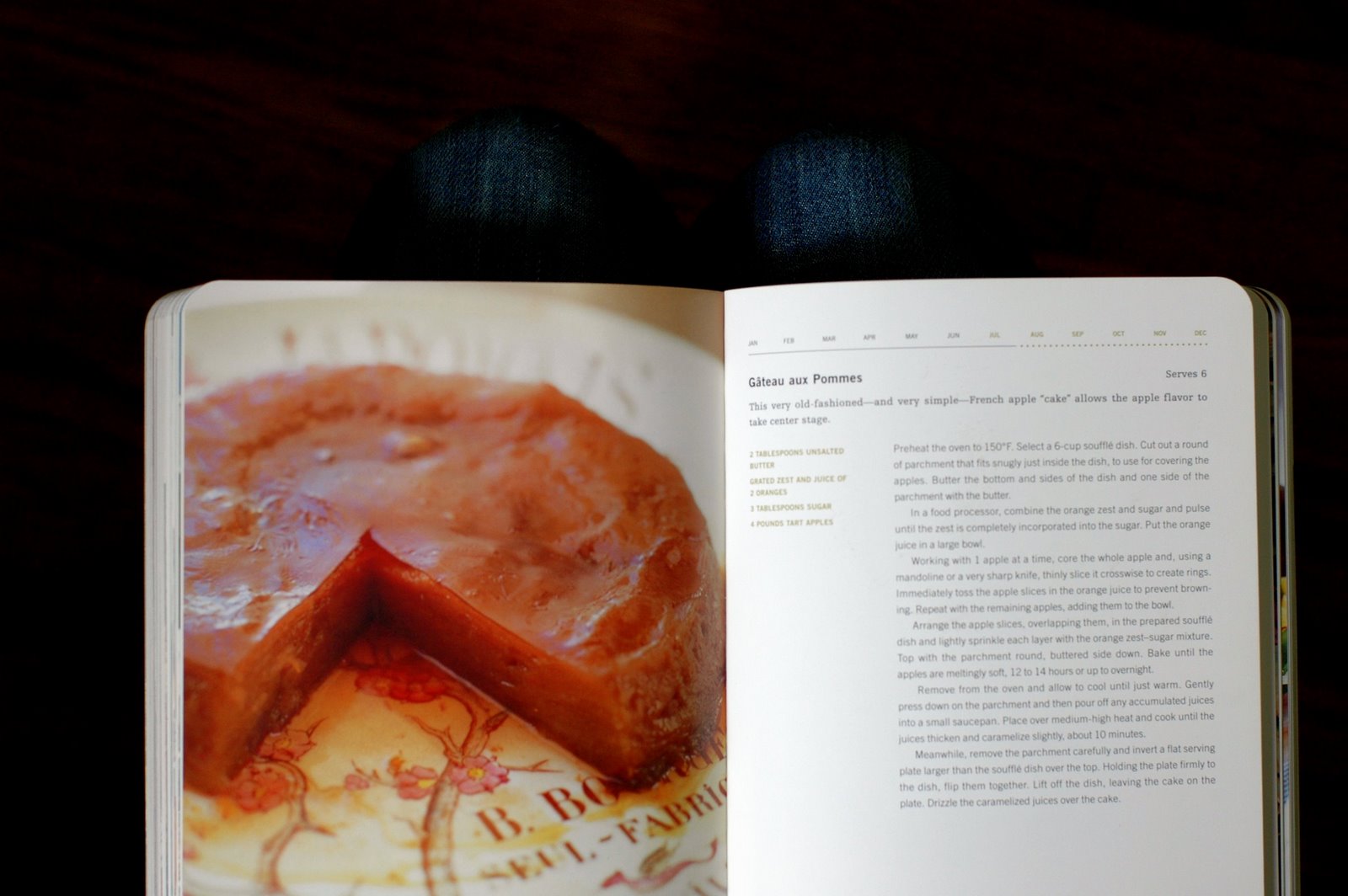 That's silly. Like, stupid-silly. Like, thump-your-forehead-with-the-palm
-of-your-hand-silly. Like, I'm-going-to-throw-the-cookbook-that-inspired
-this-down-the-basement-stairs-and-I-just-might-go-with-it-silly. That's the recipe I made last night. ARRRRGH.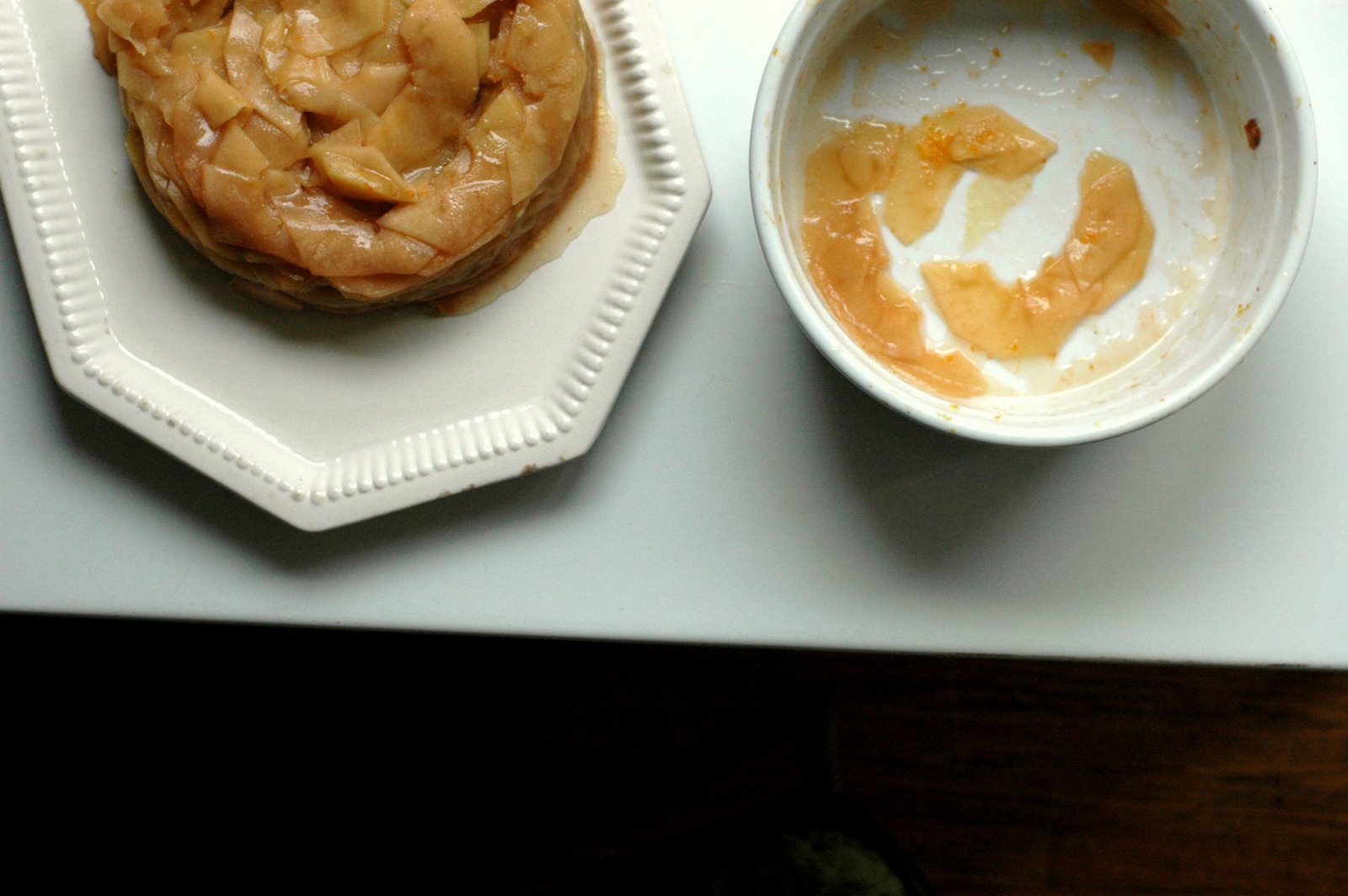 That's also the recipe I won't be sharing with you today. I'll just say this: that if you have a cookbook whose title rhymes with The Ban Brancisco Berry Blaza Barmers' Barket Bookbook, please do not make the cake on page 173. That, and listen to your husband when he tells you to just stop, to stop cursing the apple corer, to stop it RIGHT NOW and come sit on the couch and end the weekend nicely, with an episode of Brothers and Sisters. Take it from me. I know these things.
On the upside, however, I do have a backup recipe for you, a little something that we made as part of dinner on Friday, when we didn't have much in the house but felt too cheap to go out for groceries. It's pretty darn simple, too, but unlike, ahem, some things, it actually worked. For every stupid, lumpy, watery-tasting gâteau aux pommes, may there be a radicchio salad with radishes and parmesan.
It happened the way most dinners do when we're busy: with us digging in the fridge, dredging up scraps and drips, and throwing them together. In the crisper drawer we found a head of radicchio left from a recipe test a couple weeks back, along with some radishes – they're a constant around here, always at the ready – and a raggedy-edged wedge of parmesan cheese. I sort of wrinkled my nose at the combination, worrying that the radicchio might be old and bitter, but Brandon forged on. He sliced the radicchio into thin strips and the radishes into wafers, and then, while we boiled water for some pasta, he tossed them in a bowl with a last of a jar of vinaigrette from the week before. Then he shaved some parmesan over the top, and while the pasta cooked – it would later be tossed with some pesto from the freezer – we sat down to a surprisingly pretty, fittingly fall-like salad.
The radicchio was crisp and wonderfully mellow, tamed by a good dose of vinaigrette and the rich, salty punch of parmesan. The radish, for its part, crunched pleasantly, sweet and cool. Brandon commented than a few slivers of pear would be nice too, and he's right: their sweet, perfumed flavor would be perfect here, and perfectly in season too. I don't have a photograph to show you, because we ate it all on the spot – so sorry! – but given the trauma I've detailed above, I hope you'll let me off easy. Anyway, you can imagine it for yourself: a tangle of purple leaves dotted with red-edged disks of radish, big shards of parmesan, and couple slices of slivered pear, its green skin curved like a line drawing. (See? So pretty! You don't need some stinking photograph.) It's lovely; it's s-i-m-p-l-e; and come to think of it, it might just be dinner again tonight.
Radicchio and Radish Salad with Pear and Parmesan
The dressing that we used on this was my standard vinaigrette, but made with Cognac vinegar. I know that not everyone lives with a vinegar fiend, as I do, so if you don't happen to have a bottle of that fancy stuff lying around, know that you can use most any white wine-type vinegar.
6 radishes
1 medium head radicchio
½ firm-ripe pear, green or red or most any color (optional)
Parmigiano Reggiano
For vinaigrette:
1 Tbsp. Dijon mustard
3 Tbsp. Cognac vinegar (see note above)
½ tsp. salt
5 Tbsp. olive oil, plus more to taste
First, make the vinaigrette. In a small bowl, combine the mustard, vinegar, and salt, and whisk to blend. Add the olive oil, and whisk vigorously to emulsify. Taste, and adjust as needed. Depending on your vinegar, you made need more oil. (We often add an additional teaspoon.) This is a more acidic dressing than some, but it shouldn't hit you over the head with vinegar. Set aside.
Prepare the salad. Trim the radishes, and slice them very thinly. Quarter the radicchio from stem end to tip, and peel away any ragged outer leaves. Working with one quarter at a time, slice crosswise into ¼-inch-thick strips. If you are using the pear, cut it into very thin slices. Combine the radishes and radicchio in a large bowl, and toss with vinaigrette to taste. Add the pear slices, and toss very gently, so as not to break them up.
Serve, using a vegetable peeler to shave a few shards of parmesan cheese onto each serving.
Yield: About 4 standard-size servings, or two Molly-and-Brandon-size servings
P.S. Does anyone besides me read the title of this post and want to yell "Lots of trouble! Lots of bubble!" à la Fred Schneider in "Rock Lobster"? I didn't think so.