I tried to hold it off. Really, I did. I swore to myself that I wouldn't buy a winter squash until at least October 1, if not later. I mean, there are still a few nectarines to be had, for crying out loud, and Romano beans, and cherry tomatoes, and fat, pristine eggplant, fruits as big and heavy as my head, begging to roasted and mashed. There's plenty to eat. There's no need for winter squash. Nor potatoes, nor pears. No need at all.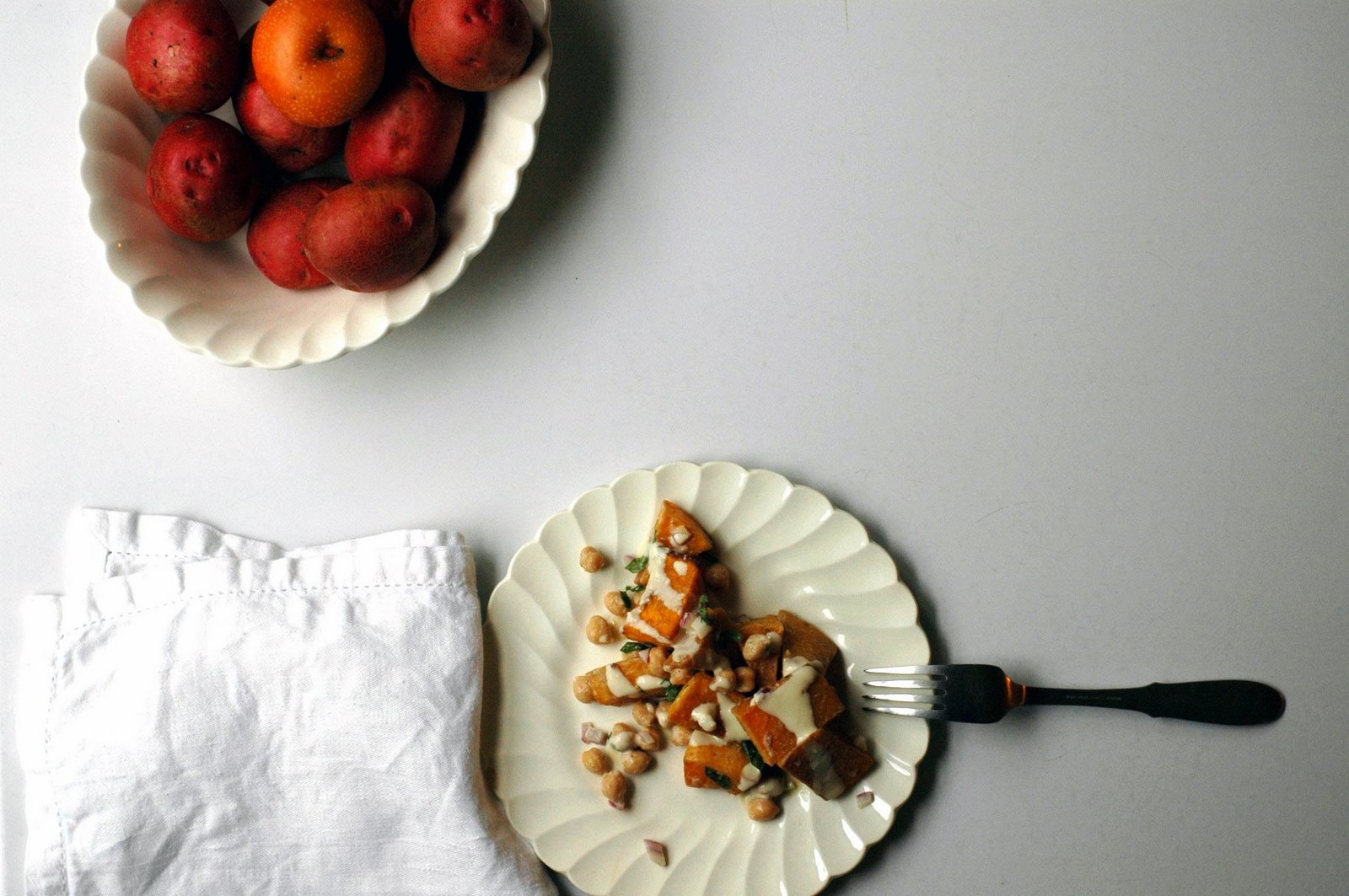 But then, you know, there they were, the hard-shelled squash and the new potatoes and the Asian pears, at the farmers' market on Saturday morning, and it was cloudy and cold, and they just looked so sad. So sad, really – bumping around in their big crates and bins, with no cushions or canopy, no shelter to speak of. Those pesky butternuts, too, they know how to get to you. They've got those long, curvy necks, and they know just how to hook them over the side of the bin so that you'll see them there, peeking at you, giving you the eye. They're trouble, those butternuts. Watch out. Trust me, I know. Because one of them wound up in my bag on Saturday morning, and it was only September 29.
(If it makes my willpower look any less weak, note this: that Brandon and I also made a pact to not turn on the heat before October 1, and by god, we made it. Keep in mind, too, that I'm the one at home most days, writing, with a scarf on, and wool socks, and my teeth chattering. Oh, I've got willpower, people. Our little place gets downright cold, even when it's not that chilly outside.)
So yes, about that sneaky, sneaky squash. Well, I brought it home, and since I figured I should at least try to make the most of things, September 29 or no, I set to work. There was (and yeep!, still is) a teetering stack of cookbooks on my side of the bed, and in it was a little beauty called Casa Moro, the second cookbook by Sam and Sam Clark, chef-owners of the London restaurant Moro. I've never been to Moro, and some of you – ahem – know the place much, much better than I do, but it didn't take long for me to feel right at home in the pages of that book. It's beautiful, for one thing, a cookbook-meets-travelogue with lush, seemingly effortless photographs printed on uncoated stock – think The Kitchen Diaries, but set in Spain and North Africa, and with even more recipes. Needless to say, I pulled it from the pile, and before I knew it, I had folded down a half-dozen pages. And then, ta da!, there it was, on page 242, a pretty little vehicle for winter squash, a warm salad bulked out with chickpeas, red onion, and tahini.
So I flicked on the oven and set to work with the peeler, slipping the squash out of its skin. Then I chopped it into coarse hunks – so reassuring, I was reminded, the sound of the knife as it clears that dense, rich flesh to meet the cutting board again – and then tossed it in the oven with some olive oil, crushed garlic, and allspice. While it roasted, I whisked up a sauce of tahini, lemon, garlic, and olive oil, drained a can of chickpeas, and took a few whacks at a bunch of cilantro, and meanwhile, oh my, the house even warmed a little.
By the time I sat down to eat, with a glass of wine and another cookbook to read – Brandon was out for the evening – I was feeling almost pleased with that butternut squash, I have to say, for having pulled a fast one on me. Under a thin blanket of tahini sauce, with some crisp onion and cilantro to cheer things along, the spiced squash cozied up to the chickpeas as though the two were old pals. The salad was warm here, cool there, and everywhere earthy and restoring. I inhaled the whole plate in about five minutes flat, and to tell you the truth, I felt pretty chuffed, as the Brits would say, about it all.
I saved the leftovers for Brandon, and we shared them as a brunch of sorts the next morning, with Asian pears for dessert. He already wants to make it again. Thank goodness it's now October 1, so we can.
Warm Butternut and Chickpea Salad with Tahini
Adapted from Casa Moro
This salad pretty much speaks for itself. It's a little exotic but also pleasingly familiar, and it's totally, totally delicious. It'll be a standby in our kitchen until next summer, I'm quite certain. But just in case you want one last sales pitch, I should also tell you that it seems to have miraculous properties where sobriety is concerned. When I first ate it on Saturday night, I drank a glass of wine. (Though it pains me to say it, that alone should have been enough to get me a little tipsy. But it didn't.) Then I went to a birthday party at the home of some friends nearby, and I drank three glasses of beer – !!! – and was completely and utterly fine. Fine. Like, talking-about-mortgages-and-number-crunching fine. Just so you know.
For salad:
1 medium butternut squash (about 2 to 2 ½ lb.), peeled, seeded, and cut into 1 ½-inch pieces
1 medium garlic clove, pressed
½ tsp. ground allspice
2 Tbsp. olive oil
Salt
One 15-ounce can chickpeas, drained and rinsed
¼ of a medium red onion, finely chopped
¼ cup coarsely chopped cilantro leaves
For tahini sauce:
1 medium garlic clove, finely minced with a pinch of salt
3 ½ Tbsp. lemon juice
3 Tbsp. well-stirred tahini
2 Tbsp. water
2 Tbsp. olive oil, plus more to taste
Preheat the oven to 425 degrees Fahrenheit.
In a large bowl, combine the butternut squash, garlic, allspice, olive oil, and a good pinch or two of salt. Using a large spoon or your hands, toss until the squash pieces are evenly coated. Turn them out onto a baking sheet, and bake for 15 to 25 minutes, or until soft. Remove from the oven and cool.
Meanwhile, make the tahini sauce. In a small bowl, whisk together the garlic and lemon juice. Add the tahini, and whisk to blend. Add the water and olive oil, whisk well, and taste for seasoning. The sauce should have plenty of nutty tahini flavor, but also a little kick of lemon. (I found that my tahini was a little bitter and that the lemon was a bit much, so I added additional olive oil to tame both.)
To assemble the salad, combine the squash, chickpeas, onion, and cilantro in a mixing bowl. Add tahini sauce to taste, and toss carefully. (Alternatively, you can also serve the salad undressed, with the tahini sauce on the side. That way, each person can use as much or as little as they want, and the individual ingredients taste a little brighter, too.) Serve, with additional salt for sprinkling.
Note: This salad, lightly dressed, keeps beautifully in the fridge. (Hold a little of the tahini sauce on the side, for dressing at the table.) Before serving, warm slightly with quick jolt in the microwave.
Yield: 4 servings