Month:
May 2007
Others may argue, but I think May is the toughest month. It's the biggest tease, the old bait-and-switch. Over most of North America, things are looking pretty nice. The flowers are in bloom; the weather is fine; bare feet and legs are back in fashion. But Seattle, however, isn't quite on the bandwagon. It's sort of hanging from the tailgate, and by only one hand. Sure, the trees are full and the flowers are open, and most of us are driving with the windows down. But this city is tricky. It blows hot and cold. One day, it's 82 degrees and sunny, and the next, it's 58 with flood warnings. You know, really, winter in Seattle is no sweat. It mists a little, and it's cloudy and gray. But by May, when weather still feels like February, it can be hard for a girl to keep her chin up.
Now, I should, of course, tell you that forecasters are predicting sun and 77 degrees today. I should also tell you that it's about time. For the better part of the past two weeks, Brandon and I were without a car, and for the better part of the past two weeks, it rained. Going carless in Seattle, with its sprawl and so-so bus schedule, is no easy feat. For us, it was a particularly wet one. The rain came in lockstep with our social plans. Every time we went to leave the house, it was drip drop! drip drop! all of a sudden. One night, we decided to meet some friends for dinner, and I offered to bring dessert. Have you ever tried to carry a freshly baked, still-hot cake in a paper bag, under a too-small umbrella, in a rainstorm? I have. That's all I want to say about that.
Then there was the time – the following night, actually – that we took a cab home from a cocktail party, again in the rain. This may be impossible, but I could swear – really, swear – that the body of the vehicle was not attached to its wheels. It was like riding in a sailboat on the windiest day of the year – only instead of whitecaps, we had potholes. By the time we pulled up at home, I was so motion-sick that all I could do was sit quietly and rub my stomach, like stroking an old dog, in the hopes that it would lie down and sleep.
Oh, May. You're so fickle, and such a free spirit. I've always liked June better. It's got such a sweet name, so lady-like and dainty. It's all pin curls and sundresses. It has to be better than this. Summer doesn't usually arrive in Seattle until the Fourth of July or so, but still, I believe in June. I believe in June, because it means melons.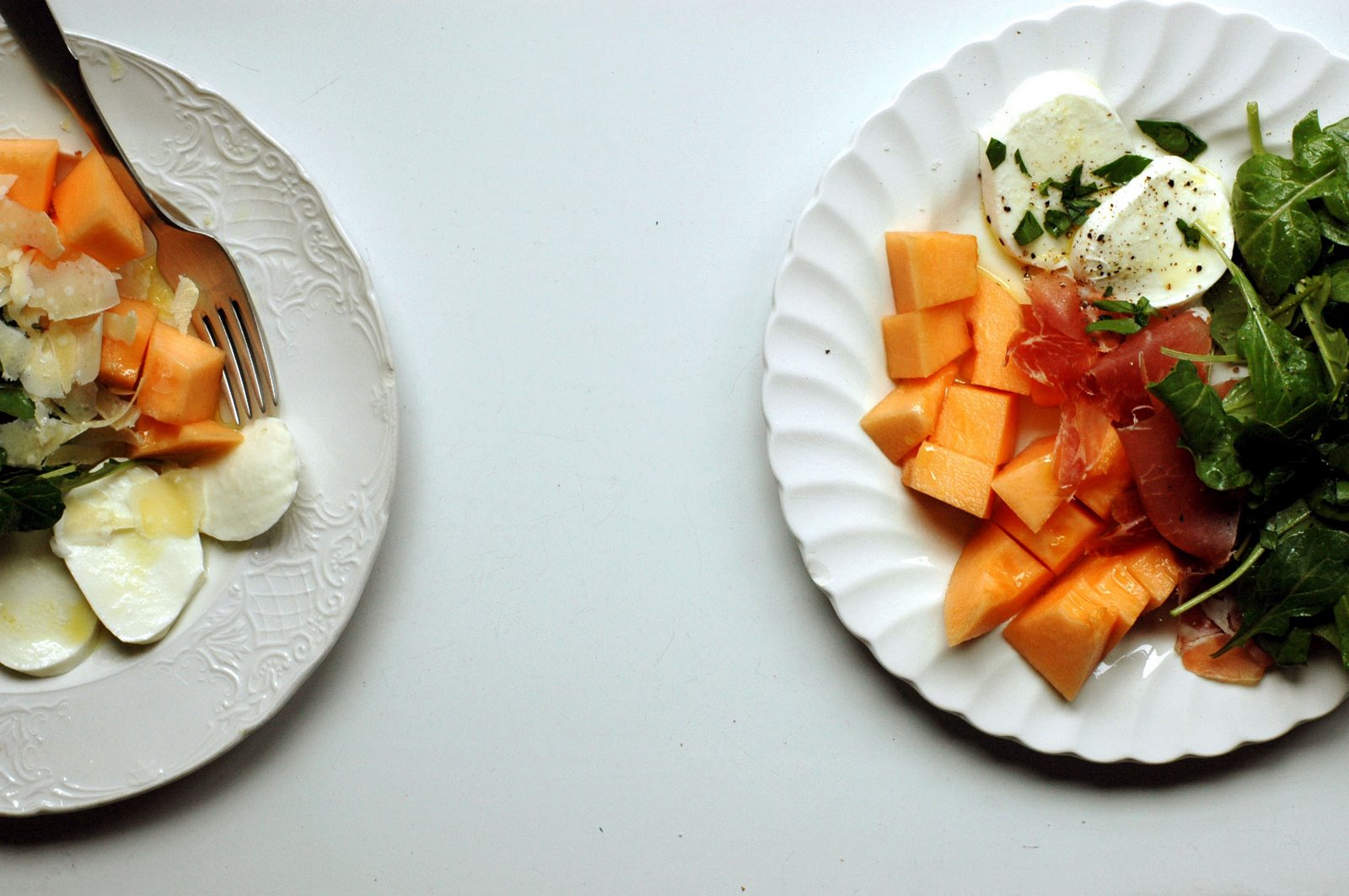 Lately, we've been eating them like they were going out of style. Local specimens won't be ripe for at least a month, mind you, but the markets are full of them anyway, in all shades and sizes. Last week we went through two watermelons, dense and sweet, each no bigger than a child's head. Over the weekend, I brought home a cantaloupe. It smelled like picnics and honey and warm air, and when I set it on the counter to soften a bit, it sent up a cloud of fragrance as thick as fog. It reminded me of something I'd read in Nigel Slater's Kitchen Diaries last winter, when melon season was long past. There was one page in particular that I folded down, a recipe for a better day, a hot summer day, a salad of ripe melon and cured meat with fresh mozzarella and arugula.
Now, granted, it's not hot quite yet, but it is summer, sort of, and when a melon announces its readiness, I sit up and listen.
Most days, I would argue that prosciutto and melon, put together, are hard to improve upon, but Nigel Slater knows his business. Sure enough, there's no deal that can't be sweetened with the clean, milky chew of fresh mozzarella and the slow burn of young arugula. Mr. Slater's original recipe yields a tossed salad, but for the sake of prettiness – and so as not to bruise the fruit and greens – I made mine a composed version, positioned around the plate like numbers on a clock. First came the melon, coarsely cubed; then thick slices of cheese; a pile of prosciutto torn into rags; and a heap of peppery greens. Each got a drizzle or douse of olive oil and lemon, and some got a little of both. It was hardly sixty degrees that day, but at our white table by the window, for a half hour or so, it felt like midsummer. I highly recommend it.
Early Summer Composed Salad
Inspired by Nigel Slater and his Kitchen Diaries
This salad is only as good as its individual components, so make sure your ingredients are as good as possible. (I know I've said that before, but I mean it.) The melon, especially, should be a great one – sweet and fragrant, the kind that makes you stop and inhale, sighing a little, each time you walk past. I like to let mine sit on the kitchen counter until I'm sure it's plenty ripe, and then I stick it in the fridge for a few hours before serving. (I like most fruits best when they're chilled, especially melons.) The olive oil, too, should be of excellent quality. My current favorite is this one, made in Sacramento. Tea introduced me to it, and as she says, it's almost more like olive juice than it is like olive oil. (That's a good thing, in case you're wondering.) It's a beautiful shade of yellowy green, thick and cloudy and wonderfully grassy. It makes everything it touches stand up and sing.
The quantities below are approximate and make a light Sunday lunch or supper for two people. For a vegetarian alternative, replace the prosciutto with ribbons of shaved Parmigiano Reggiano. Brandon gives it his seal of approval.
½ of a small ripe cantaloupe, seeds and rind removed, cut into rough 1-inch chunks
A few thin slices of prosciutto, torn into wide strips
1 ball of fresh mozzarella, cut into six slices
About 4 ounces baby arugula
1 Tbsp. olive oil, plus more for serving
1 tsp. fresh lemon juice, plus more for serving
Crunchy salt, such as Maldon or fleur de sel
Freshly ground pepper
A small handful of Italian parsley leaves (optional)
Divide the melon, prosciutto, and mozzarella between two plates, arranging each item in its own little pile. Set aside.
Put the arugula in a medium bowl. In a small cup, whisk together 1 Tbsp. olive oil, 1 tsp. lemon juice, and a pinch of salt. Drizzle the dressing over the arugula, and, using your hands, toss very gently. (Arugula bruises ridiculously easily. It'll bruise if you even look at it wrong.) Put a handful of arugula on each plate, alongside the melon, prosciutto, and mozzarella.
Sprinkle a bit of salt and pepper over the mozzarella. Splash a bit of lemon juice over the melon. Drizzle the melon and mozzarella with olive oil. Sprinkle a bit of parsley over the plates, if you like. Serve, with plenty of crusty bread.
Yield: 2 servings