Friends, I feel a little ridiculous writing about my trip when it's now been, oh, two weeks since I got home, but before I return to our regularly-scheduled recipe-related programming, I have to tell you one more thing. It's just a word, really. A sort of vocabulary lesson, if you will. It's called a bouchon.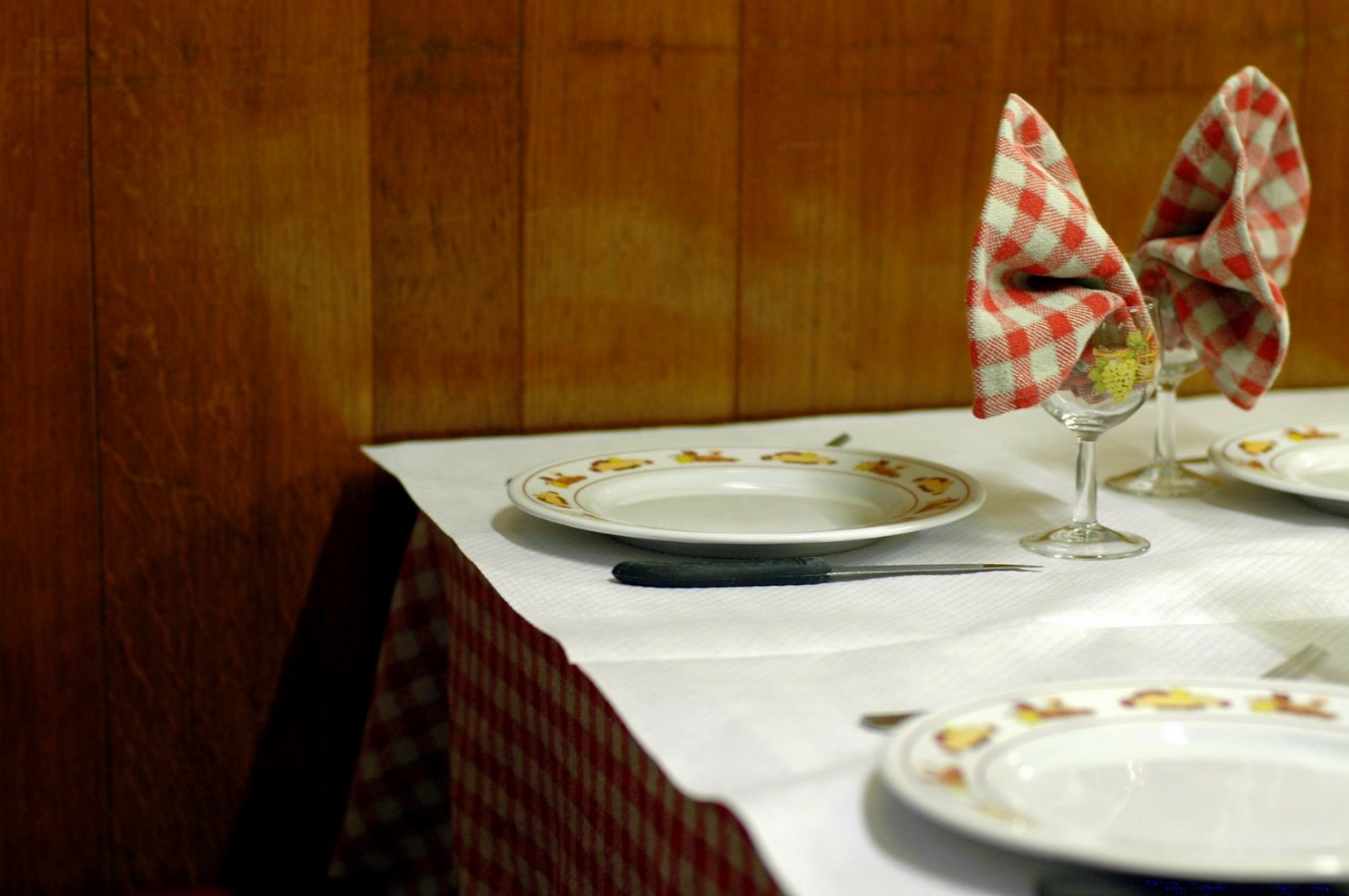 When Mom and I first decided to take a trip to France this spring, Paris wasn't even in the picture. To tell you the truth, it was actually sort of an afterthought. My first priority was Lyon. I'm not sure when or where I got this particular bee in my bonnet, but for a few years, I've wanted to go there. Somewhere, sometime, someone had told me that the best food in France could be found in Lyon, churned out of kitchens that haven't changed for decades and served up by sturdy proprietresses who shuffle around in their slippers. Someone told me about bouchons.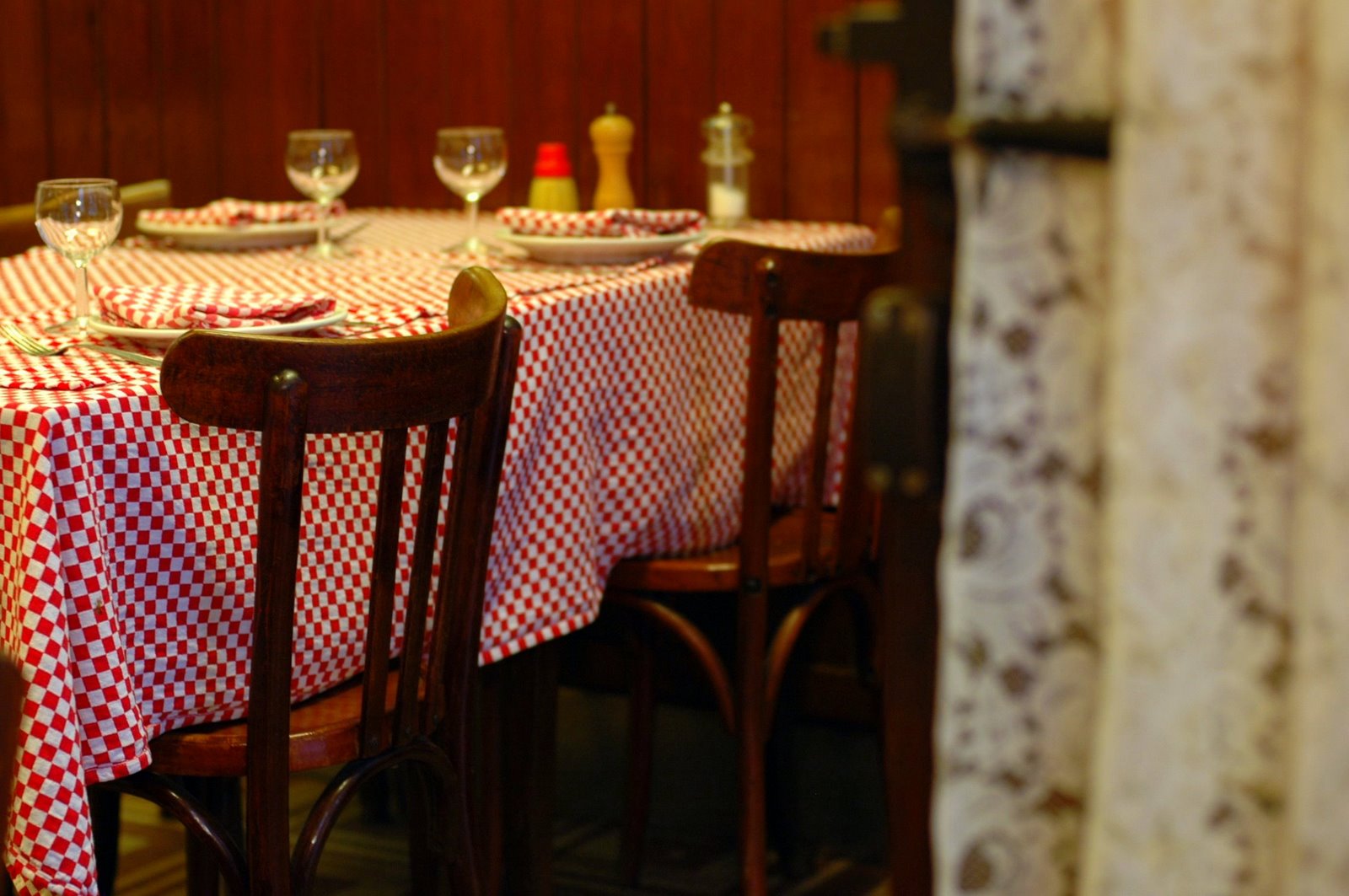 The bouchon, simply put, is a Lyonnais twist on the classic French bistro. It's similar, but louder, more communal, and with ruddier cheeks. I've read a few different explanations of the bouchon's origins and history, but most agree that the concept is a very old one, dating from the seventeenth and eighteenth centuries, when silk workers passing through town would be fed and watered in rustic local inns. They say that the term derives from the word bousche, an old-fashioned name for a bundle of straw, which would be hung outside an inn to indicate that food and wine were served inside. By extension, the establishments themselves soon came to be called bouchons. [Just so you know, the word bouchon also means "cork" – as in, the thing you yank from a bottle of wine – but apparently it comes from a different linguistic root.]
Tucked away in the narrow streets of Lyon, an ancient city split by two rivers, modern-day bouchons still dish out the same sort of humble food that was served centuries ago. They're famous for a style of home cooking called cuisine de bonne femme, which Patricia Wells describes as "at once generous, robust, economical and based on the region's wealth of plump poultry, fresh garden vegetables, tangy cheeses and fruity young wines." They serve lots of pork, lots of offal, and lots of wine – all on checked red tablecloths, with lace curtains in the windows, wooden tables and chairs, and worn, dented flatware. They're the kind of place where you make friends with the table next to yours, where you eavesdrop to hear what's been ordered and trade ooohs and ahhhs as new plates are delivered. They're the sort of place where the middle-aged Frenchwoman next to you wears shorts and flats and, halfway through the meal, pulls her knees up to sit cross-legged in her wobbly chair.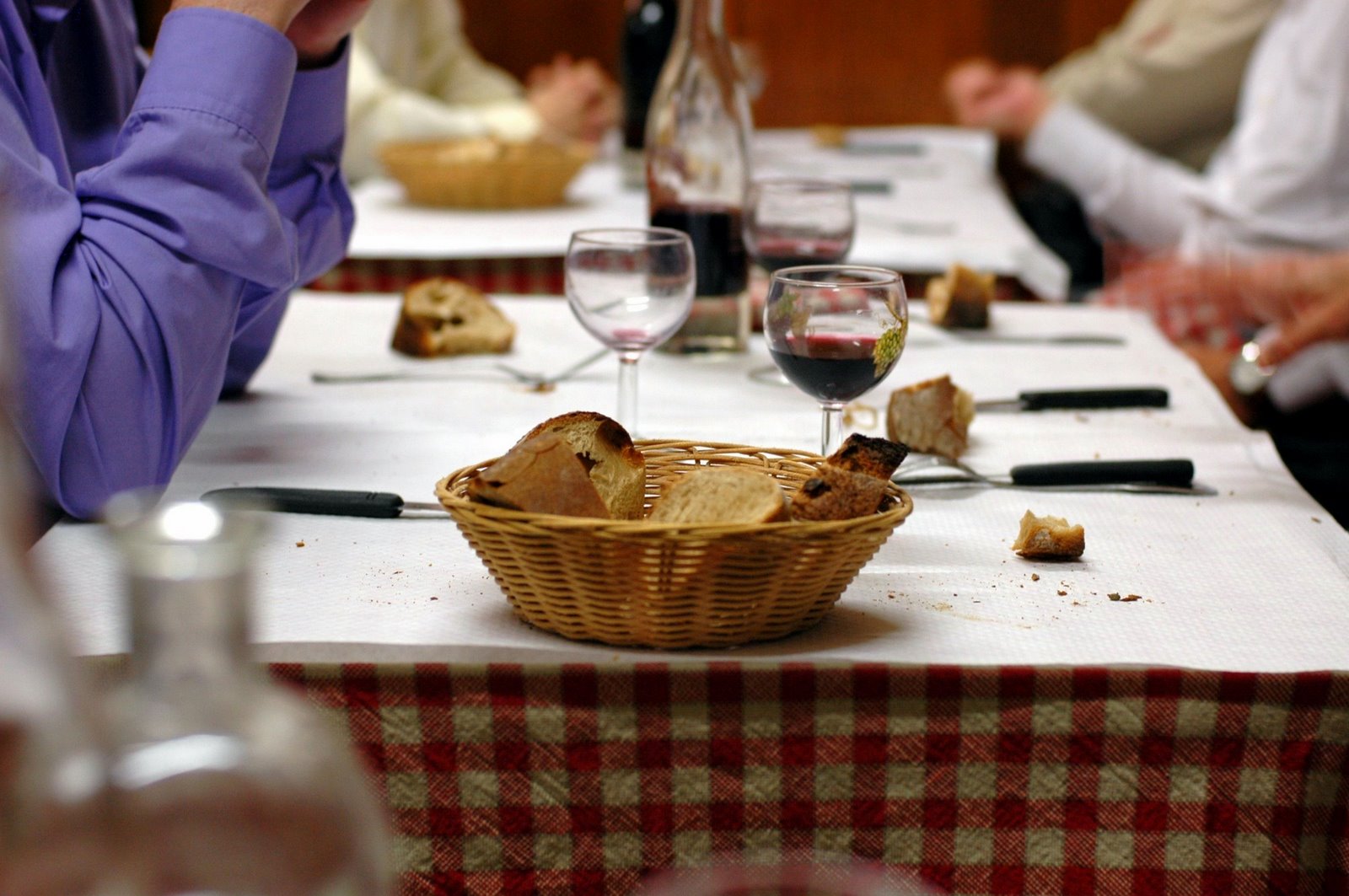 I much prefer good home cooking to restaurant fare, but bouchons are the best of both. They serve the kind of rustic, heartening food I wish I could make, and I don't even have to lift a finger.
Mom and I ate in two bouchons in Lyon, and together, they were the best meals of the entire trip. (We were in town for only two days, but if you go, make it three. And don't miss the traboules in Vieux Lyon.) We have David Lebovitz to thank for our first night's dinner, at Café des Fédérations. He had recommended it to me, saying that it was "lots of fun and lots of food," and happily, he wasn't kidding.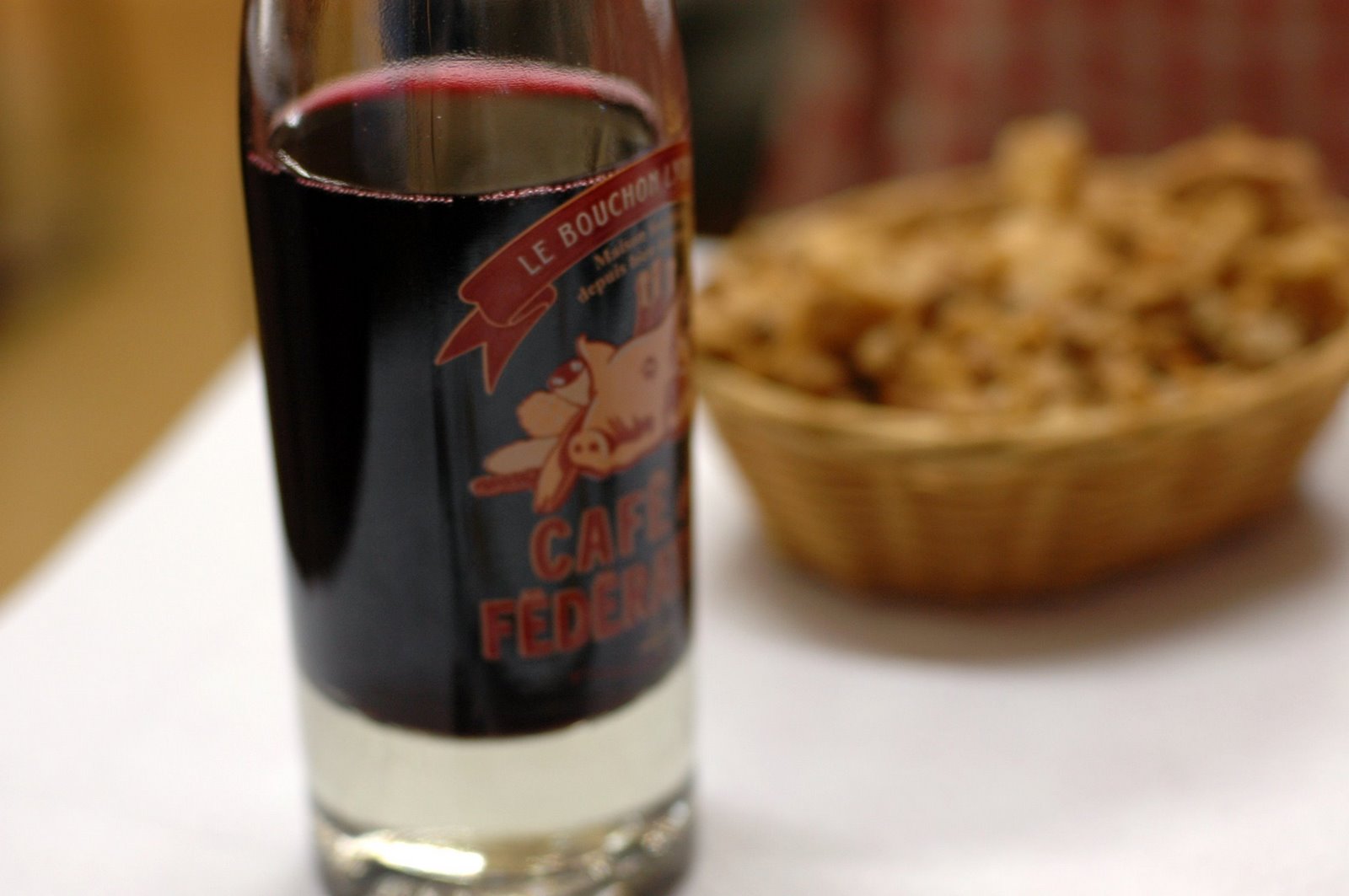 When we sat down, we ordered a carafe of Côtes du Rhône, and with it came a complimentary basket of pork cracklings as big as a newborn baby. They were crisp and delicious, and on the tongue, they melted straight away. I had to warn my mother – twice, I should add – not to spoil her dinner.
Next came the first course, which was served family-style, according to a set menu. The waitress came to each table with four dishes: a platter of local charcuterie and cornichons; a white ramekin packed with housemade wild boar terrine; a bowl of lentil salad with shallots and vinaigrette; and a frisee salad with chunks of ham and hard-boiled egg in a mustard vinaigrette. There's something about that kind of service that sets people at ease. There's no gnashing of teeth over what to order, no fussy presentation to besmirch with your fork. While Mom and I traded platters and filled our plates, the businessmen at a nearby table toasted and giggled and loosened their ties.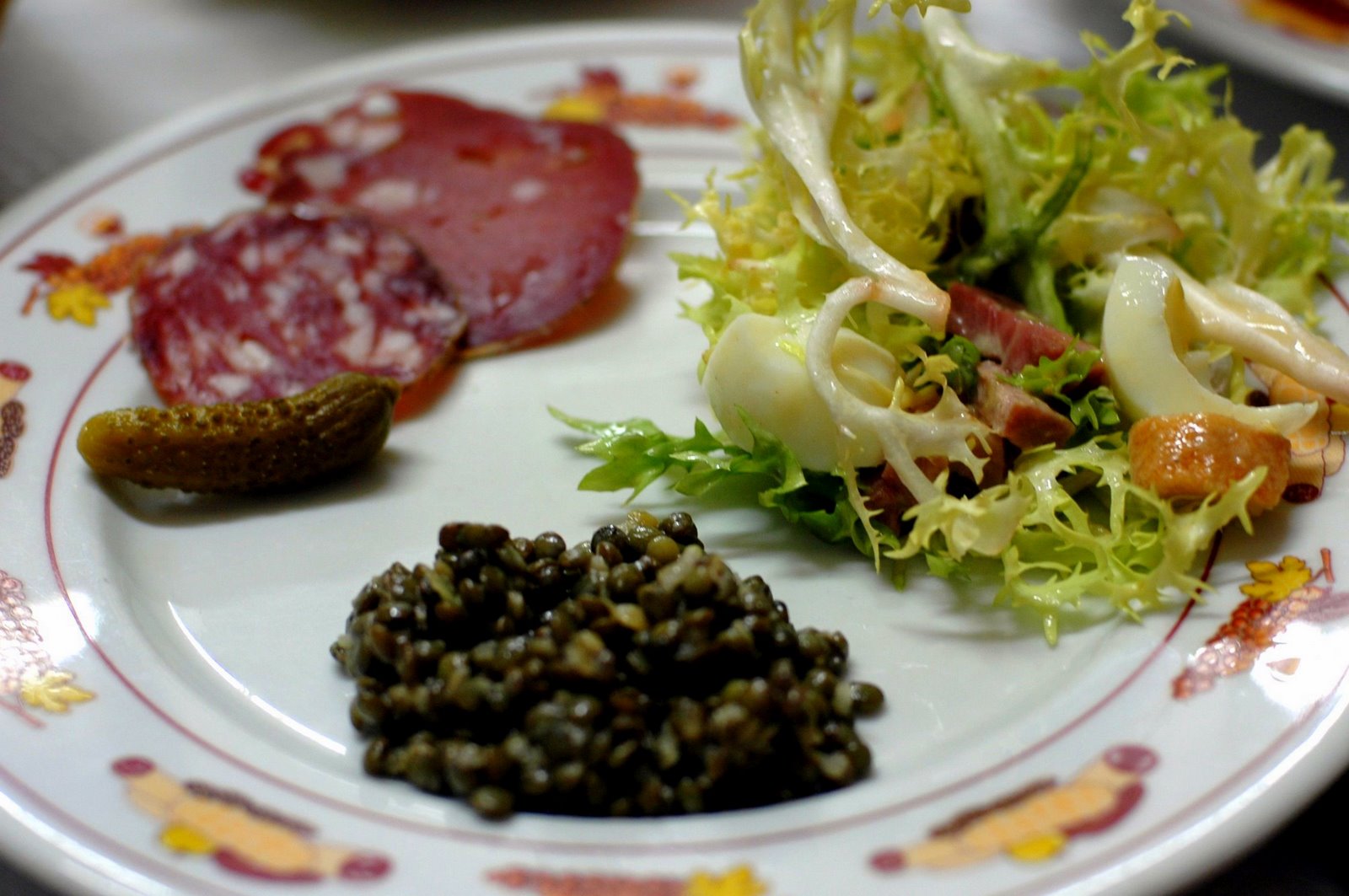 Next came oeufs en meurette, eggs poached in red wine and served in a brothy sauce flavored with the same. I've loved oeufs en meurette since I first tried them in a bistro in Paris, but these were the best I've tasted, served in a small white bowl with a big, bent spoon, a single egg floating in a rich, beefy broth spiked with salty lardons.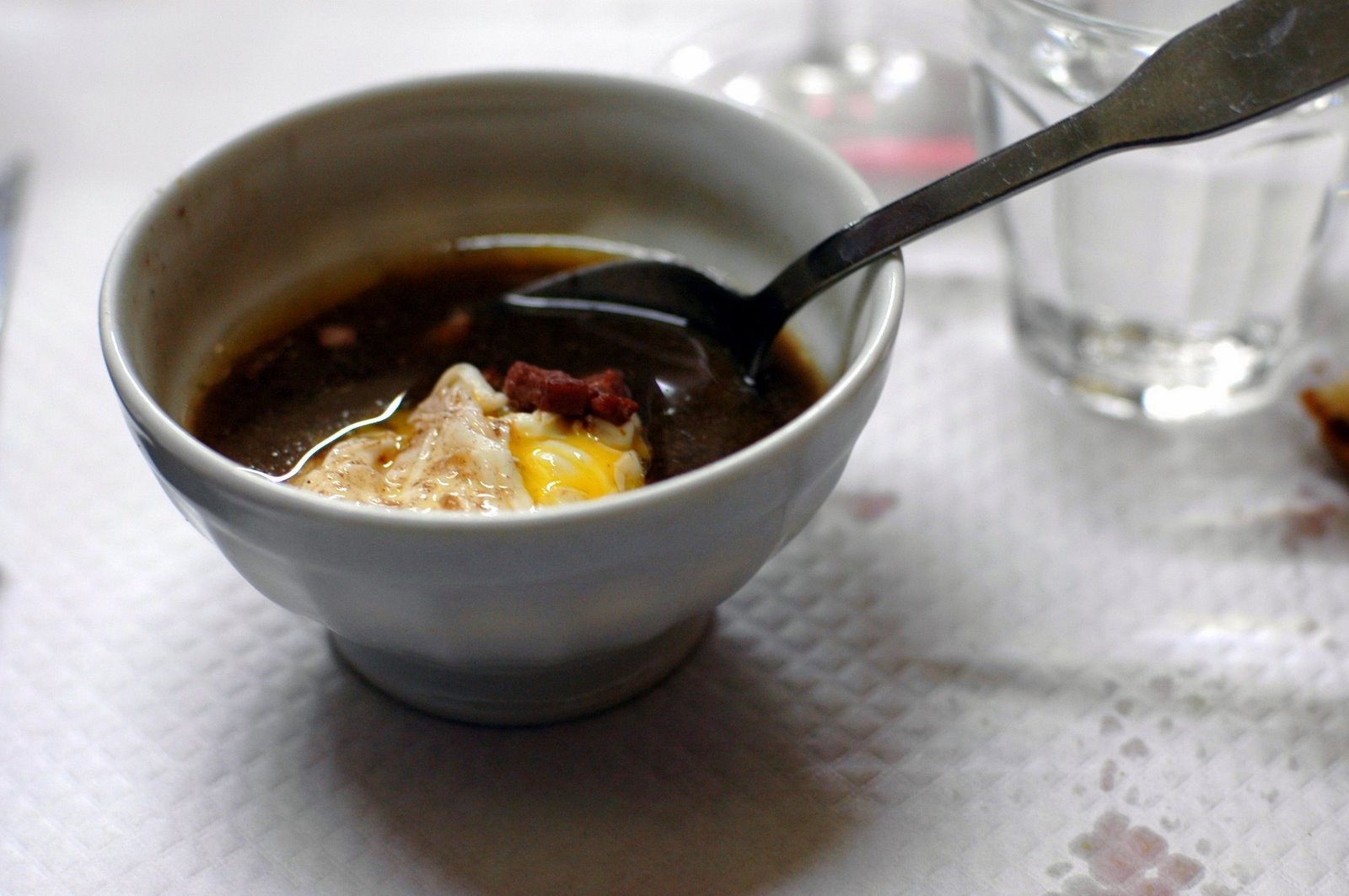 There was no written menu, so when it came time to order the main course, the waitress recited our options at tableside and then waited patiently while I translated for Mom, and then again while we hemmed and hawed. Among the choices were tablier de sapeur, a Lyonnais specialty of breaded, fried tripe; a pressed cake of chicken liver; a rich, inky stew of pork cheeks; and tête de veau, meat from a calf's head. I was sorely tempted by the chicken liver, and Mom considered the breaded tripe, but we both settled on quenelles de brochet, pike dumplings served in sauce Nantua, a creamy sauce infused with crayfish. I had a nagging feeling that we'd missed an important chance to try something scary and new – that's what we were there for, or so we planned – but when you love quenelles as much as we do, you do what you have to. They were delicious.
Then came the cheese. Every table had their own platter like this one. I had to fight hard not to squeal when the waitress set it down.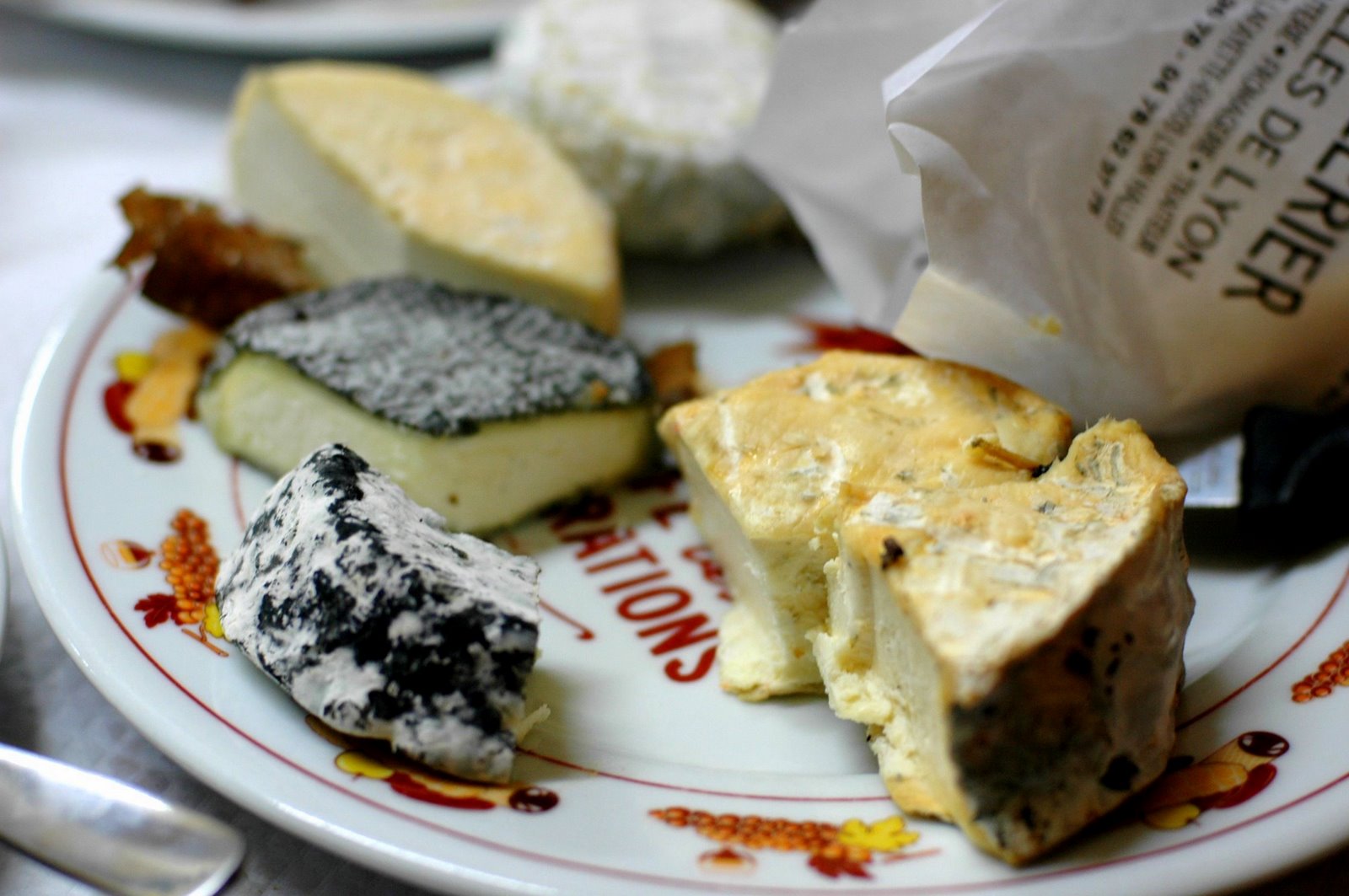 And then dessert. For Mom, it was a perfect lemon tart, and for me, a cupful of chocolate mousse, which came with a spoon stuck bolt upright in its center. Needless to say, it was quickly removed and put to use.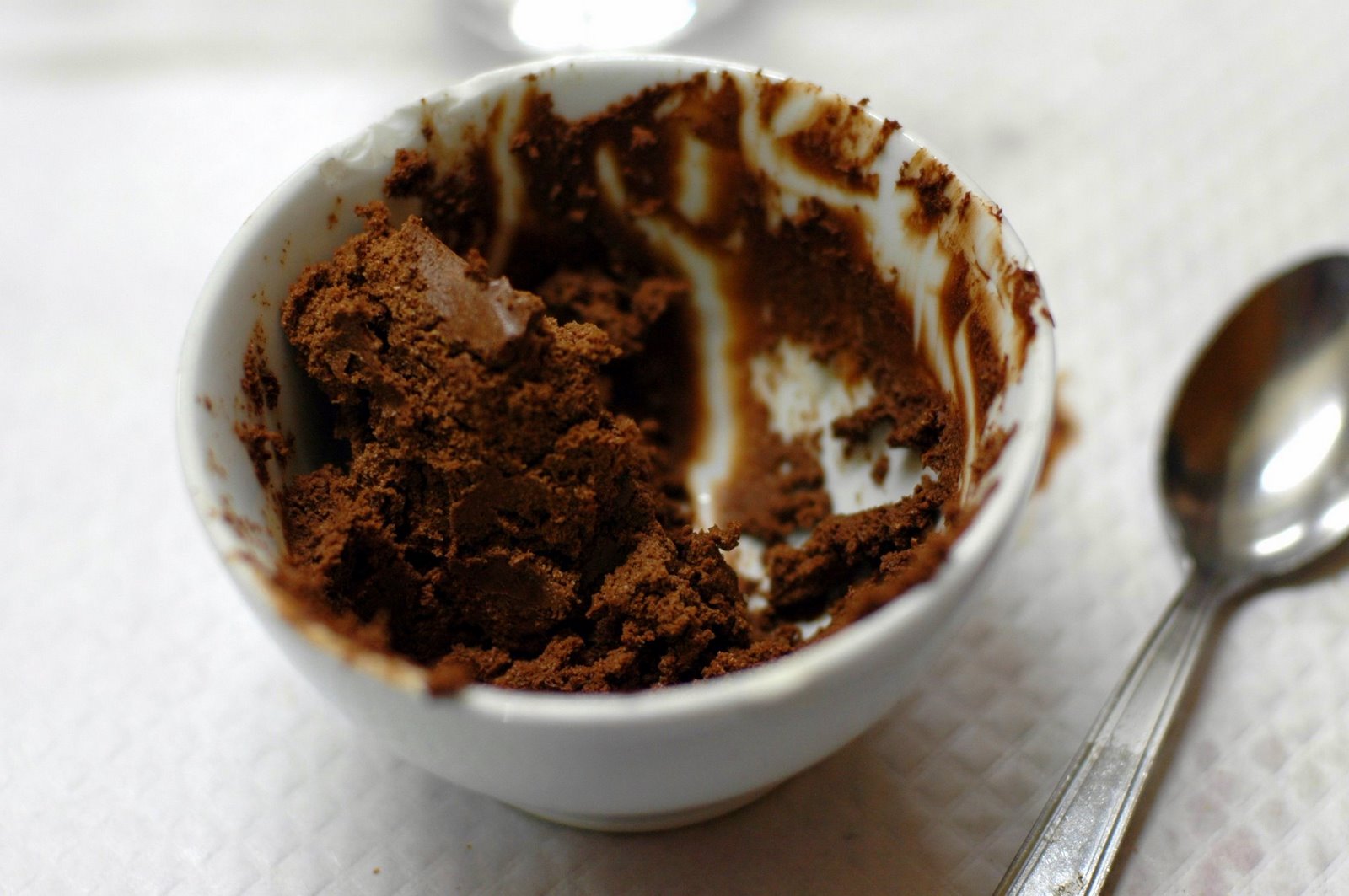 And then we rolled contentedly home to sleep it off. I'm pretty sure there was a second carafe of wine in there somewhere, but I can't be certain. I think our dinners rang up at 24 euros each, or approximately 32 dollars. I would pay three times that much to go back.
Luckily, we had another bouchon on the docket for the next night. When I called that morning to make a reservation, the phone was answered by a woman whose voice reminded me, in a trembly way, of a French Julia Child. The whole thing felt very promising. The woman on the other end of the line, I knew, was Arlette Hugon, owner and keeper of the eponymous bouchon.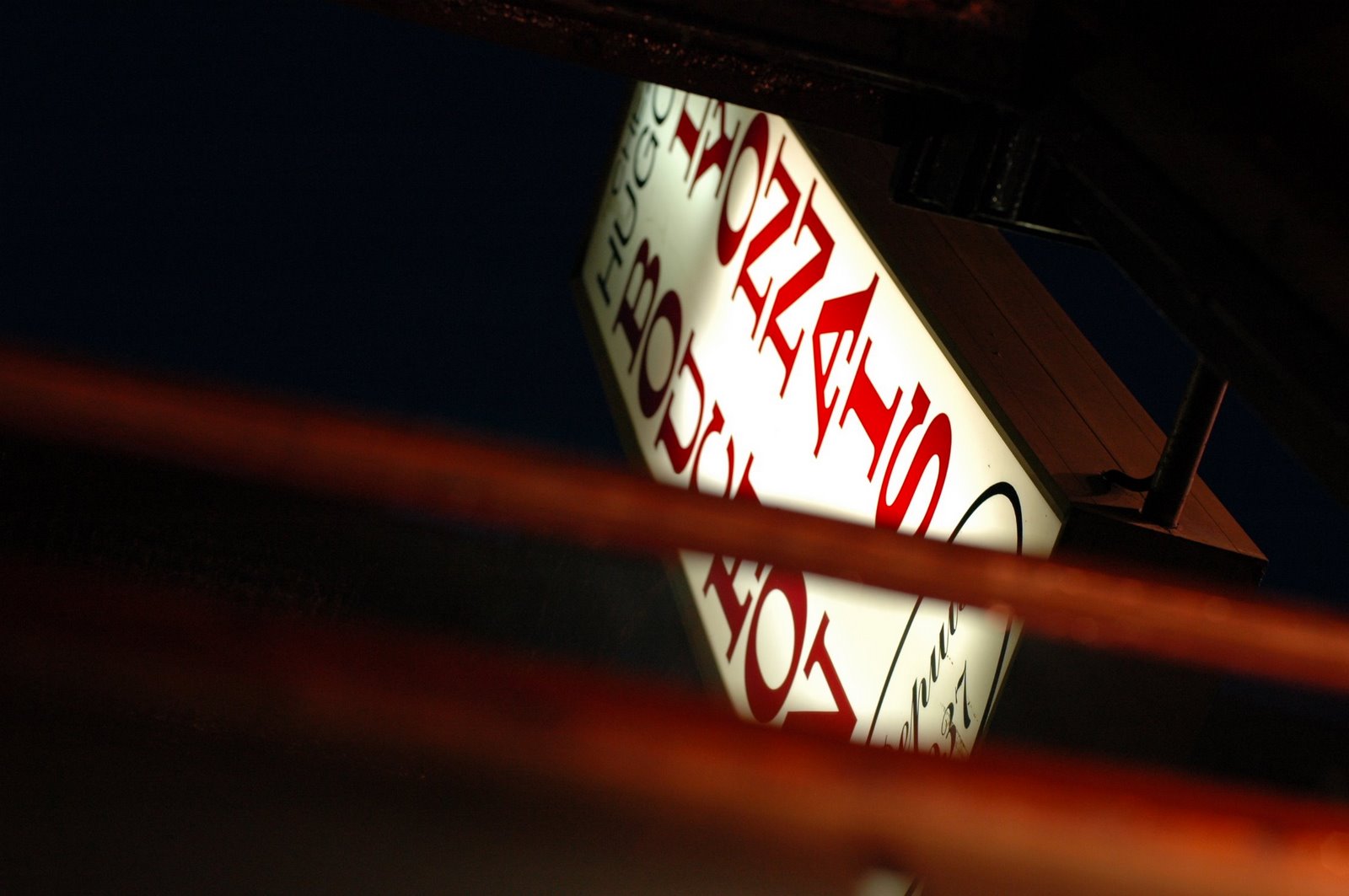 I had read about Chez Hugon in an article about Lyon's bouchons in last November's Gourmet. (If you still have that issue, go read the piece. It'll make you want to book a flight.) The author of the article had written that Chez Hugon is his favorite bouchon, so it was an easy choice. We arrived to find the lace-curtained door flung open to the warm spring night, a few tables already eating, and Madame Hugon presiding over the dining room in white athletic socks and what my childhood babysitter used to call "house shoes." The only other employees in the place were her son, the chef, to whom she has passed on her recipes and her stove, and a young girl who laughed jauntily with a group of men at a table by the kitchen. Madame Hugon showed us to a table by the window and plunked the menus – handwritten and slipped inside plastic sleeves – onto our plates. I was smitten.
Unlike Café des Fédérations, where the five-course set menu left room for choice only in the main course and dessert, Chez Hugon offered a three-course menu with multiple choices. Deciding what to eat was damn near impossible. For her starter, Mom chose the salade aux pommes et harengs, a ceramic casserole containing thick slices of warm potato and marinated herring doused in vinaigrette. It was astoundingly good, soaked with vinegar, drippy and slippery in the all the right ways. For a while, I leaned toward warm lentils with sausage, but I wound up with the housemade terrine, the coarse kind of pâté that you eat with a fork, rich with liver and nuggets of meat, lined with a thin white casing of fat.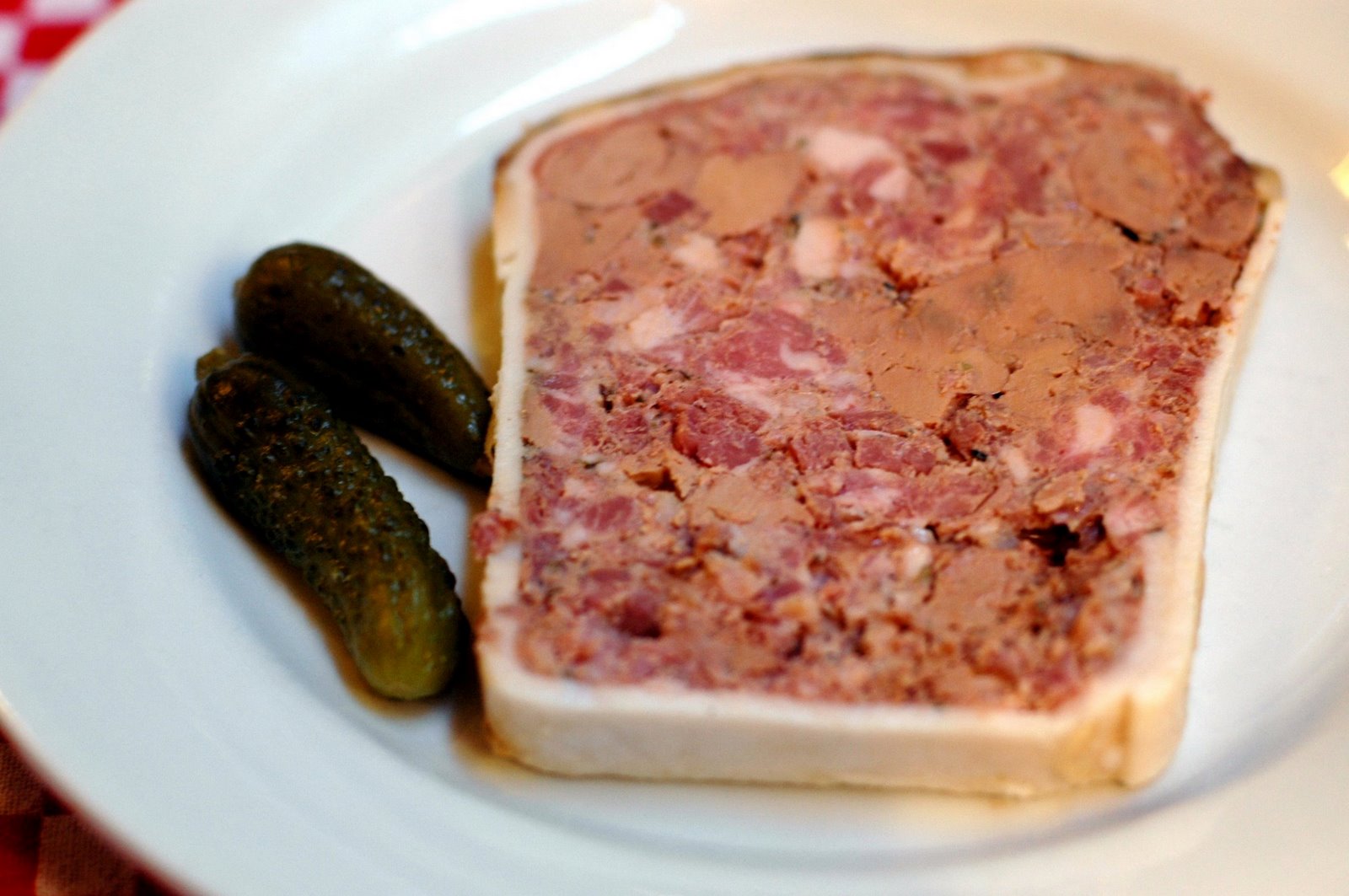 For our main courses, we decided to share. I would order the poulet aux écrevisses, chicken with a rich crayfish sauce, which was recommended in the Gourmet article. I had seen it delivered to other tables: it came in an orange enameled cast-iron pot with an enormous spoon for scooping up sauce. For her part, Mom decided to satisfy a curiosity we'd both been nursing. She ordered the boudin noir, a thick, generous length of blood sausage served on a bed of caramelized apples.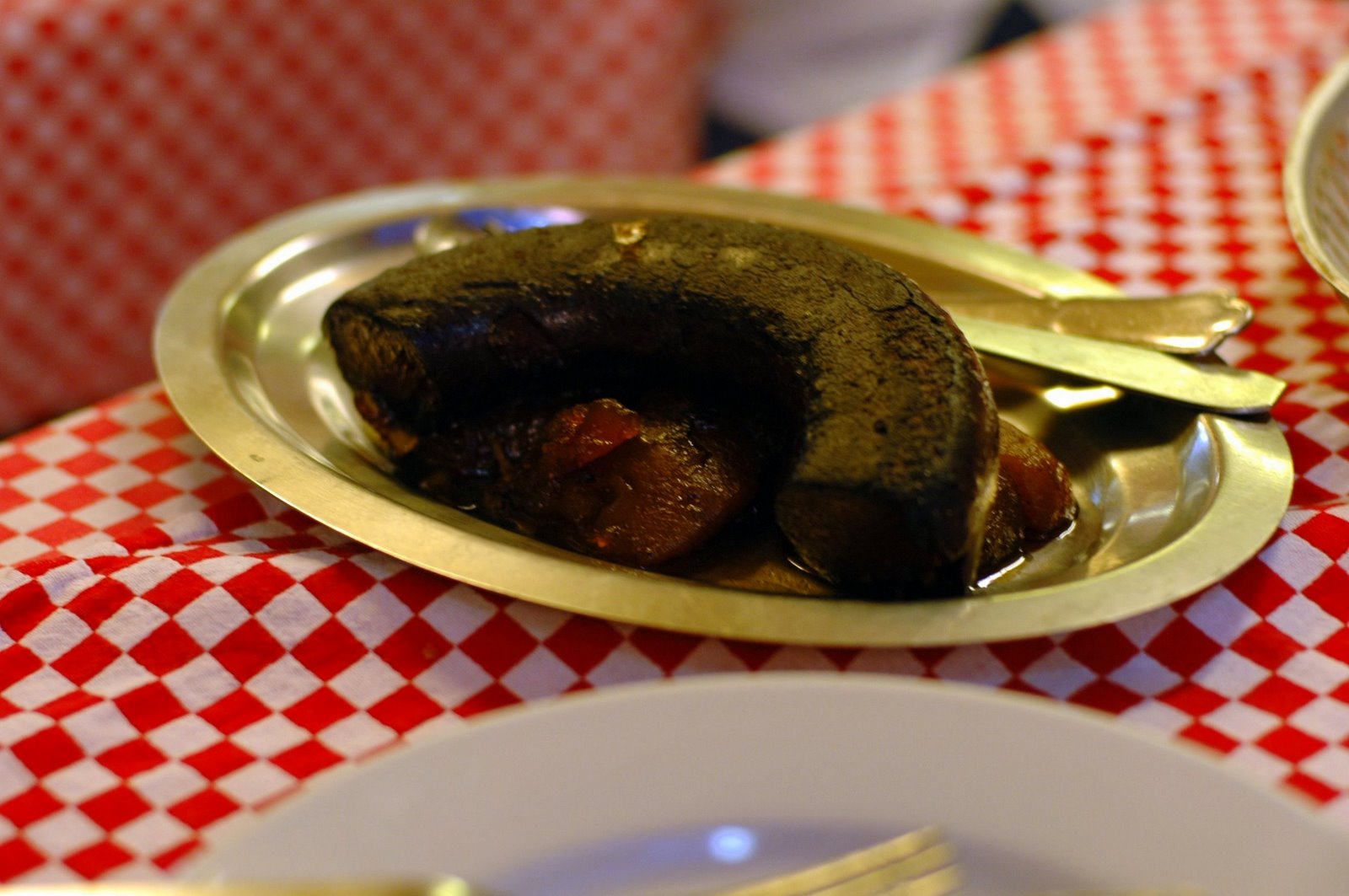 I have to tell you, that chicken was very nice, but now, two weeks later, I'm still talking about the boudin. I had long wanted to try one, and now that I have, I want another. Beneath its thin, lightly charred casing was a filling as smooth and supple as chocolate mousse, a texture that begged for a spoon. It was heartstoppingly rich, with a flavor I can only describe as dark, sweet, and intensely savory. Scooped up alongside a golden, translucent sliver of apple – think tarte Tatin, and you're close – it was far and away the finest, most expansive mouthful of the entire trip. You know how I feel about baguettes and pastries and chocolate and cheese. Boudin noir beat them all.
We finished our meal with pears poached in red wine and a brownie-like wedge of bittersweet chocolate cake, but that's beside the point. The boudin, people, the boudin. God bless the Hugon family. Long live the bouchon! Lyon, I may be marrying a vegetarian in 11 weeks, but you've got my heart. Or a good, meaty chunk of it, anyway.
Café des Fédérations
8-10, rue Major Martin
Reservations recommended.
Tel: 04 78 28 26 00
Métro: Hotel de Ville
Chez Hugon
12, rue Pizay
Reservations recommended.
Tel: 04 78 28 10 94
Métro: Hotel de Ville
P.S. Oh, and it doesn't hurt that the best chocolate candy I have ever eaten is to be found in Lyon as well. I'm referring to the Kalouga bar from Bernachon, a dark chocolate tablette filled with salted butter caramel. It's a close second to blood sausage, and I don't say that lightly. A big thanks are due again to David for his wise counsel.