My apologies, guys. I didn't mean to let a whole week go by before telling you more about my Paris trip. Settling back into home kept me busier than I'd planned.
But yes, now, where were we?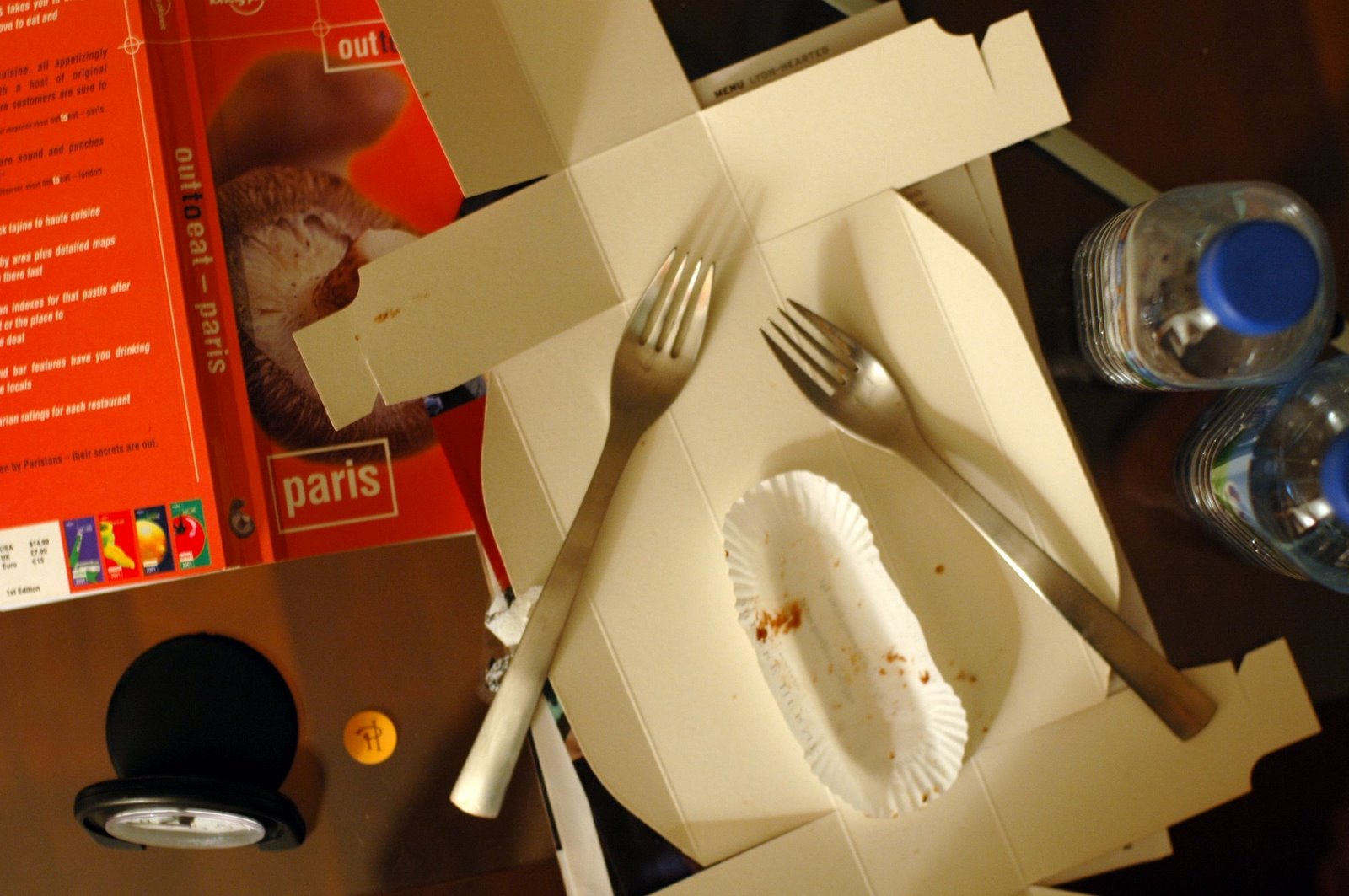 One day last week, I was exchanging e-mails with a friend who is headed to Paris for the first time this summer. In the midst of our back-and-forth about this bistro and that, he said something that sums up pretty much everything I want to tell you about my trip. "The only reason I travel," he wrote, "is for an excuse to eat more than usual." I like that. Not that I need an excuse, you know, but France is certainly a convincing one. It's basically a cheese cellar the size of Texas. That's why I love it so much. Or partly, anyway.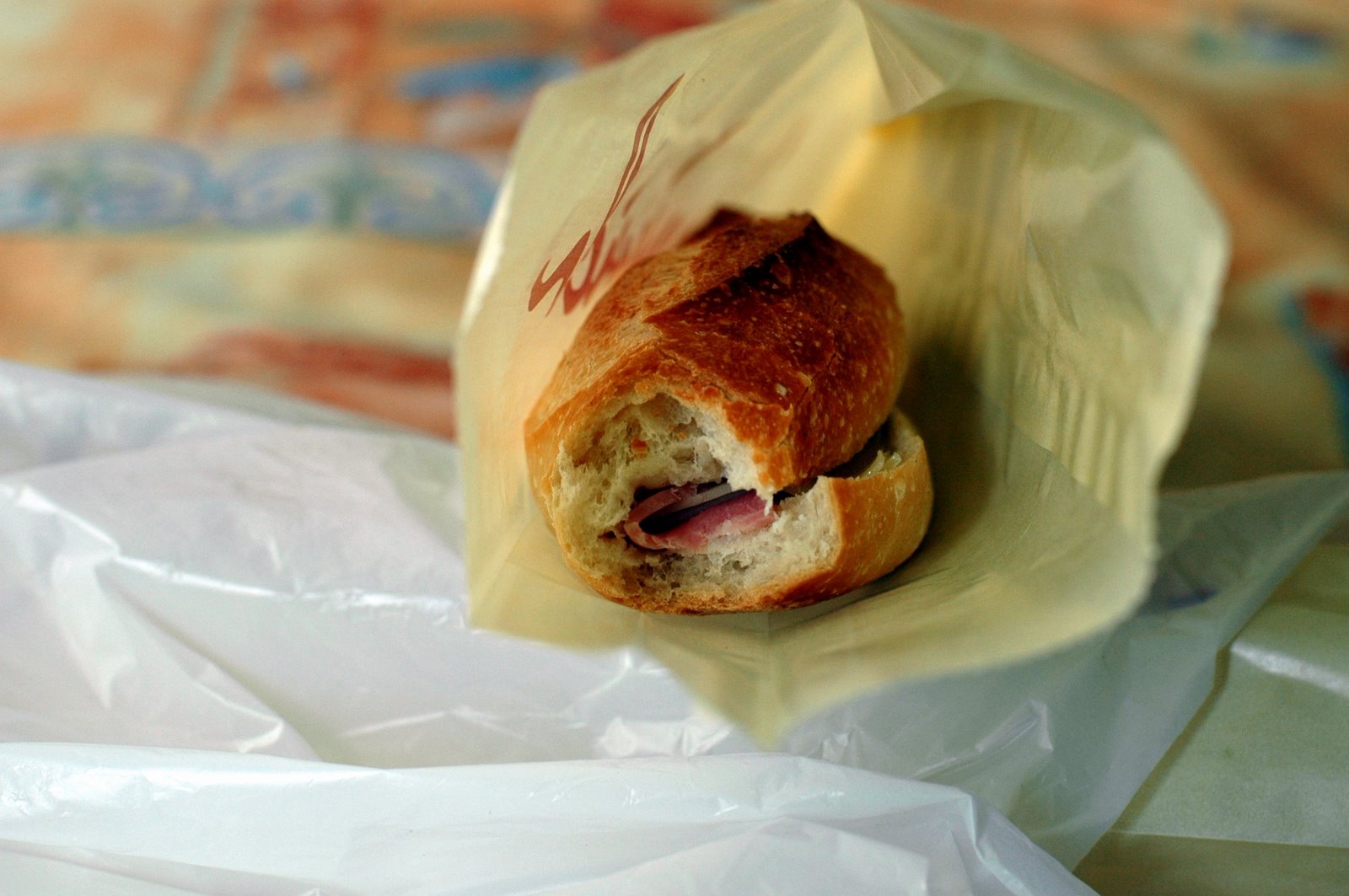 When I go to Paris, my activities fit under three general categories: eating, walking, and walking to the next place where I'll find something to eat. I couldn't tell you what the inside of Notre Dame looks like, but I do know how to get, on foot, from that butcher shop on rue Oberkampf – the one with the red exterior and the especially good chickens – to that boulangerie way down in the 15th where my host mother bought her cannelés. It's a matter of priorities. When I was last in Paris, during the summer of 2004, I was supposed to be doing pilot research for a dissertation on French social security. I knew it was a doomed proposition when I noticed that my notepad was filled with addresses for bakeries and chocolate shops, not news clippings about health insurance reform or jottings from interviews. Paris has a way of getting your priorities straight.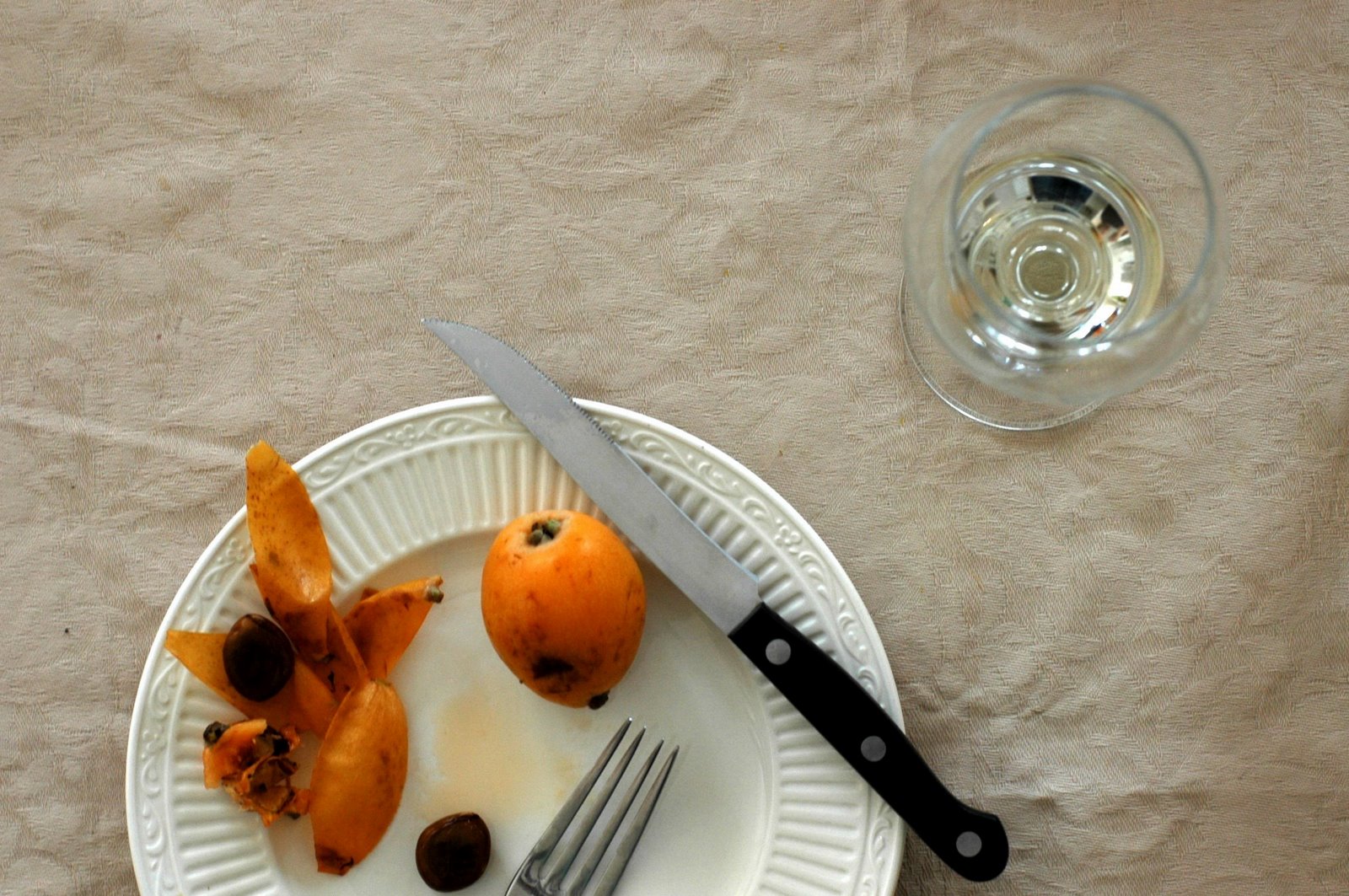 Mom and I headed out on this trip without much in the way of goals, aside from spending some time together. But soon enough, a couple of priorities became clear, and one of them was a homely little fruit called a nefle.
We were introduced to them at the home of our expat friends Michael and Becky, artist and writer, respectively, and fine cooks both. A few days into our trip, they had us in for a lunch of fresh fava beans and sheep's milk cheese, a rosy roast of beef, and, to finish, a bowl of fruit. It was in this last that I found the nefle, also called a loquat or Japanese medlar in English, níspero in Spanish, and nespola in Italian. To be honest, had it not been explicitly offered, I would never have chosen it. I'm the type who will actually mope – huff, puff, you name it – when I find a piece of blemished fruit in my grocery bag. When nefles are ripe, they are essentially one big blemish, bruised and browned and gnarly. Egg-shaped, orange-fleshed, and tasty, yes, but easy on the eyes, not really. To eat a nefle, you first peel back its thin, translucent skin, starting from the "butt" end of the fruit. Then you dig your thumbs into said end and, holding your hands over a plate or sink to catch errant drips of juice, you pry the flesh into halves. Inside are two smooth, shiny seeds, which you remove and discard. (They're poisonous, incidentally, so no fooling around.) What remains is approximately four bites of flesh with the consistency of ripe summer melon and a perfumed, sweet-tart flavor that can, if you're not careful, get the salivary glands so worked up that a rivulet of drool shoots down your chin. It's smart to keep Kleenexes in your bag if you know there are nefles around.
From that lunch forth, we were never without a half-dozen of them at the ready. I found them at a couple of greengrocers along rue Rambuteau, near the apartment we rented from this company, and at La Grande Epicerie de Paris, the fancy-pants gourmet wing of Le Bon Marché department store. I even bought a bagful to bring home to Brandon. Customs be damned!, I thought cheerfully, tucking them into my carry-on. When they were taken away from me at the U.S. Department of Agriculture scanning station at O'Hare, I actually wept a little. As I said, it's smart to keep Kleenexes in your bag if you know there are nefles around.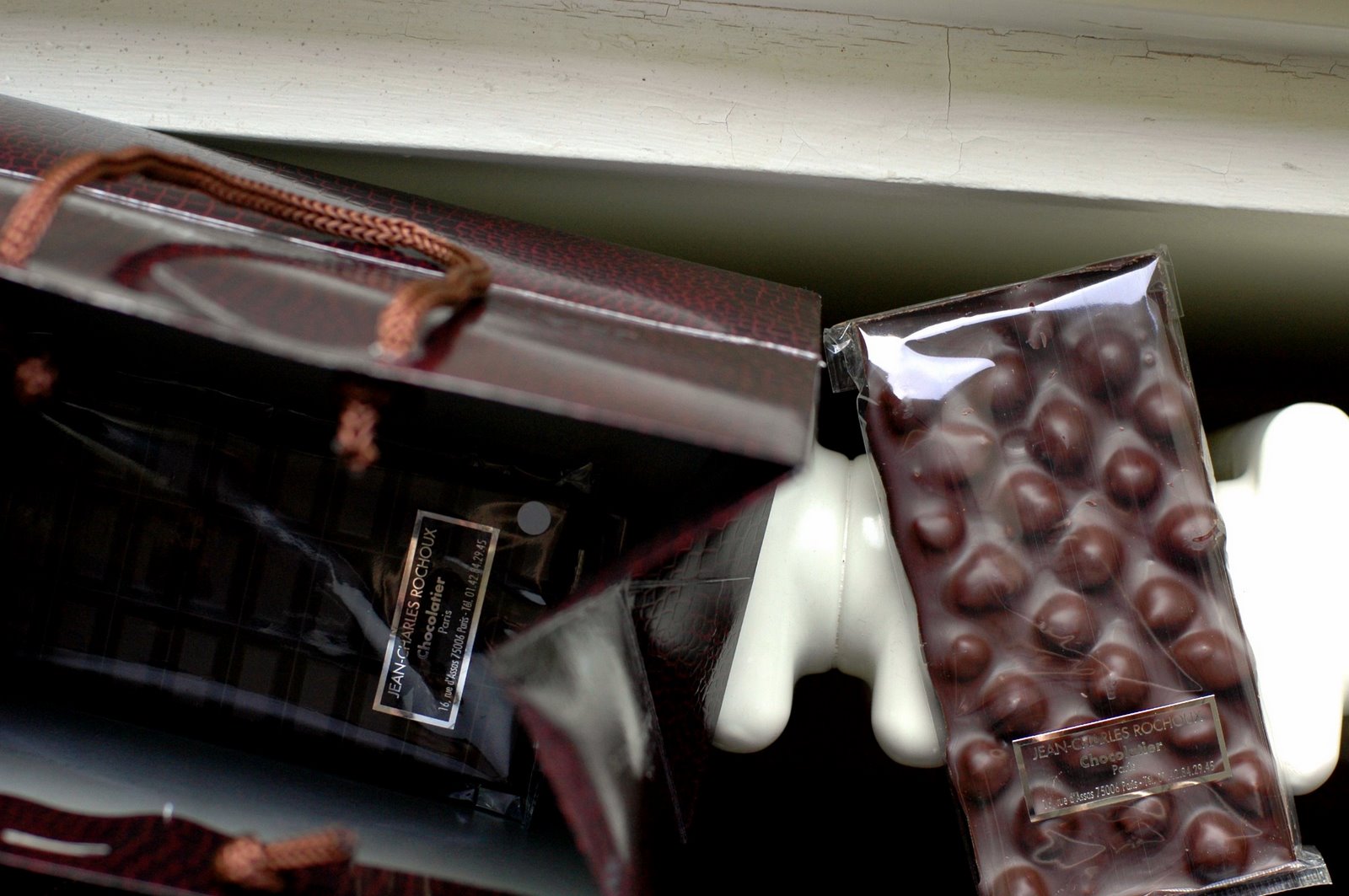 When we weren't busy downing nefles, we were on the chocolate beat. In the course of a single afternoon, I had us buying bittersweet bars and orangettes at Patrick Roger and trotting down rue d'Assas to Jean-Charles Rochoux, where we came away with two noisette bars and a sachet of something called durango au gianduja. Samples of the latter were offered to us upon arrival, plucked from their bowl with tiny silver tongs by a thoroughly pleasant saleswoman and extended to us on a tiny silver platter. They looked like petite, hand-rolled truffles, but upon further inspection – and consumption, with exclamations and moans – they revealed themselves to be toasted almonds coated in a crackly caramel, enrobed in gianduja, and rolled in cocoa. At eight euros per sachet, they were not cheap, but in such situations, I've learned, you pony up with no quibbles. Our supply disappeared so fast that I didn't even get to photograph them. You'll have to take my word for it. We also visited my old coup de coeur chocolate shop, A la Petite Fabrique, where the chocolates are not quite so fancy but still plenty fine. I always snatch up a few of their 85% bars, which come wrapped in red foil, and their 72% bars with whole toasted almonds and hot pink wrapping. The saleswoman in there is certifiably loony – although she seems to love me and remembers me (and my mother, and my sister, and my ex-boyfriend) every time I come in, even after years away – so consider yourself warned.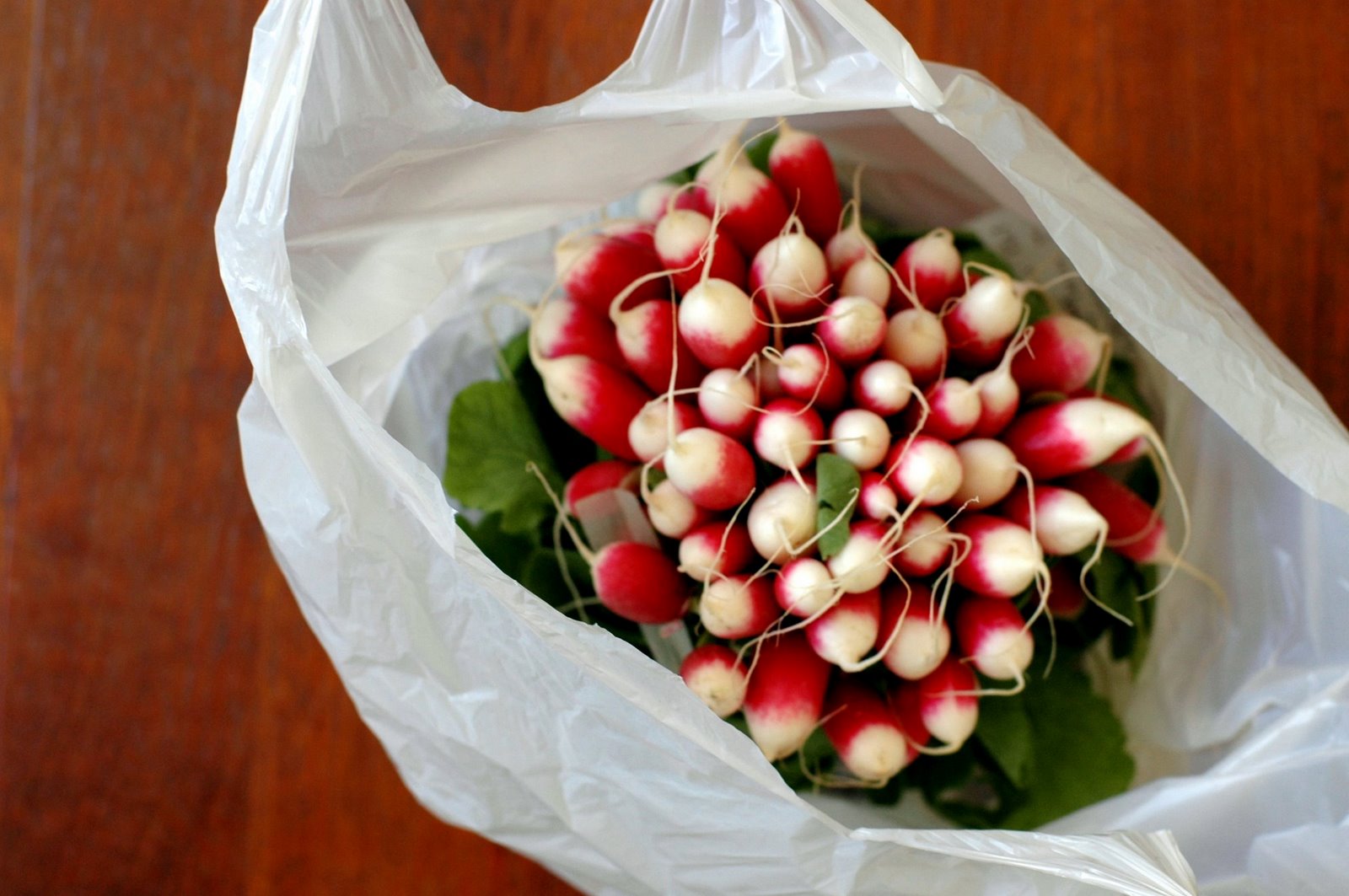 When we weren't chasing chocolate, we were hitting some of my other old favorites. On Thursday morning, we went to the outdoor market that runs up boulevard Richard Lenoir from Place de la Bastille. My old vegetable vendor was still there, staffed by the same aimable woman and ruddy-cheeked men. We bought French breakfast radishes, gariguette strawberries, and a melon and, from the cheese stand across the way, small slices of comté and bleu d'Auvergne and a small, wrinkly goat cheese called a crottin de Chavignol. It made a handsome spread on our coffee table and a fine lunch for two.
Nearly every day, we went to Au Levain du Marais, the place I once proudly – and wishfully – called my boulangerie. We ate yogurt and fruit in our little kitchenette most mornings, but it wasn't long before we discovered that a chausson aux pommes – a flaky, butter-laminated pastry with a slip of applesauce tucked inside – makes a great after-breakfast dessert. We took to buying one on our way out for the day and sharing it on a bench in the Place des Vosges while the morning joggers trotted past, eyeing it covetously. Sometimes we'd pick up baguette sandwiches too, and stick them in our bags for lunch. Mom is a die-hard fan of the crudités sandwich, the one with hard-boiled egg, lettuce, tomato, and mayonnaise, although she also made quick work once of a variety with thyme-roasted chicken. I like the jambon-beurre-fromage, the classic combination of ham, butter, and cheese shown a few photographs up. I also won't refuse the one with a few wedges of camembert and a big smear of butter. Au Levain du Marais does them just right, with a baguette that's crisp but not too shattery and a thin layer of filling that stretches from end to end. They also do a lovely little quiche, about 4 inches in diameter, with a filling of spinach or ham. They'll wrap it in paper for you and tuck it in a plastic bag, and with half a baguette, it makes a perfect lunch in the park. I know, because we ate them one day under a tree in the Jardin du Luxembourg, and it was so tasty that I didn't even care when a policeman came along, blowing his whistle and yelling, to swat us off the grass.
We also, of course, made sure to get our fill of those frilly, precise sorts of pastries that Europe is so famous for. First there was Pierre Hermé, where we came away with my favorites: an Ispahan and a Plaisir Sucré – one of his signature creations, two pink macaron biscuits enclosing a pastry cream flavored with rose water and dotted with bits of litchi, with fresh raspberries around the rim – and a Plaisir Sucré, a multi-layered confection of milk chocolate mousse, hazelnut dacquoise, and hazelnut praline, the remains of which are documented in the first photograph of this post. Then there was Ladurée, with its gold leaf and cherubs painted on the ceiling, where we bought a small tarte Tatin and six of their famous macarons packed in the most precious little pastry box I'd ever seen. For the record, the coffee flavor is and always will be my favorite macaron. Brandon had coached me on the merits of the caramel au beurre salé – the salted butter caramel flavor – before I left, but I have to say, he's wrong. (Sorry, honey.)
And when all that eating and walking made our feet sore, we plunked down for some café-sitting. My favorite afternoon spot is Café des Phares, on Place de la Bastille. I used to live near there, and I spent many an hour reading the newspaper – or pretending to, anyway – on its terrace. I'm a shameless people-watcher – a trait I got from my mom – and if you're into that sort of thing, it's the best spot in town. Mom and I spent a couple of hours there on our last evening, watching a handsome Italian couple nuzzle and cooling down with some Perrier and then a glass of Côtes du Rhône. Come evening, my favorite café is Au Petit Fer à Cheval, a tiny spot in the heart of the Marais, on rue Vieille du Temple. It has an old-timey horseshoe bar, Sancerre by the glass, and a terrace compact enough to make for great eavesdropping. (I'm terrible, people. You don't want me sitting at the table next to yours.)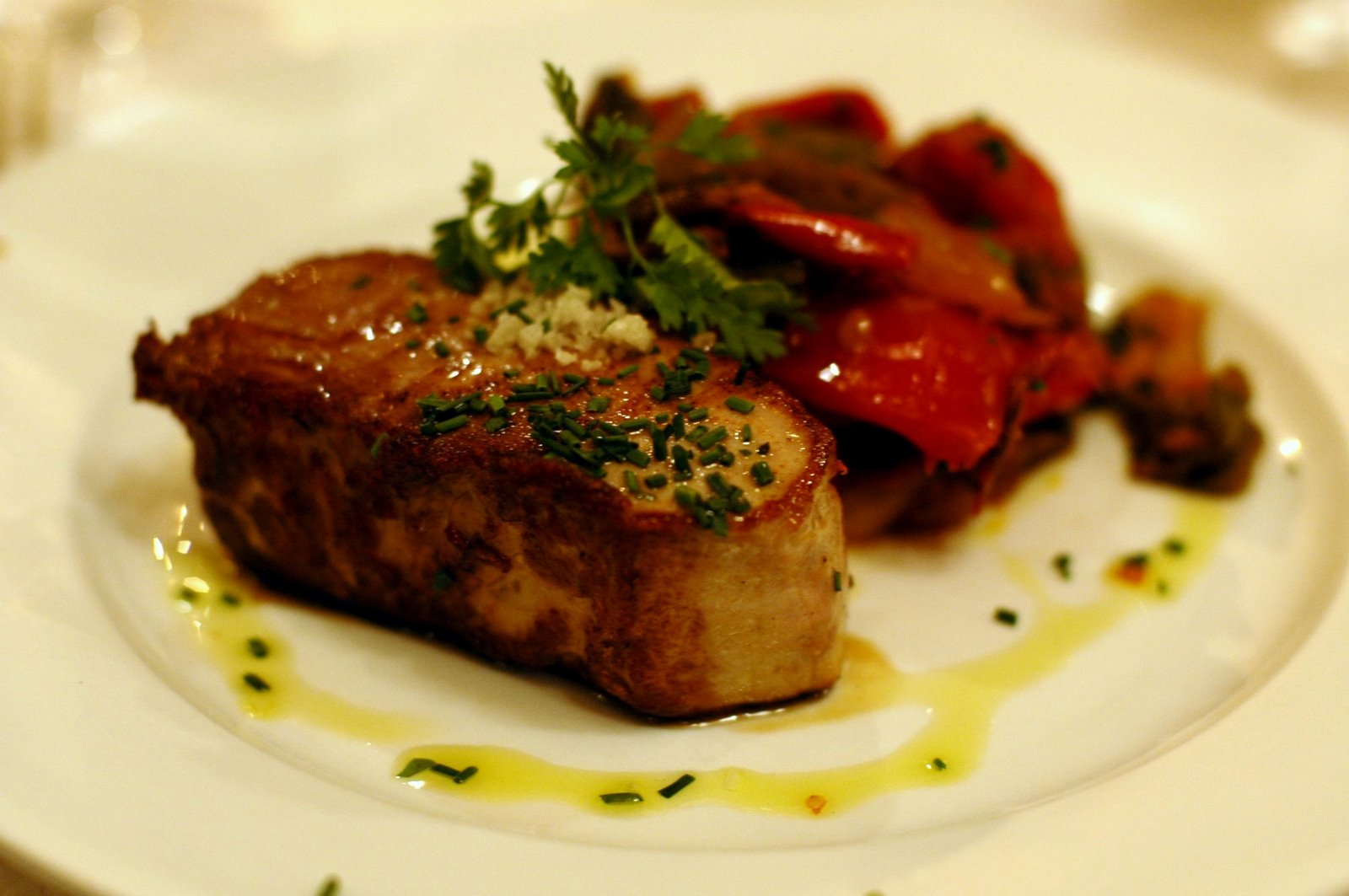 This is dragging on a bit, I know, but it wouldn't be right for me to end this treatise without telling you about Bistrot Paul Bert, where we ate dinner twice, on the second and last nights of our trip. I had read about it in a Bon Appétit piece by Dorie Greenspan, and as you might expect with a recommendation like that, it did not disappoint. Its 32-euro prix-fixe menu runs from the simplest white asparagus with vinaigrette to marinated squid with preserved lemons, scallops served in their shells with spiced drawn butter, braised pig's foot with lentils and foie gras, dorade with fennel confit, a succulent veal steak with fresh morels and cream, a steak frites endorsed by Mark Bittman, and, as pictured above and eaten twice by yours truly, a lovely, understated piece of rare tuna with herbs and ratatouille. For dessert, they make what many consider to be the best Paris-Brest in town, a ring-shaped pastry filled with chestnut cream, but I fell hard for their île flottante, a fist-size dollop of poached meringue floating on a sea of crème anglaise. Take a look at their business card, and you'll get a sense of the spirit of the place. I think dinner should look like that at least once a week. That's me on the left, with the fork, only I wear less eye shadow and a smaller bra size.
The addresses for these places and more are below. May we all dream of nefles and pastry tonight.
La Grande Epicerie de Paris
38, rue de Sèvres, 7th arrondissement
Métro: Sèvres-Babylone
Patrick Roger
108, boulevard St. Germain, 6th arrondissement
Métro: Odéon or Cluny-La Sorbonne, I think
Jean-Charles Rochoux
16, rue d'Assas, 6th arrondissement
Métro: Sèvres-Babylone or Rennes
A la Petite Fabrique
12, rue St. Sabin, 11th arrondissement
Métro: Bastille or Bréguet-Sabin
Marché Bastille
On boulevard Richard Lenoir, from Place de la Bastille to rue Saint-Sabin
Thursday and Sunday mornings, until about 2 pm
Métro: Bastille or Bréguet-Sabin
Au Levain du Marais
32, rue de Turenne, 3rd arrondissement
Closed Sunday and Monday
Métro: Bastille or Chemin Vert
and 28, boulevard Beaumarchais, 11th arrondissement
Closed Tuesday and Wednesday
Métro: Bastille or Chemin Vert
Pierre Hermé
72, rue Bonaparte, 6th arrondissement
Métro: St.-Germain-des-Prés
Ladurée
16, rue Royale, 8th arrondissement
Métro: Madeleine or Concorde
Café des Phares
On the west side of Place de la Bastille
Métro: Bastille
Au Petit Fer à Cheval
30, rue Vieille du Temple, 4th arrondissement
Métro: St.-Paul
Bistrot Paul Bert
18, rue Paul Bert, 11th arrondissement
Reservations recommended.
Tel: 01 43 72 24 01
Métro: Faidherbe-Chaligny
And a few other spots that I seem to have run out of space to write about:
L'As du Fallafel
The best fallafel in town.
34, rue des Rosiers, 4th arrondissement
Métro: St.-Paul
Bistrot du Dôme
An offshoot of the popular Montparnasse restaurant Le Dôme, with very good seafood. If they are offering encornets à la plancha, order them.
1, rue Delambre, 14th arrondissement
Reservations recommended.
Tel: 01 43 35 32 00
Métro: Vavin
Restaurant Astier
A lovely, intimate bistro in the 11th, with a three-course, 29-euro menu and a stellar cheese platter.
44, rue Jean-Pierre Timbaud
Reservations recommended.
Tel: 01 43 57 16 35
Métro: Oberkampf
Autour d'un verre
Clotilde introduced us to this funky little gem run by an American and his Finnish wife. Great wines and home cooking, especially the fondant au chocolat, and a great place to gab past midnight with a new girlfriend.
21, rue de Trévise, 9th arrondissement
Métro: Cadet