You know, it's been entirely too long since I thanked you, friends, for the comments you leave here. There have been so many of them lately, and I'm always floored by the sweet, smart things you say. I like to think that this site is a conversation of sorts, a place where we come to swap recipes and dinner plates, a kind of trading post where cakes and chickpeas are perfectly valid currency. In another era, we would have sat around a big table, I'm sure, with aprons and iced tea, shelling peas and gabbing. Instead we leave comments on the computer. It's a little different – we're missing out on that fresh, green peapod smell, for one – but really, it's just as good.
For the past few days, I've been thinking in particular about a comment from my recent post about Lyon. Left by a reader named Rosemarie, late of Illinois, it read, "Yum. I'm trying to move back towards simpler foods and seeing that plate of charcuterie, lentils, and salad really hit the spot. I wish we in the U.S. could embrace this fare." It was only a few sentences, but it got me thinking all weekend about the way I choose to eat, and why. Quite often, I am asked about the type of food I cook, and the type of recipes that will be in my book. I always stumble through my reply, mumbling about country French cooking, and seasonal foods, and the Pacific Northwest, and vegetables, and oh wow, I love banana bread and meatballs, and cabbage and radishes and graham crackers, and seriously, there's nothing like a good brownie, and, have you ever made a soufflé, because really, I'm telling you, it's a snap to make. In short, I'm a disaster. For someone who devotes the better part of her brainpower to food, I can hardly eek out a coherent sentence about why I eat the way I do. I just do. It's what feels good, and what sounds good, and what, somewhere along the way, someone showed me how to do. Come to think of it, my approach to cooking and eating is like my approach to most things in life: I put one foot in front of the other, and lo and behold, it takes me somewhere. Then, if I look around enough, I can usually figure out where that somewhere is, and what I can do there. Or, in this case, what I can eat there. None of which adds up to a nice, pithy description for the back of a cookbook, but eh, it works most days. It's a work in progress.
Lately, I feel a lot like Rosemarie. Brandon and I always eat fairly simply – a bowl of chickpea salad here, some slivered fennel there – but in recent days, especially, I want things with as little fuss as possible. I think of it as a kind of spring cleaning. I'm sweeping away all the clutter and fiddle, making room at the table for summer. I've been thinking a lot lately, actually, about the baguette sandwiches I ate in Paris. They were so lovely, so spare and artfully spread, with just enough butter and cheese and salty ham to stretch from tip to tip. They were utterly graceful, if one can say such things about a sandwich. I want our table to be laid that way, with that sort of beauty and simplicity and care. It isn't always a breeze, but sometimes, it's so easy that it takes me by surprise.
Take last Saturday night, for example. There wasn't much in the fridge, and we weren't particularly hungry. It was especially pretty, still sunny at six thirty, so we decided to walk up to our neighborhood alehouse for a beer. We sat outside and, an hour or so later, were scarily tipsy on one beer each – they were serious Belgian brews, but also, we're awful lightweights – so we tottered home to make dinner. (And just so you get the full mental image, you should also know that we stopped at Goodwill, which, for the record, should never be done under the influence. We came out with a set of frilly flowered plates and twenty wide-mouth Mason jars, which we loaded into a shopping cart and rolled, rattling and thumping and giggling, all the way home.) We weren't up for much cooking – much less wielding sharp knives – so we banged some lima beans into a pot with a little water, olive oil, garlic, and parsley. While the beans simmered, we washed some frisee and tossed it with vinaigrette and a chopped egg, and I dug from the fridge the last of a misshapen slab of bleu d'Auvergne. We sat down fifteen minutes later to what felt like a small victory: a bowl of lima beans scented with garlic, a tangle of pale greens flecked with yolk, a sweetly pungent cheese to smear on hunks of yeasty bread. We slurped and chewed and scraped, and when we looked up from our plates a little while later, our wits once more intact, we agreed that it was one of our loveliest meals. It could have been the beer, of course, but I think it was something else. It was spare and simple, and just enough.
It was a particularly good weekend. In fact, I felt so inspired by our tipsy feast that on Sunday, I decided to continue the trend. (Food-wise, mind you, not drink-wise. Ahem.) With Rosemarie's comment in mind, I decided to make a simple lunch Lyonnaise, a lunch of charcuterie and lentils.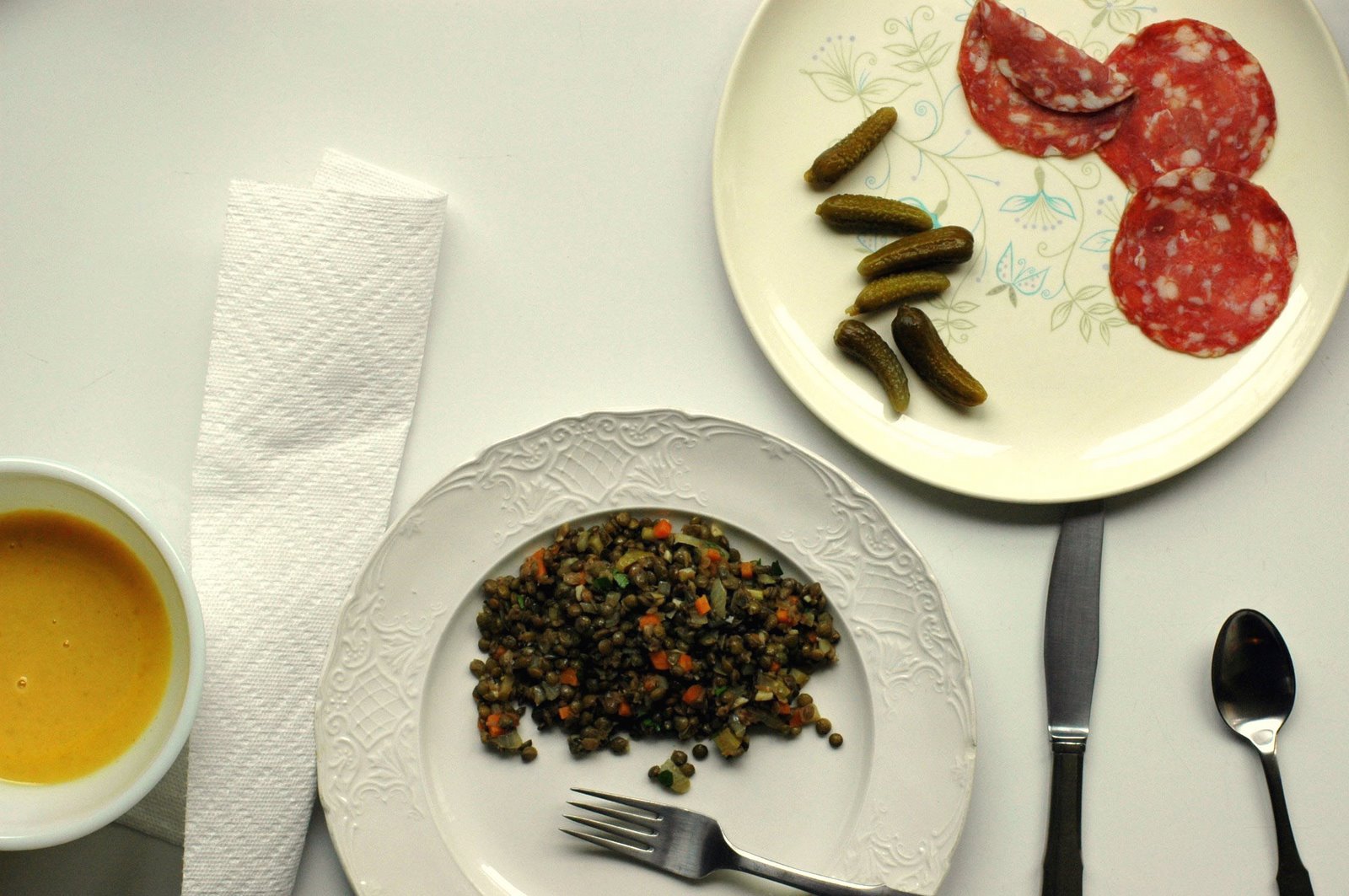 This is the kind of thing I could eat every day and still never get enough. In fact, when it was served to me and Mom at Café des Fédérations, we had a terrible time not licking every last nub and sliver from the serving dishes. We could have, of course, but then there would have been no room for the four courses to come. So instead, I filed away a mental note to make a batch of lentil salad when I got back to Seattle, and to shell out for some fancy salami from Fra'Mani. (It's not a saucisse de Lyon, but it works in a pinch.) And on Sunday afternoon, that's exactly what I did. I dug out a lentil salad recipe that I'd made once before, a warm one speckled with carrots, celery, onion, and thyme and dressed just smartly enough to make a second spoonful an absolute must. Served alongside cornichons and salami and leftover soup and washed down with a wedge of watermelon, it was, I think, my new standard lunch. It was simple, spring and clean. Rosemarie, this one's for you, and for me.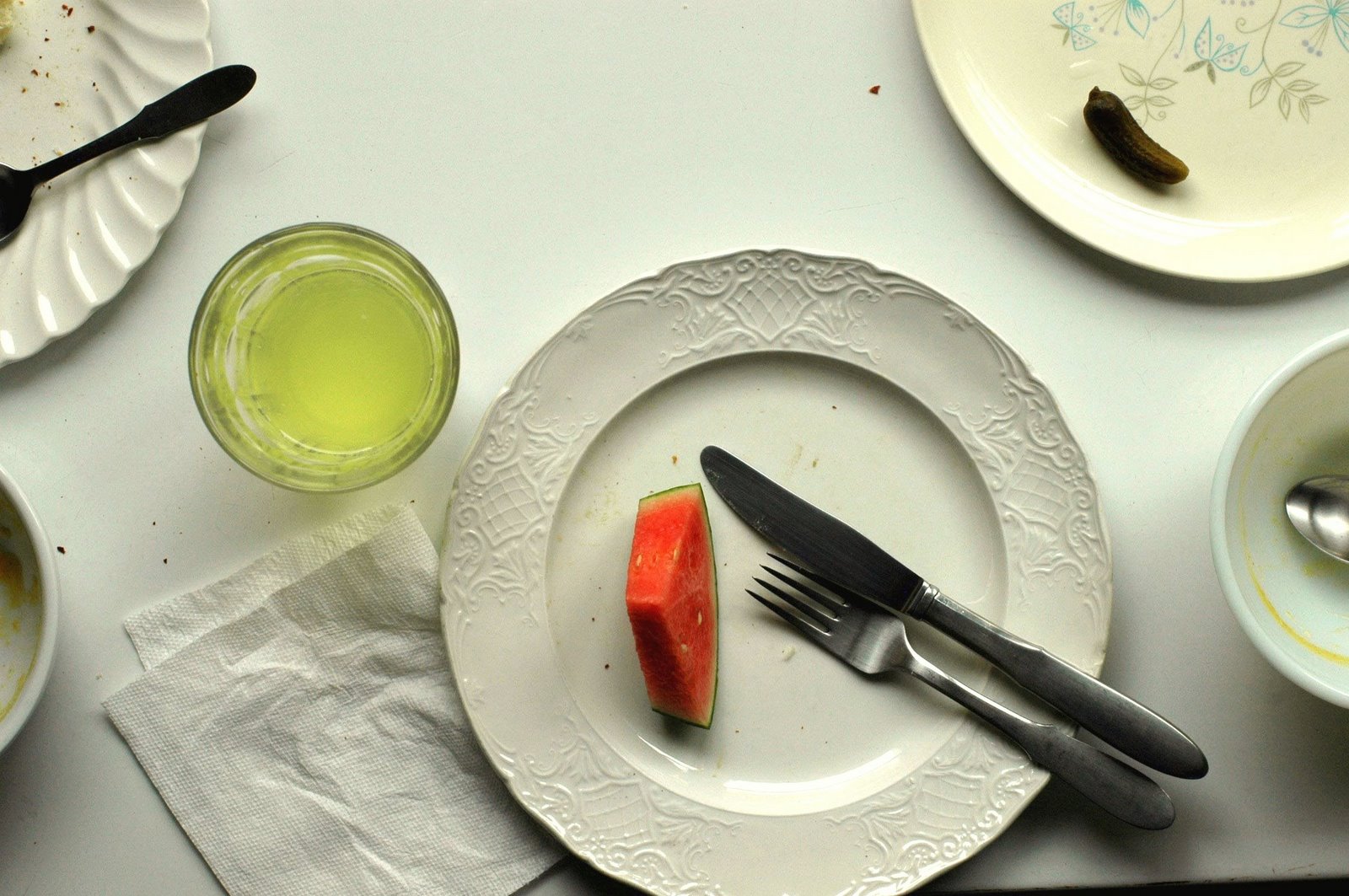 French-Style Warm Lentil Salad
Adapted from Epicurious.com
This lentil salad isn't exactly like the ones I've eaten in France – those were usually plainer, with just vinaigrette and flecks of raw shallot – but I like it just as much. (And – bonus! – it doesn't leave me with shallot breath.) It also keeps and reheats well, and it tastes even better the next day, which makes it perfect weekday lunch material.
1 cup French green (also known as "Puy") lentils, picked over and rinsed
3 cups water
1 Turkish bay leaf
½ tsp. salt, divided
1 small onion, finely chopped
1 medium carrot, finely chopped
1 celery stalk, finely chopped
2 medium garlic cloves, minced
1 tsp finely chopped fresh thyme
5 Tbsp. olive oil, divided
2 Tbsp. plus ½ tsp. red wine vinegar
½ Tbsp. Dijon mustard
Crunchy sea salt, for serving
2 Tbsp. finely chopped Italian parsley, for serving
In a medium saucepan, bring the lentils, water, and bay leaf to a boil over medium-high heat. Reduce the heat and simmer, covered, until almost tender, about 15 minutes. Stir in ¼ teaspoon salt, and then simmer, covered, for another 3 to 5 minutes, until tender but not falling apart.
While the lentils simmer, warm 1 tablespoon of the oil in a 12-inch skillet over medium-low heat. Add the onion, carrots, celery, garlic, thyme, and 1/8 teaspoon salt, and cook, stirring occasionally, until the vegetables are just softened, about 7 to 9 minutes.
Meanwhile, make the vinaigrette. In a small bowl, whisk together 2 tablespoons vinegar, mustard, and remaining 1/8 teaspoon salt. Add the remaining 4 tablespoons olive oil, and whisk to emulsify.
When the lentils are ready, drain them in a colander or sieve, and discard the bay leaf. Dump them into the skillet with the vegetables, and add the vinaigrette. Cook over low heat, stirring gently, until heated through. Stir in the remaining ½ tsp. vinegar, and serve warm, with crunchy salt and parsley for sprinkling.
Yield: 4 side-dish servings