I love winter foods. You know I do. You've been listening to me yap about them for a long time now. I'm always trotting out some strange, frost-nipped something: a Brussels sprout here, an old celery root there, an unruly head of escarole that no one else wants. It's what I do. I've got a reputation to keep.
But I have to tell you, this winter has rung me out. I'm tired. I'm through. If I have to eat another cabbage, I'm going to fall to my knees and cry. That's pretty much what I felt like doing at the market on Saturday morning, as I stared out over the sea of winter produce. Pretty though it was – so many shades of neutral, like a layout from Martha Stewart Living – I could hardly muster the energy to pull out my wallet. I really tried hard to find the oomph. But there's no two ways about it: winter and I are over. The only problem is that spring isn't quite here yet.
Faced with such hard facts, there's not much for a person to do, I find, but seek refuge in the pantry closet. For the past week or two, that's what I've been doing, and I highly recommend it. It's oddly inspiring, in its way. I've made two batches of scones with various dried fruits. I put a good dent our supply of crystallized ginger. I even organized the rice area, which had formed a sort of impromptu sandbag levee, barricading the chilies into a corner. I also made mujadara. Twice, in fact, in five days. That's another thing I recommend.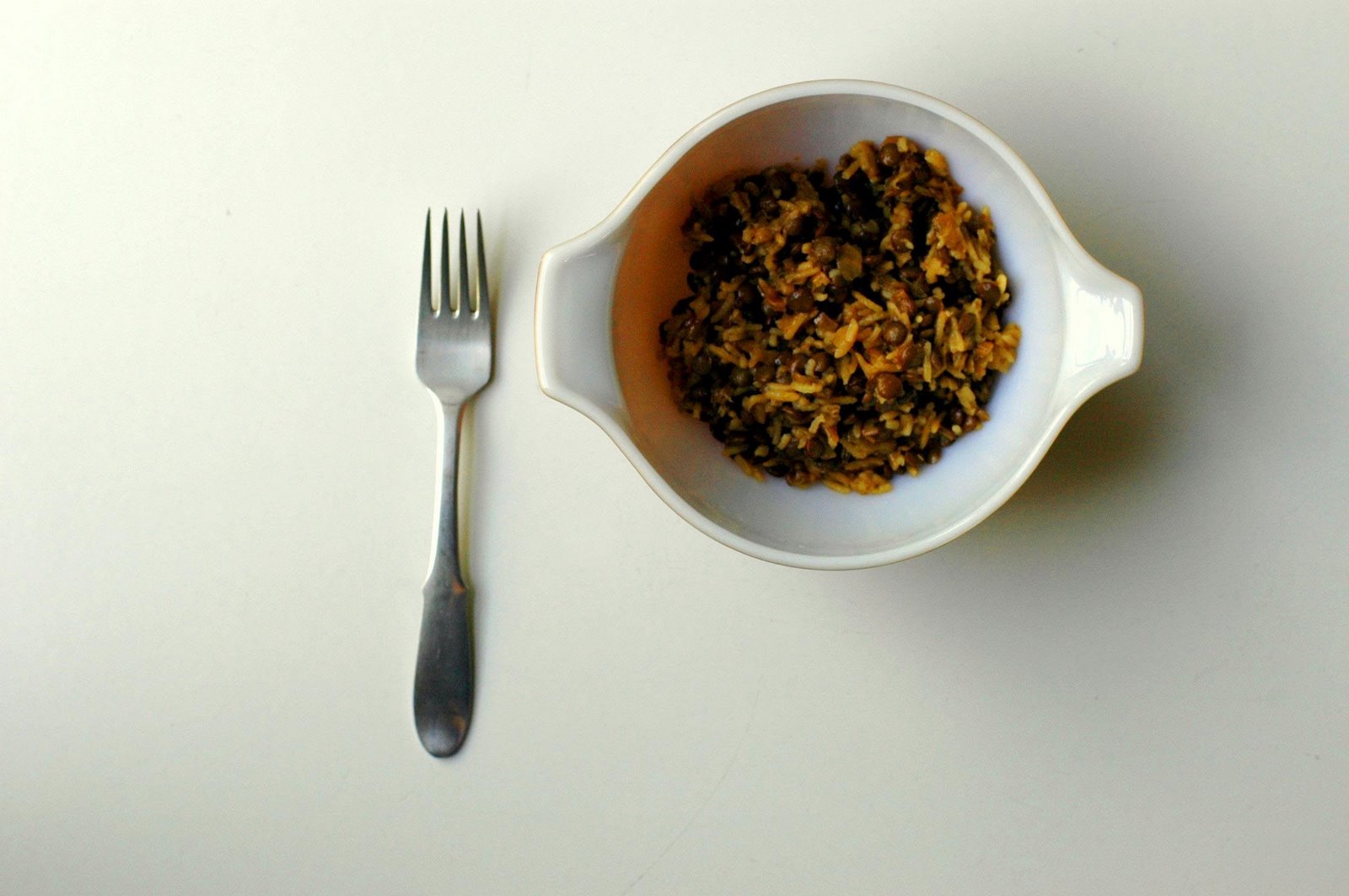 Photogenic it is not, but in the mouth, mujadara makes up for all misgivings. I'm not sure how it should be translated, but for me, mujadara means an enviable meal made entirely from the pantry. It's a Middle Eastern dish comprised simply of lentils, rice, and onions, with doses of olive oil and salt for good measure. Also called megadarra, mejadra, and a variety of other similar names, it most often resembles a moist pilaf, although sometimes it borders on porridge. Either way, it's nothing fancy, nor is it particularly pretty. What it is, however, is simple, fragrant, exotic, and cheap. That's a combination that doesn't come around too often. In my mental recipe archive, I file mujadara in the same category as Brandon's chickpea salad, the category for things dead-simple, delicious, and made from ingredients often on hand. Mujadara takes more foresight and time, but it also makes your kitchen smell good enough to eat.
I came upon it several years ago in Oklahoma, at the home of family friends Pam and Bill Shdeed. Pam makes a mean Lebanese meal. It was in her dining room that I had my first bite of mujadara, along with homemade labneh, the spiced lamb patties known as kibbeh, and chicken cooked under a mound of cinnamon-scented rice. Not long after, she gave me a staple-bound cookbook – with typewritten pages and a tan cardstock cover – called Our Favorite Lebanese Recipes, by Julia Bayouth and Helen Jabara. Not long after that, I started making mujadara. Using the cookbook Pam gave me, as well as hints from Claudia Roden, I worked up a formula that I liked. My boyfriend at the time was vegan, and he loved it. Mujadara was one of our staples. I made it all the time. But after we split up, I sort of forgot about it. It went the way of history, along with our hokey terms of endearment and other relationship memorabilia. It took until last week, when winter chased me into the pantry, for me to remember it again.
This time, I won't be forgetting it so easily. It's the ultimate between-season dinner solution. It's not quite a lickety-split supper – those onions do take their sweet time – but that's okay. It'll help pass the time until spring.
Mujadara (moo-jha-dra)
The key to this dish is the onions: they must be browned well, and with patience. Caramelize them to within an inch of their lives. Heck, burn them a little, even. In cases like this, it's almost impossible to overcook them. Their intense, deeply toasty flavor is the main player here, so don't rush it.
As for serving, mujadara is often presented with a green salad. I like mine with a chopped romaine salad, something similar to this one. It would also be nice with some labneh on the side, and flatbread.
¼ cup olive oil
2 medium yellow onions (about 1 ½ lb.), finely chopped
1 cup brown or green lentils, picked over for stones and other debris
½ cup basmati rice
Water
1 tsp. salt, plus more for serving
In a large (12-inch) sauté pan or skillet or a Dutch oven, warm the olive oil over medium heat. Add the onions and cook, stirring occasionally, until they are deeply caramelized, a rich shade of amber. If they're burnt and blackened in spots, even better. This is a fairly slow process. Depending on your pan and your stove, this could take between 30 minutes and 1 hour in total. On my stove, it takes about 50 minutes.
While the onions are cooking, place the lentils in a medium saucepan, add water to cover by an inch, and bring to a boil over medium-high heat. Reduce to a simmer and cook, undisturbed, for 20 minutes. Drain the lentils, and set them aside.
When the onions are ready, stir in the rice. Then add the cooked lentils, along with 2 cups of water and the salt. Stir to mix well, and bring the pan to a boil. Reduce the heat to keep the pan at a slow simmer, cover, and cook. Depending on the size and shape of your pan, this last stage – cooking the onions, rice, and lentils together – could take from 20 to 40 minutes. Basically, the dish is done when the rice is done. I use a 5-quart sauté pan, which is wide and flat, so the rice cooks pretty quickly, in about 25 minutes. I used to use a Dutch oven, however, which was narrower, and the rice took 30-40 minutes to cook.
After about 20 minutes, remove the lid, and give the pot a gentle stir. If there is still some liquid visible, replace the lid and keep cooking until it is fully absorbed. On the other hand, if there is no obvious liquid, take a taste. If the rice is tender, the mujadara is ready. If the rice is not yet ready, add another splash of water, replace the lid, and cook until the liquid is absorbed and the rice is cooked. The mujadara is ready to eat when the rice is tender and there is no liquid left in the pan.
Serve, with additional salt, if needed.
Note: Mujadara is even better on the second day, so if you can, make it ahead. Reheat before serving. I like to eat the leftovers for lunch, with a grapefruit for dessert.
Yield: 4-6 servings