I hope you'll bear with me. I wish I could say otherwise, but the truth is, I've still got my head in the pantry closet. There may be tiny flowers popping out of the hedge of the house across the street, but where springtime is concerned, the produce section isn't quite so forthcoming. I bought a bundle of early-season asparagus a few days ago, but the spears were watery and dull, as though their flavor were still hidden away under the soil, hibernating for winter. I saw spring onions at the market yesterday, but even they were a little wimpy and anemic, picked a week too soon. Thank heavens, I say, for the pantry, my little haven from the seasons. This week, once again, it did us proud. It brought forth a bag of chiles de árbol and from it, a bang-up hot sauce.
Now, before I go any further, you should know one thing: Brandon is a hot sauce fiend. As of this writing, our refrigerator contains eight bottles of assorted hot sauce. That's three more than five, and only two less than ten. We are the only people in this house. That means that hot sauce outnumbers us four to one. I could have guessed it would be this way from our first date, I suppose, when he made a salad dressing – a delicious one at that – consisting of lime juice, olive oil, and a copious amount of Vietnamese chili garlic sauce. My lips were ablaze, and that was before any hanky-panky. I have since watched him plow through a few squeeze bottles of sriracha, not to mention vials of Tapatio, Cholula, and similar sauces. Cholula, he tells me, was once his favorite. Recently, however, its makers seem to have changed the chile blend – from piquin to piquin and árbol – and, he says sadly, it doesn't taste the same. You should have seen him the first time he noticed the difference. He was genuinely distraught. I am marrying a man who is serious about his hot sauce. Luckily, I like it too, although eight bottles does seem a little excessive.
Anyway, all this to say that Brandon likes hot sauce, and that this weekend, for the second time in only a few weeks, he made hot sauce. The collection in our refrigerator has just accepted its ninth member. It's a nice one.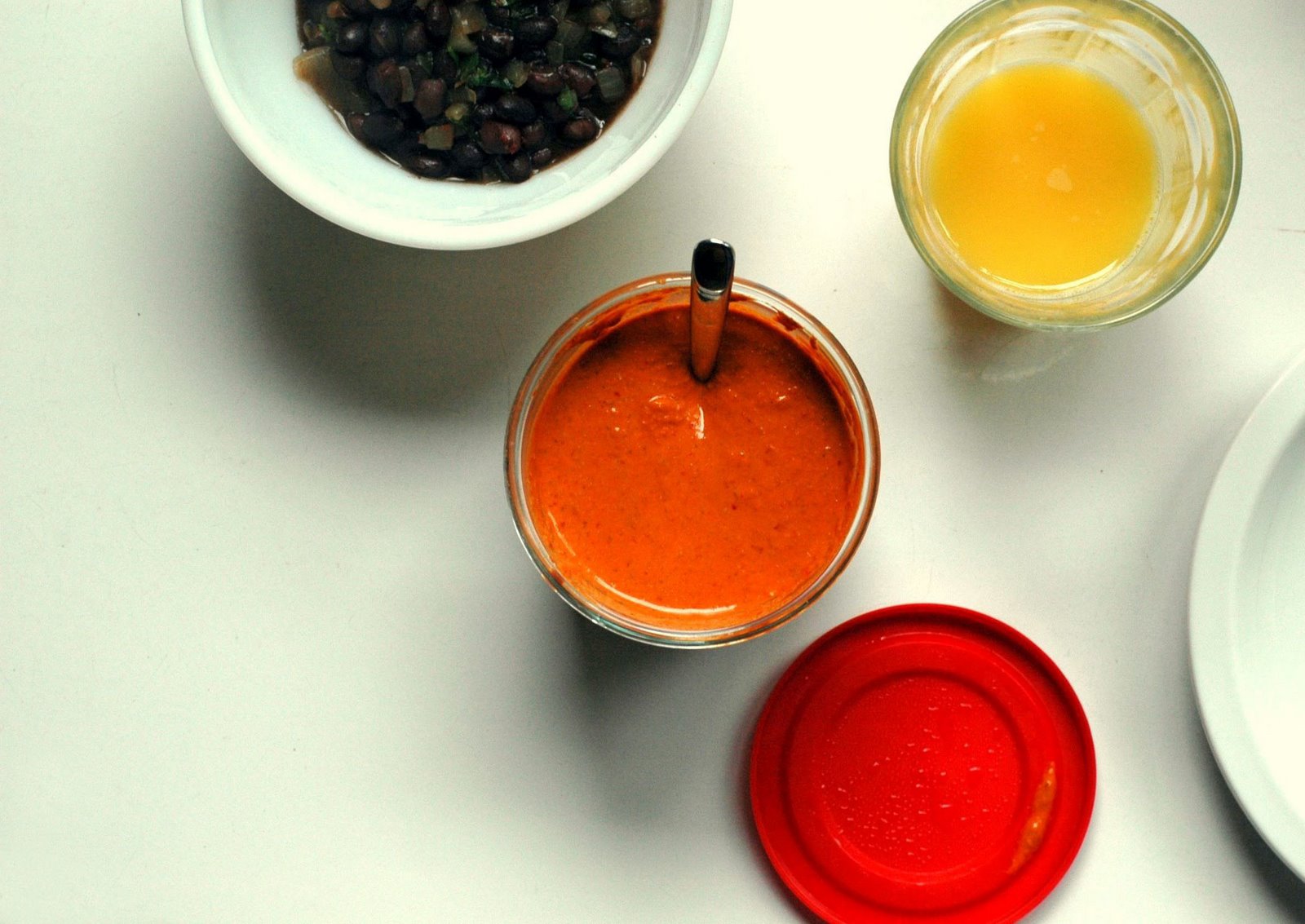 The sauce in question comes from Mexican cooking guru Rick Bayless, whose recipes do not disappoint. Once, when I was eighteen, I went to a dinner in Oklahoma at which he was the guest chef, and let me tell you, the man is good. I was especially enamored of his Yucatecan fresh coconut pie. I ate my slice, half of my mother's, and the last bit from the plate of the woman at the end of the table. A few weeks later, my mother and I made the pie ourselves. None of the usual methods worked to pry open the coconut, so we went outside and pitched it, four square-style, at the driveway. It split with a spectacular crack, sending shards of coconut under the car, and the resulting pie was stupendously good. Rick Bayless is a great man. His recipe for chile de árbol hot sauce is just one more reason why.
Rich and nutty with sesame and pumpkin seeds, smelling of warmth and chiles and places with plenty of sun, this homemade blend is the new favorite of the house. Even the merest whiff at the jar – lightly smoky and with a wallop of spice – makes my stomach start to grumble. It's toasty and complex and creamy-textured. It's also tinted that lovely orange color that interior designers tell people to paint their dining rooms. And as luck has it, it's very easy to make. A little fiddly, maybe, with all those chiles to be stemmed, but well worth the trouble. We like it with beans of any sort, and with chips and beer. We've even sneaked it into Malena's, our local taqueria, to dribble it into tacos, corn tortillas, and guacamole. For those who don't mind mixing cuisines, it's also a winner with hummus and mujadara, its comrades from the pantry closet. It'll keep things warm for a while around here, which is more than I can say for the weather.
Chile de Árbol Hot Sauce
Adapted from Authentic Mexican: Regional Cooking from the Heart of Mexico, by Rick Bayless
Rick Bayless arranges the steps of this recipe in a different order, but for efficiency's sake, we've changed things up a bit. Bayless called for stemming and seeding the chiles first, but it's a time-consuming process that can be done easily while other parts of the recipe – like toasting seeds and such – are underway.
1 ½ Tbsp. sesame seeds
1 tsp. dried oregano
1 scant teaspoon salt
2 large cloves garlic, peeled and roughly chopped
¾ cup apple cider vinegar
2 Tbsp. shelled raw pumpkin seeds
1 ¼ oz. (about 50-60 mixed-size) dried chiles de árbol
¼ tsp. cumin seeds (or a generous ¼ tsp. ground)
1/8 tsp. ground allspice
A big pinch of ground cloves
Water
Place a skillet over medium-low heat. Add the sesame seeds and toast, shaking the pan occasionally, for several minutes, until they turn golden and pop.
While the sesame seeds toast, put the oregano, salt, garlic, and vinegar in the blender. When the sesame seeds are ready, scrape them in as well.
Return the skillet to the stove, turn the heat up to medium, and add the pumpkin seeds. When the first one pops, stir frequently for a few minutes, until all are golden and have popped up into a rounded shape. Add them to the blender.
While the pumpkin seeds warm and toast, start prepping the chiles. Pull off their stems; then gently roll them between your thumb and fingers, pressing gently to loosen the seeds inside. Break them in half, shake out as many seeds as possible, and add them to the blender.
In a mortar or spice grinder, pulverize the cumin, allspice, and cloves. Add them to the blender. Blend for several minutes, until the mixture is orange-red, a bright brick color, and feels quite smooth when a drop is rubbed between your fingers.
Strain the sauce through a medium-mesh sieve, stirring and pressing on the solids with a spoon. There will be a fair amount – a few tablespoons' worth – of chile seeds, skins, sesame hulls, and other debris left in the sieve. Rick Bayless discards this thick paste, but Brandon likes to save it. (It's milder than the finished sauce, and he likes to dip chips into it. He also puts it in black beans. First, he sautés some chopped onion in olive oil; then he adds a bit of chile paste and lets it cook a little; then he adds a can or two of drained beans.)
The strained sauce will be somewhat thick and creamy. You can leave it as is, or you can add some water to thin it. Rick Bayless suggests adding ¾ cup. The first time Brandon made this, he didn't add any water, and he loved the resulting sauce. The second time, he added ½ cup water, and it made for a lovely consistency.
Whatever you choose to do, pour the sauce into a jar or container with a tight-fitting lid, and refrigerate it for 24 hours before serving.
Note: Refrigerated, this sauce will keep indefinitely, and it tastes even better (and gets pleasantly milder) over time. Brandon liked it very much after 24 hours, but he loved it, and I mean loved it, after a week.
Yield: About 1 cup (if you added ½ cup water)