A while ago, around my nineteenth birthday, I had my tarot cards read by a woman named Marlene. Sadly, I don't recall the faintest bit of what the cards said. It's kind of disappointing, to tell you the truth. If I came seeking answers to some juicy question, I've long since forgotten what it was. (Not that anything juicy had happened to me yet, but that's another story.) I'm not even sure how I found Marlene, other than to say that some female members of my family have a weakness for such things, including yours truly. I remember only two real tidbits of my meeting with her, and neither amounts to much. First, there was the squirrel thing. When she closed her eyes, she told me, she pictured me as a squirrel, stuffing my cheeks with nuts. I'm not sure what she meant by that, but I think of it occasionally, namely on nights involving multiple helpings of dessert. Then, second, there was the bit about delayed gratification.
"You want what you want, when you want it," Marlene said solemnly. "You want instant gratification. Right now. This minute. You've got to work on that, hon. You've got to get more comfortable with delayed gratification."
I have no idea what she was talking about. Sure, I was raised as an only child, so I guess I'm accustomed to getting my way, but I don't know. Delayed gratification is okay, I guess. I've never seen it as much of a stumbling block. Or I hadn't, at least, until this past week, when I found myself moping about a cookie recipe. I couldn't get it right. And I wanted it the way I wanted it, right now.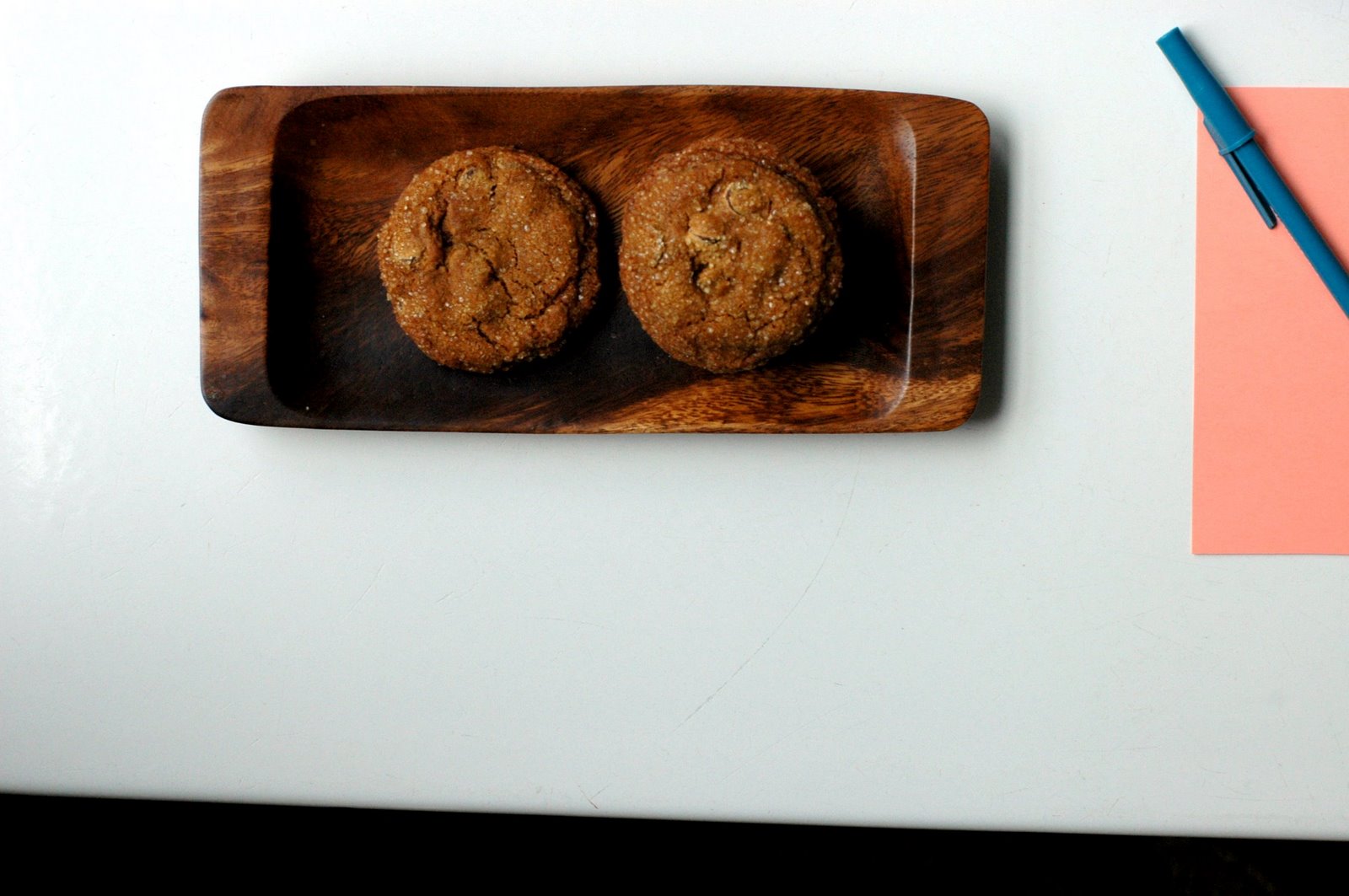 It all started in Oklahoma, the weekend before last. Brandon and I always do a lot of cooking there, both because my mother's kitchen is bright and roomy and because being there is so relaxing. We were only in town for three nights, but we cooked for two of them. We even baked cookies one afternoon, to have with coffee. That's when the trouble started.
I had a vision of a certain cookie, but I didn't have a recipe. I wanted a ginger cookie with molasses, a crackly-topped disc with a soft, dense center. I've written about something similar here before, but it didn't crackle quite the right way. I wanted something crisp and bendy, craggy and crackly, and with chocolate chips. All in one cookie. I know what I want, and I wanted it immediately. You know, like, without delay.
So we searched the shelves and online, and we hemmed and hawed, and then we hawed some more. Eventually we settled on a good, standard formula, with plenty of ginger and cinnamon and molasses and butter. While I set to work on dinner, Brandon made the dough. We drank wine. We ate dolmas. We listened to Django Reinhardt. The cookies were in the oven and already smelling quite nice when Brandon announced, looking sheepishly at the pantry closet, that he'd forgotten the molasses.
Now, mind you, they were very fine cookies anyway. Given that a good chunk of their flavor had been left in the closet, they were very fine indeed. I ate four of them that night and another three on the plane ride home. They were snappy and sweet, with a good, firm kick. But my tiny, hard, cookie-judging heart wasn't happy. They were gingersnaps, to be honest, and the cookie of my dreams was a nimble, chewy thing, with a soft crumb that swayed to the tooth. Granted, had we not forgotten the molasses, these cookies might have been it – the be-all, end-all – but I couldn't be sure. I decided to do some research. In the seven days since our trip home, I've read a half-dozen recipes and made eighty-odd cookies. That's more than four score, for the history scholars. That's a lot of cookies. The women at Brandon's work are going to hate me pretty soon for sending in so many sweets. Somewhere, Marlene is proud, I'm sure.
First, for a chewier cookie, I fiddled with the fat. Ordinarily, I'm not a big fan of shortening – it's kind of weird, like an especially crumbly cake of Dove™ soap – but in some cases, it does wonders for texture. (Because it doesn't melt as quickly as butter does, cookies made with shortening spread less in the oven than all-butter ones, and they have a puffier, chewy consistency.) For good measure, I also tweaked the spices and threw in a good slug of chocolate chips. Then, because a bag of demerara sugar is a very bad thing to waste, I gave each cookie a sparkly, crystalline coat.
It all sounds like fun, I'm sure, like a field trip to the local bakery with your chemistry class. But by Saturday or so, and the third go-round, I have to tell you, things were looking pretty grim. Given enough time, delayed gratification starts to rot. It stinks. Nobody tells you that, but it does. It's a tough, nasty business. By the time the cookies were done, I wasn't even sure I wanted to try them. I made Brandon go first, like a royal taster at court. But I'm happy to report, after all that futzing and fiddling, that the fuss made good. Never mind the wait and the wonky molasses. I got my cookies. They're smart with spice and ginger, crisp here, chewy there, and chock-a-block with chocolate. Marlene would be pleased. They're just right, she'd like to know, for stuffing in my cheeks.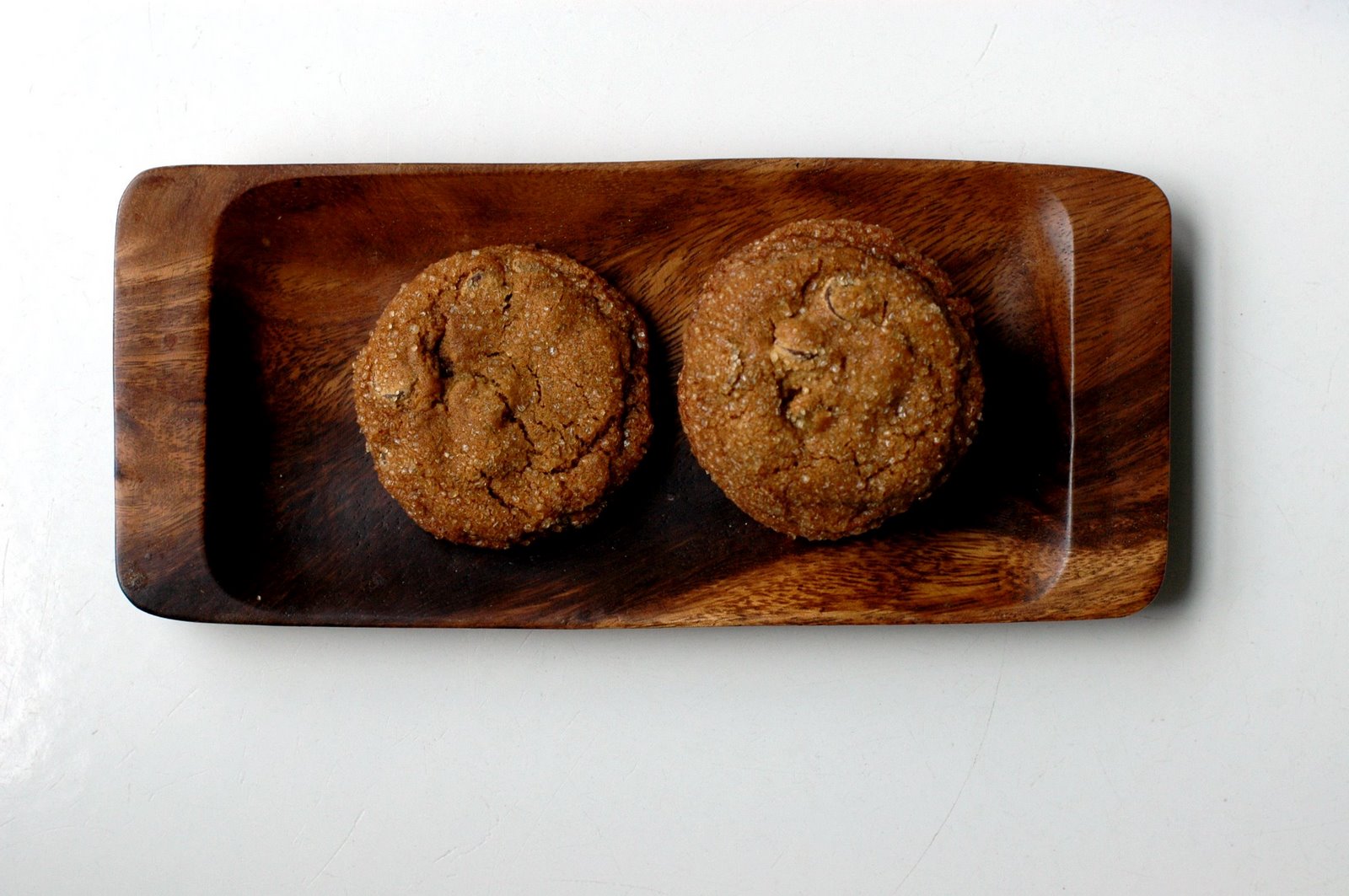 Chocolate Chip Ginger-Molasses Cookies
When choosing shortening, be picky, and steer clear of brands that contain trans fats. I keep a tub of Spectrum brand shortening in the pantry closet, and it works like a charm.
Also, you'll note that this recipe calls for molasses. In this particular cookie, I like a mild one, such as Brer Rabbit Mild Flavor Molasses, but you could also use a standard dark variety. I wouldn't, however, reach for blackstrap molasses. It'll make the cookies taste too dark and Christmasy. Plus, it covers up the flavor of the chocolate chips. That's just wrong.
2 cups unbleached all-purpose flour
2 ½ tsp. ground ginger
1 tsp. ground cinnamon
½ tsp. ground allspice
2 tsp. baking soda
¾ tsp. salt
1 ¼ cups semi-sweet chocolate chips
½ cup finely chopped crystallized ginger
½ cup (1 stick) unsalted butter, at room temperature
¼ cup vegetable shortening, at room temperature
½ cup granulated sugar
½ cup packed brown sugar
1 large egg
¼ cup unsulphured molasses
½ cup demerara sugar, for rolling
In a medium bowl, combine the flour, ginger, cinnamon, allspice, baking soda, and salt. Whisk well. Add the chocolate chips and crystallized ginger, and whisk to blend. Set aside.
In a large bowl – preferably, a stand mixer – beat the butter and shortening briefly to soften them. Add the sugars, and beat until fluffy, scraping down the sides of the bowl with a rubber spatula as needed. Add the egg and the molasses, and beat to blend well, scraping down the sides as needed. Add the flour mixture in two doses, beating briefly after each until the flour is just absorbed. Do not overmix. Use a rubber spatula to give the dough a final stir if necessary; it will be quite firm and stiff. Cover the bowl, and refrigerate for 1-2 hours.
Preheat the oven to 350 degrees Fahrenheit. Line 2 baking sheets with parchment paper or silicone liners. Pour the demerara sugar into a small bowl.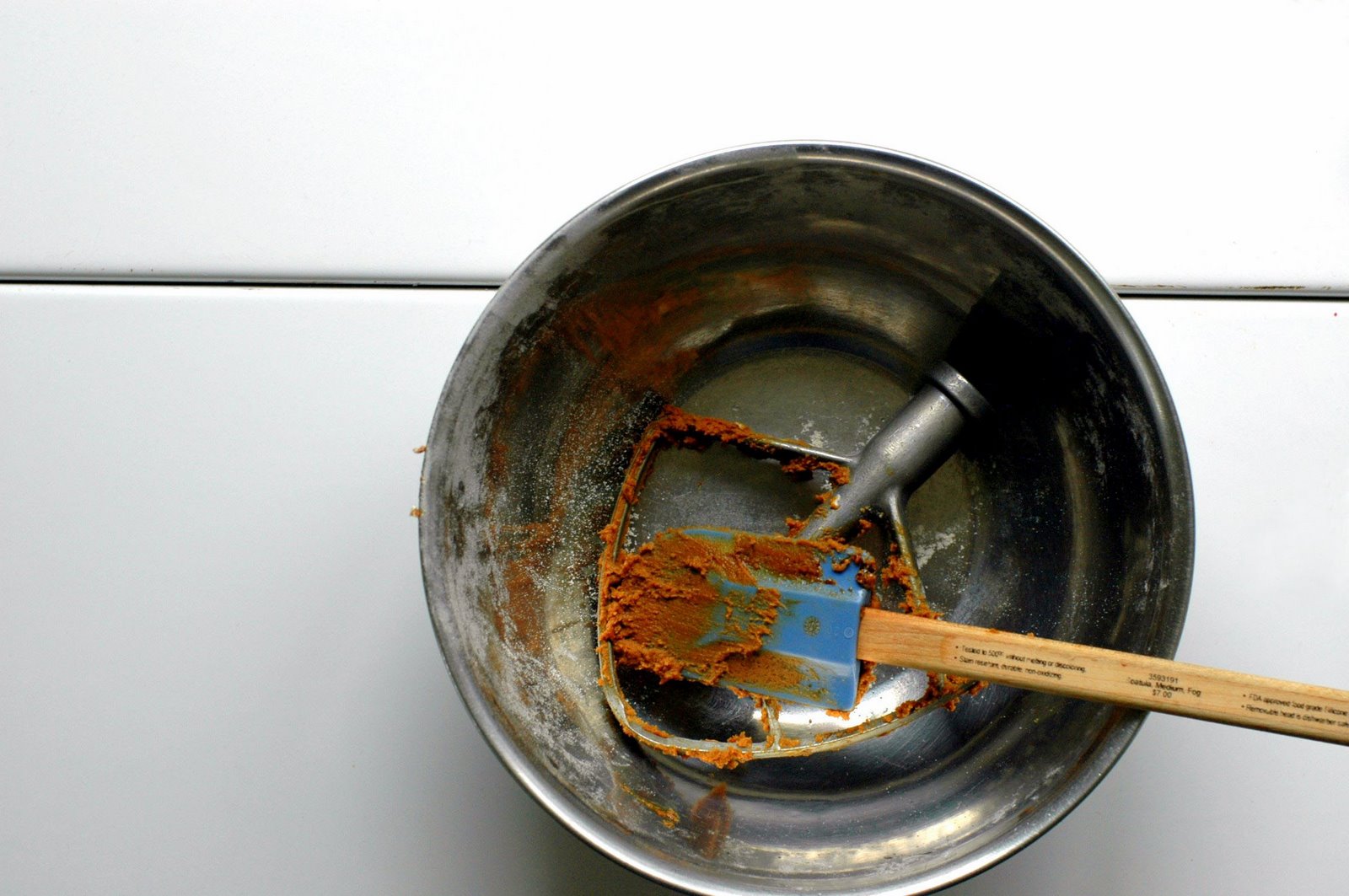 Using damp hands, pinch off blobs of dough and roll them into 1 ¼- to 1 ½-inch balls. Roll each ball in sugar to coat. Place them 2 inches apart on the baking sheets. Roll only as many balls as you can fit on the sheet pans, and cover and refrigerate the remaining dough. I found that 8 balls per sheet was about right.
Bake the cookies until they are cracked on top but still soft to the touch, about 12 minutes, rotating the pans halfway through. Cool on the sheets for 1 minute; then carefully transfer the cookies – still on the parchment or silicone liner – to wire racks to cool completely. When they are cool, remove them from the parchment or silicone liner.
When the baking sheets (and silicone liners, if using) are cool, repeat with more dough.
Yield: about 40 cookies