Sometimes, I must admit, I fall down on the job. Take, for example, the case of a certain squash purée. I first made it three whole years ago, and though it has since made many (sold out! standing room only!) appearances at my table, it has somehow never been documented here. I suppose I should offer some sort of fancy excuse, but really, all I can say is this: it just won't sit still for the camera. It's silky, slinky, beguiling stuff, and it always vanishes before I can snap a photo. But when I made a batch this weekend, I – having learned from my mistakes, not to mention being rather persistent – plunked it right down for a photo session, tout de suite, before it could sneak away. And so, with no further ado, I am delighted to introduce at long last – in a rare moment sans eager forks and spoons – this seductive bowl of butternut squash, maple syrup, and sweet butter.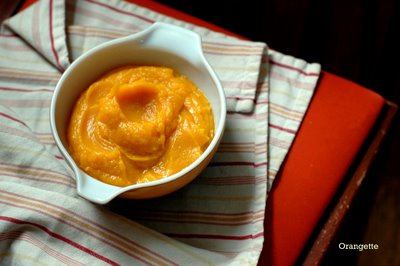 Now, it may not sound like anything out of the ordinary, because on paper – or a computer screen – it really is pretty simple. Heck, it has only five ingredients, including water and salt. Its warming flavor is exactly what you expect from butternut squash, but miraculously, even better. A nudge of maple syrup makes the squash's earthy sweetness step up and shine, while butter smooths its starchy edges into submission. I like to think of it as the savory equivalent of a chocolate pudding, all soft corners and easy swallows. It's smooth and soothing, the sort of thing that makes you want to lift the plate to your chin and – for lack of a more ladylike expression – shovel it in. All of which makes it a natural for the Thanksgiving table, where comfort reigns, as well as for any number of wintry occasions; and hence my hurry to tell you about it – three years late.
I have made this purée each Thanksgiving since 2003, when I stumbled upon the recipe and made it for my mother, myself, and my boyfriend-at-the-time in my cramped apartment kitchen. Being mainly a vegetarian in those days, I served it alongside a spinach soufflé, with braised red cabbage and my favorite biscuits. [My mother, a true sport, gamely agreed to a fowl-less holiday.] It was our first Thanksgiving without my father, and we left an empty place setting where he would have sat. In retrospect, I think he would have preferred that we pile his plate high with turkey and stuffing, but since that was not an option, maybe I should have made him an offering of butternut squash purée. He always had a weakness for anything with its sort of texture – mashed potatoes, Cream of Wheat, scrambled eggs, soft polenta. Knowing him, he would have stirred a big splash of cream into the squash, turning it from glowing orange to a muted, frothy gold. Maybe I'll try that one day, if I can manage to keep from eating it all first.
Butternut Purée with Maple Syrup
Adapted from Gourmet, November 1993 and 2003
This is one of those simple, simple recipes that sneak into your repertoire so seamlessly that you hardly even notice. If you're anything like me, you'll wake up one morning to find that you've already made it a half-dozen times. Aside from being delicious from the first spoonful, the best thing about this purée is that it actually improves with age. Try to make it at least a few hours ahead – if not a day or two. A little rest in the fridge allows the flavors to gel, and the texture, too, settles into a silkier state. If you don't have a food processor, you could probably do just fine with a potato masher, although the texture won't be quite as smooth. No one will mind, though; trust me. And a word about the maple syrup: its flavor is not pronounced here – it brings only a subtle sweetness, no more – so if you like a strong maple flavor, you might add more than I call for. Note also that this recipe is easy to halve, but I hardly find it necessary. It will get eaten, no matter how much you make.
5 lb butternut squash, peeled, seeded, and cut into rough 1-inch pieces
2 cups water
1 ¾ tsp salt, or to taste
1/3 cup maple syrup, or to taste
3 Tbs unsalted butter, cut into dice
Place the squash and the water in a large (5- or 6-quart) pot. [The water will not cover the squash.] Sprinkle 1 tsp of the salt over the squash. Place the pot over medium-high heat, cover it, and bring it to a simmer. Adjust the heat as necessary, and simmer until the squash is very tender, about 15 minutes.
Using a slotted spoon, transfer the squash to a food processor and process it until smooth, adding cooking liquid as needed. I don't add much liquid – only a little splash or two if the food processor seems to gum up. You will probably need to process the squash in batches, transferring the purée into a large bowl as you go. Stir in the maple syrup, butter, and salt – the squash should still be hot enough to melt the butter – and taste to adjust seasoning as necessary. Serve warm.
Note: This purée can – and, I say, should – be made little bit ahead and chilled in an airtight container. Reheat in the microwave or a 350-degree oven, adding a bit of water if needed.
Yield: 8-10 servings