I've never been much for Thanksgiving desserts. This admission may be sufficient cause, I know, for calling Homeland Security, but I'm not afraid to say it. Friends, pumpkin pie just doesn't do it for me. I feel sort of iffy, too, about sweet potato pie, and apple pie is okay, but eh. Likewise, I hold that pecan pie is only worth eating under certain conditions: namely, when it's light on the gloopy stuff and either a) spiked with bourbon, or b) spiffed up with chocolate. I don't know. Thanksgiving desserts just seem like a handy excuse to use that stale jar of pumpkin pie spice – what is that stuff, anyway? – and indulge a half-bottle of corn syrup. But a few days ago, I stumbled upon something that could make even me perk up this Thursday, come dessert time. Heck, I would happily eat an apple pie from McDonald's – you know, the kind that comes in those cardboard sleeves? – if it came with a melty dollop of this salted caramel ice cream.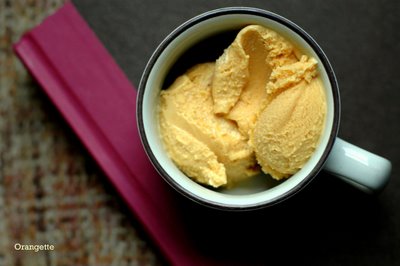 Like many great discoveries in my life, I owe this one to Brandon. Back in September 2005, less than five months after we met, he bought me an ice cream maker – or, more precisely, Lello Junior gelato machine – for my birthday. When it arrived at my apartment, the delivery driver parked it outside the front door of the building – all 35 unwieldy pounds of it – and I came down, unsuspecting, to carry it upstairs. I read the print on the side of the box and let rip a ladylike snort: I had never declared any desire for an ice cream maker, but on more than one occasion, Brandon had. So here it was, at my door in Seattle. It was quite clear whose present this really was. But I did what any love-struck, butterfat-hungry girl would do: I hauled it upstairs and heaved it into place on the kitchen counter. And when Brandon came for his next visit, he made no fewer than three ice creams and sorbets – two types, in fact, on his first day in town. In the year or so since, I too have become quite attached to our little Lello Junior. It has pretty lines and curves, not to mention that fancy internal compressor, and it purrs like a fat, white cat. And it made possible this lovely stuff, which I cannot urge upon you strongly enough.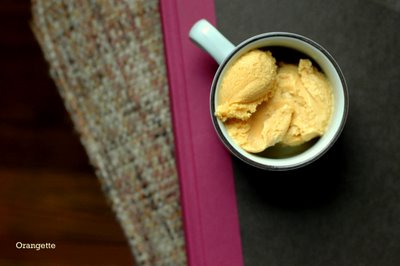 Salted caramel has been all the rage in recent years, traveling from its humble origins in the north of France to pastry menus around the world. The presence of salt works a subtle magic on caramel, deepening and brightening its flavor, making it taste somehow more like itself. Here in Seattle, I'm rather partial to local chocolatier Fran Bigelow's grey salt caramels, dipped in dark chocolate and freckled with a few nubbly crystals. But my new favorite incarnation of the salt-and-caramel duo is this ice cream, from a recipe that recently ran in The New York Times. I have sampled my share of caramel ice creams over the years – whenever I see them on a menu, I can't resist; caramel churned with cream just sounds so right – but no restaurant or ice cream parlor has ever really wowed me with their rendition. This one, however, did, and by god, it came from my own kitchen.
It starts with a very dark caramel, which, when churned with milk, cream, egg yolks, and the fancy French salt fleur de sel, makes for a very sophisticated, subtly sweet flavor that rumbles slowly around the mouth. And despite its rich ingredients, it doesn't coat the spoon in that sickening – nay, scary – way that some homemade ice creams do. Instead, it feels almost ethereally light – or, at least, as light as a puddle of egg-enriched cream can possibly be. Finished with a bit of crunchy fleur de sel, it strikes me as a perfect way to dress up and make special the familiar, spiced flavors so typical of Thanksgiving desserts, from apples to pecans and pumpkin. In fact, it would be an ideal topper for any warming, wintry dessert: a gooey-centered square of brownie, maybe, or a pear crisp with toasted hazelnuts. Just last weekend, I served some in a ramekin alongside a slice of tarte Tatin, and we all sat around the table and swooned. It also made a nice snack the next afternoon, eaten from a teacup, with a book on the side. And for those of us who will spend this Thursday in the kitchen, that might be an awfully good plan for Friday.
Salted Caramel Ice Cream
Adapted from The New York Times and Nicole Kaplan of Eleven Madison Park, NYC
Before freezing, the base of this ice cream is surprisingly thin. Brandon and I – suspicious souls that we are – feared that it wouldn't freeze properly and, if you'll believe it, almost threw! the! stuff! away! But thank goodness we didn't, because once frozen, it was silky-smooth. Note, however, that it will likely take longer to freeze than a thicker, more traditional, cooked custard base. We let ours churn for a good 50 minutes – much longer than the norm for other recipes – and even when we spooned it out into a container for the freezer, it was still quite soft. It firmed up like a charm, though, after a few hours in the deep freeze. One final to the wise: the caramel here should be allowed to reach a very dark amber color, darker than you might think. If your stove is good and hot, it won't take long.
1 ¼ cup granulated sugar, divided
2 tsp light corn syrup
2 cups cream, preferably organic
2 cups whole milk
10 large egg yolks*
½ tsp fleur de sel, plus more for serving
Place ¾ cup sugar and the corn syrup in a medium heavy-bottomed saucepan. Do not stir. Place the pan over medium-high heat, and cook the mixture to a dark caramel, swirling the pan as it begins to brown to distribute the sugar. Add the cream; then slowly add the milk. The caramel will seize and harden, but don't be afraid. Bring the mixture to a boil, and then simmer it, stirring, just until the caramel has dissolved.
Meanwhile, place the yolks in a large bowl with the remaining ½ cup sugar and the fleur de sel. Whisk to combine. When the caramel cream is ready, pour a splash of it into the egg mixture to temper, whisking constantly, and then another splash or two for good measure. Then pour the tempered egg mixture into the caramel cream. Whisk thoroughly.
Pour the mixture through a fine-meshed sieve into a medium metal bowl. Place the bowl in an ice bath to cool the mixture completely. Remove the bowl from the ice bath, cover it with plastic wrap, and refrigerate overnight. Freeze in an ice cream maker according to the manufacturer's directions. Serve with additional fleur de sel sprinkled on top.
* Technically, Kaplan's method – as with many other homemade ice creams – may not cook the eggs to an adequate temperature to kill Salmonella bacteria. The New York Times didn't make a fuss about it, so I decided not to either, but if you are concerned, click here.
Yield: about 1 quart
___
And last but not least, if you're still putting the finishing touches your Thankgiving menu, here are a few ideas from the archives:
Apple and Butternut Squash Soup
Braised Fennel
Braised Green Cabbage with Onions and Carrots
Braised Red Cabbage with Apples and Caraway Seeds
Butternut Purée with Maple Syrup
Butternut Squash Soup with Pear, Cider, and Vanilla Bean
Caramelized Cauliflower
Cranberry Linzer Tart
Dreamy White Beans
Fresh Ginger Cake with Caramelized Pears
Ginger Pear Upside-Down Cake
Hashed Brussels Sprouts with Poppy Seeds and Lemon
Sweet Potato Biscuits
Tarte Tatin
Touch of Grace Biscuits
The Winning-Hearts-and-Minds Cake
And come back tomorrow, when I will post my family's favorite take on the cranberry theme, a cranberry chutney with crystallized ginger and dried cherries. It's so good that Brandon had to hug me after his first bite. That's what I call Thanksgiving.