Now, I know I'm really pushing the limits here, with less than 72 hours until the big day, but I just can't let another year sneak by without sharing one of my favorite parts of the Thanksgiving spread. I hope I've caught you in time. Hurry – before you read another word, jot this on your grocery list:
apricot preserves
white distilled vinegar
raspberry preserves
ground cloves
Grand Marnier
fresh cranberries
crystallized ginger
dried tart cherries

That task complete, you're over halfway to having a bowl of this kicky, warming, sweet-tart stuff on your table. This cranberry chutney is basically a combine-and-boil job, but you'd never know that by its complex, knee-buckling flavor.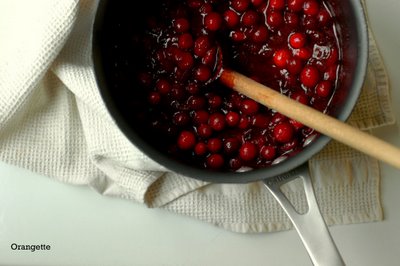 My mom has been making this recipe for, oh, at least ten or 15 years. I'm hard-pressed to think of a Thanksgiving when we haven't eaten it. Mom doesn't remember where she first found the recipe, which is written in her handwriting on an old slip of paper. But in any case, we have been making it for long enough – and I have tweaked it enough – that it now really feels like ours. I remember many a Thanksgiving afternoon spent standing around the butcher-block island in our kitchen, with my dad on one side, blending cranberries and oranges into a raw relish, and my mom on the other, stirring a pot of this chutney on the stove. Come dinnertime, I would mound a spoonful of each on my plate, alternating raw and cooked with each bite of turkey. But the next day, when the time came for a leftover turkey sandwich, it was always the Tupperware of chutney that I turned to first, with its soft, juicy cranberries, winy dried cherries, and spicy bits of ginger. I would slather the ruby conserve onto a slice of whole wheat bread, top it with a fanned-out layer of turkey, and finish with a second slice of bread. Mayonnaise was optional; my mom spread her second slice with a thick smear, but I studiously avoided the stuff. Either way, that was how we did Thanksgiving, and its leftovers too.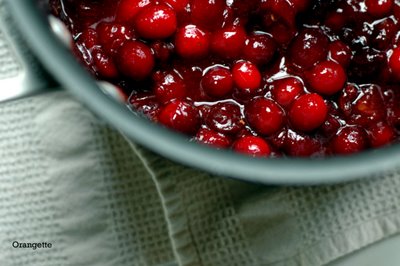 This year, I'll be toting a Tupperware full of cranberry chutney to Brandon's family in New Jersey, where I will – [deep breath] – roast my very first turkey without maternal guidance. Lord help me. At least the chutney is a sure thing – that, and the fact that my mother is only a phone call away.
Happy Thanksgiving, friends.

Cranberry Chutney with Crystallized Ginger and Dried Cherries
This chutney is, of course, delicious with turkey, but it also takes kindly to being heaped on the back of a buttered biscuit. We have also tried a spoonful of it in a bowl of sweet potato soup, and it was surprisingly delicious. [Thank you, Dan and Shauna, for giving Brandon such a brilliant idea.] And it also makes a lovely, wintry appetizer atop a crostini smeared with fresh goat cheese. Oh, cranberry chutney, the places you'll go!
A few notes about ingredients: the original recipe calls for raspberry vinegar, which Brandon tells me is "so '80s," and anyway, most brands of the stuff are sort of gross. If you have some in your pantry, feel free to use it here; otherwise, do as we did and simply substitute a mixture of white distilled vinegar and raspberry preserves. It does the trick just fine. As for the dried tart cherries, Trader Joe's sells them quite cheaply, and they're very tasty. And about the cranberries: be sure to pick through them carefully and discard any rotting, mushy, or generally icky ones. There is usually a good handful, if your experience is anything like mine. Lastly, note that this chutney reaches its thick, jammy, finished consistency only as it cools, so it will still be somewhat loose when you first remove it from the heat. The photographs above were taken when mine was still on the runny side, only a few minutes after I had pulled it from the stovetop. Yours will look quite a bit thicker when it is fully cooled.
24 ounces apricot preserves
¾ cup raspberry vinegar, or ¾ cup white distilled vinegar plus 1 ½ tsp raspberry preserves
A pinch of salt
¼ tsp ground cloves
¼ cup Grand Marnier
2 bags fresh cranberries, nasty ones discarded
½ cup finely chopped crystallized ginger
1 ¼ cups dried tart cherries
In a large, heavy-bottomed saucepan, combine the apricot preserves, raspberry vinegar (or vinegar and raspberry preserves), salt, cloves, and Grand Marnier. Stir to mix, and place over medium-high heat. Bring the mixture to a boil, and continue to cook – it will bubble aggressively, and you should stir regularly to keep it from scorching – for about 10-15 minutes, or until it has thickened slightly. Reduce the heat to medium, add the cranberries, and cook until they are soft but not popped. [I know that they're ready when I hear one or two of them pop; that's a good indicator that most of them must be getting pretty soft.] Add the ginger and cherries, stir well, and remove from the heat. Cool completely before serving. The chutney will thicken considerably as it cools.
Yield: 8-10 servings