I love the holidays as much as the next guy, but truth be told, I also love that they only come once a year. So much flitting around, feasting, and fun can leave a girl a little fatigued, both of spirit and of palate. Maybe I'm getting old, or Grinchly, or maybe just wise, but after Christmas Eve and New Year's Eve, this Saturday eve all I wanted was a quiet apartment, a hot oven, and a homely head of cabbage.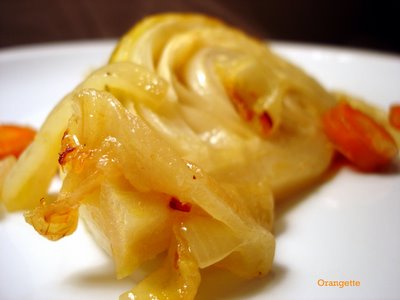 Even more than the holidays, I love the limbo period that follows them, the calm after the proverbial storm, the moment of hesitation—of taking stock, of gathering my bearings—after stepping over the threshold of a new year. I find myself in the kitchen again, with a few open cookbooks and open space in the oven, now that the cookies, turkeys, and tarts are tucked away. And my hunger runs to the humble and the honest, the dependable stuff, the slow and steady. All of which means, dear reader, that the calendar spells cabbage.
He may be a small, portly fellow, green at the cheeks and balding, but last night I happily holed up with a head of green cabbage, and we braised. I've never been much for nightlife, anyway, and the love of a good crucifer will make a homebody out of anybody—or this body, at least. Nestled with onions and carrots under a light blanket of oil and broth, tender was the night, and the cabbage. With gentle attention and two hours in the oven, each wedge went musky and melting, easy under the knife. There is no denying that cabbage is sulfurous stuff, but cooked this way—slowly, and sealed under foil—its aroma softens from raw and bitter to sweet and nutty, skipping straight over sour. Earthy, soothing, and seasoned with flaky Maldon salt, it makes a soft bed for a poached egg,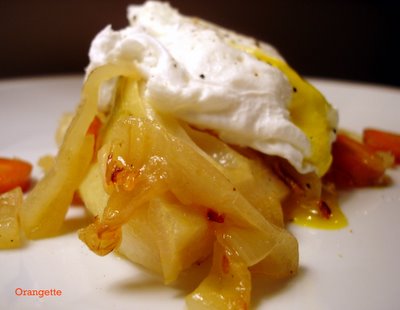 and a soft landing into a new year.
Braised Green Cabbage with Onions, Carrots, and a Poached Egg
Adapted from All About Braising, by Molly Stevens
I've long been a fan of braising red cabbage—on the stovetop, usually, with caraway seeds, honey, and apples—but braised green cabbage may be my new regular. It couldn't be simpler—provided, of course, that you have two hours to spare—and its soft, subdued flavor makes it an easy pairing for many foods, from corned beef to sausage, roasted chicken, or, as I've shown here, a plain old poached egg. And perhaps best of all, it keeps beautifully in the fridge and, as with many braises, actually improves with rest. I like to cook it during the weekend and eat it over the busy days that follow, warmed in the microwave or a low oven.
1 medium head green cabbage, about 2 pounds
1 large yellow onion, sliced into rough 1/3-inch slices
1 large carrot, sliced into ¼-inch rounds
¼ cup good-quality chicken stock, or water
¼ cup extra virgin olive oil
Coarse salt and freshly ground black pepper, to taste
1/8 tsp crushed red pepper flakes
1 egg, poached according to the directions here
Maldon salt, or fleur de sel, to taste
Preheat the oven to 325 degrees Fahrenheit, and position a rack in the middle of the oven.
Peel off and discard from the cabbage any bruised or messy outer leaves. Give the cabbage a quick rinse under cool water, and dry it lightly. Cut it into 8 wedges, and trim away some of the woody core, leaving enough to hold each wedge intact. Arrange the wedges in a 9 x 13 baking dish. They may overlap a little, but you want them to lie in a single—if crowded—layer. If they don't fit nicely into the dish, remove one wedge and set it aside for later use in a quick sauté, salad, or soup.
Scatter the onion and carrot over the cabbage, and pour the stock and oil over the whole mess. Season with a couple pinches of coarse salt, a couple grinds of the pepper mill, and the red pepper flakes. Cover the dish tightly with foil, and slide it into the oven. Cook the vegetables for 1 hour; then remove the dish from the oven and gently turn the cabbage wedges. If the dish seems at all dry, add a couple tablespoons of water. Cover the dish, and return it to the oven to cook until the vegetables are very tender, about an hour more.
When the cabbage is completely tender, remove the foil over the baking dish, turn the oven up to 400 degrees, and continue cooking until the vegetables begin to brown lightly on their edges, another 15 or so minutes.
Serve warm, topped with a poached egg and sprinkled with plenty of good, flaky Maldon salt and freshly ground black pepper.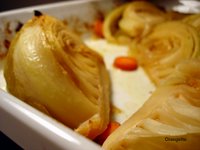 Note: The cabbage keeps well in the fridge for a few days, sealed in an airtight container.
Yield: 1 serving, plus leftovers for another half-dozen meals