When it comes to Seattle's infamously rainy weather, I'm usually pretty nonchalant. Sure, it may be gray for roughly eight months of the year, but the clouds make a nice, fleecy blanket, insulating us from the frigid winter air that haunts our sunnier brethren at similar latitudes. And anyway, what Seattle calls "rain" is actually more of a mist—just a spittle of sorts, really, and hardly worth the price of an umbrella.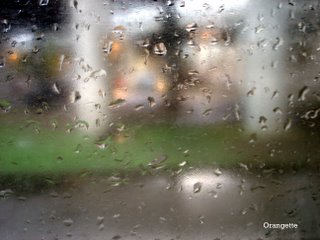 But today, dear reader, marks the twenty-fifth consecutive day of rain in our very Emerald City, and, says National Weather Service meteorologist Gary Schneider, "There are no dry days in the foreseeable future." Yesterday, when a ray of sunlight briefly lit upon my desk, it took every ounce of my strength to keep from ripping off my clothes and curling up in the bright, warm spot next to the keyboard—a very, very abnormal response from a normally sun-phobic redhead. Clearly, I could use a good mood-enhancer, and short of a full day of sunlight, a cake—or eight—will do.
The holidays may have been a two-week parade of excess, but no amount of food fatigue can keep me from dessert. Anyway, for all its caloric riches, Christmas offers little in the cake department, a deficiency that has not been lost on my sweet tooth. No holiday cookie, candy, tart, pudding, or pie can replicate the gustatory experience of a good piece of cake—moist but crumbly, dense but spongy, simple but profoundly satisfying. And to boot, cake is uniquely well-suited to sopping up nearly anything: tea, coffee, port, or, if it strikes your fancy and your city, precipitation. I feel only justified, then, in availing myself of a stash of sugar, butter, and almonds and remedying the situation with a few dainty grape-freckled almond cakes.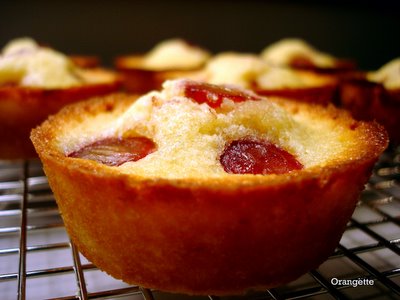 Coarse-crumbed, delicate, and tender to the tooth, these cakes make up in richness what they lack in size. Subtly sweet but unabashedly buttery, they emerge from the oven like little lumps of gold, palm-sized and promising. With crisp edges and a moist, melting center, they take kindly to a good dunking in something wet, warm, and soothing, and even, maybe, to a deluge.
Red-Grape-and-Almond Butter Cakes
Inspired by Gourmet, October 2003
These cakes are a homey riff on the French financier, a small butter- and almond-rich cake baked in a rectangular mold. Gourmet's version of this recipe called for baking these cakes in and eating them from 4 small, shallow gratin dishes, but I wanted something even smaller, something able to be eaten out of hand or nestled into the lip of a saucer, next to a teacup. I suppose I could have gone traditional and used financier molds, but because I don't have any, I reached for the muffin tin. The method here yields 8 round cakes, perfect for an afternoon snack or light dessert, dunked in tea, coffee, or plain steamed milk, or maybe with a glass of ruby or vintage port. For variety, try using different seasonal fruits: wedges of ripe plum or apricot, for example, will be on my list for next summer.
¾ cup whole blanched almonds
½ cup granulated sugar
1 stick (½ cup) unsalted butter, at room temperature
¾ tsp pure vanilla extract
2 large eggs
1/3 cup unbleached all-purpose flour
1/8 tsp salt
A handful of seedless red or black grapes, halved
Preheat the oven to 400 degrees Fahrenheit, and set a rack to the middle position. Butter or spray 8 wells of a 12-well ½-cup muffin tin.
In the bowl of a food processor, pulse half of the almonds with 1 Tbs of the sugar until very finely ground and powdery. Transfer the ground almonds to a small bowl, and repeat with the remaining almonds and 1 more Tbs of the sugar.
In a large mixing bowl, beat together the butter and remaining 6 Tbs sugar with an electric mixer set to high speed. When the butter and sugar mixture is fluffy and pale yellow, beat in the vanilla. Add the eggs one at a time, beating well after each addition. Reduce the mixer speed to low, and beat in the ground almonds, flour, and salt, mixing until just combined. Do not overmix.
Divide the batter evenly among the 8 prepared muffin wells. Press the halved grapes lightly into the batter, distributing them evenly among the 8 cakes. Slide the pan into the oven, and bake the cakes until they are firm and pale golden with slightly darker edges, about 15-20 minutes. If the cakes appear to be browning too quickly at the edges, tent the pan lightly with a sheet of aluminum foil.
Cool the cakes for 10 minutes in the pan; then remove them to a rack to continue cooling. Serve warm or at room temperature.
Yield: 8 miniature cakes