Alright, I admit it: I'm kind of boring.
I love routine. I've never been good at change—which is to say that I'm actually rather bad at it. My poor, long-suffering mother can attest to this: during college, I called her at the beginning of each and every quarter, sobbing and sniveling incoherently about my new schedule and new classes and the end of life as I knew it. I'm also the girl who took the same brown-bag lunch to school every single day for the first fourteen years of her life: Peter Pan creamy peanut butter on mushy Home Pride whole wheat bread (no jam, jelly, or other gelatinousness; no crunchy peanut butter; no natural peanut butter; no white bread; no seeded bread; and no change). My taste buds may well be the eighth wonder of the world: how they managed to survive such monotony is one of the greatest mysteries of all time.

Though I've lately gotten more friendly with change and spontaneity in general—ah, the wisdom that comes with (ahem) maturity!—even today, I regularly put my taste buds to the test of boredom. Nearly every morning, I sit down to the same breakfast in the same crimson bowl, and nearly every morning, it makes me ridiculously happy. Thus sated, I flounce down to the bus with roughly the same formulaic lunch: slices of bread A; slices of cheese B; a Tupperware of soup C or vegetable D; and a piece of fruit E, according to the season. Today it was honey oatmeal bread, cave-aged gruyère and Cabot cheddar, chickpea-tomato soup, and an heirloom navel orange. I may be boring, but they were eyeing my lunch covetously at the bus stop. Who knows what could happen if I gave up the routine now: a bus operator strike, riots, revolution, the end of life as we know it.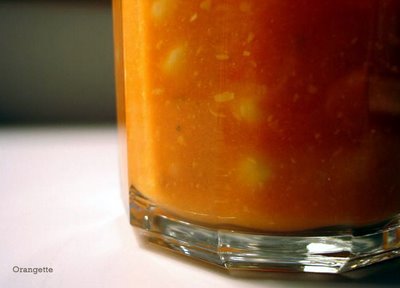 Chickpea-Tomato Soup with Fresh Rosemary
Adapted from Once Upon a Tart…: Soups, Salads, Muffins, and More from New York City's Favorite Bakeshop and Café, by Frank Mentesana and Jerome Audureau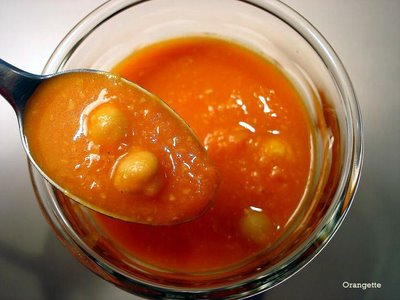 I first tasted this soup a few years ago, on a cold, windy December day in New York City. Each spoonful unites the fruity acidity of ripe tomatoes with the earthy sweetness of chickpeas, rounding out the whole with a subtle undertone of rosemary. This soup is a breeze to make, especially if you have an immersion blender, and keeps well for several days in the refrigerator.
2 15-ounce cans chickpeas
3 Tbs olive oil
2 garlic cloves, peeled and coarsely chopped
2 3-inch sprigs fresh rosemary, needles removed from stem and finely chopped
2 cans diced tomatoes, one 28-ounce and one 14.5-ounce
A pinch of sugar
1 teaspoon salt
Freshly ground black pepper
4 cups vegetable stock (I used Imagine brand)
Drain the canned chickpeas in a colander, and rinse them well.
Warm the olive oil in a large soup pot over medium-low heat, and add the garlic and rosemary. Cook for a minute or two, and then add the tomatoes, sugar, salt, a few grinds of pepper, roughly half of the chickpeas, and the stock. Bring to a boil over high heat; then reduce the heat to low and simmer, partially covered, for 20 minutes.
Remove the soup from the heat to purée. If using an immersion blender, purée the soup directly in the pot. Otherwise, wait a few minutes, until the soup cools; then purée it in batches in a blender or food processor and return it to the pot. Add the remaining chickpeas, and warm the soup over medium heat. Serve warm.
Yield: 6 servings.