Dearest Seattle,
Every now and then you're really spectacular. It's usually something small and subtle and a little gritty, something I would have missed if I didn't have a nasty habit of staring, a keen ear for other people's conversations, or a weakness for your Patagonia-meets-post-punk fashion sense. It's the chatty produce vendor at Pike Place Market, a gin and tonic at the Alibi Room, a romp in the ravine at Ravenna Park, or your Space Needle glowing on the night skyline like some sort of majestic wizard's tower in a sci-fi movie. You're everywhere I want to go. To hijack the Frank O'Hara poem "Steps," "oh god it's wonderful / to get out of bed / and drink too much coffee / and smoke too much salmon / and love you so much."
But Seattle, we need to talk.
You're a tease. After a mild, sunny, beautiful winter and the glowing weather of last month's Pork Week, you're now nothing but gray. Your skies have only two settings—cloudy and rainy—and for variety, you throw in a little wind. If you keep this up, I'll no longer be able to roll my eyes at those silly people who, at the first mention of your name, joke about umbrellas, raincoats, and Seasonal Affective Disorder. You're letting me down. Stores are swarming with bathing suits; tulips are in every vase; and you've decided it's winter.

But because I care about you, I won't turn my back. I'll carry on as though everything were fine. I'll lead the way by example. And I'll begin with asparagus.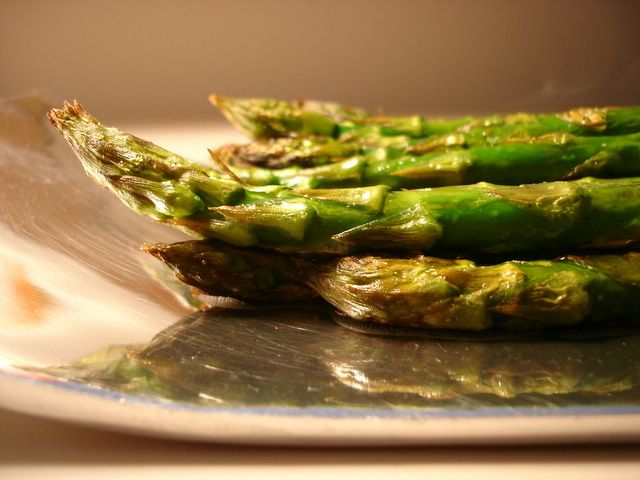 Even though it's blustery outside and my hair is wet and matted from an early-afternoon walk in the mist, I can still exhibit proper springtime behavior by eating asparagus. It's everywhere these days, poking up from the soil like a strange lunar life form and clustering in bunches in grocery stores. Everyone is talking about it—green or white, finger-fat or pencil-skinny. And though I've eaten asparagus in any number of ways—steamed, blanched, puréed into soup, folded into soufflé, or dusted in dried powdered orange rind and saffron, à la Astrance in Paris—my favorite springtime ritual involves nothing more than a few fat stalks, olive oil, salt, and a good, hot oven.
Seattle, I'm waiting for you to come around. When you decide you're ready to behave, you know where to find me, and if you hurry, I'll save you some roasted asparagus.
Roasted Asparagus

This method is nobody's breaking news, but it's quick, easy, and absolutely delicious. The high heat of the oven concentrates the flavor of the asparagus without taking away or adding too much moisture, and the result is fork-tender, lightly caramelized, and unexpectedly juicy.
1 bunch green asparagus, preferably on the fat side
Olive oil
Sea salt
Preheat the oven to 400 degrees Fahrenheit. Snap the woody ends off the asparagus stalks, rinse them well, and dry them thoroughly with paper towels. Lay them in a single layer on a baking sheet, and drizzle them with a thin stream of olive oil—it doesn't take much. Use your hands to roll the stalks in the oil to coat them lightly but thoroughly, and sprinkle with salt. Bake for 10 minutes; then shake the baking sheet to turn and roll the asparagus. Bake for another 4-5 minutes, until the asparagus are a vibrant, shiny, cooked shade of green and their skins are lightly blistered and slightly wrinkled. They should be soft and yielding but not shriveled or mushy. Serve warm or at room temperature.