Back in September—a lifetime ago in blog years, it seems—I wrote about a Seattle nonprofit called FareStart and its weekly Guest Chef Nights, in which local chefs work with FareStart's students to produce impressive three-course meals. Last night I had the pleasure of attending my second Guest Chef Night—this time in the company of fellow food blogger B (of Culinary Fool), B's friend E, and my ever-faithful Keaton—and once again, I can't keep it to myself. Everything about FareStart just feels so good that it would be a crime not to share. Consider this a public service announcement.
Our evening began with a tour of the bustling kitchen, where the students were hard at work in their chef's whites, plating salads and hefting deep pans of chive gnocchi. A year ago, FareStart launched its "Futures Rising" capital campaign to raise money for improved facilities, and the kitchen presents a convincing case: though of moderate size, it is no-frills and in need of a facelift, not the sort of space one would expect to find churning out a remarkable 2,500 meals per day (which it does, between the restaurant, catering services, and contracts with area shelters). We found the evening's guest chef, Dave Miller of the Jolly Roger Taproom at Maritime Pacific Brewery, busily plating pork tenderloin, with a student at each elbow and a squeeze bottle in each hand. He gave us a quick tour of the evening's eclectic map-hopping menu, its dishes linked by the presence of a Maritime Pacific beer in each, and we hurried back to the equally bustling dining room to get started.
With only a few minor quibbles, it was a very good meal.
We began somewhere between Japan and California, with a salad of organic field greens with a ginger and alt ale dressing, scattered hazelnuts, and miso-seared halibut cheeks. I have a weakness for halibut cheeks and their surprising richness, and these generous chunks were delicate and delicious, even if their miso glaze was a bit too sweet for my taste. [Please note the superhuman restraint required to avoid—or maybe not—using the term "sweet cheeks."]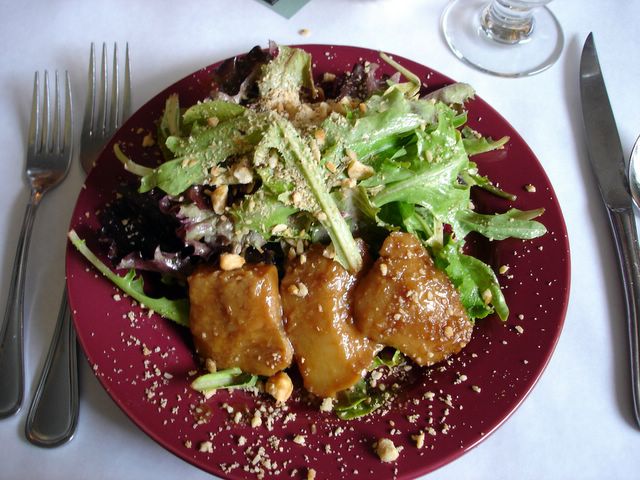 For our entrée, we moved to the Southwest with lime-seared pork tenderloin, a roasted-corn masa cake wrapped in a green pasilla chile, sweet shoestring onion rings, and a trio of beer-based sauces: Salmon Bay E.S.B. piri-piri, Bosun's Black Porter salsa negra, and Islander Pale Ale chimichurri.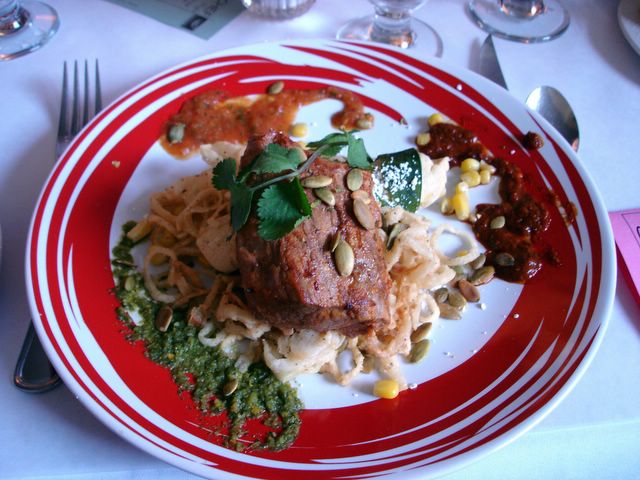 It was a big, busy plate, but the pork was barely pink and perfectly done, and the masa cake was reminiscent of a stripped-down tamale, deeply flavored with corn. And the shoestring onions stole the show: this time, a dose of sweetness was most welcome.
Keaton and I, doing double-time for vegetarians everywhere (including ourselves, circa a few years ago), also sampled the vegetable entrée, squash-and-broccoli-rabe fritters with tomato-ginger jam and chive gnocchi. The fritters were rustic springtime comfort food—a union of crispy, buttery crust and green-tasting, creamy interior.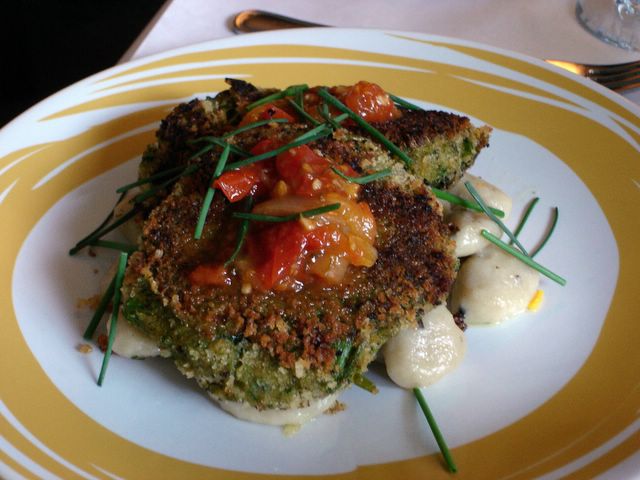 Things got very exciting when dessert arrived, straddling an imaginary border between New Mexico and Georgia. An roasted-peach brown-butter cake with buttermilk-habanero ice cream and Bosun's Black Porter molasses,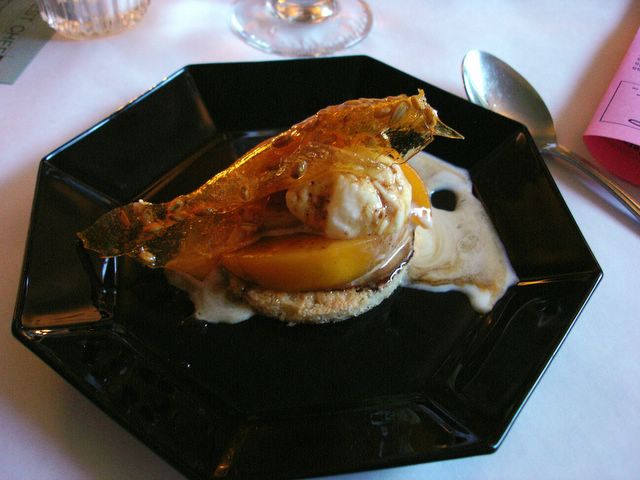 it was soon dubbed "the flying pie" by E, after both Keaton and B accidentally shot various parts of theirs skidding across the table. That's not to say that it wasn't tasty; it was simply very architectural and a bit tough to pin down, literally and figuratively. The thin brown-butter cake was moist and rich, a wonderful foil to the sweet-tart lightly cooked peaches, but the habanero ice cream was a point of contention, bracingly spicy and a bit on the icy side. I choose to blame it on the freezers in the current kitchen—with new facilities (ahem!), I'm sure that future ice creams will be nothing short of luscious.
So I can't keep it to myself. The place was buzzing with energy, and so were we. I hope you'll consider supporting FareStart and its students, whether it be by joining a few friends for dinner on Guest Chef Night ($19.95! Three courses!); volunteering as servers; making a simple donation; or perhaps even attending this weekend's Taste Washington or next month's Taste of the Nation, two local food-and-wine events whose proceeds benefit FareStart.
And I hope you won't keep it to yourself.