Month:
March 2005
When one of your (half-)brothers is a restaurateur, paying him a visit means consuming quite a bit of good food. When one of your (half-)brothers is a restaurateur with many reasons to celebrate—a new house, a new restaurant in the works, and an upcoming wedding, for example—paying him a visit means consuming completely unreasonable amounts of fantastic and fantastically rich food all over the Washington, D. C. area, nonstop, for three and a half days. Add to this equation Easter, a holiday synonymous with sugar, and the whole mess is downright obscene. I'm still recovering. Though Veuve Clicquot is fine and Dom Perignon is dandy, at this point I'm very pro-water.
But, as I tripped down this path littered with smoked lobster, pineapple baked Alaska, and cilantro daiquiris, I collected three truths to bring home to you, dear reader, from our nation's capitol: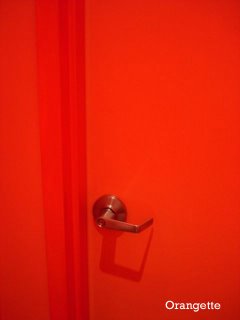 1. To make a restaurant look sleek, sultry, and very L.A., cover it with yards and yards of white leather. Oya, a brand-new lounge on 9th Avenue, has mastered the concept. There's white leather everywhere: the chairs, the banquettes, and—in a very questionable move—even the tables. One wall near the bar appears to be covered in crimson crocodile, and the bathroom stalls are a blinding, futuristic shade of orange-red, but otherwise, the place is nothing but searing-hot white. My fair skin was tailor-made camouflage; I blended in perfectly with the banquette. And the braised short ribs with vanilla-pear purée was nice too.
2. My friend Doron's fashion sense is even better than his meatballs, which is saying a lot. On a chilly D.C. Saturday, he was a vision in charcoal gray wool. We nabbed a table by the window at Dupont Circle's Teaism, and over pots of green tea, a salt-laced oat cookie, and a lemon bar, we quickly bridged the two thousand miles' worth of distance that separates our daily lives. And then he was off, black hair gleaming and Burberry scarf flying, to counsel a good friend who was preparing a special six-year anniversary dinner for his girlfriend. I'm not the only one who needs an expert meatball maker every now and then.
3. And speaking of need, every family needs an Italian matriarch—even a Jewish-Catholic-Polish-Irish-English family. My (half-)brother David is doing his best to acquire one for us, and thank goodness. His fiancée Carée comes with a wealth of excellent attributes, not the least of which is her Italian-American mother Nancy. Months ago, when Nancy and her husband Frank hosted an engagement party for David and Carée, my mother called me on her cell phone from the dessert table. The spread was outrageous, she said, from homemade cannolis to cake and back again, not to mention the savories. This Easter Sunday, I got my chance to see Nancy in action, and her cooking, true to legend, was legendary. Not content to settle for the usual ham, she also baked a turkey, which she filled with a moist and rich bread stuffing, and alongside she served baked ziti, her rendition of Pennsylvania Dutch potatoes (creamy mashed potatoes with marjoram and thyme, baked until crispy on top and barely gold), candied yams, corn, cranberry sauce with lemon zest, pan gravy, cole slaw, four types of homemade bread, and asparagus with a light ginger-butter glaze.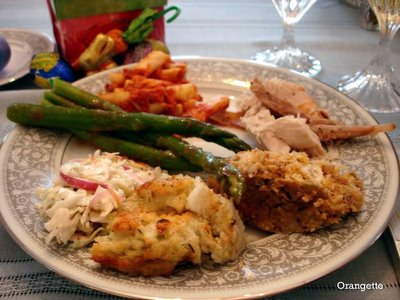 Dessert brought not only chocolate brownies but also a fresh strawberry pie, a pecan pie, and anguished groans around the table. It was stunningly beautiful. It may have been Easter, but at our table, we said amen for Italian matriarchs.
As I said, I'm still recovering. And so, after a full day of cross-country flying, I came home to make myself a bowl of pea soup.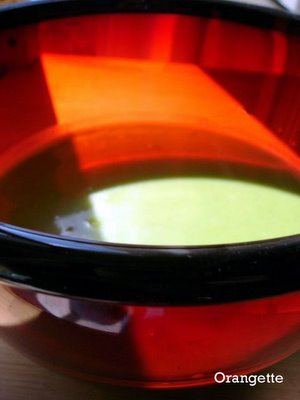 A green-tasting springtime cousin of the wintery split pea, this soup features little more than sweet frozen peas, broth, and a salty, nutty hunk of rind from a wheel of Parmigiano-Reggiano. It's a perfect restorative for Easter obscenity. I'd dare to venture that even a fancy-schmancy restaurateur might want to curl up with a bowl.
Very Easy Pea Soup
Adapted from Nigella Lawson in the New York Times; January 21, 2004
1 Tbs olive oil
1 clove garlic, minced
2 scallions, finely sliced
4 cups (20 ounces) frozen peas
½ to 1 cube vegetable bouillon, or 3 cups hot vegetable broth
A piece of rind from a wheel of Parmigiano-Reggiano cheese, about 1 by 2 inches
Place a medium saucepan over medium-low heat, and add oil and garlic. Sauté until garlic is fragrant but not browned; then add scallions. Stir until heated; then add frozen peas. Stir well. Add 3 cups hot water and bouillon to taste (or instead, add 3 cups hot broth), and the cheese rind. Cover, and simmer until peas are tender, about 5 to 10 minutes. Remove from the heat, and allow to cool until no longer steaming. Remove the cheese rind, and transfer the soup to a blender or food processor. Purée until the mixture is very smooth. Serve immediately, or, if desired, reheat to taste.
Serves two to four.