My mother loves Paris. This should not surprise you; after all, I've already made it clear that she is a genius.
She speaks nary a word of French, but she swathes herself in head-to-toe black (which is, after all, her daily uniform), laces up one of her many pairs of tiny (size 5 ½), aerodynamic, Euro-style Pumas, and hits the streets with the air of one who knows. She is unafraid. She can decipher menus; she can tackle the Métro; she can go into Monoprix with a grocery list and come out victorious. She plays the part so beautifully that Parisians have even been known to stop her on the street to ask for directions—and then stare in open-mouthed surprise when they find that she speaks no French. Now that's satisfying.
And anyway, language barriers were made for overcoming. She can eek out the essentials when the circumstances require, such as a cheerful "Merci, au revoir" when leaving a store, and she'll use improvised sign language if necessary. For a while, she was determined to learn how to order her preferred coffee—not a simple café express, but a double espresso with a small pitcher of warm milk on the side—and though she braved my rigorous drills and tests with only minimal giggling, it was soon clear that I'd continue to order for both of us. She may be a genius, but "un double café avec un petit pot de lait chaud" was a bit much to ask. However, once the coffee is securely in her hands, she café-sits like a true Parisienne, and her people-watching skills are unrivaled.
One of my mother's favorite spots for sitting and staring is Café Beaubourg, a stylish corner overlooking the Centre Pompidou and boasting a sleek ultra-modern look, beautiful people, and sexy cave-like bathroom. I tend to prefer less overtly showy spots* for my café-sitting, but Café Beaubourg is something of a sentimental favorite—if sentimental favorites can have lots of metal, hard edges, and surly waiters—because it was there, one early afternoon a few years ago, that my mother and I had our first French-style scrambled eggs.
The French like their scrambled eggs (oeufs brouillés, or "agitated eggs") creamy, with a texture resembling loose oatmeal. Cookbook author Michael Roberts describes them as "small tender clumps of eggs suspended in an almost sauce-like base," which makes them sound delicious, slightly mysterious, and wildly complicated. Luckily, there's no mystery or fancy technique involved. Though I may have first tasted them in a setting better known for chic than comfort, French-style scrambled eggs are the simplest and easiest of pleasures. In fact, they're perhaps best suited for a "picnic" dinner on the floor, with a blanket around your shoulders and a wine glass at your knee.
When you find yourself stranded nine time zones from Paris and two from your mother, it's good to know about these things.
*For example, Le Petit Fer à Cheval (30, rue Vieille du Temple; Métro: St. Paul), Café de l'Industrie (16, rue Saint-Sabin; Métro: Bastille), or Le Pause Café (41, rue de Charonne; Métro: Bastille).
Tartine Poireaux-Oeufs Brouillés, or French-Style Open-Faced Sandwich with Leeks and Soft-Scrambled Eggs
Adapted from le hamburger et le croissant and Michael Roberts's Parisian Home Cooking: Conversations, Recipes, and Tips from the Cooks and Food Merchants of Paris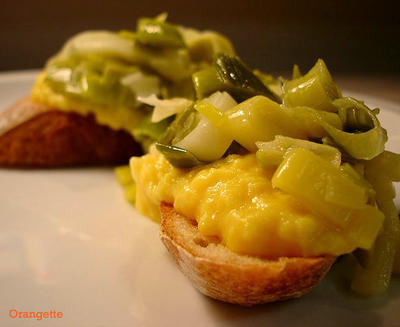 This is perfect early-spring picnic-on-the-floor fare. It's so delicious that I nearly cried—or maybe it was that oddly touching scene in Sex and the City when Steve calls Miranda to tell her to look out her window at the moon. [Sigh.] As I said, delicious.
For the leeks:
3 small leeks
A nub of butter
1 tsp sugar (I used unrefined cane sugar, which I like to call "hippie sugar")
A pinch of salt
½ Tbs crème fraîche
For the eggs:
2 large eggs
2 tsp water
1/8 tsp salt
A small nub of butter, melted
For serving:
Two or three bias-cut slices of baguette, or a large slice of country-style crusty bread, toasted
Salt
Freshly ground pepper
Begin by preparing the leeks: trim the root end off each leek, and slice them across their width into roughly ¼-inch-thick coins. Place the cut-up leeks in the basket insert of a salad spinner, place the basket in the bowl of the spinner, and fill the bowl with cold water. Let the leeks sit for a few minutes in the water; then use your hand to swish them around, loosening and removing any dirt that may be hidden in their layers. Remove the basket from the bowl, dump the water out of the bowl, return the basket to the bowl, and spin the leeks dry. [Alternately, if you don't have a salad spinner, simply soak and wash the leeks in a bowl of water, and dry them with paper towels.]
In a large skillet, melt the butter over medium-low heat. Add the leeks, the sugar, and the salt, and stir to mix. Cover the skillet to allow the leeks to begin to sweat a bit, and, stirring occasionally and adjusting the heat as necessary if they begin to cook too quickly, allow the leeks to cook for about 15 minutes, until they are fragrant, soft, and almost melting. Add the crème fraîche, and cook the leeks a minute or two more, stirring in the crème fraîche as it melts. Set the skillet aside.
In a small bowl, whisk together the eggs, water, salt, and melted butter. Pour this mixture into a small saucepan, and place it over low heat, whisking constantly. When the mixture begins to coagulate ever so slightly and form tiny oatmeal-like lumps, begin a little dance of removing the pot from the heat and replacing it so that the eggs don't cook too quickly, and reach all over the corners and bottom of the pot with your whisk. The eggs are ready when they resemble loose oatmeal; the process should take between 5 and 9 minutes.
Place the slices of toasted bread on a plate, and spoon the scrambled eggs on top of them. Top the eggs with a layer of leeks. Serve immediately, with salt and pepper as needed.
Serves one, with leftover leeks.