It's that time again. Behold a reprise of geekiness.
I'm a sucker for social theory. Really, there's nothing sexier than the name "Michel Foucault," and that's a non-debatable point. A close second goes to a man I once knew who, between sips of beer, spoke the words "Baudrillard" and "simulacra" so suggestively that I blushed, broke a sweat, and nearly passed out. He didn't stick around for long, but by god, social theory did. In fact, the two of us have just begun the arduous process of writing a Master's thesis.
Unfortunately, I'm not sure we'll make it through.
Despite its smart, sexy, and enticingly knotty qualities, social theory is a fickle partner. At best, we together produce only somewhat incoherent jargon, such as this cloudy gem from a recent session at the keyboard: "The concept of solidarity operates today to cloak the market—and market-based policy—in a familiar, collectivizing discourse, even as French society is atomized and its citizens are increasingly individualized and responsibilized." [Oof. I'm so sorry, dear reader.]
And at worst, social theory abuses me with page upon page of impossible, heart-shriveling nonsense, such as the following (courtesy of a misguided soul named Timothy W. Luke, not me): "Multitorialities are incipient polyarchical fields, contragovernmentalizing spaces giving free rein to the post-jurisdictive." [Even sorrier, dear reader.]
As I said, I'm not sure we'll make it, social theory and me. The highs are high, and the lows are excruciating. It's enough to drive a girl to bake. Such times call for drastic measures, and pistachio-apricot oatmeal cookies.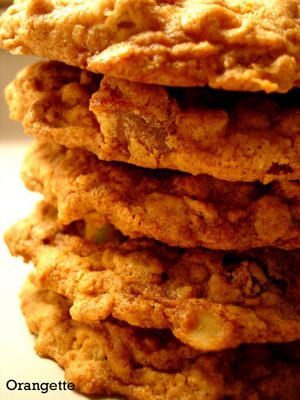 I made these lovelies last week for the final meeting of my neoliberal governmentality seminar, and we washed them down with an enormous bottle of cheap red—a better combination than you'd think—while sitting around the conference table at three in the afternoon. Through my sleepy sugar-and-wine-haze, social theory actually started to look sexy again. I think it even winked at me.
We're giving it another go. I'm a total pushover, at least until the thesis is done.
Pistachio-Apricot Oatmeal Cookies
From Gourmet
This recipe yields a cookie that's thinner, chewier, and more crisp than I'd ordinarily choose, but it's absolutely delicious. The high ratio of brown sugar to white results in a deep caramelly flavor, which goes wonderfully with the pistachios and dried apricots.
1 stick (1/2 cup) unsalted butter, at room temperature
¾ cup packed light brown sugar
¼ cup granulated sugar
¼ tsp pure vanilla extract
1 large egg
¾ cup all-purpose flour
½ tsp baking soda
¼ tsp salt
1/8 tsp ground cinnamon
1 ½ cups old-fashioned rolled oats (not quick-cooking)
1/3 cup dried apricots (2 oz), cut into ¼-inch dice
1/3 cup shelled unsalted pistachios (not dyed red), coarsely chopped
Put oven racks in upper and lower thirds of oven, and preheat oven to 350 degrees Fahrenheit. Spray two baking sheets with cooking spray, or line them with silicone baking mats, if you have them.
In a large bowl, beat together butter and sugars with an electric mixer until fluffy. Add vanilla, and beat to incorporate. Add egg, beating to combine well. In a separate bowl, stir together flour, baking soda, salt, and cinnamon, and then add these dry ingredients to the wet ingredients, mixing at low speed until just combined. Using a rubber spatula, fold in the oats, apricots, and pistachios.
Spoon rounded tablespoons of dough (I used a small ice-cream scoop) about two inches apart onto the baking sheets. Bake cookies, switching position of sheets halfway through baking, until golden brown, about 15 to 18 minutes. Transfer cookies carefully with a spatula onto racks. The cookies will crisp as they cool.
Yield: About 18 cookies