"Will you bring dessert?"

Now that is one of my favorite questions to be asked. It's right up there with "Can I kiss you?" and "You're from Oklahoma?" But unlike the latter two, it can almost always be counted on to produce an outcome that's angst-free, a result in which sweet conquers sour. Dessert doesn't lead to sleepless nights of overanalyzing, or to nightmarish memories of afternoons at the Cowboy Hall of Fame. There will be no broken hearts and no teepees. Dessert is pleasure guaranteed, with no explanations needed. When delicious, dessert is its own best answer—especially when it's as delicate as frilly lingerie and as rich as a Plains-state oil tycoon. Lemon soufflé tartlets are both.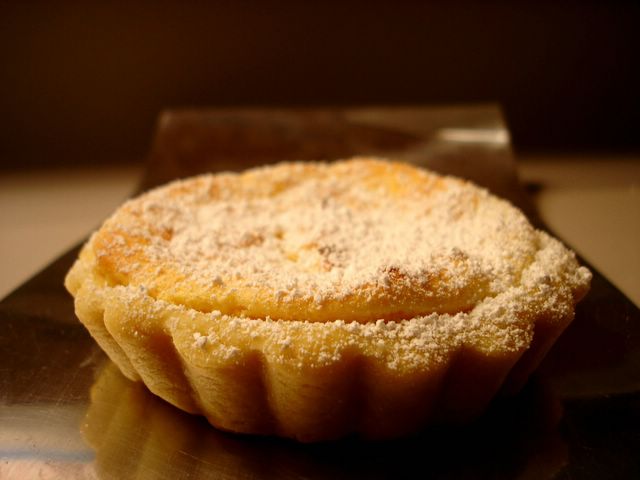 Light and sweet and puckery with lemon and zest, these mini-soufflés are, quite simply, spring in a buttery shell. And they're a handy way to keep myself occupied until I get my kisses and my cowboy.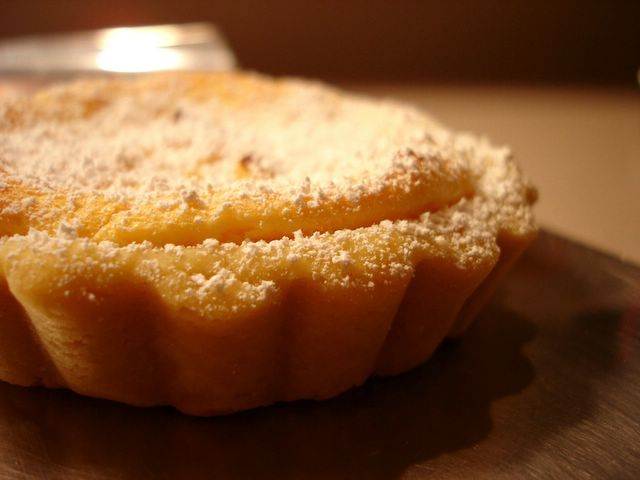 Lemon Soufflé Tartlets
Adapted from Jeffrey Steingarten's brilliant It Must Have Been Something I Ate, which in turn adapted from Paula Oland of NYC's Balthazar Bakery, and from Dorie Greenspan's Paris Sweets
Steingarten's original recipe suggests using a pastry crust he adapted from Maury Rubin of NYC's City Bakery, but I was eager to try it with this easy, unusual, and delicious crust from Dorie Greenspan's book Paris Sweets. I was very pleased with the result, although I might add more sugar to the crust next time. The lemon soufflé filling is quite tart, so a sweet and buttery crust is a necessary foil.
6 eggs
1 scant cup granulated sugar
3 Tbs unbleached all-purpose flour
2 Tbs heavy cream
1 cup fresh lemon juice (from about four large lemons)
Grated zest of 4 lemons
¼ tsp baking soda
¼ cup superfine sugar
6 to 8 4-inch tart shells, fully but lightly baked (see link above; one batch of Dorie's dough should yield 6-7 shells)
Confectioner's sugar, for serving
Separate the eggs, placing all 6 yolks in a large, metal mixing bowl and 3 whites in another medium bowl; reserve or discard the remaining 3 whites. In the metal bowl, beat the yolks at medium-high speed, gradually adding the granulated sugar and continuing to beat until the mixture is light yellow and thick. Lower the speed to medium, beat in the flour, and gradually beat in the cream, the lemon juice, and the zest.
Place the metal bowl directly over medium heat on the stovetop. Using a rubber spatula, continuously stir the mixture, scraping the bottom and sides. It will first become hot and steamy, and then, around 180 degrees Fahrenheit on a thermometer, it will thicken fairly suddenly and begin to bubble. It will look similar to lemon curd. Remove the bowl from the heat, stir in the baking soda, and watch the mixture foam. Stir well, and then let cool to room temperature.
Preheat the oven to 350 degrees Fahrenheit.
In the other bowl and with clean beaters, beat the 3 egg whites until foamy, sprinkle with the superfine sugar, and continue beating until soft peaks form. Stir about ¼ of the egg whites into the lemon mixture; then gently fold in the remaining whites. Fill each of 6-8 prebaked tart shells with 1/3 to ½ cup of the mixture (you may find, as I did, that you have excess filling; either make more tart shells, throw it away, or try making little soufflés in ramekins). Bake the tartlets for 18 to 20 minutes, or until set and lightly golden but still a bit wobbly. As they cool, the filling will deflate. Serve at room temperature, dusted lightly with powdered sugar.