It hit 85 degrees in Seattle today, and here in our city of no air conditioning, that counts as a heat wave. I know: talking about the weather is boring, blah blah blah, but on a cloudless day in mid-July, the best one can hope for, I think, is to have nothing but the weather to talk about.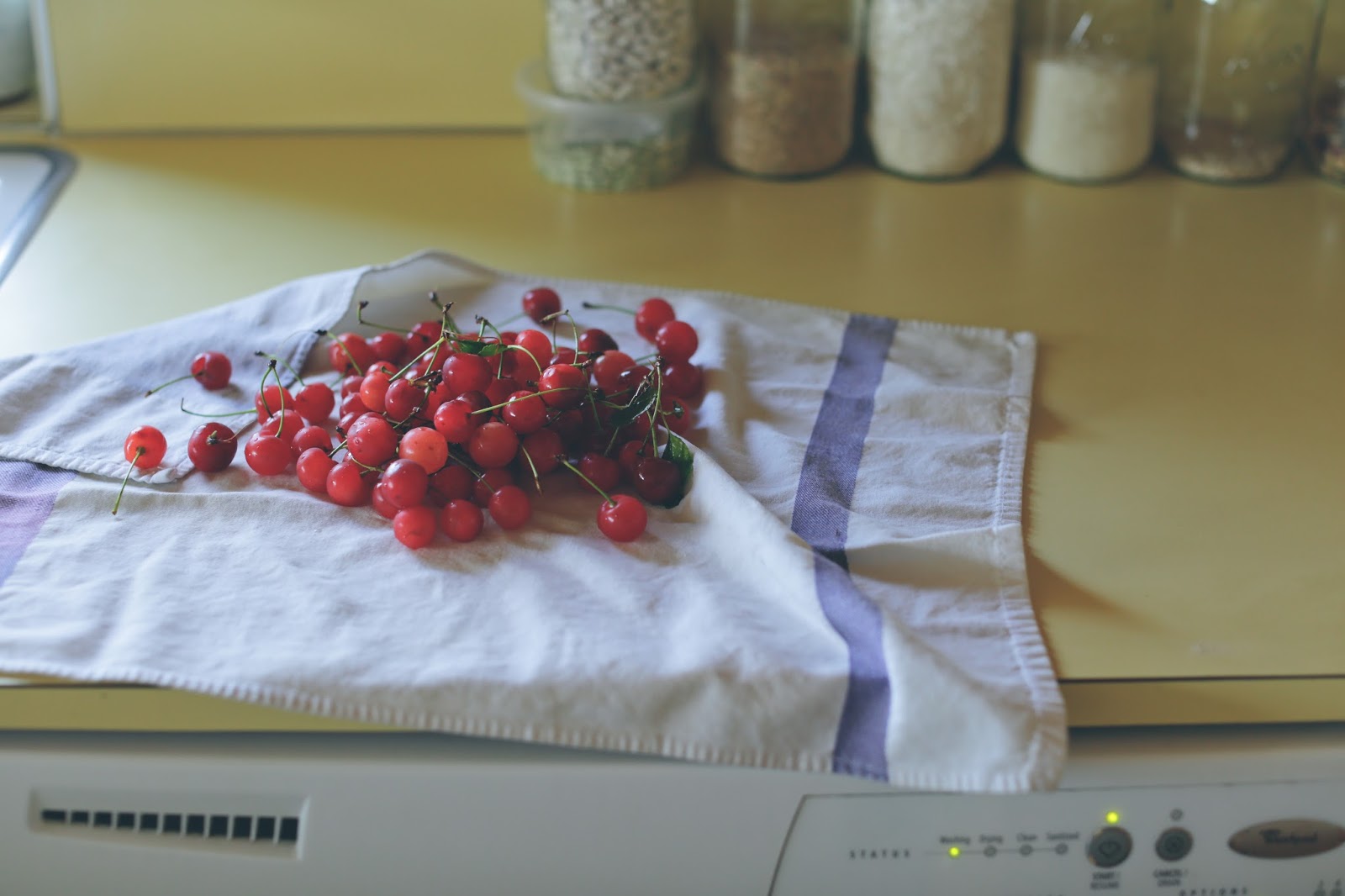 I come this evening, however, to talk about sour cherry milkshakes. I promised.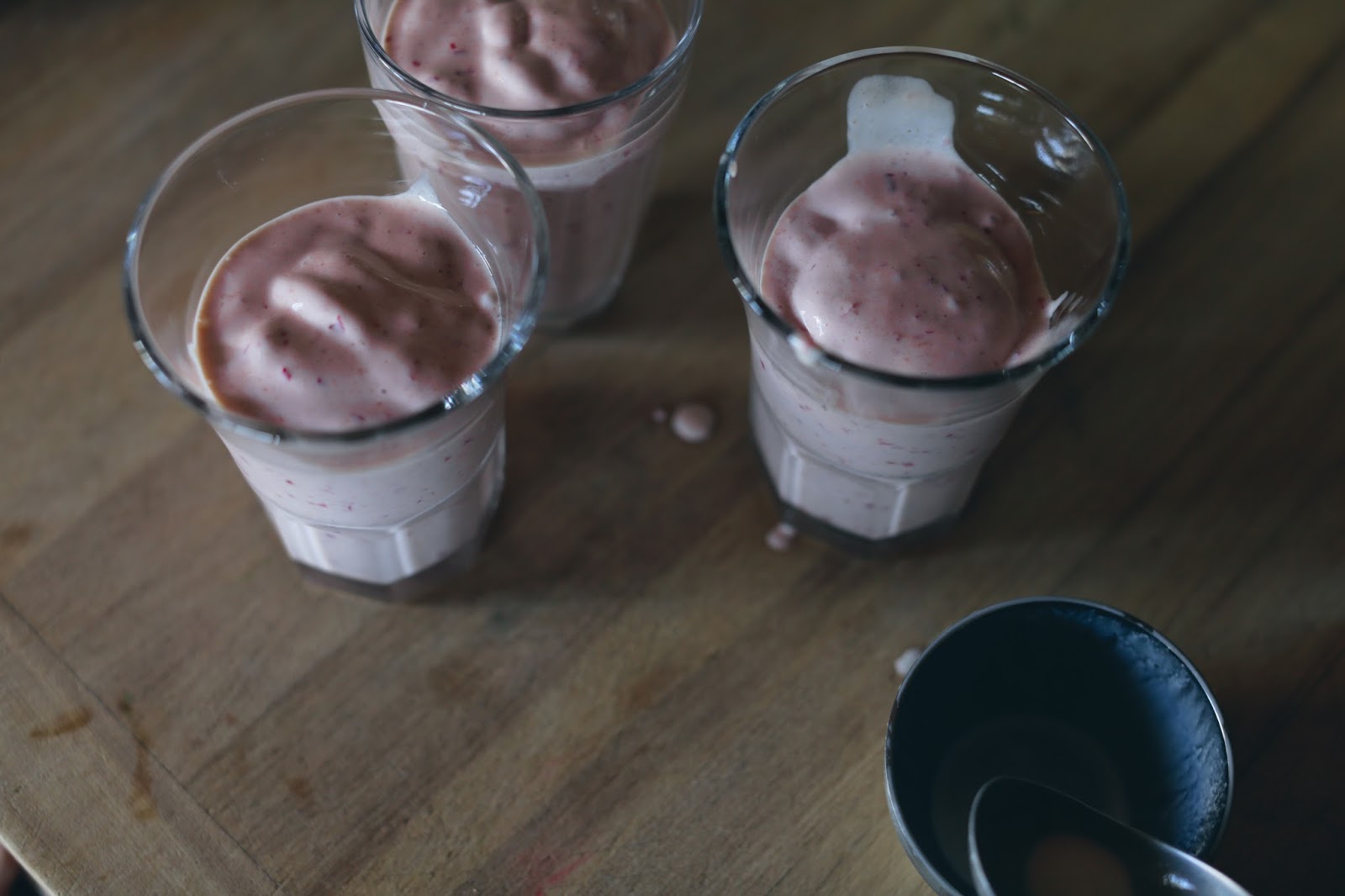 Most of us know sour cherries in their cooked form, as the kind of cherry that you bake into a pie. I didn't know them at all until five summers ago, the summer of 2009, when we were about to open Delancey and I had no idea how to run a station in a professional kitchen, so our friend Renee invited me to hang out one evening at Boat Street Cafe and watch the way her kitchen worked. Renee has a sour cherry tree – Montmorency, I think – in her yard, and that afternoon, she had brought a brown paper grocery bag full of cherries. She probably sensed that I felt awkward just standing in the corner, that I would feel better being useful, so she put me to work pitting them. They were bright red, nearly translucent, and they felt like marble-sized water balloons, soft and full of juice. I could ease out the pit with my fingers, Renee showed me, by pulling on the stem with one hand and gently squeezing the cherry with the other, so that the pit slid out with the stem. While she and her cooks finished prepping for the evening, I pitted the bag of cherries, and while my hands were busy with that, I watched everyone bustle around. Later in the evening, Renee cooked the cherries into a quick jam, I think. To serve with pound cake, maybe? I can't remember. But I do remember that that was the first I knew of sour cherries. (For that and many other things: THANK YOU, RENEE! Sorry I was grumpy and in Antisocial Work Mode when we ran into you at Barnacle the other day.)
Of course, all this said, we've now reached the part of the post where I have to admit that I don't actually like the usual vehicle for sour cherry consumption, by which I mean cherry pie. I don't like cooked cherries in general. I am not a real American. On the upside, I've discovered that I love raw sour cherries, particularly when they're whizzed into a shake.
My friend (and Spilled Milk co-host) Matthew taught me about this recipe, which, like a lot of my favorite things to eat, is so simple that it hardly counts as a recipe. You take raw sour cherries and toss them into a blender, zizz them until they liquefy – I thought about typing "are pureed," but really, they do liquefy; they're that juicy – and then scoop in some vanilla ice cream and blend some more. That's it. The result is thick and pale pink, flecked with pretty bits of red cherry skin.  When you take a sip, what registers first is the acidity of the fruit, a kind of light, almost sparkly cherry flavor, and then comes the sweetness, but not too-sweetness, of the ice cream. It was June's first shake, and I decided not to tell her that it's all downhill from here.
Recipe
Sour Cherry Shake
From Hungry Monkey, by Matthew Amster-Burton
The season for sour cherries is short, and they can be hard to find. But keep an eye out: they're small, bright red, and often labeled as Montmorency cherries. (Or, if they're dark red, they're probably the other main sour variety, morello.) You can pit them with a cherry pitter, or you can do it by hand: just pull gently on the stem with one hand while you gently squeeze the cherry with the other. Usually the pit will slip right out with the stem. Usually. (And if not, they're still easy to pit by hand, tearing them open and pulling out the pit with your fingers. Be sure to do it over a bowl, so as not to lose any juice.) If you can't get fresh sour cherries, Matthew says that jarred or canned sour cherries (note: not pie filling!) make a good substitute, and that the jarred morello cherries from Trader Joe's are his favorite.
Oh, and don't feel as though you have to have two full pounds of cherries on hand to make this recipe! Sour cherries are expensive! I get it. I only had about 12 ounces last weekend, myself, so I just scaled back accordingly, using about one and a half cups of ice cream. We wound up with three small shakes, perfect for an afternoon snack.
2 pounds (900 grams) fresh sour cherries, stemmed and pitted, or 24 ounces canned or jarred cherries, drained
1 quart vanilla ice cream
Put the cherries in a blender or food processor, and blend to a smooth puree. Add the ice cream, and continue to blend until the mixture is smooth and pale pink. Pour into four glasses, and serve immediately.
Yield: 4 (12-ounce) shakes