Month:
November 2011
Hi. I am writing this from my in-laws' kitchen. Brandon is out on a bike ride with his dad. THEY'RE BOTH WEARING SPANDEX!!!! It's a great day to be in New Jersey.
Before the holiday sets in, while it's still relatively quiet in the house, I wanted to share a recipe with you. I should say first that it's not for Thanksgiving. I know you already have plenty of that. What we have here is something for this weekend, or next week. More specifically, what we have here is the soup that I will be eating over and over and over again, lunch after lunch and dinner after dinner, for months to come. The New Winter Favorite.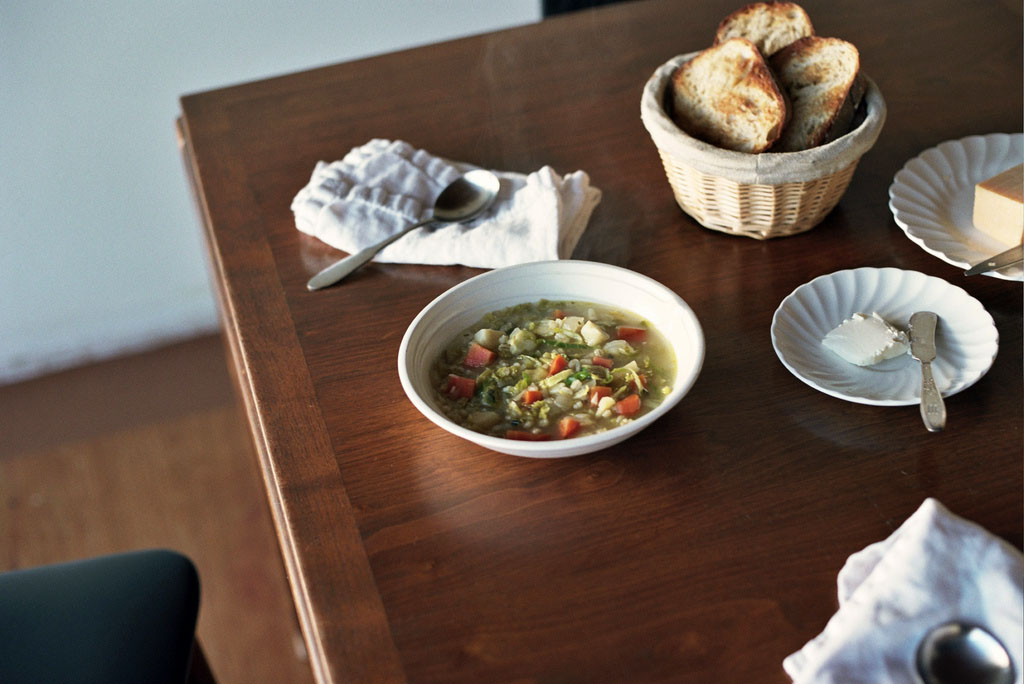 I can tell what you're thinking. This soup does not have the aura of a champion. It looks like a heap of cubed vegetables – or, shall we say, roughly cubed; you will never see me teach a knife skills class – in broth. Stay with me.
I was introduced to this soup by my friend Gemma, who made it for dinner one night in Edinburgh. We'd been out of the house all day, walking around town. In the late afternoon, we ducked into Mellis for cheeses and oatcakes, and then into a pub, and by the time we got home, it was probably seven. That's the point when I would usually say, Screw it, we're having scrambled eggs, but Gemma turned on the stove, and an hour later, we sat down to this soup.
The recipe, she told me, comes from a book called Great British Food, by the team behind London's Canteen. If I can be perfectly honest, I'm glad I tasted the soup before I saw the recipe, because on paper, it looks like it might not add up to much. It looks plain. Possibly too plain to taste like anything. I ought to know, because in my household, I am notorious for choosing soup recipes like this: elegantly simple ones that promise the moon, but more often than not, wind up tasting like warm, lightly salted tap water. It's my specialty. (I do not write about such recipes here, for obvious reasons, but Brandon can tell you all about them.)
This soup is not like that. Yes, it is simple. It's mostly vegetables and broth. But what makes it special, I think, is the combination of vegetables: not just the usual mix of onion, carrot, and celery, but also parsnip (or rutabaga), Savoy cabbage (or Brussels sprouts), a leek, and some fresh thyme – in other words, lots of sweetness, fragrance, and depth. Plus a fistful of pearl barley, which gives it a hearty chew. The flavors are clear and clean, but also immensely satisfying. Brandon ate two bowls of it. MY STREAK IS BROKEN.
I should also note that, because this recipe uses small amounts of a number of vegetables, it's a handy way to clear out the crisper drawer after a period of insanity, also known as Thanksgiving. And if you plan to make turkey stock on Friday from the bones and last bits, I'll bet this would be a good way to use it. In any case, I think you're going to like it. It's instant Repertoire Material.
Happy Thanksgiving.
Recipe
Vegetable and Pearl Barley Soup
Adapted from Great British Food, by Cass Titcombe, Patrick Clayton-Malone, and Dominic Lake
A few notes: I used homemade chicken stock to make this soup, but you could also use good-tasting store-bought chicken or vegetable stock. To me, the best brand is Better Than Bouillon. And if your celery comes with leaves still attached, save them: toss in a small handful when you add the cabbage, toward the end. Oh, and instead of parsnips, try peeled, cubed rutabaga.
3 Tbsp. olive oil
1 large yellow or sweet onion, diced
150 grams (3 or 4 stalks) celery, peeled and diced
150 grams (about 3 medium) parsnips, peeled, cored, and diced
150 grams (about 3 medium) carrots, peeled and diced
150 grams (1 large) leeks, diced
3 large garlic cloves, chopped
Leaves from a few sprigs of fresh thyme
1 ½ liters (6 1/3 cups) chicken or vegetable stock
Salt
50-60 grams (¼ to 1/3 cup) uncooked pearl barley
A couple handfuls of shredded Savoy cabbage or Brussels sprouts
Freshly ground black pepper
Warm the olive oil in a Dutch oven or small stockpot. Add the onion, celery, parsnips, carrots, and leeks, and stir to coat with oil. Cook, stirring occasionally, for about 15 minutes, or until softened. Do not allow to brown. Add the garlic and thyme leaves, and cook for a few minutes more. Then add the stock and a couple of good pinches of salt. Bring to a boil, lower the heat to maintain a gentle simmer, and cook for 10 minutes. Then stir in the pearl barley, and simmer gently for 20 minutes, stirring occasionally. Add the Savoy cabbage or Brussels sprouts, and simmer for 5 minutes more. Taste, and add salt as needed. Serve hot, with freshly ground black pepper, if you like.
Yield: 4 to 6 servings