Summer is not messing around. Not only did it arrive right on time, on July 5, but the thermometer hit 94°F only three short days later. I know 94°F sounds like nothing to those of you melting along the Eastern Seaboard, or in Berlin, but when you consider the fact that my city spent the 4th of July in wool sweaters and knit tights and rain gear, it's hot. I celebrated by making iced coffee. And iced tea! I sat on the couch, not moving, and broke a sweat! It's been spectacular.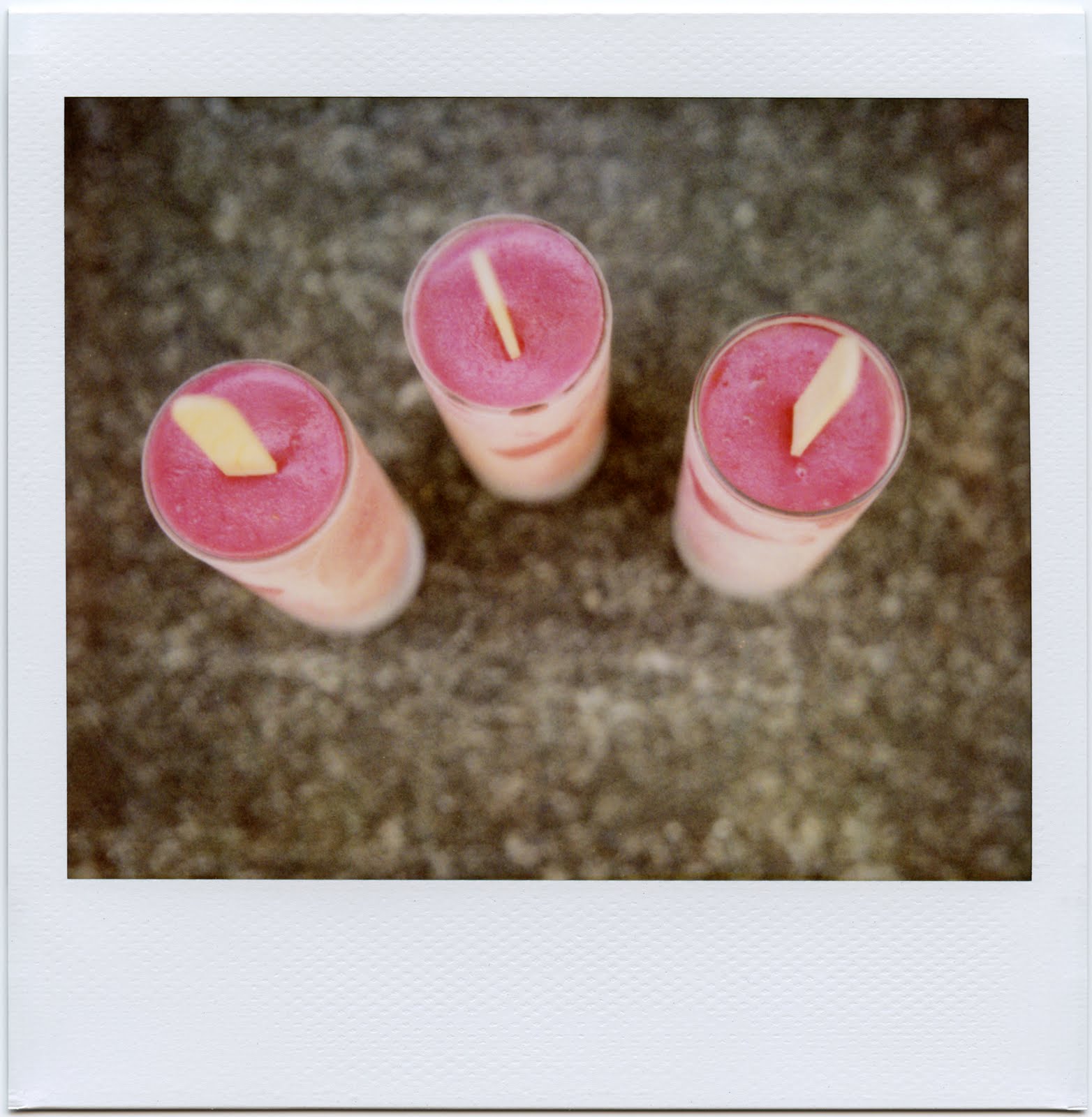 Where I grew up, in Oklahoma, summer shut us inside. Unless you were submerged up to the neck in a swimming pool, it was too hot and humid to be outside. But this city, my adopted city, opens wide up in the summer. Every window is propped up or swung out, everywhere, and everyone is in the street. I am writing this with the front door open, and from the neighbors' house, which also has its front door open, the Supremes are singing "Come See About Me." Two nights ago, on a walk around the neighborhood with the dog, I passed an old man playing the guitar on a front porch, a kid in gym shorts playing the guitar on another front porch, a young man playing the cello on a third front porch, and a house whose curtains were clearly so ecstatic about the weather that they sneaked out through an upstairs window to billow and twist in the breeze. It's time for a popsicle.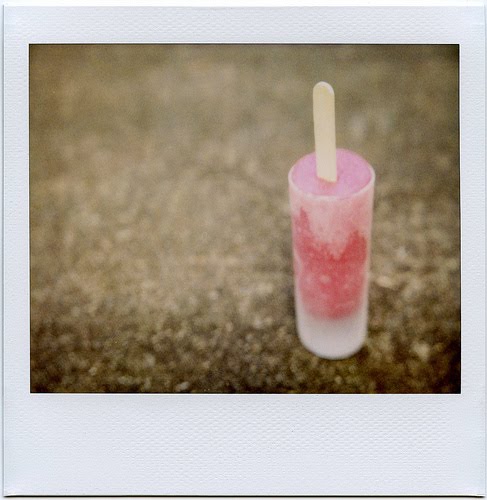 This is a raspberry yogurt popsicle. It is also known as What Kept Me Alive in the Hot Delancey Kitchen Last Summer, or The Menu Item That We Didn't Sell Much of, Because I Ate Them All. I first made these popsicles a few weeks before we opened, and when we were planning our opening menu, I knew they had to be on it. Have you ever seen what happens to adults when you put popsicles on the table in front of them? Namely, popsicles in shot glasses? They grin uncontrollably. It's beautiful.
I've been seeing a lot of articles lately about popsicles, and I'm not surprised. They're easy to make, and less fiddly than homemade ice cream. You can make them from lemonade, fruit juice, almost anything. When I was a kid, my mother had a set of plastic popsicle molds, molds a little like this, and she used to make guava popsicles for me, using Ocean Spray pink guava juice. I had no idea what a guava was, but I had a sense that it was very fancy, and this was convenient, because it kept me from complaining about the fact that I wasn't eating Otter Pops. But that was years ago, and her molds are gone, probably to the graveyard of boxes in the attic. For a long time, I didn't think about popsicles. I forgot. But then, last summer, at a friend's party, a box of popsicles came out, and not long after, I was making a batch of raspberry frozen yogurt from David Lebovitz's book The Perfect Scoop when I suddenly thought, This wants to be a popsicle. Clear as a bell.
It's not as easy as pouring guava juice into a mold, but it's close. It's like making a smoothie, only the goal is to lick it, not drink it. You take some raspberries – frozen or fresh, either way – and some plain yogurt, and you put them in a blender with sugar and a splash of lemon juice. When it's smooth, you press it through a strainer to catch the seeds, and then you divide it among your molds. If you have proper popsicle molds, you are a lucky person. If not, try other vessels. I use tall, narrow shot glasses, the ones often sold as vodka shooters. I'll bet small Dixie cups would work well, too. Whatever you use, it's hard to go wrong. You've got raspberries and yogurt on your team, and summer has only started.
Recipe
Raspberry Yogurt Popsicles
These pops are perfectly tangy and perfectly sweet, and the best part is, the yogurt flavor really shines. Be sure to use whole-milk yogurt, not low-fat or nonfat. It tastes better, and it makes for a better tasting popsicle. I buy my popsicle sticks at Fred Meyer, but you can also find them at craft stores.
Lastly, I should tell you that these popsicles will not be as smooth, texture-wise, as churned frozen yogurt. They will be a little icy – you know, like a popsicle.
2 cups (480 grams) plain whole-milk yogurt
2 cups (240 grams) fresh or frozen raspberries
¾ cup (150 grams) sugar
1 tsp. lemon juice
Combine all ingredients in the jar of a blender, and process until smooth. Set a strainer over a bowl (or other vessel) with a pour spout. Press the mixture through the strainer to remove seeds. Divide mixture among popsicle molds of your choosing. Freeze for 20 to 30 minutes, or until the mixture begins to set; then insert popsicle sticks. Freeze until very hard.
To serve, briefly run the sides of the mold under tepid water to loosen the popsicle, and gently twist or wiggle the popsicle stick as you lift.
Note: I've also made this recipe with blackberries, and that's very good, too. Keep in mind, though, that you may need to adjust the amount of sugar or lemon juice.
Yield: 10 to 11 vodka shooter-size pops