I have wanted this caramel corn recipe for a very long time.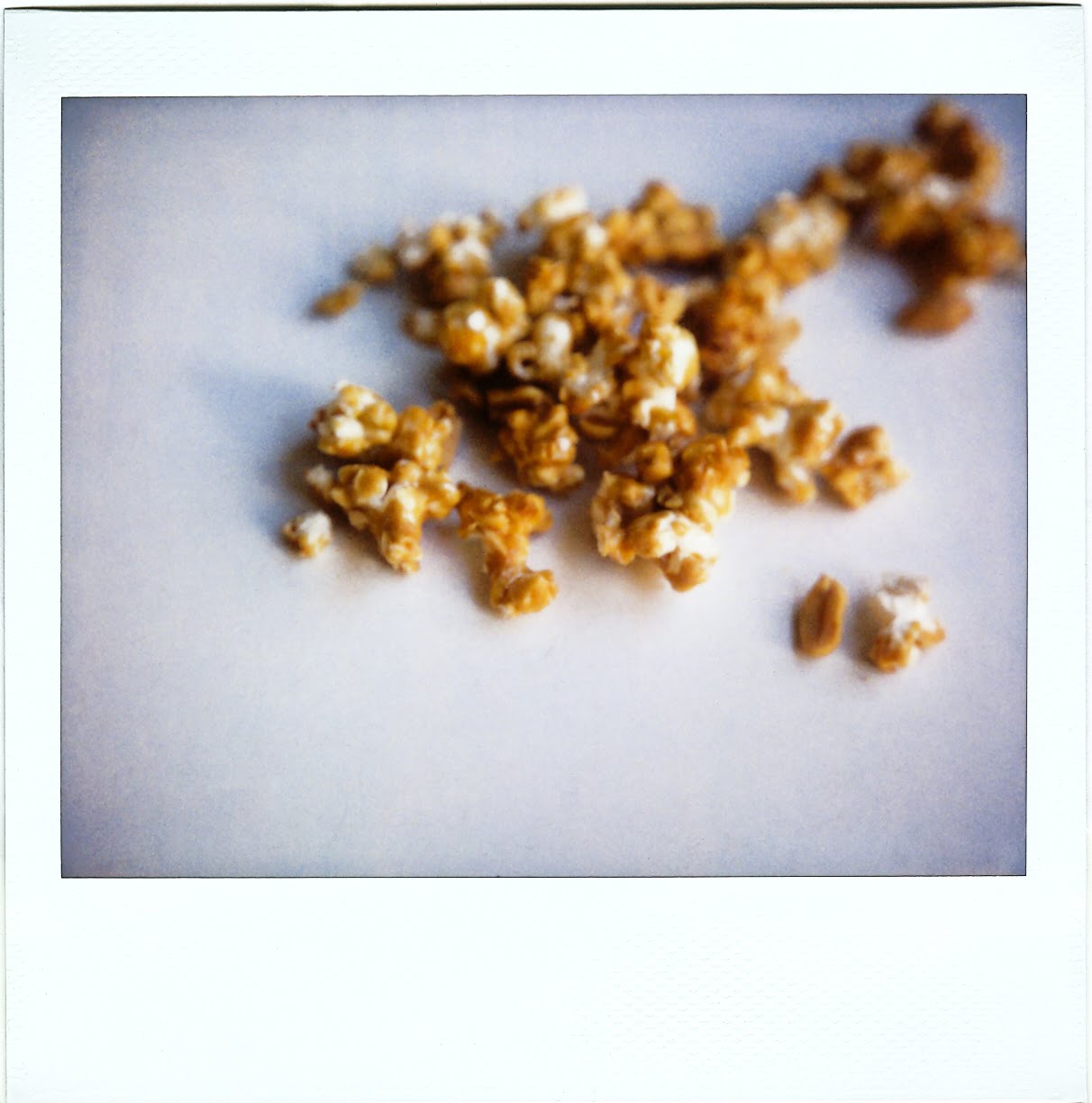 Which is weird, because I am not, in general, a caramel corn person. No matter where it comes from, it's usually a little sticky, a little cloying, a little heavy, a little stale. But I'm crazy about this caramel corn. I saw Twilight for the first time last weekend, and basically, I am to this caramel corn as Edward Cullen is to Bella Swan. I'm in love with it. And I am destined to wrestle, for ever and ever, with a violent desire to eat it. (Also, Robert Pattinson! Hellooooo.)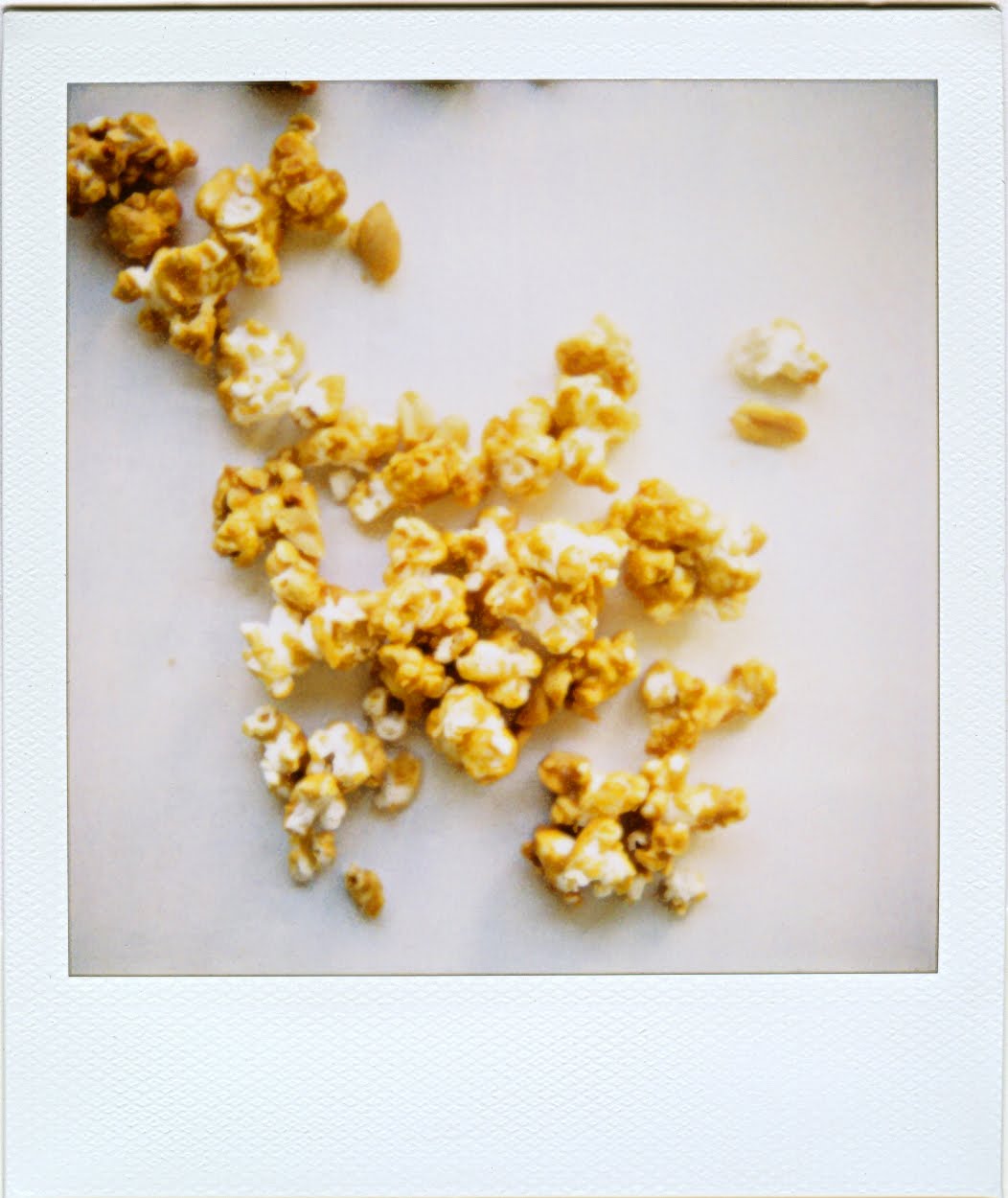 I tasted this caramel corn for the first time about six years ago, when my brother David opened a restaurant called Ceiba, in Washington, DC. The executive pastry chef was also a David, a charming, double-dimpled guy named David Guas, and for the grand opening party, he made caramel corn. I remember very clearly standing in the dining room, just outside the kitchen, when a waiter came through the crowd with a platter covered in small white paper trays, the kind that fries come in at concession stands, or maybe it was actually white paper cones, or maybe I don't remember that night so well at all, but the trays, or the cones, were filled with caramel corn. It was eerily light, crisp and snappy, sweet-salty, insane. It was this caramel corn.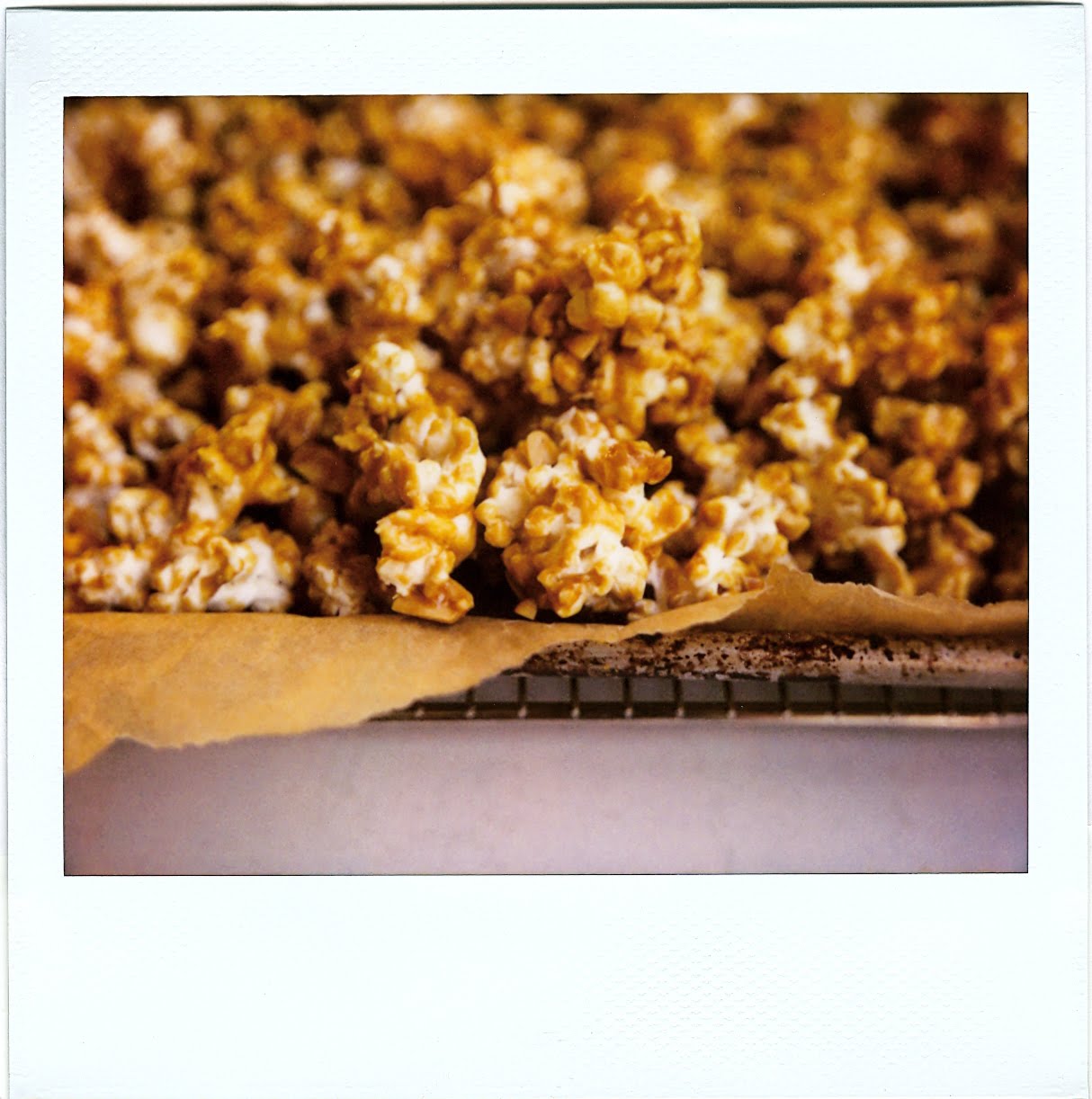 Most commercial caramel corns, or the specimens I've tasted, at least, don't really taste like caramel. They only taste sweet. This one tasted like true caramel. It tasted like butter and brown sugar and heat – and, crucially, a little bit of salt. It was also studded with salted peanuts. I wanted to ask if he would share the recipe, but I had only met him once or twice, and I didn't want to seem pushy. My brother told me that they planned to serve the caramel corn as a mignardise, a little sweet something sent out with the check, so I contented myself with the thought that, whenever I ate at Ceiba, a little paper tray of it, or cone of it, would be waiting for me at the end of my meal.
Of course, Ceiba is approximately 2,700 miles from where I live. In the six years since it opened, I have eaten there exactly twice. There has been very little caramel corn in my life. And David Guas, for his part, moved on a couple of years ago, starting his own consulting company and helping restaurants across the country develop dessert menus. I mourned my lost opportunity. In my next life, I vowed, I would be pushier.
But as luck would have it, he has just come out with a cookbook, and in it, on page 154, is the caramel corn. Hellooooo.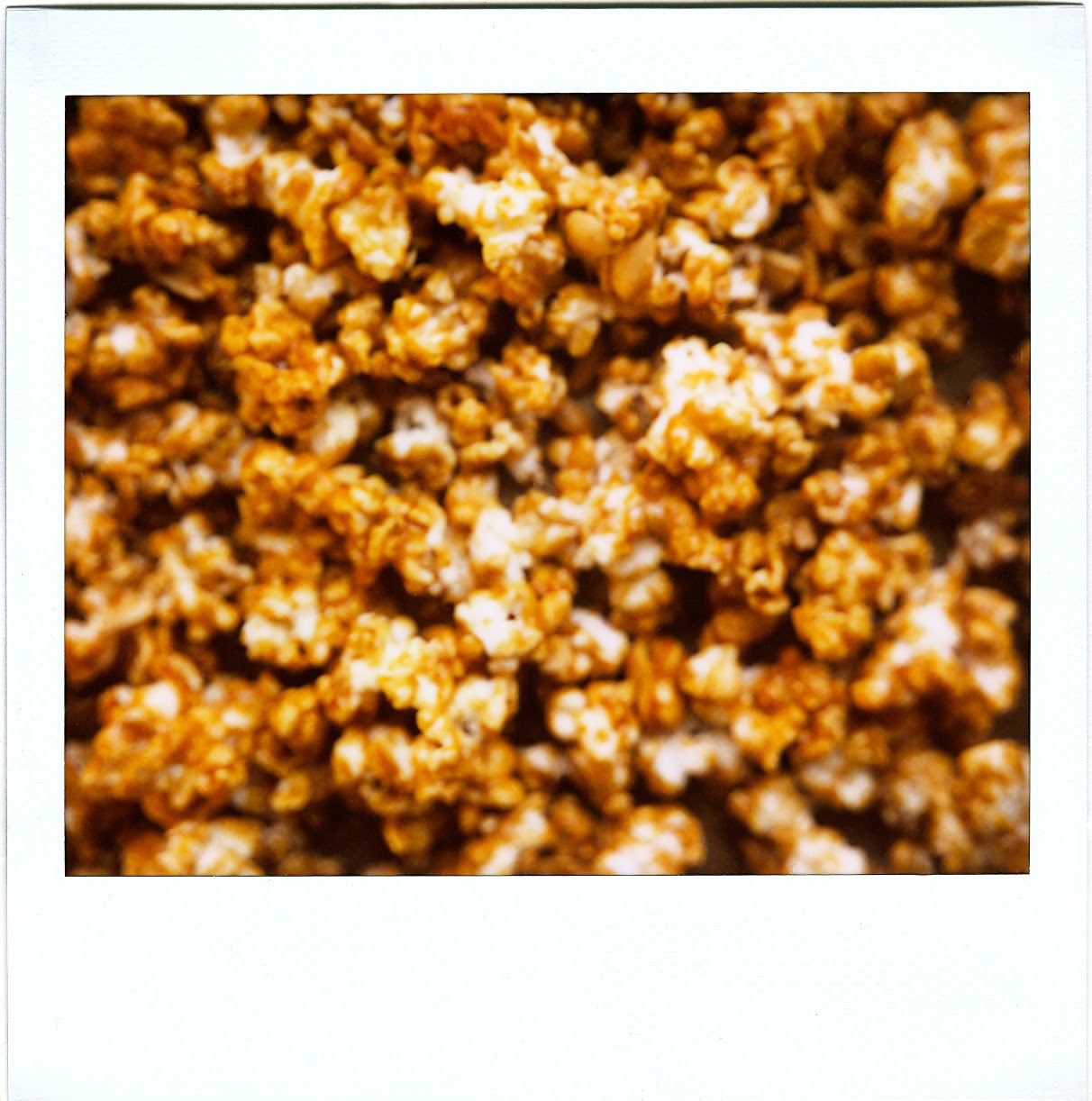 If you've been around here for any length of time, you may remember that, for four Christmases in a row now, I've been trying to give only homemade or handmade gifts. I make and give away tins of cookies and candies, and when I do shop, I buy mainly from artists and crafters, at places like this, or this, or this, or this, or this. It makes me feel good. I also buy books, because I can't imagine not buying books. But mostly I bake or make candy, and what I'm trying to say is: a couple of weeks ago, I drew up a long list of items to make for this year's tins, but I cannot bring myself to start making them, because I CANNOT STOP MAKING CARAMEL CORN.
The problem is, it's easy. And quick. You pop some popcorn, and then you put it into a bowl. You make a caramel, and you cook it to 250 degrees. You quickly dump the hot caramel over the popcorn, and then you fold it in as well as you can, and then you add salted peanuts. Then comes the clincher: you bake it for one hour in a low oven. Not all caramel corn recipes include this step, but I think it's the deal-sealer. In the oven, the caramel, which had started to harden as you stirred it into the popcorn, gets a chance to soften again. You can now stir it into the popcorn more easily and evenly. The whole, gooey mess will crisp spectacularly as it cools, and the kitchen will smell outrageous, and then you will turn into Edward Cullen. I'm so sorry.
One last thing: don't be upset if the peanuts don't seem to want to stay mixed in with the popcorn. Heaven is the handful of caramel-coated peanuts left in the container after the popcorn is gone.
Recipe
Caramel Corn with Salted Peanuts
Adapted from

DamGoodSweet

, by David Guas and Raquel Pelzel
A few notes to help you along:
– The original version of this recipe calls for microwave popcorn. I used Newman's Own brand microwave popcorn in the "natural" flavor. However, I don't see any reason why you couldn't use stovetop or air-popped popcorn, if you'd like. You'll need 10 cups of it, and you'll probably want to salt it lightly, since almost all microwave popcorns have at least a little bit of added salt.
– Be sure to have a whisk and a rubber spatula close at hand. You'll need them both on short notice.
– Before you begin cooking the caramel, measure out the baking soda and the vanilla, and chop the peanuts. You won't have time to do it later.
– Do not try to make this recipe without a candy thermometer.
– If you plan to give this popcorn as a gift, know that it looks very handsome, and keeps nicely, in a Mason jar.
1 (3½-ounce) package plain (unbuttered natural flavor) microwave popcorn, or about 10 cups fresh popcorn popped by any method, lightly salted
1 cup packed light brown sugar
¼ cup light corn syrup
6 Tbsp. unsalted butter, melted
¼ tsp. salt
½ tsp. baking soda
2 tsp. vanilla extract
1 cup lightly salted peanuts, roughly chopped
Preheat the oven to 250°F. Line a rimmed baking sheet with parchment paper.
If using microwave popcorn, pop the popcorn according to the package instructions. Coat a large mixing bowl with nonstick cooking spray, and dump the popcorn into the bowl, taking care to pick out and discard any unpopped kernels.
In a medium saucepan, whisk together the brown sugar, corn syrup, butter, salt, and 2 tablespoons of water. Bring to a simmer over medium-high heat. Continue to simmer, whisking often, until the mixture reads 250°F on a candy thermometer, about 3 to 4 minutes. Immediately remove the pan from the heat, and whisk in the baking soda and vanilla. Quickly pour the hot caramel over the popcorn. Use a rubber spatula to gently fold the caramel into the popcorn, taking care to distribute it as evenly as you can. Stir in the peanuts, and transfer the mixture to the prepared baking sheet. Bake for 1 hour, stirring and turning the popcorn with a spatula every 20 minutes. Remove from the oven, and place on a cooling rack for 20 minutes. Gently break up the popcorn, and serve.
Store in an airtight container for up to 5 days (or thereabouts).
Yield: 10 cups