Well. It's hard to know where to start. I'm tempted to jump right in, to say that you should hurry up and put a pot on the stove and make the pasta recipe below and let's get back to business, shall we?, but that doesn't seem right. First, I need to thank you. I had no idea that Delancey would swallow me up like that, and I need to thank you for being so patient, so supportive, so good to me. This restaurant is up and running today because of you. I am not kidding around about that.
I am also not kidding around when I say this: I'm ready to get back to writing. I can't imagine not having worked at Delancey, not having worked alongside Brandon, not having put my whole self into it, especially in the beginning, but I miss writing. I wish I could do both, but as you can see by my long silence here, it doesn't seem to work that way. Anyway, as personality types go, I am not a restaurant cook. When I'm working the line and get a dozen orders at once, I do not experience an adrenaline rush. I experience an urge to run, screaming, out the front door of the restaurant and into the street. I can hack it, but I am not wired to love it. Of course, when I'm writing, I also occasionally get an urge to throw myself into traffic, but the difference is that I love it anyway. It's what I'm supposed to do. It's why I am sitting here, typing this paragraph. It's also why, as of next week, I will no longer be working a regular shift in the kitchen at Delancey. I leave my station in the very capable hands of this lady and this lady. I'll still be there a lot of the time, doing errand-running / spot-cleaning / pinch-hitting / payroll-calculating / menu-shaping / proud co-owner duties, but mainly, I'll be writing. If I were the squealing type, I would totally be squealing right now.
So, you know, blah blah blah, let's get back to business, shall we? I strongly suggest that you make this stuff.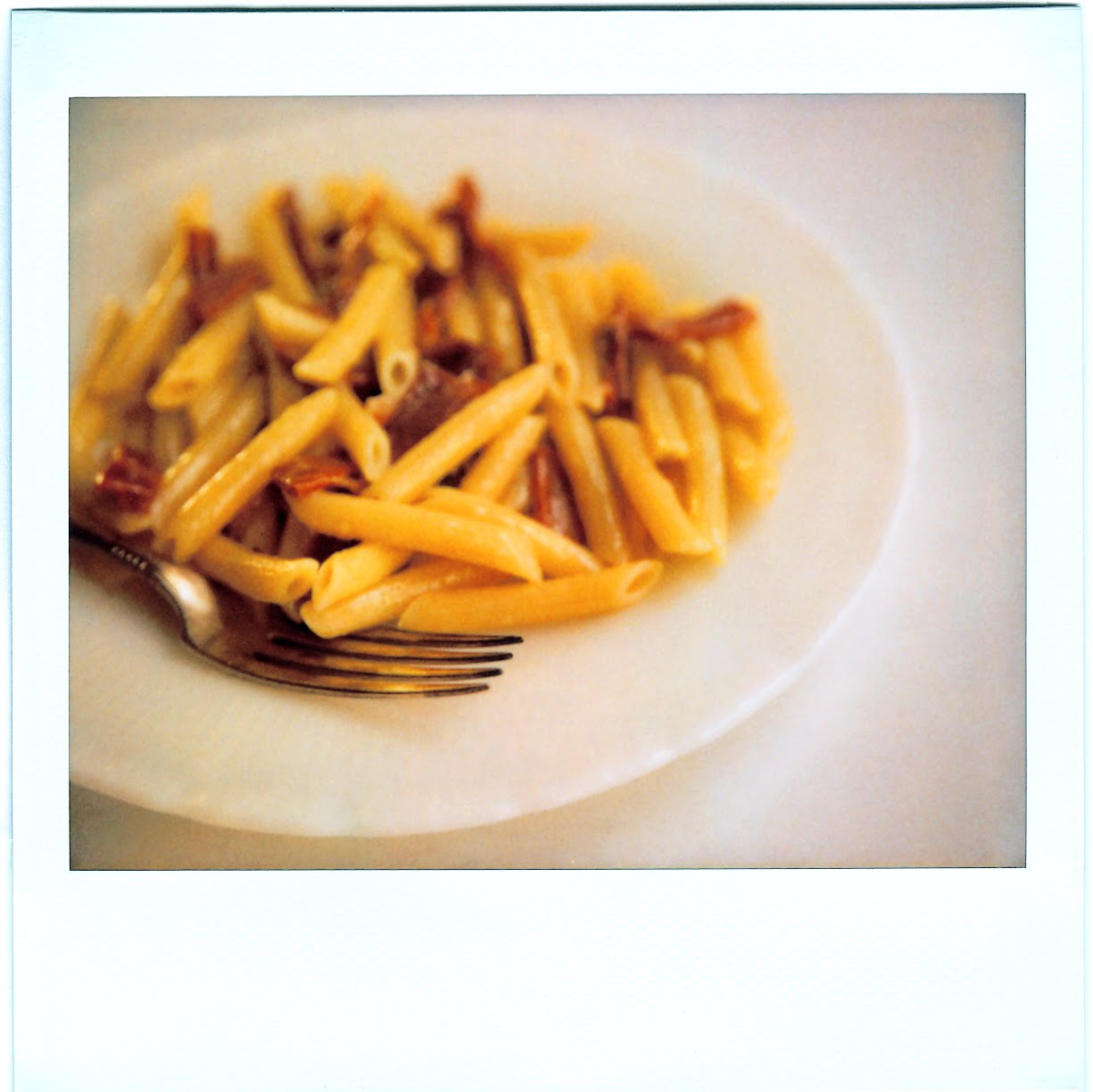 I wish I had remembered to grate some Parmesan on top before I took that picture, but that's what I get for waiting to cook until I was wickedly hungry and then trying to mix starvation with food photography. Then, as luck would have it, when I did finally grate some cheese on top, I forgot to disable the automatic flash before pushing the shutter button. I hope you like your pasta with a side of glare. Delicious.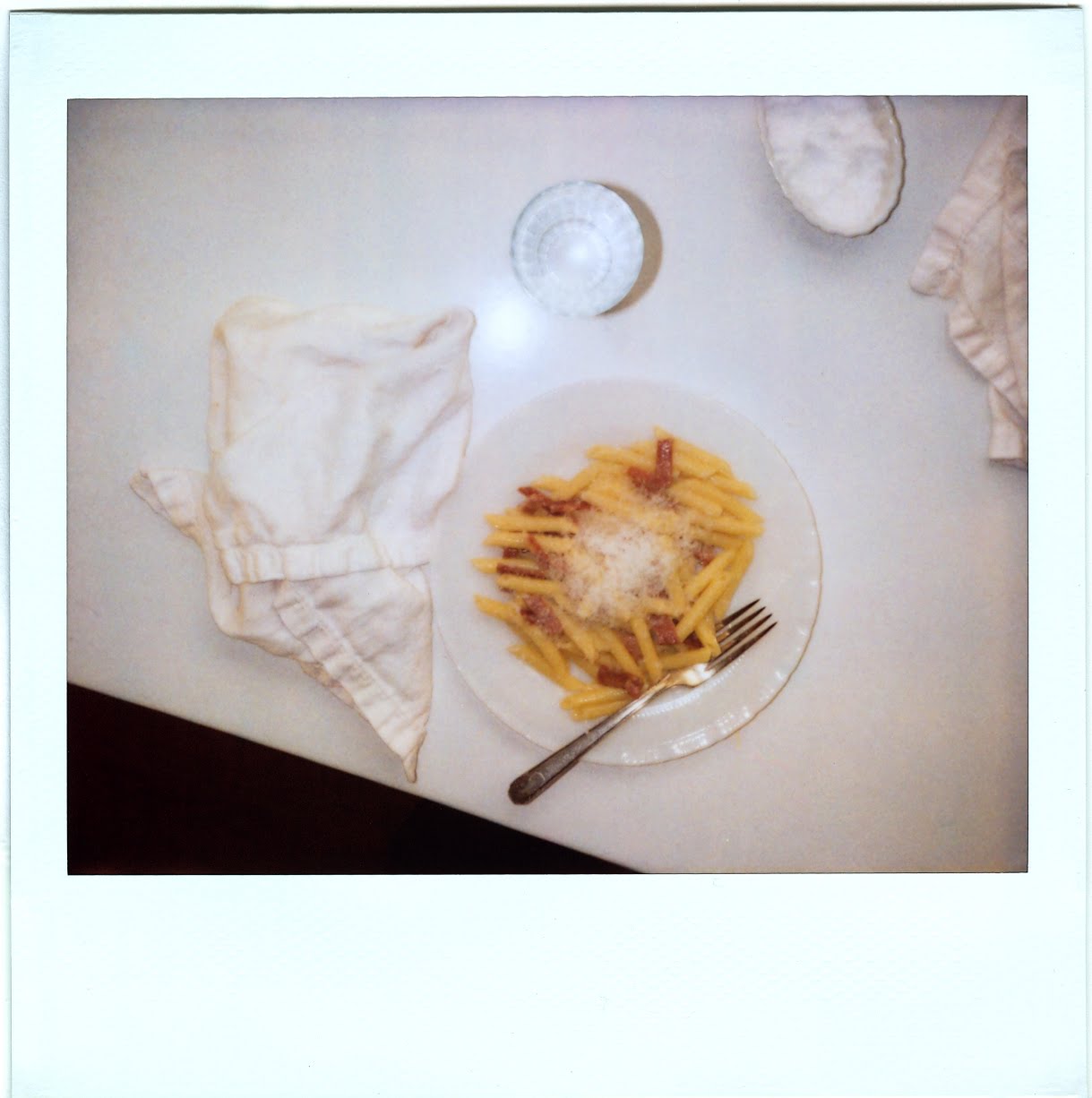 What you see above is the quintessential pasta dish of the Romagna part of Emilia-Romagna, tagliatelle alla Romagnola. Only I made it with penne rigate instead of tagliatelle. Either way, the basic concept is this: noodles, butter, prosciutto, and Parmigiano-Reggiano. Noodles, butter, prosciutto, Parmigiano-Reggiano. It rolls off the tongue like a song, doesn't it? I've been singing that one a lot lately.
I know that the days after Thanksgiving aren't generally a time when most people want to think about butterfat, pork, and pasta, but tuck this recipe away, because you're going to want it someday. It's quick and pantry-friendly, and at the end of a winter day, when you're tired and cold, it's going to be your dinner in shining armor. If you were one of those kids who grew up on noodles with butter, or noodles with butter and Parmesan, you're going to go kind of nuts for this. It's what a security blanket might taste like, if you're the type of person who eats blankets. Or, if you're a fan of spaghetti alla carbonara, consider this its cousin, with prosciutto instead of guanciale, Parmesan instead of Pecorino, and no egg. The best part is that I learned about it from a book edited by none other than our very own Luisa Weiss! The book is Giuliano Hazan's Thirty Minute Pasta, written by the son of the great Marcella Hazan. If a pedigree like that doesn't make you want to put a pot of water on the stove, it is a dark day.
Here's the idea. You buy a thick slice of prosciutto. You cut it into short, narrow strips. You put a decent pat of butter in a skillet. When the butter melts, you cook the prosciutto for a minute or two, just until its raw pink color gives way to something closer to mauve, an unusually appealing take on mauve, and the general vicinity smells like bacon, minus the smoke. It smells fantastic. Meanwhile, you boil some pasta. When the pasta is ready, you drain it and quickly dump it into the skillet. Grate some Parmesan over the whole thing, and stir and toss it with a couple of spoons. The warm butter that coated the pan now coats the noodles, and the prosciutto gets mixed up in there too, a little salty, deeply savory, rough and rustic, heady, hearty, comfortable. It's beautiful in the way that old ladies in Italy are beautiful. You're going to like it.
Recipe
Pasta with Fried Prosciutto, Parmesan, and Butter
I should tell you, before I go any further, that I received this book as a free review copy. That fact has not clouded my judgment, I swear. I receive many review copies that I never write about, and I only mention a recipe here if it's a keeper. This one is.
The proper title for this dish is tagliatelle alla Romagnola, but since I didn't use tagliatelle, I'm winging it, title-wise. I hope Mr. Hazan will forgive me. I used penne rigate, which was fine, although I'll bet it would be even better with a long noodle – dried egg tagliatelle, ideally. I have written the recipe below for one serving, because I usually make it when I'm working at home alone and in need of a quick meal, but the recipe scales up very easily. The original recipe, as Mr. Hazan wrote it, serves four and uses four ounces of prosciutto, 4 four tablespoons of butter, and so on.
1 oz. prosciutto, sliced 1/8 inch thick
1 Tbsp. unsalted butter
Kosher salt
About 3 ounces dried pasta, preferably egg tagliatelle
Freshly grated Parmigiano-Reggiano
Fill a deep pot with water for the pasta. Salt the water well. Place over high heat, and bring to a boil.
Cut the prosciutto into narrow strips – about ¼ to ½ inch wide – and then cut the strips into short segments, each about 1 inch long. Warm the butter in a 10-inch skillet over medium heat. When the butter has melted, add the prosciutto, and season with a tiny pinch of kosher salt. Cook until the prosciutto has lost its raw color, but not long enough for it to brown, about 1 to 2 minutes. Remove from the heat.
When the water boils, cook the pasta until it is al dente. Drain it – but not too thoroughly; you want the noodles to still be coated with some moisture – and turn it into the skillet with the prosciutto. Toss. Grate a little Parmigiano-Reggiano on top, and toss again. Serve immediately, with more Parmigiano-Reggiano to taste.
Yield: 1 serving