As I type this, it is cloudy again, and cold. The weather today leaves much to be desired. Such as some sunlight, for starters, and warmth, and caramelized onions. Right now, I really, really desire caramelized onions.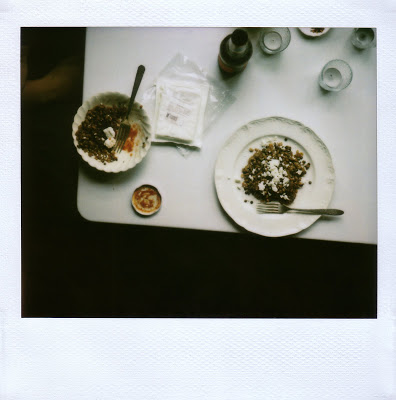 I know that this picture doesn't seem to have much to do with onions, nor does it even seem appetizing, I imagine, but bear with me for a second. What you see there is my new ideal lunch: warm farro with French lentils, caramelized onions, and feta. It's ugly as sin, and it's also completely delicious. It's a little like a lentil salad and a lot like mujadara, and if I could somehow ensure – maybe through magic, or fervent prayer – that there would always be a bowl of it in the fridge, I would gladly eat it every single day.
I don't know about you, but I find this time of year to be uniquely annoying. It's not winter, but it's also not quite spring. There are artichokes and asparagus, but aside from that, it's hard to know what to eat. So I go to the pantry, and I open it and sigh, and then I bring out the grains and legumes, the humble arsenal of the in-between season. Usually, I make the aforementioned mujadara, a soulful rice dish with green lentils and lots of caramelized onions. It is very, very difficult to beat. More recently, I also tried this recipe for koshary, a close cousin of mujadara that includes some seared macaroni, and it was pretty wonderful, too. (In particular, you should try Francis's method for cooking rice. It's perfect.) But then I found something to beat them both, and its name is farro.
Farro, the Italian name for emmer wheat, has been cropping up all over the place lately, so you've probably heard of it. If you haven't, it's a wheat grain – a kernel, really – and it looks a little bit like barley. Whole grains are making a big comeback right now – quinoa, bulgur, whathaveyou – but to tell you the truth, farro is the only one that I actually get excited about. It's chewy and slightly sweet and has a big, nutty flavor, and it can be used in salads, soups, riffs on risotto, and about a million other things. Which is where mujadara comes in. The other day, when I went to make mujadara, I was feeling a little frisky, and instead of pulling out the usual bag of rice, I decided to try using farro. It is a sad day, I realize, when a person comes to associate the words 'feeling frisky' with eating boiled wheat kernels, but I am not ashamed to admit it. It was fantastic.
Especially with some feta, crumbled or strewn in hunks, on top. And hot sauce, for dining companions named Brandon.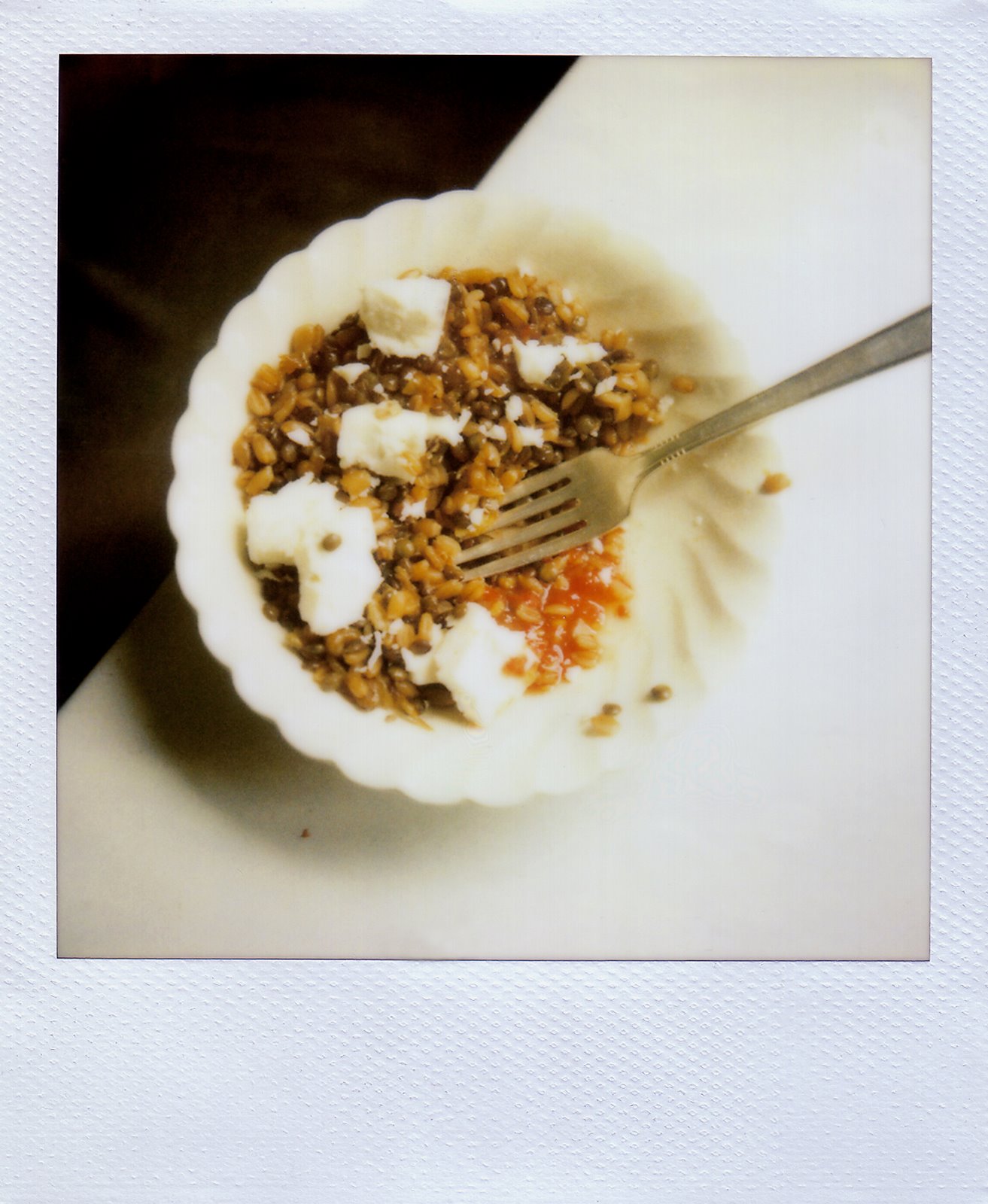 Though it may appear otherwise, this bowl is not wearing a halo over there on the left side – that's just an odd play of light on Brandon's jeans – but it might as well have been. This stuff is worthy of halos and more. The lentils are earthy and rich, and the farro is plump and toasty, and then there are the sweet, sticky onions, and those three alone would be fine, but with some tangy feta on top, it deserves a lot of superlatives. It's similar to mujadara, for sure, but it tastes entirely different from the usual rice-based specimen. It has a nuttier, more complex, more satisfying chew, and basically, I would like some right this minute, at 9:32 am, only an hour after breakfast. That pretty well sums up how I feel about it.
Recipe
Warm Farro with French Lentils, Caramelized Onions, and Feta
What follows is closer to a set of guidelines than it is to a real recipe, so do with it what you will. The most important part is the onions: be sure to take your time with them, and stir them frequently. Make this on a Sunday, or on a weeknight when you have some extra time to cook.
We eat this as a main dish, but it would be a nice side for almost any roasted or grilled meat. It is also delicious – and prettier – with some cooked kale or chard stirred in. Just boil the greens in nicely salted water for about 5 to 7 minutes, until tender but not mushy; then drain them, squeeze all the water out, coarsely chop, and add to the farro mixture.
And about farro: most of what is sold in the U.S. – I've found it at Whole Foods and fancy grocery stores, or you can get it from ChefShop – is grown in Italy, but there are also some domestic producers, like Bluebird Grain Farms in Winthrop, Washington. It is usually sold semi-pearled (semiperlato), meaning the some of the bran has been removed. If you buy whole farro, though, it will likely need to soak overnight before cooking – rather than a brief soak for semi-pearled – and will need to cook for 30 to 45 minutes more.
2 medium or large yellow onions
Olive oil
Kosher salt
¾ cup farro
½ cup French lentils, carefully picked through for pebbles and debris
Feta cheese
Hot sauce, such as sambal oelek (optional)
Lemon (optional)
First, the onions: slice them thinly. When I caramelize onions, I slice mine about ¼-inch thick, and I slice them lengthwise, from top to bottom – going "with the grain," so to speak – so that they hold their shape. (If this makes no sense, check out the first two minutes of this video, from Fine Cooking. It's a great demonstration.)
Pour a few glugs of olive oil into a large (12-inch) skillet. You want to be generous here, nearly coating the bottom of the skillet. Warm the oil over medium-high heat. When it's hot, dump in the onions. They should sizzle. Stir them to coat, and then add a couple of pinches of salt. (Some people say that this causes the onions to fall apart more quickly, but I do it anyway. I like that it causes them to release some water, so that they stay moister, and it seems to make them caramelize more evenly, too.) Reduce the heat to low or medium-low, and continue to cook slowly, stirring occasionally. First, they will soften a bit; then they will go a little golden; and then they will begin to caramelize. It takes a long time to do this properly, so be patient – and stir regularly, especially as they take on color. My last batch of caramelized onions took about an hour and a half. When they're done, they will have shrunk down in volume by quite a lot, and they should be a deep amber color and almost translucent.
Meanwhile, once you've got the onions started, put the farro in a medium bowl, add cold water to cover, and set it aside to soak for 30 minutes. Then drain it, turn it out into a medium saucepan, and add 3 cups of cold water and ¼ teaspoon salt. Bring to a boil over medium-high heat; then reduce the heat and simmer until tender but still a little chewy, about 30 minutes. It's up to you, really, how "done" you want your farro. At 20 or 25 minutes, mine is usually too tough, but a few minutes later, it's perfect: no longer a major jaw workout, but still al dente, for lack of a different term. When the farro is ready, drain it, and set aside.
While the farro is cooking, put the lentils into another medium saucepan. Add 3 cups of cold water and ¼ teaspoon salt. Bring to a boil over medium-high heat; then reduce the heat and simmer until tender but not falling apart, about 20 to 25 minutes. Drain, and rinse briefly under cool water.
By this point, ideally, your onions will be nicely caramelized. Now combine it all – onions, farro, and lentils – in a bowl and stir gently. Taste, and adjust seasoning, if necessary. Serve with feta crumbled on top and, if you like, hot sauce and/or a squeeze of lemon.
Note: Leftovers keep nicely in the fridge. Rewarm slightly before eating.
Yield: 3-4 servings