Restaurant-wise, we are entering what I call Crackdown Mode. That sounds sort of scary, I realize, as though it might involve body armor and high-tech weaponry, but what it actually means is even scarier. It means that this restaurant, this Delancey thing, is now a full-time job. Not just for Brandon, but for me, too.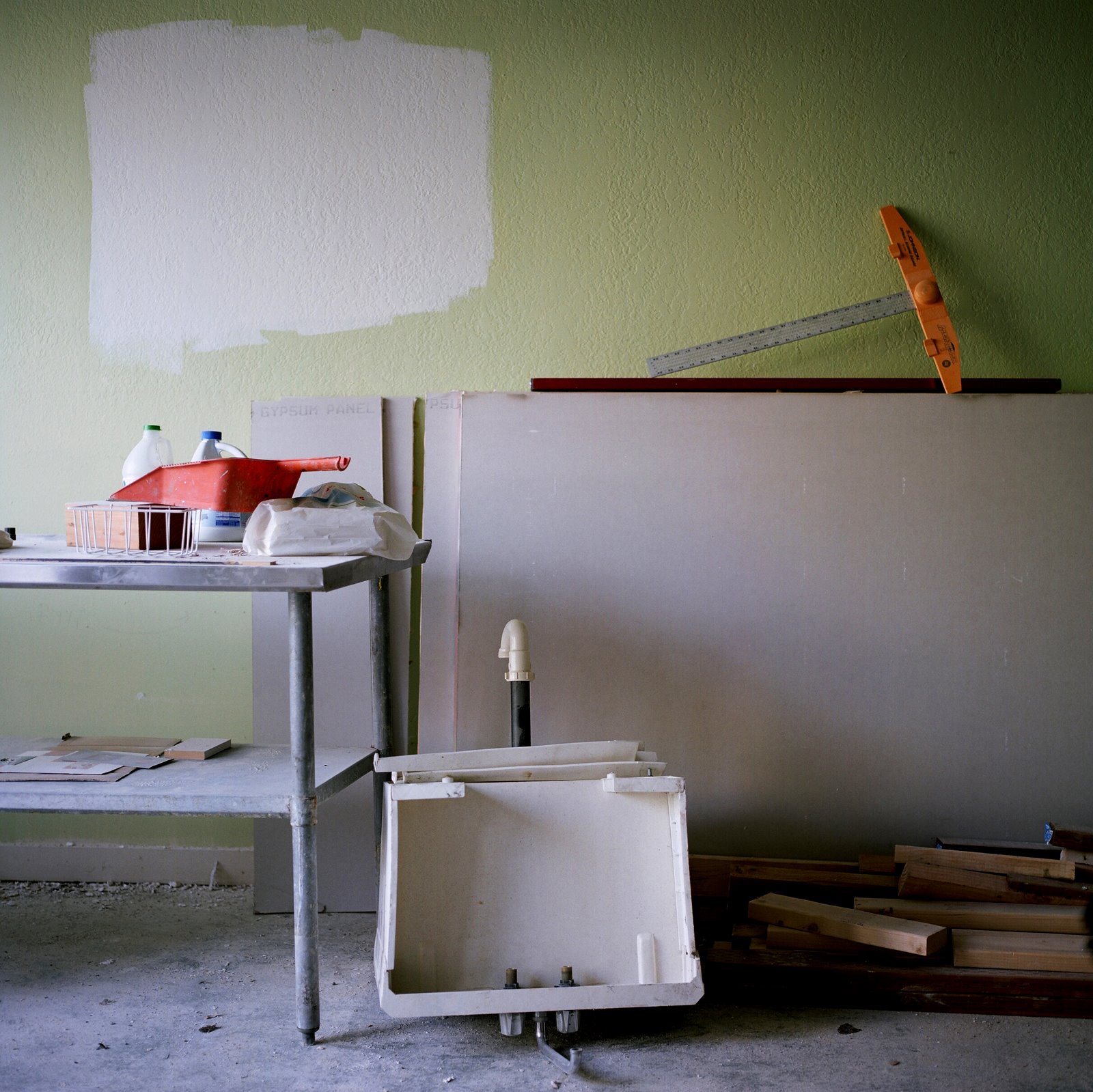 It feels good. It feels good to be caught up in its momentum, pulled along by something so tangible and so big. But it also feels like diving into a murky pool, enormous and very deep, and I can't see a damned thing. I know I have to jump in, and I want to jump in, but let me tell you, it is dark down there. I hope that doesn't sound too depressing, because I don't mean it that way. What I mean is that it's consuming. It's complete immersion. We move by feeling our way. And sometimes, every now and then, I get a glimpse of what it will look like in the end, when it's finished and open and full of noise and food and fire in the oven, and it makes me so proud and so excited that I don't know whether to grin, or sob, or both. And the afterglow of that lights the way through the muck for a while, until I get a glimpse again.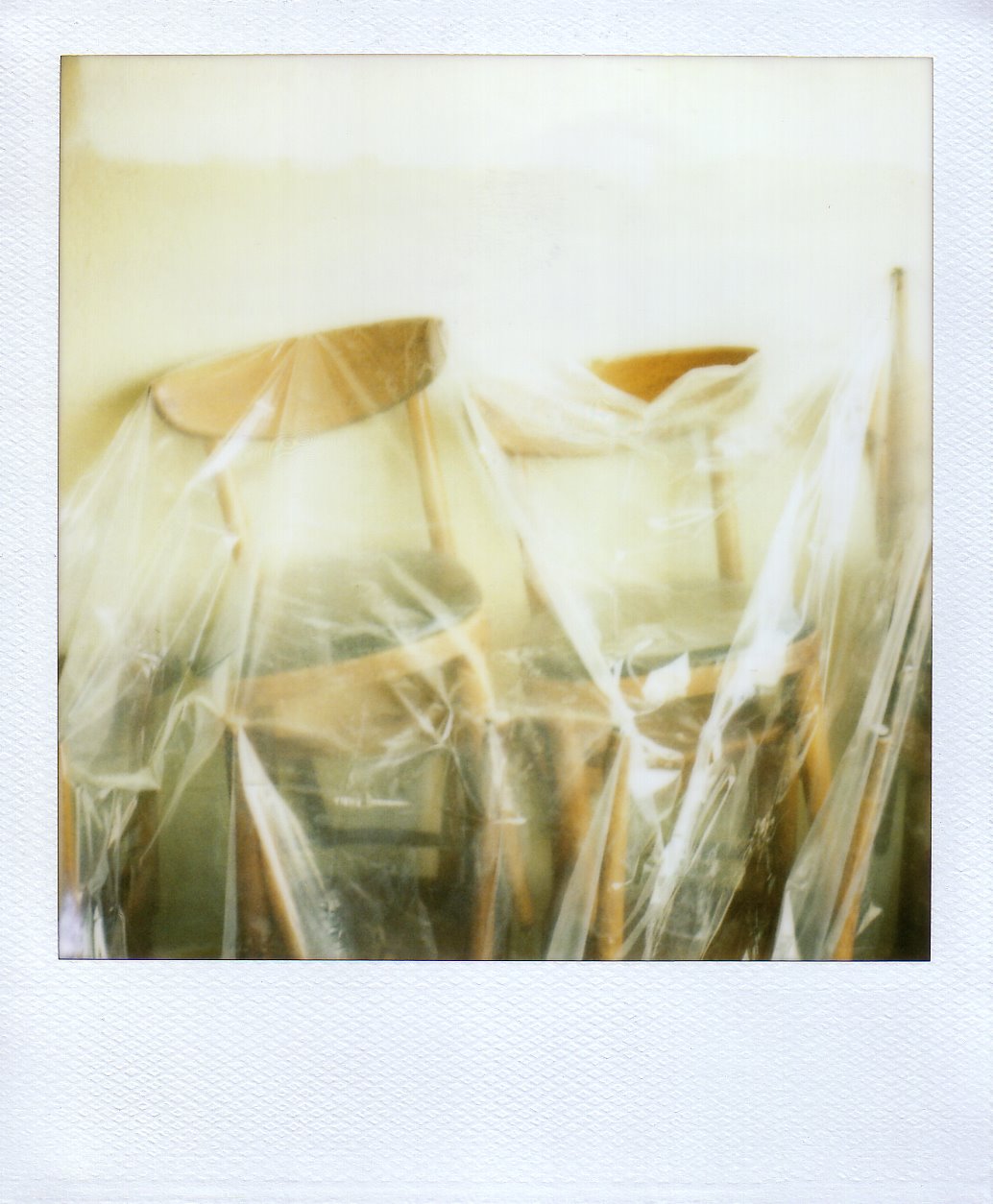 This morning, we went to our friend Olaiya's house and sat around her table for four hours, making lists and dividing up tasks. It was first official Delancey Planning Meeting. I don't know how we made it this far without one. Olaiya is my role model in the departments of neatness and personal organization, and she has tons of experience in the restaurant industry, and she is also, most notably, a saint. She's going to be our right hand woman for the next couple of months, as we get Delancey up and running. Every day, we get a lot done, but somehow, there's still more to do. I'm convinced that our to-do lists secretly meet up and breed each night, while we sleep. To give you an idea of what I mean, here's some of what we did today, in addition to our meeting:
Chose colors for the façade and front door
Decided on the hallway light fixture
Chose the dining room floor color
Finalized the wall color for one bathroom
Bought more paint
Sold some equipment that we don't need
Made a mockup of a light fixture, using a cider jug and an Edison 1910 bulb
Finalized the list of sodas that we will carry
Planned the opening
Decided how much staff to open with
Had an electrician rewire and put in light switches
I know I said a few weeks ago that we were aiming to open in mid-May, but we've now moved on to look toward June, with our fingers firmly crossed. If I were my mother, this is the part when I would smile and shrug and say cheerfully, Tune in for the next episode! I love it when she says that.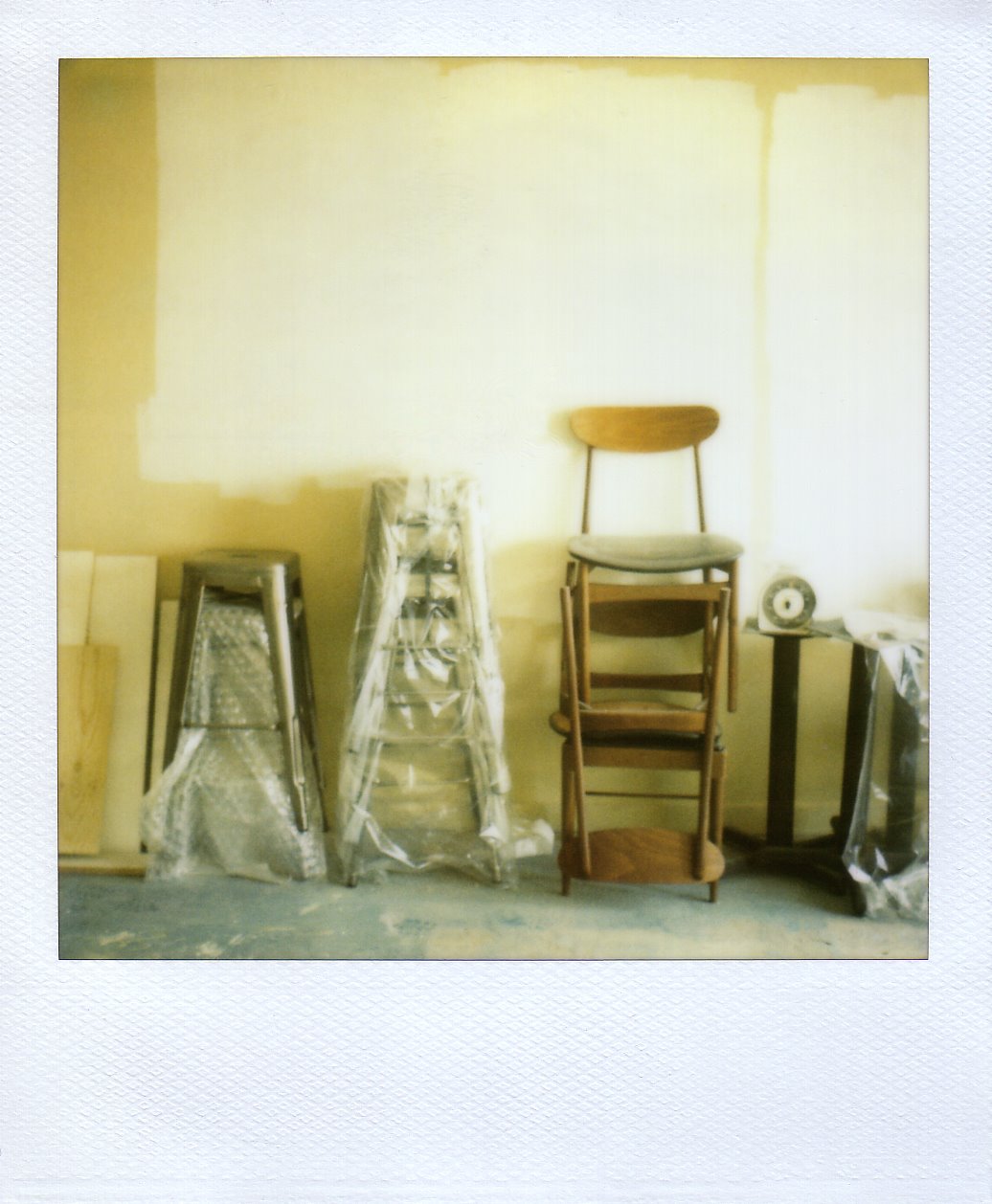 I thought you might like to see some photos of the latest developments. To wit, the bar stools up there on the left. Most of the restaurant equipment and decor is secondhand or made by us, but the bar stools are new, a splurge from Design Within Reach. To the right of them are a few of the chairs for the dining room. They're mid-century Danish, found on Craigslist and elsewhere. Of the rest of the dining chairs (stacked just out of view), about half came from Sunset Bowl, our neighborhood's historic bowling alley, which closed last April after more than fifty years of business. They're mid-century teak Thonet chairs, and after Brandon bought them at auction, our friends Shauna and Dan let us store them in their garage for an entire year. You can see them, scrubbed clean and draped with plastic sheeting to ward off dust, in the second photo above. And the table bases, a few of which you can see on the right immediately above, came from a local restaurant that lost its lease and closed a few months ago. I like to think we're resurrecting them.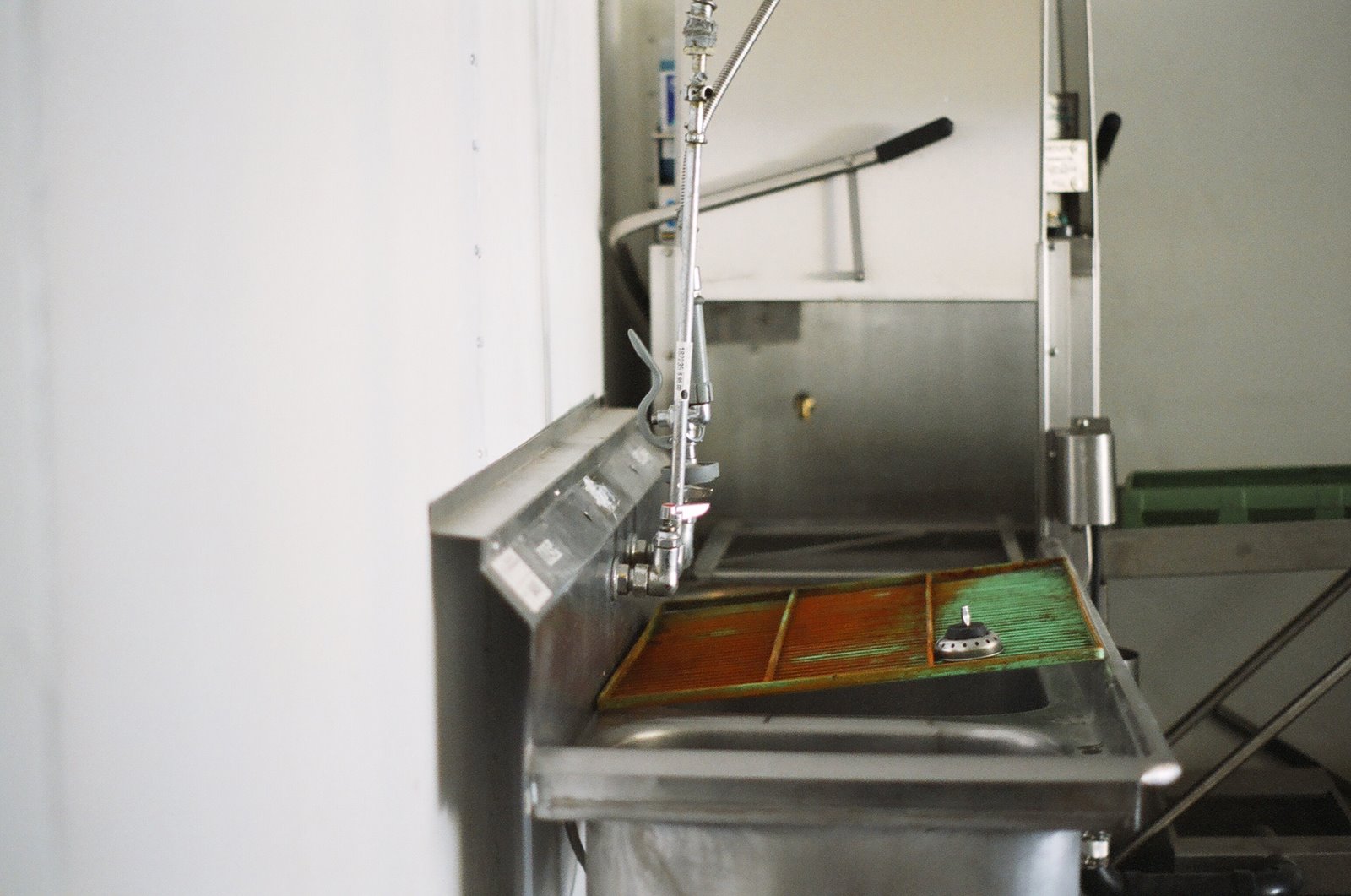 Also, the dishwasher has now been installed. And the dishwashing sink, the prep sink, two floor sinks, the mop sink, and the hand sink. Restaurants require a ridiculous number of sinks. Brandon wanted me to do an entire post on the sinks and title it "Sink or Swim." You can see how excited I was about that idea.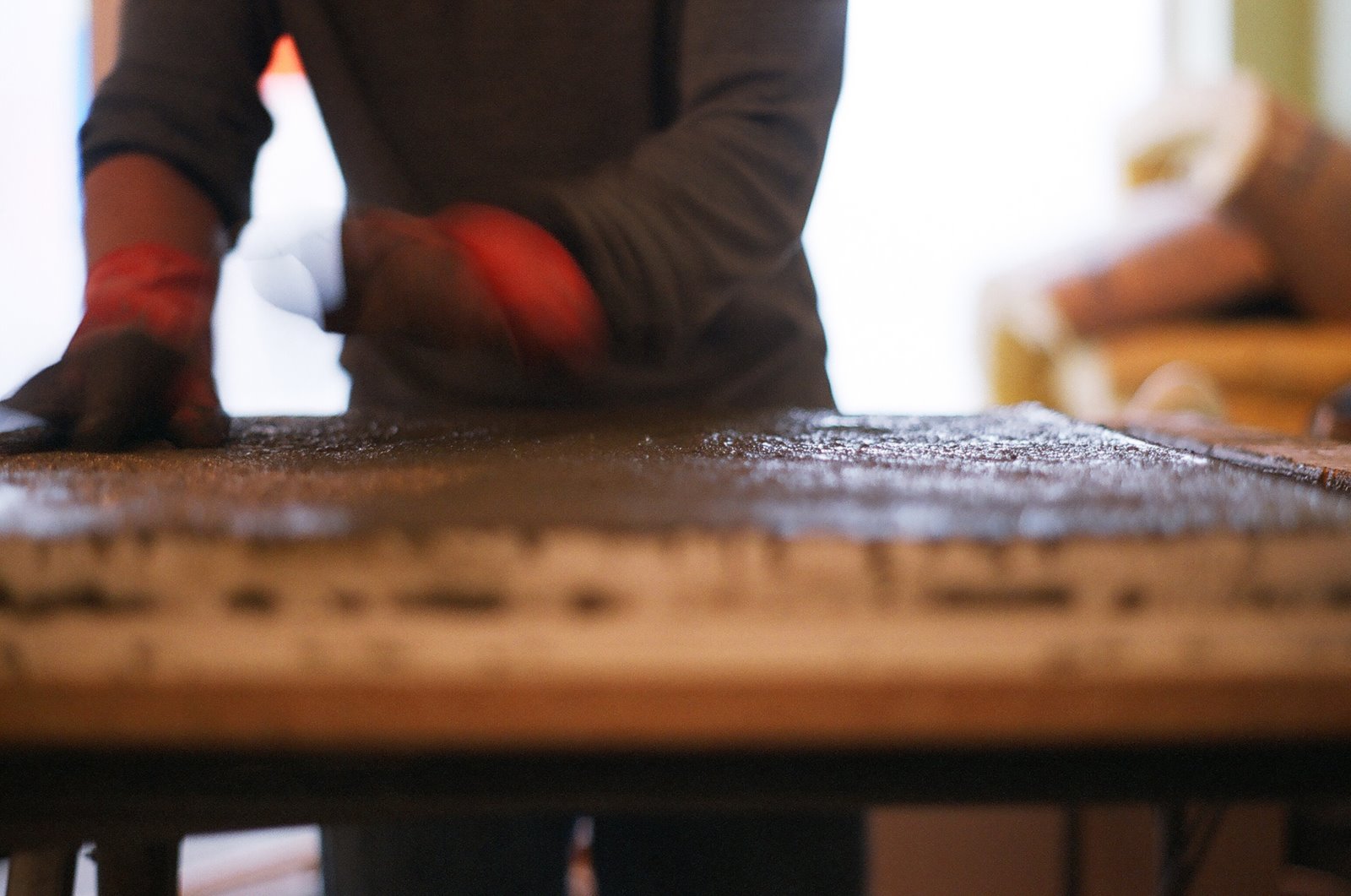 I am, however, very excited to announce that we have completed seven of what will be eleven concrete tabletops. Each one requires an entire bag of cement, a little over four quarts of water, and a lot of sweat. That's Brandon up there, patting the wet concrete into its melamine mold. And below, he is unscrewing the sides of the mold to release the tabletop that we poured the night before. I just noticed that he is wearing the same shirt in both shots, which means that he probably never took it off. Fresh clothes are sometimes less important than the to-do list.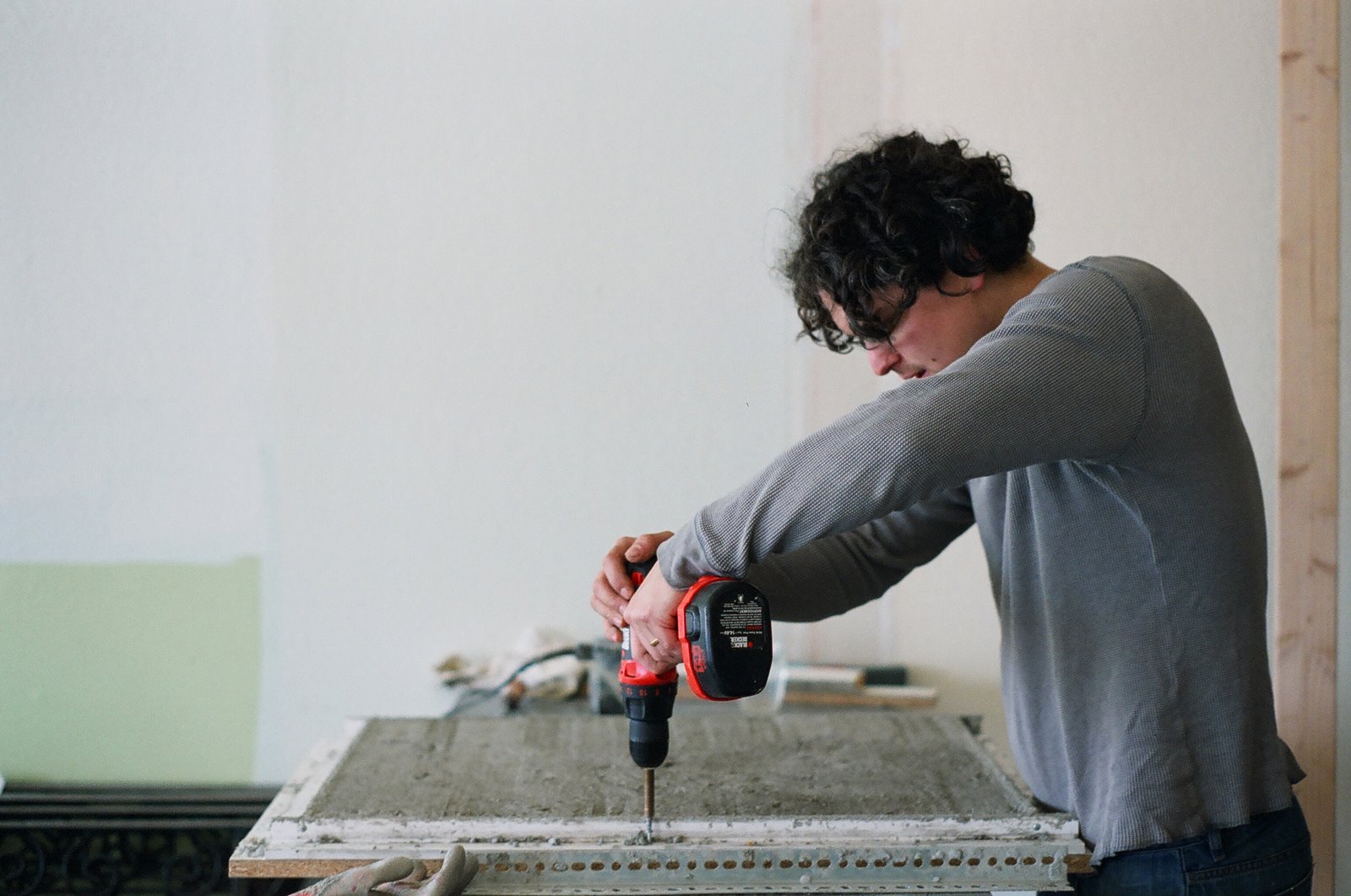 Once each slab of concrete is dry, it gets painted with several coats of sealant. Then it is nestled into a natural steel frame, and any gaps around the edges are filled with silicone or resin. Then the whole thing gets glued to a piece of plywood, which is then screwed to the table base. Like so: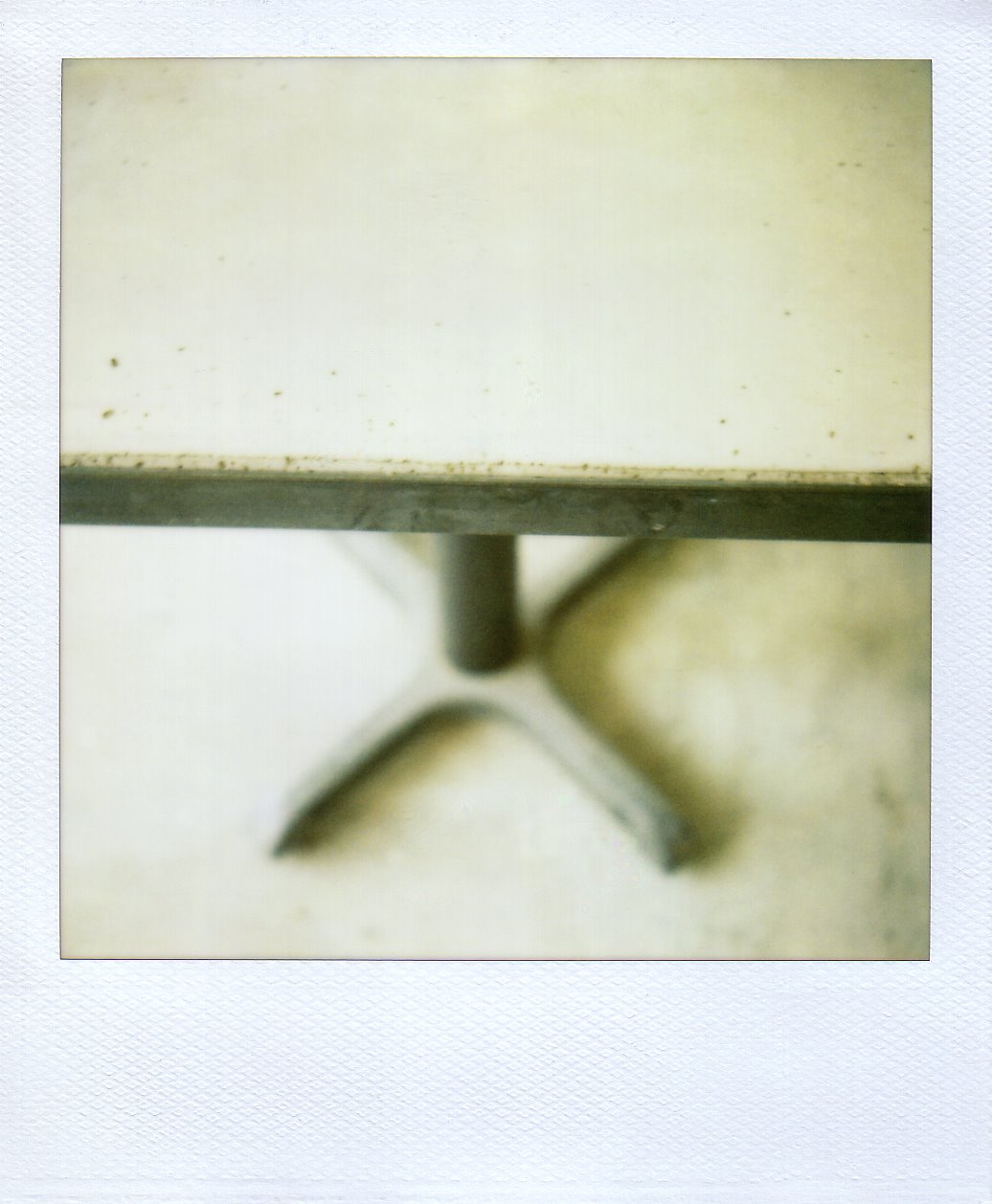 We got the idea for the table design from Rose Bakery, in Paris. (If you have its cookbook Breakfast, Lunch, Tea, you can see the tables in a few of the photos, particularly on pages 57 and 90.) Here's what the edge of the table looks like from above.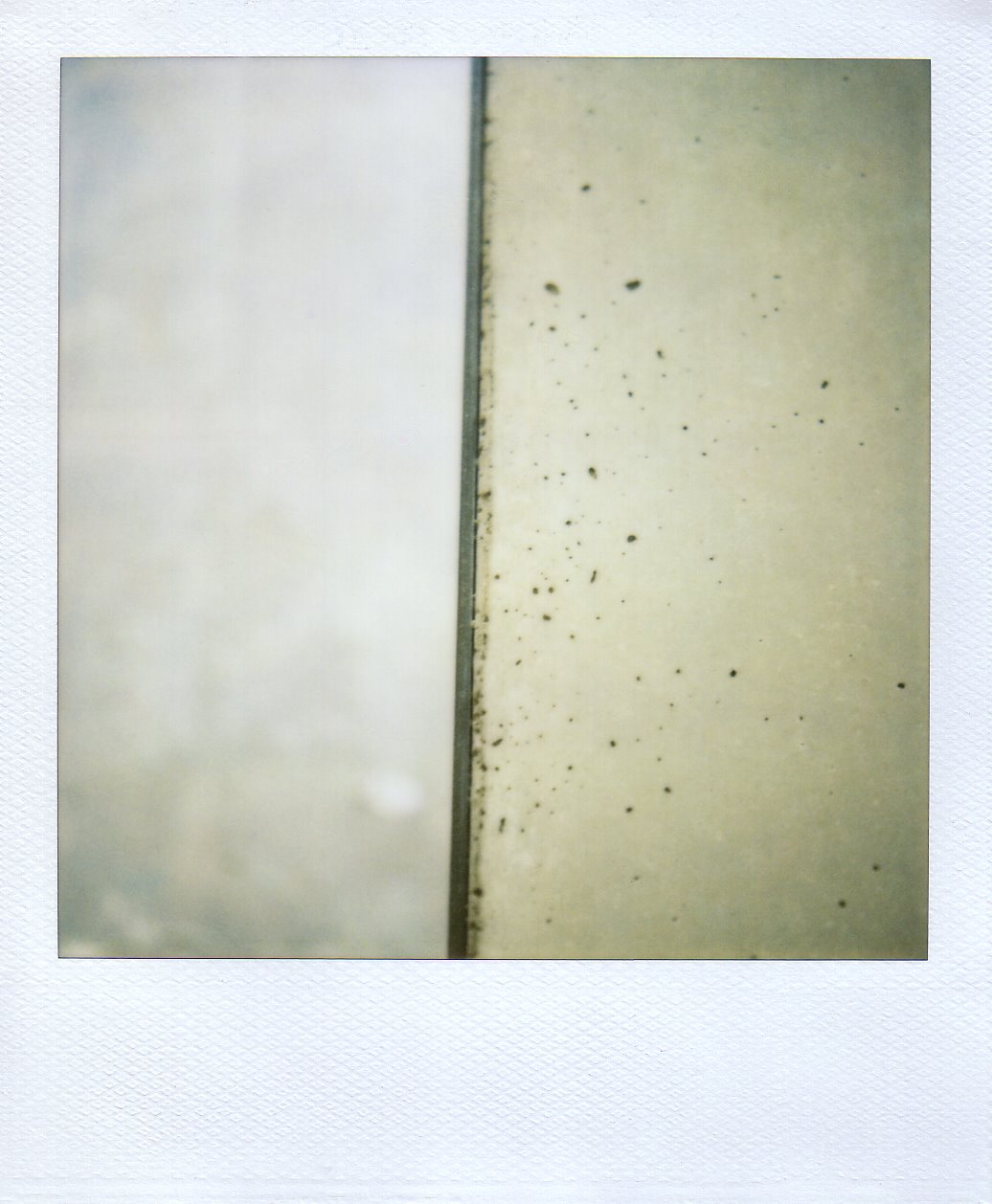 This particular concrete slab was one of the early ones, and it has more bubbles than the recently completed specimens. Brandon has gotten to be quite a pro at working with concrete. I had no idea he was so handy.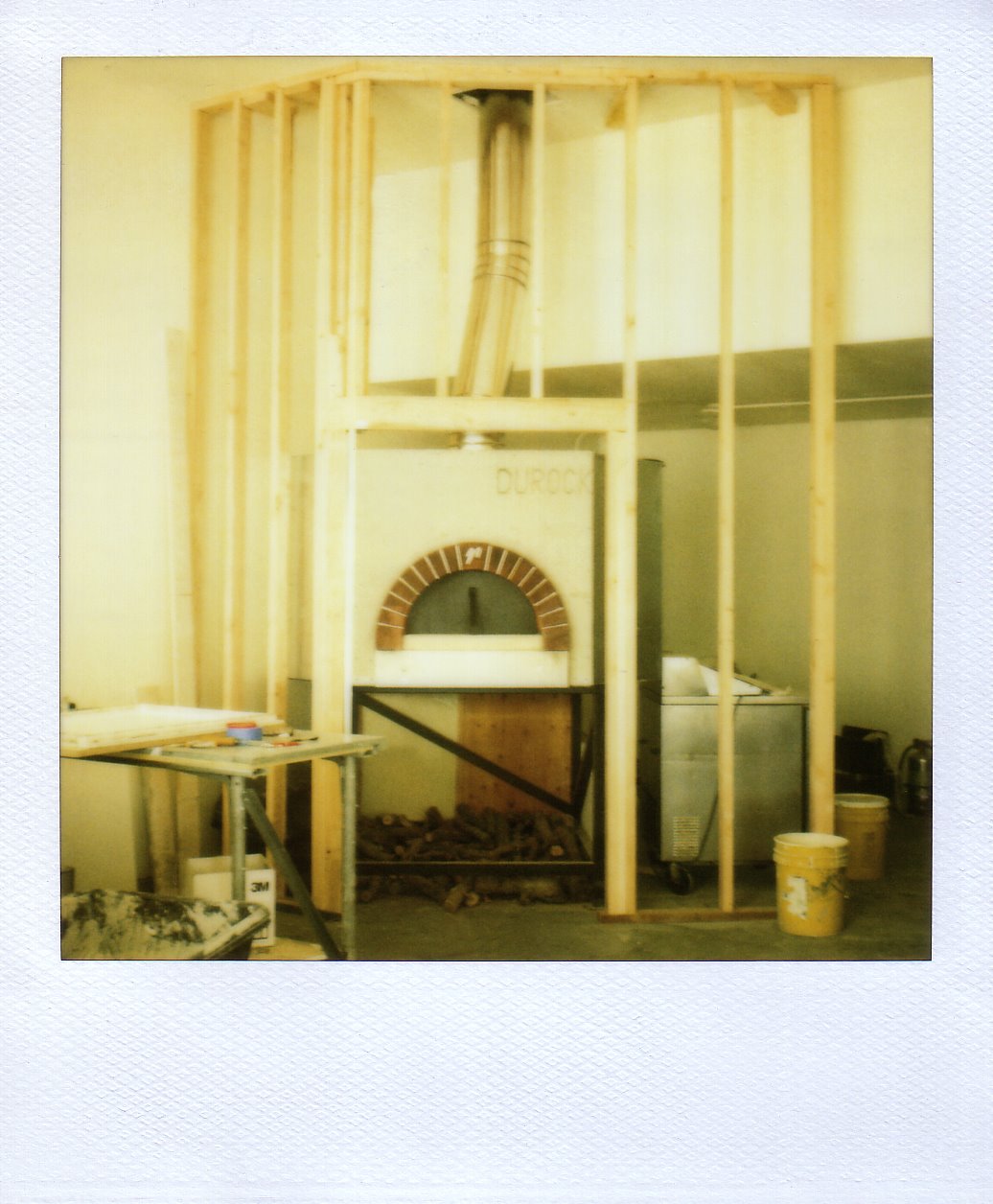 And here's the oven façade, or what will soon be the oven façade, once it's covered over with tile board and then Heath seconds. The tiles will be a sort of brownish gray. And to the right there, just behind the façade, will be the salad station. Beyond that will be prep tables, and a fridge, and storage space. Soon.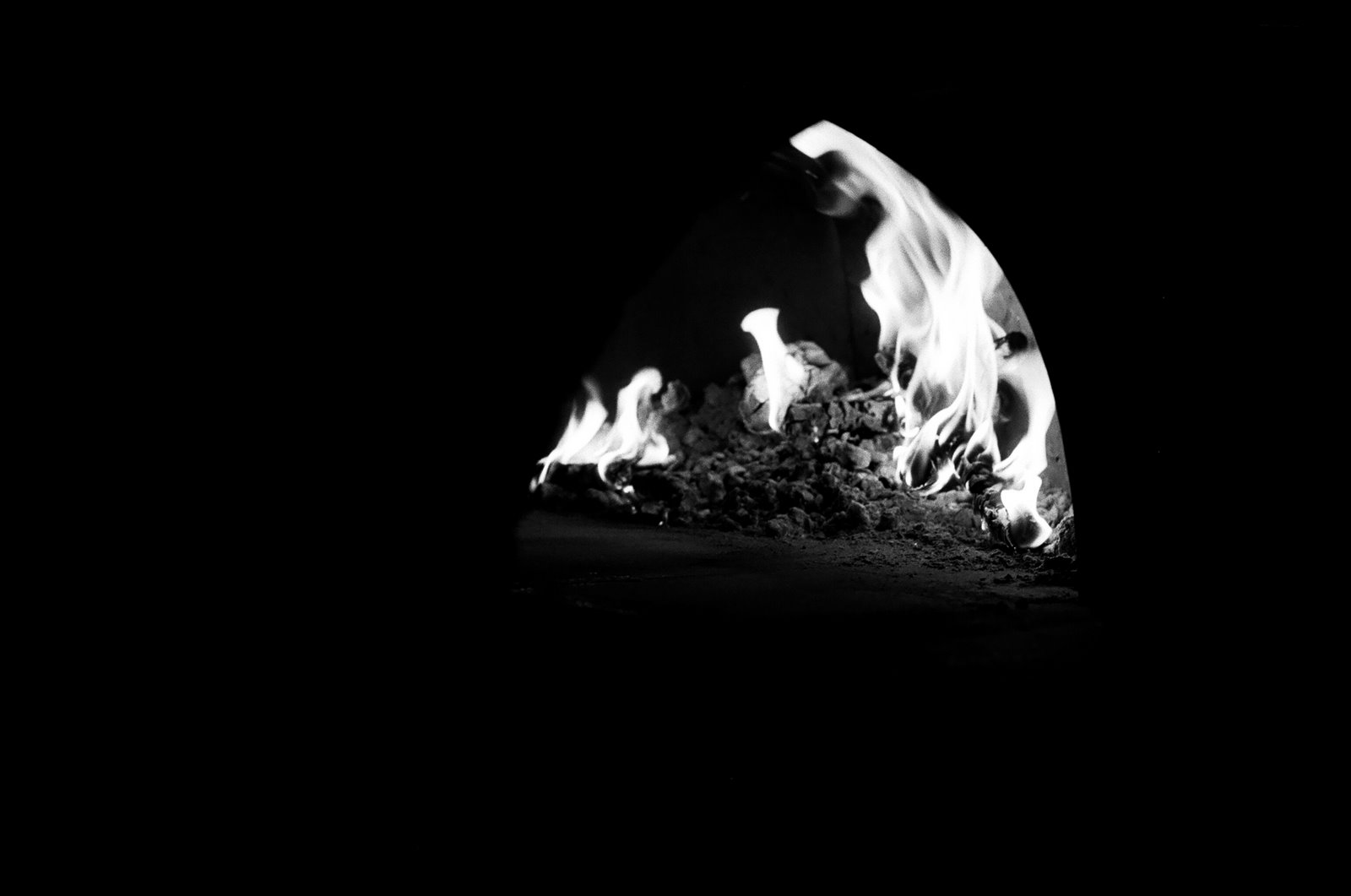 And sometimes Brandon fires up the oven, even though we're too distracted to make much from it. We fire it up anyway, and we make some pizzas, and we stare at the flames for a while, and I take some pictures, and then we go to sleep. And then we do it all again.