Today I planned to give you a recipe for a roasted eggplant salad. It was kind of an Italian riff on ratatouille, only minus the tomatoes and plus a dressing of roasted garlic, balsamic vinegar, red wine vinegar, and olive oil. I found the recipe a handful of years ago in one of my cookbooks, made it a couple of times, and loved it. I was thrilled when I thought of it again last week, because it's the perfect thing for late summer, when the market tables are piled high with shiny-skinned eggplants and peppers.
Unfortunately, however, when I made it this weekend, it was totally underwhelming. Actually, it was more than underwhelming: it bordered on painful. It was so aggressively vinegary that it singed my sinuses. It could probably be marketed, I think, as some sort of perverse aromatherapy – a new-age alternative, maybe, to smelling salts. I don't know what I was thinking when I made it before and ate it so happily, but on this go-round, my first thought was DEAR GOD, PLEASE SAVE MY MOUTH.
So, needless to say, I am not going to tell you any more about that today. And I am so sorry, because this means that I have no new recipe to give you this week. As I type this, I am sitting on the floor of the Amsterdam airport, en route to France(!) for my first travel writing assignment(!!). I will be there for the next week, eating and drinking and feverishly taking notes, pinching myself at regular intervals to make sure that I am not in fact sitting at my desk in Seattle, imagining the whole thing. I will also be hoping that my sinuses soon recover sufficiently that I can actually smell and taste again. That would be really nice.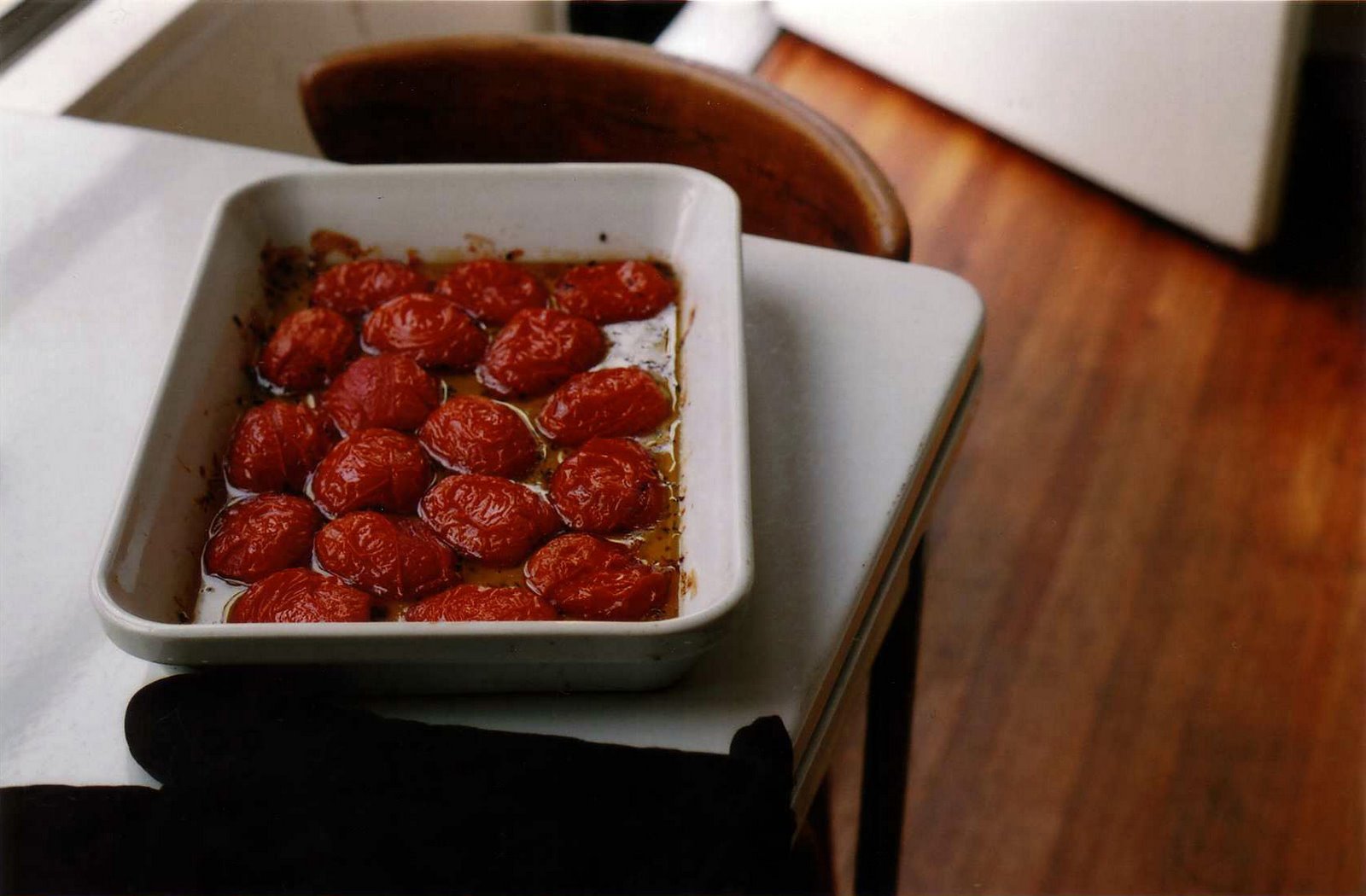 But before I go, I would like to quickly call your attention to something that may actually be even more perfect for late summer than that eggplant salad. It's not a new recipe, per se, but as these things go, it's only slightly used. It's the recipe for pomodori al forno that ran with my column in the September issue of Bon Appétit. I've been meaning to call it to your attention for a couple of weeks now, ever since the magazine came out, and I figure that now is as good a time as any. Yes? I hate leaving you empty-handed.
Pomodori al forno is an appetizer served at Café Lago, one of my favorite restaurants in Seattle, and is, as the name implies, a dish of oven-roasted tomatoes. But these are a very fine specimen of the genre. First, they are roasted long and slow with a bit of sugar and salt, dried oregano, and a good dose of olive oil. Then, when they are tender and a deep shade of scarlet, you transfer them to a bowl, layer them with lots of minced garlic and parsley, pour the (now tomato-infused) oil from the baking dish over the top, and let them marinate for a few hours. They wind up rich, concentrated, and sweetly pungent with garlic and herbs, and I have yet to meet a person who didn't find them completely, completely addictive. Especially when served with goat cheese and toasts. And especially right now, when we should all be eating tomatoes by the dozen, before winter comes and steals them away.
Happy September, everybody. See you very soon.