I know I'm not supposed to say this, but I think fall may be coming soon. Also, and I know I'm really not supposed to say this, but I baked banana bread again. I'm so sorry, on both counts.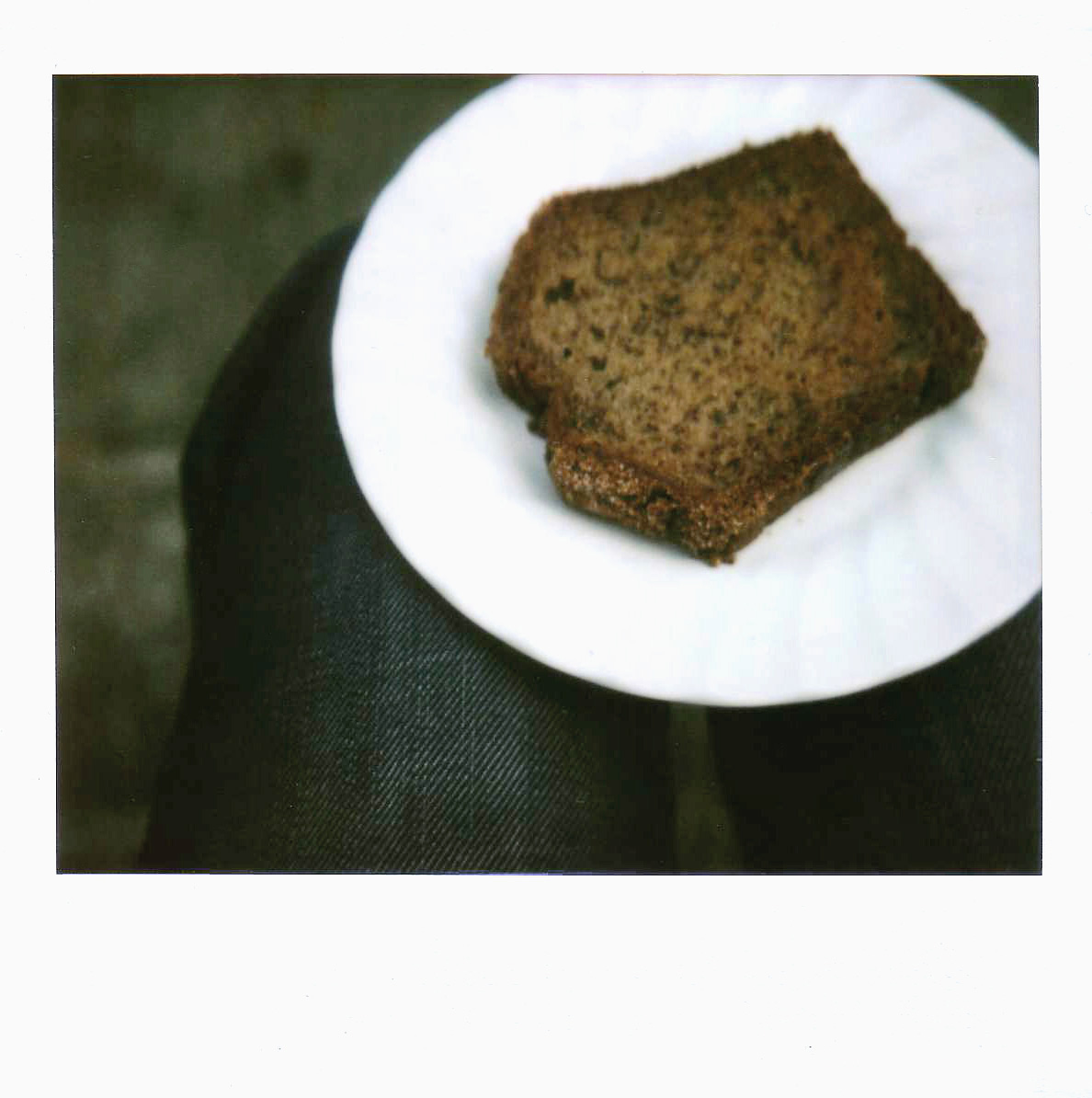 Clearly, I have a problem. If my count is correct, this is the sixth, SIXTH, banana bread and/or cake recipe that I have written about here. Is there some sort of treatment facility for this? A Betty Ford Center for Banana Bread Dependency? I try to stop myself, but I am weak. So weak. Especially when there is honey involved, and when there are crumbly bits of cinnamon sugar on top, and when some of those crumbly bits fall onto the plate and you can press them with the tip of your index finger so that they collect in a sweet, sticky clump, which you can then lift to your mouth and gently, nibblingly, consume. I am so weak about things like that.
It doesn't help that, as of sometime last week, the rain has arrived in Seattle. I'm sure that we have a few more sunny days in store before it hunkers down for good, but as I type this, I am wearing two layers and contemplating a pair of socks. I am told that I should complain about this – I do have a couple more picnics to squeeze in – but instead, I feel oddly content. I am almost afraid to say it aloud, but I think this might mean that I'm a Real Seattleite. I am heading into my seventh year here, so I guess it's about time? That, or I have finally started to forget what it was like to live in places that aren't overcast for eight months of the year? Either way, on Sunday afternoon, after lunch, when the clouds started to hover and a cold wind galloped in and rain pelted the kitchen windows, I lay down on the couch with Jack and took the best, most peaceful nap ever. I didn't even mind when I woke up a little chilled, with the pattern of the upholstery embossed onto my cheek. I think this is a clear sign of fall, don't you? Not to mention a big green light for banana bread, which, as everybody knows, is what people, and especially people named Molly, are supposed to eat when they wake up from a nap.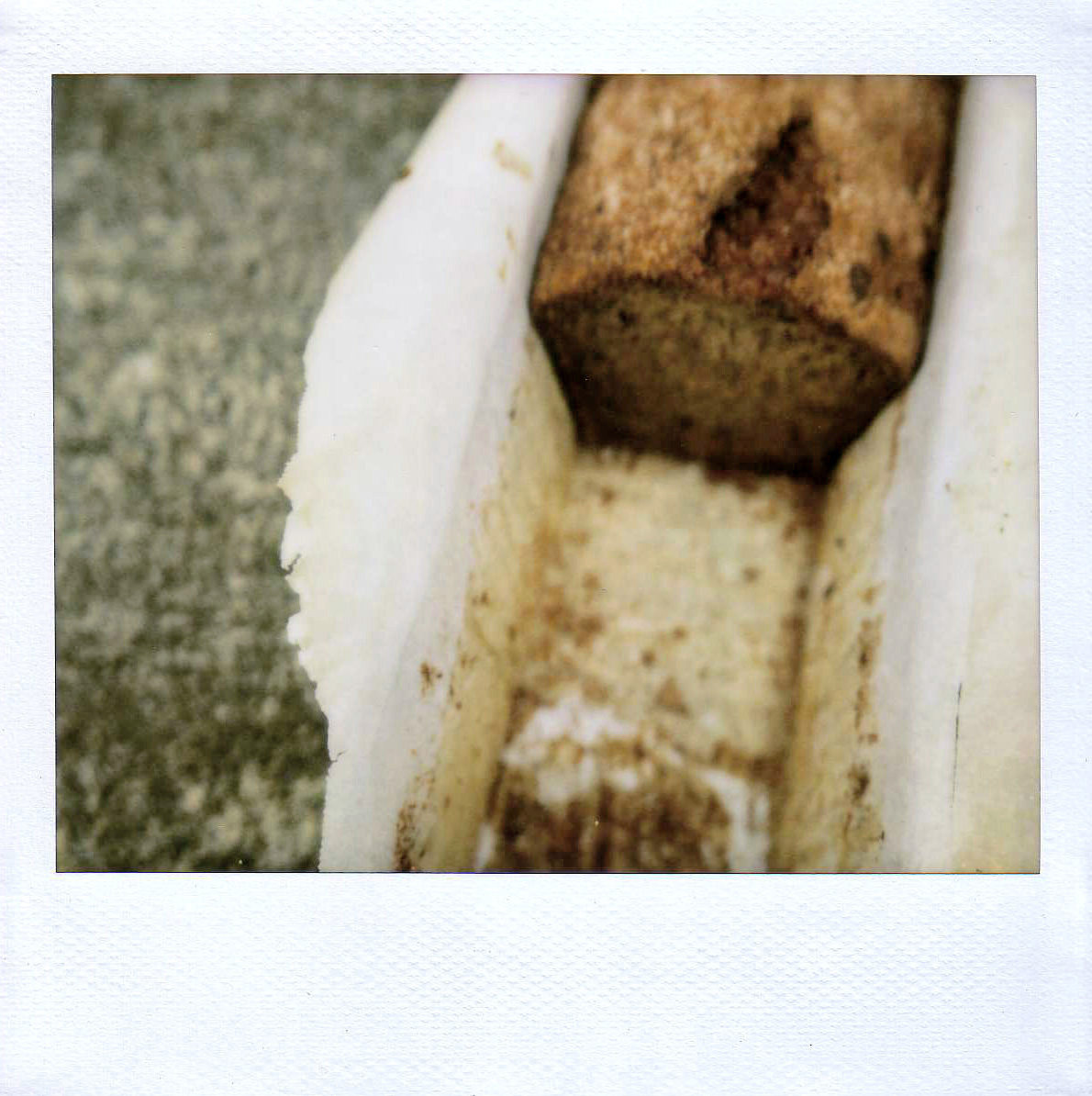 This particular recipe comes, with just a couple of adjustments, from a bakery in Oakland called Bakesale Betty, via the September issue of Bon Appétit. I stumbled upon it last Friday night, while I was trying to organize a teetering stack of magazines on the floor next to my desk before some friends arrived for dinner. Organizing magazines, I find, generally requires thumbing through them at least a little, no matter how rushed I am, and so it was that, on page 135, my eyes fell on the words BANANA BREAD WITH CINNAMON CRUMBLE TOPPING. You can well imagine the noisy chorus of bells this set ringing in my head. It was deafening, like finding yourself in a large, echoing cathedral while the organist is rehearsing. I could hardly keep up a conversation, what with that kind of din. Before the evening was through, I had retrieved three frozen bananas from the freezer – I always keep a stash around – and put them in the refrigerator to thaw. And on Saturday afternoon, I made banana bread.
The recipe isn't that different, really, from a classic banana bread, the kind that your mother or aunt or best friend's mother or whoever used to make. But it's an exceptionally delicate, tender take on the theme, with honey and cinnamon stirred into the batter to make it more interesting and – for the clincher – a generous layer of cinnamon sugar on top, which forms a craggly sort of crust as it bakes. I think it's my new favorite. In concept, it's not entirely unlike this recipe, only where that one is chewy and bread-like and bordering on hearty, this one is daintier and more balanced, closer to cake. That doesn't mean, of course, that you can't eat it for breakfast, because you can. (Brandon can vouch for that.) It does mean, however, that it's especially well-suited to the afternoon – to after-nap time, for example, on a weekend in late August. Of course, there's only one of those left, so if I were you, I might go ahead and preheat the oven now.
Recipe
Banana Bread with Cinnamon Crumble Topping
Adapted from Bakesale Betty and Bon Appétit, September 2008
For bread:
1 ½ cups all-purpose flour
1 cup sugar
1 tsp. ground cinnamon
1 tsp. baking soda
½ tsp. salt
1 cup mashed ripe banana (about 3 medium bananas)
2 large eggs
½ cup vegetable oil
¼ cup honey
¼ cup water
For topping:
2 Tbsp. sugar
1 tsp. ground cinnamon
2 ½ Tbsp. packed dark brown sugar
Preheat the oven to 350° F. Butter and flour a 9- x 5-inch metal loaf pan. (Alternatively, you can spray the pan lightly with cooking spray and then line it with parchment paper, letting the excess hang over the sides. That's what I did, and it made it very easy to remove the finished bread from the pan; I just grabbed the parchment and lifted. Also, because I don't have a 9- x 5-inch pan – and because an 8 ½- x 4 ½-inch is a little too small – I used a 10- x 3-inch pan that I found once at a flea market.)
In a medium bowl, whisk together the flour, sugar, cinnamon, baking soda, and salt. In a large bowl, whisk together the banana, eggs, oil, honey, and water. Add the dry ingredients to the wet ingredients, and stir well. Scrape the batter into the prepared pan.
In a small bowl, mix together the topping ingredients. Sprinkle them evenly over the batter.
Bake the bread until a tester inserted into its center comes out clean, about 1 hour, give or take a little. Cool the bread in the pan on a wire rack for 30 minutes. Then carefully remove the bread from the pan, taking care not to dislodge the topping. Cool completely before slicing.
Yield: 1 loaf