Before I begin, I feel that a warning of sorts is in order. I understand that some of you people, especially the ones on the East Coast, are having a heat wave? Is that right? Well, if so, you might consider clicking away right now, because what I am about to say will have almost no relevance for you. Sorry.
That said, here goes. Today, June 9, it is 49 degrees and raining. I woke up and turned on the heat, got out my green wool socks, and now I am eating baked pasta.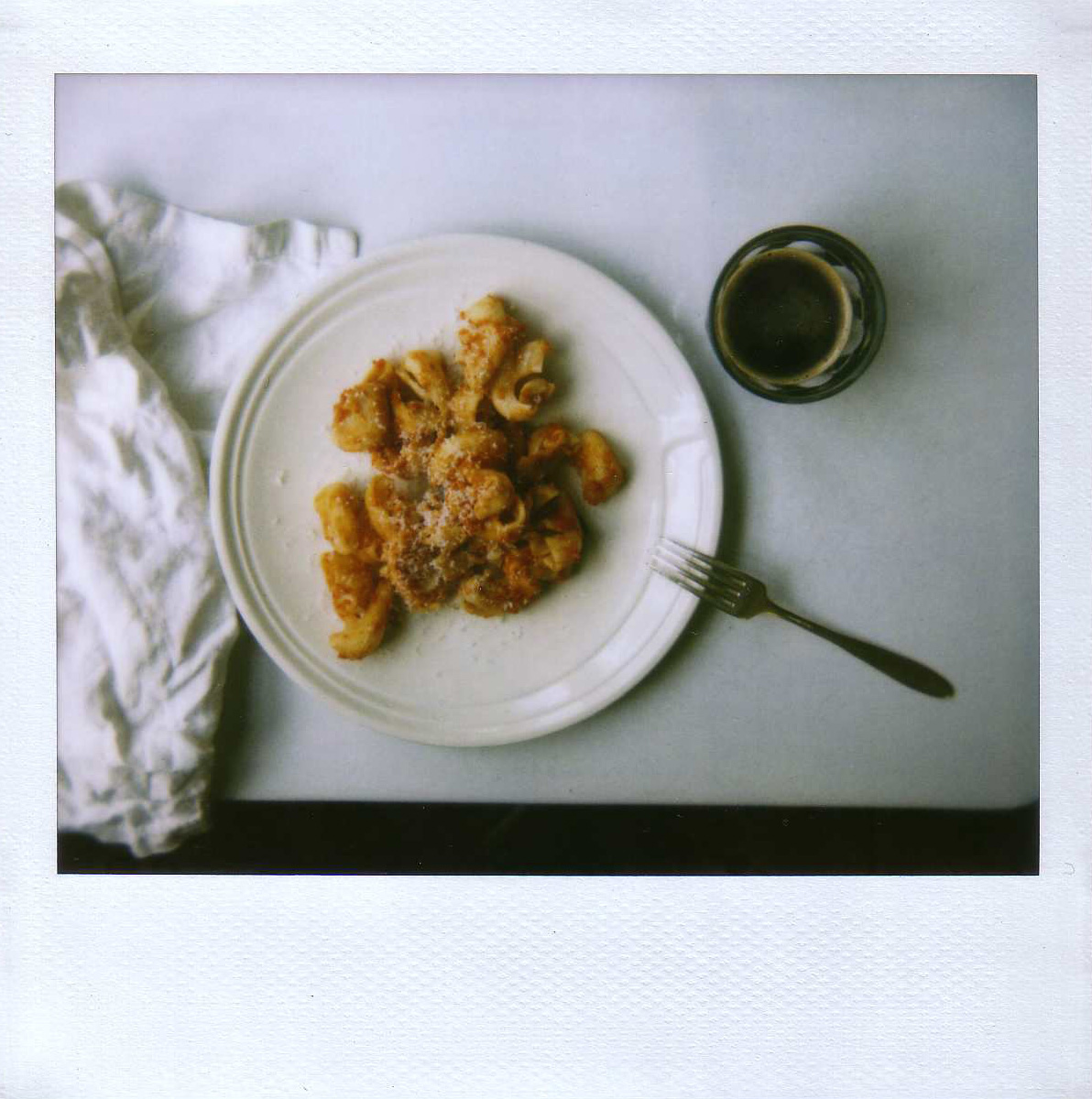 Anybody still there? I'm not even sure I am, and I'm the one writing this thing. But I can tell you this for certain: the pasta is very tasty. Even though, at this time of year, I usually prefer to eat popsicles and strawberry shortcake.
We're still on a Jamie Oliver kick around here. I think I'm in love. It doesn't hurt that thumbing through Jamie's Italy feels like sneaking, stowaway-style, into someone else's summer vacation, which is something I would very much like to do right now. But even more than that, Jamie makes everything – the simplest spaghetti in a pot, the plainest bowl of greens, the most basic combination of pasta and tomato sauce and mozzarella – feel like something worth shouting from the roofs about.
Take, for example, baked pasta. When I was in high school, the cafeteria sometimes served it. (This, of course, was on the days when they weren't serving creamed chipped beef, tuna noodle casserole, or turkey tetrazzini.) I don't think I ever even tasted it. I didn't see any need to. Baked pasta, for me, was Cafeteria Food, and that was that. But we have now made Jamie's recipe, or a riff on it, two times in the past two weeks, and if this weather keeps up, we might even make it again. Like I said, I think I'm in love.
Baked pasta is, by definition, nothing fancy. It's essentially just noodles with tomato sauce – which, in all fairness, you could technically eat on their own – layered in a pan with cheese and then baked. But there's something so special about the way the cheese melts and bubbles, oozing into crevices here and there, and there's also that lovely thing that happens to the top layer, the way it gets crispy and craggy, like the corner of a brownie. When baked pasta is good, it's very good. And Jamie's recipe is. It uses fresh mozzarella, for one thing, and a homemade tomato sauce, which – though it does splatter all over the stovetop and make a royal mess – is more than worth the trouble.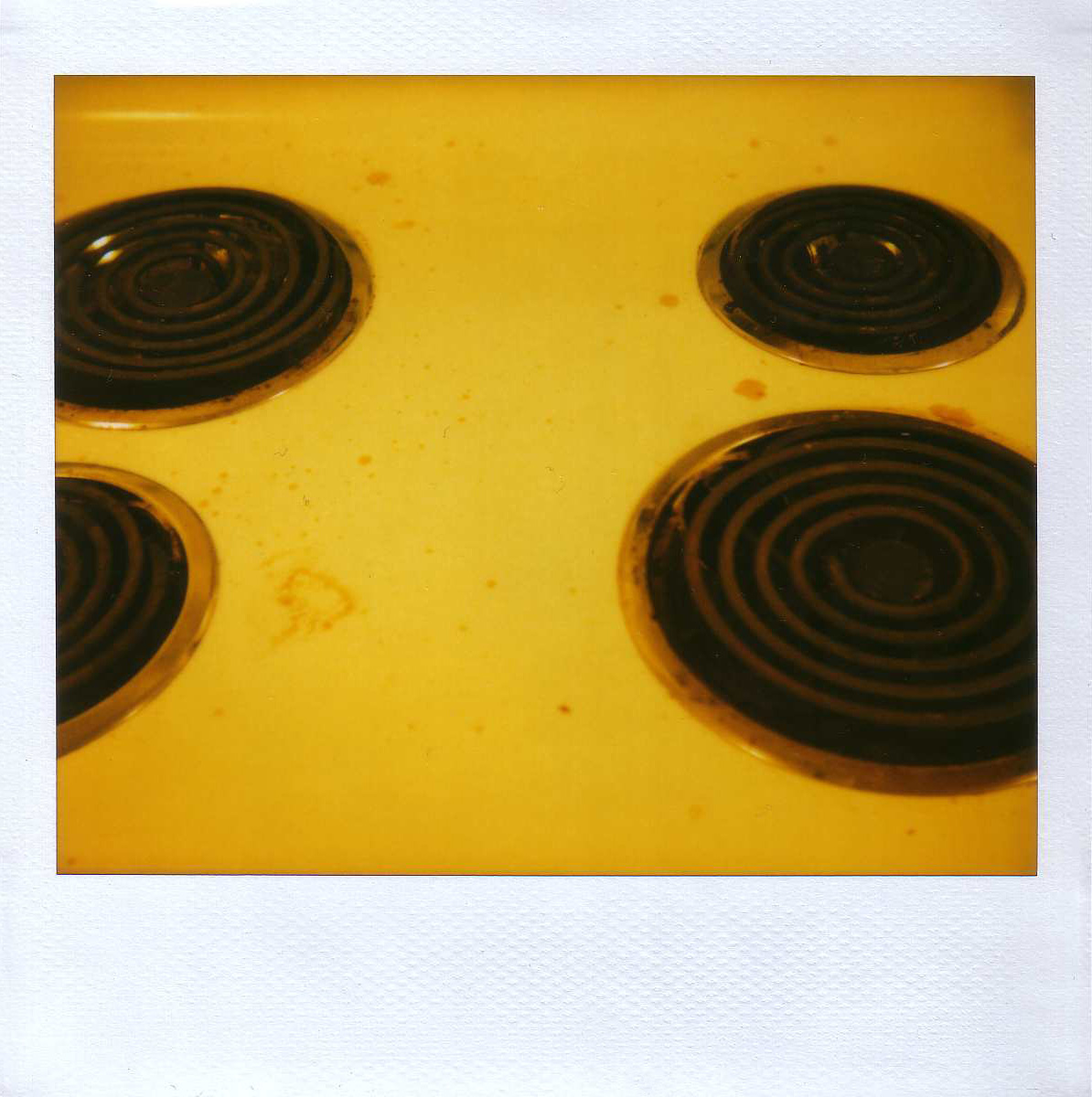 We first made it over Memorial Day weekend, and it gave us the most delicious leftovers. We hauled a Tupperware of it out to the Gorge that Monday, when we went to the Sasquatch Music Festival, and even at room temperature, with the smell of sunscreen and marijuana and stale beer hanging heavy on the air, it tasted absolutely terrific. If that isn't high praise, I don't know what is.
However, for as good as it was, we did find ourselves wishing, just a little bit, that we had used Marcella Hazan's tomato sauce instead. Jamie's recipe had quite a bit more onion than we usually like, which made the tomato flavor less pure and tomatoey, and anyway, once you have eaten what we now simply call "Marcella Hazan Sauce," or MHS, you have little patience for others. So this past Saturday night, we made baked pasta again, but this time, we used a double batch of MHS. We tweaked it just a little, cutting back on the butter and including some garlic and hot pepper flakes, and we upped the quantity of pasta too, so that we would have plenty of leftovers. The sauce takes a while to simmer, I have to admit, but while it does, you can take care of all sorts of important things, like opening a beer and playing some cards, or bitching about the next-door neighbor who dug a post hole for his new fence in the middle of your herb garden.
And then, when it's all done, you have not only dinner, but also lunches, delicious warm lunches, for at least a few days. And when you live in Seattle and it's early June, that means a lot.
Baked Pasta with Homemade Tomato Sauce and Fresh Mozzarella
Inspired by Jamie's Italy
We like to use chiocciole for this, but you could use almost any smallish pasta shape.
2 (28-oz.) cans whole peeled plum tomatoes
5 Tbsp. unsalted butter
1 large yellow onion, peeled and halved
4 cloves garlic, peeled and smashed
1 to 2 pinches red pepper flakes
Salt
Red wine vinegar
1 ½ lb. small pasta, such as orecchiette, chiocciole, rigatoni, or ziti
¼ to 1/3 lb. parmesan cheese, grated
3 (~4 oz. each) balls fresh mozzarella
Fresh basil leaves
Dump the tomatoes with their juices into a large saucepan. Add the butter, onion, garlic, red pepper flakes, and a couple pinches of salt. Place over medium heat, and cook, stirring occasionally, for 45 minutes. Remove and discard the onion halves. Using an immersion blender (or a food processor, if need be), blend the sauce until mostly smooth. Return it to the saucepan, and continue to simmer it over medium or medium-low heat for another 45 minutes or so, until it has thickened to the consistency of a usual tomato sauce. It's alright if it's a bit loose, but you want it to have a least a little body. Taste it for salt and acidity, and if needed, add a small splash of vinegar.
Preheat the oven to 400°F.
When the sauce is almost ready, cook the pasta – don't forget to generously salt the water! – to al dente. Drain it well, and toss it with half of the tomato sauce and a handful of the parmesan. Take out a large (at least 9" x 13," or preferably 10" x 15") baking pan. Put a layer of pasta in the pan, followed by some of the remaining tomato sauce, a handful of parmesan, some chunks of mozzarella, and a couple of torn-up basil leaves. Then repeat these layers until all the ingredients are gone, ending with a layer of cheese on top.
Bake for about 15 minutes, or until warm and bubbling. Then, if your baking dish is safe for the broiler, broil the top for a minute or two, until golden.
Serve hot or warm, or at room temperature. It gets even better, I think, after a day or two.
Yield: about 6 to 8 servings