It's very hard, let me tell you, to know where to begin. I guess it would be smart to start with Brussels, since that's where we went first, but then, you know, there's also Paris.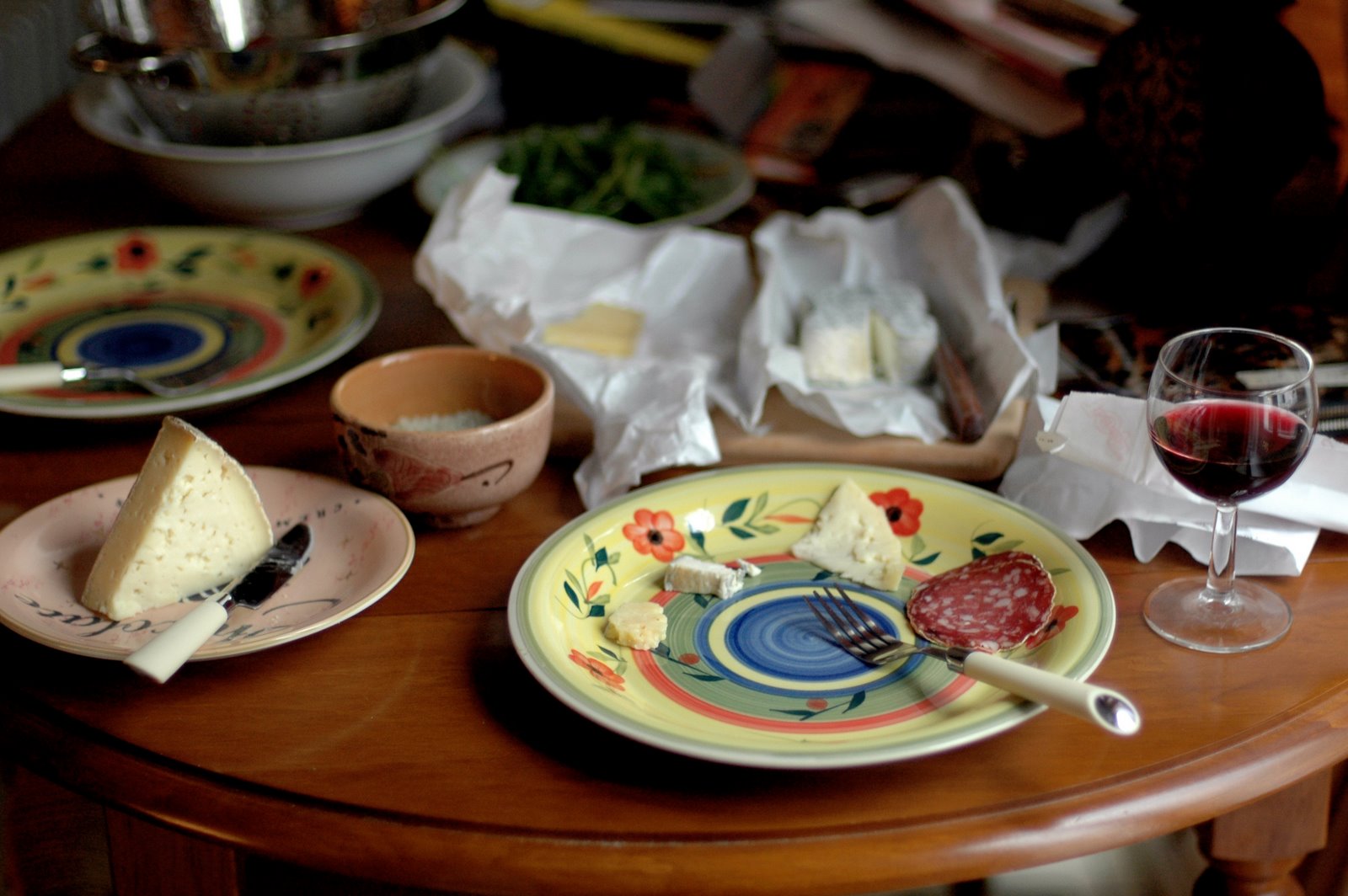 Sometimes when I write about Paris, I worry that I sound like a broken record. You know – saying the same thing over and over, the same thing I always say, the same thing everyone always says about that lovely, gray city. Sometimes I just want to sit quietly, just me and my thoughts, and not say a word. But I've never been much good at that, as you might guess. And though my feelings for Paris change a little every time I go back – they get more nuanced, I guess you could say, and a little harder to explain – it's always 100% love. It's hard to keep quiet about that.
For the most part, when I've been in Paris, I've been alone. As a college student there, I lived with a host family, but I spent most of my hours on my own, wandering the narrow streets, poking into bakeries and reading books in the park. Then, the year after college, when I worked in a French public high school, I lived in a tiny studio apartment with only a garden gnome for company. (My landlord had left him on the small terrace outside my window; his name, I was told, was Vincent.) Being in Paris with Brandon, a partner in crime, someone to chat with on street corners and slump against on the subway late at night, made it feel like a different city. Of course, I'd been in Paris with my mother, and with my dad too, but with Brandon, it was somehow entirely new. It felt strange at first, and awkward, like wearing a dress that's a size too small. But then I started to like it. And then I liked it even more.
For his part, Brandon had lived in Paris too, with a girlfriend – "My Predecessor," as I like to call her – for several months a few years ago. Like any foreigner who tries to make a home there, he had his share of pleasures and frustrations in the city, and he was nervous, in a way, about going back. That, in turn, made me nervous in all sorts of ways. But somewhere between the baguettes and radishes and bottles of wine, the crappy French TV shows I forced him to watch, the buttery sole meunière at Bistro Paul Bert and the buckwheat beer at Breizh Café, the flea market at Porte de Vanves and the falafel in the park, the musty apartment we rented and the reddish glow of the street lamp outside, we made it new. We ate, and we talked, and we walked. That's all we ever really want to do, anyway. That's what vacations are for. So we did it again the next day, and the day after that.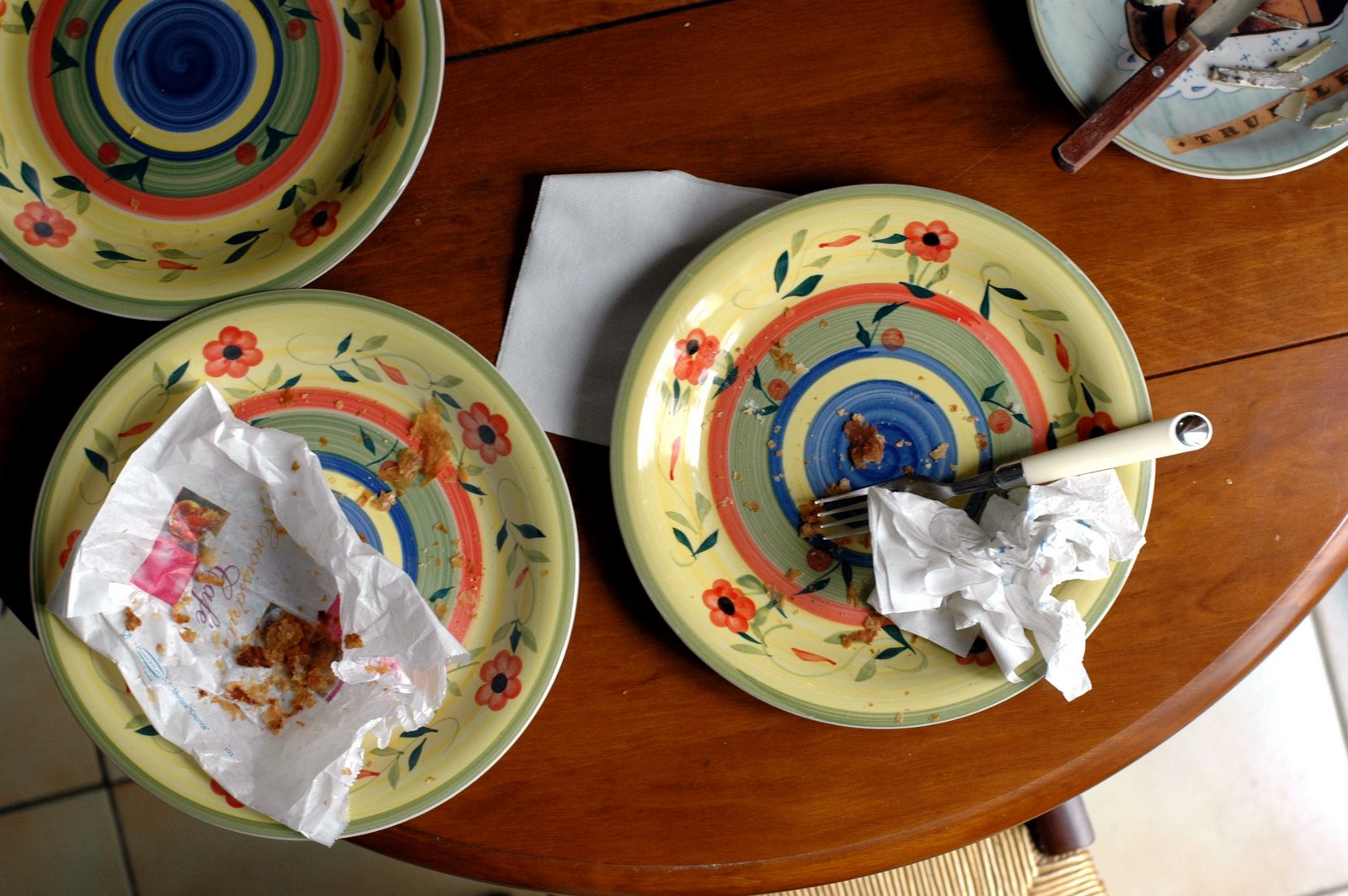 Before we left, I had mentioned here that Brandon and I had differing allegiances when it came to baguettes. His favorite baguette came from a boulangerie called Martin Marcel on rue Saint-Louis en l'île, the main drag on the Île Saint-Louis. My favorite baguette was from Au Levain du Marais, a boulangerie on rue de Turenne, not far from my old apartment. We were vehement in our respective loyalties. We were willing to duke it out, bare our teeth, do anything, really, to defend our baguettes. So a formal taste test was conducted. And as it turned out, we were both completely defeated – slayed, even – by an outsider, a baguette named Eric Kayser.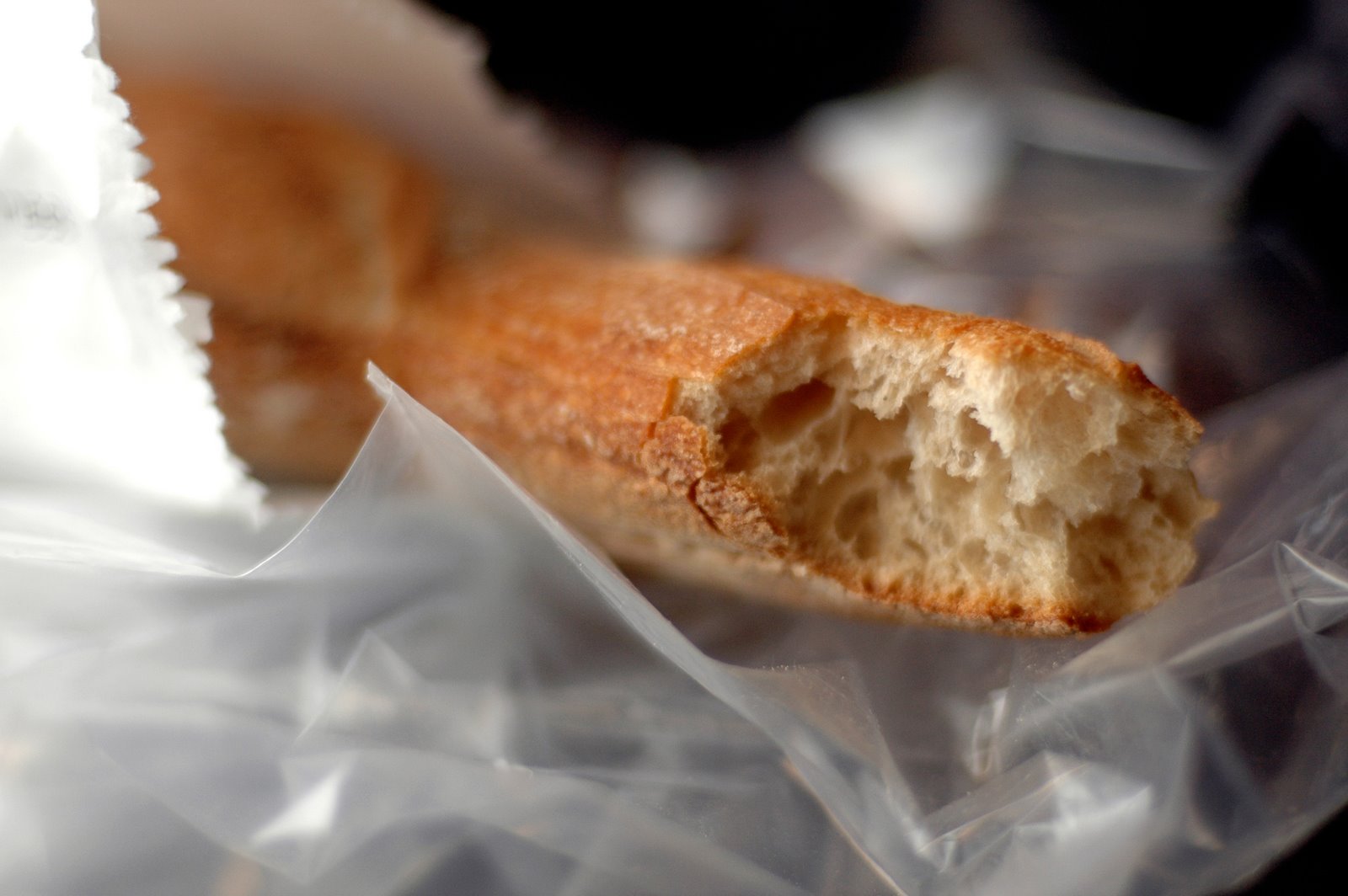 I had been hearing about Kayser for years – namely that he was the best bread baker ever – but I never gave him a try. I guess he just seemed too famous, somehow, or too beloved. I preferred to keep my cool distance. Oh, I don't know. I don't know what I was thinking, trying to deny him. I have learned my lesson.
I mean, don't get me wrong. There are many great bakers in Paris, and many great breads. We sampled specimens from l'Autre Boulange, Arnaud Delmontel (whose baguette was named the best in Paris in 2007), Jean-Luc Poujauran (now selling only wholesale, sadly), as well as our old beloved boulangeries, just to name a few. They were all delicious. Some were flawless. (Though not – sob! – the baguette from Au Levain du Marais. It was sort of boring, to tell you the truth. Quite tasty, but meh.) But the best baguette, hands down, fingers crossed, tongue tied, you name it, was to be had at Eric Kayser. The crust was thin and crisp; the crumb was chewy, freckled with shiny air bubbles, and perfectly salty; and when you tore off one pointy end – often still warm, fresh from the oven – and bit into it, it crackled in gleeful protest. (Which, I would argue, is what anything worthwhile, or anyone, for that matter, should do when bitten.) On the matter of the baguette, Brandon and I stand totally corrected.

And then, of course, there was the falafel. I am one of those people who has long maintained that L'As du Fallafel makes the very best in Paris. Or anywhere, for that matter. But Brandon insisted that his favorite falafel proprietor, Chez H'anna, just a few doors down the street from L'As, was far superior. Of course, this called for a taste-off. And while I really, really hate to lose, I have to tell you: Brandon was right.
I am pretty sure that some rabid L'As du Fallafel fans are going to come after me now, cursing and screaming and pelting me with bags of pita, but I am not afraid. I have eaten falafel at L'As more times than I care to count – I first went there in 1999 – and while it is very good, it seems to me that it just isn't what it used to be. The flavors of the various components – the cabbage salads, the hummus, the fried eggplant, the falafel itself – all taste a little muddled, and everything gets drowned under a heavy cloak of tahini sauce. At Chez H'anna, on the other hand, each component tastes fresh and distinct: even lumped together inside a single sandwich, each item still tastes like itself. Plus, in addition to the usual cabbage, they also throw in shredded carrots, cubed cucumber, and a lovely tomato-based sauce of sorts that tastes a bit like salsa, but with a Middle Eastern bent. (Also, don't forget to ask for hot sauce – sauce piquante – on top; it's delicious and, despite its name, not too spicy.) We took ours to a park around the corner and ate them in the sun, and Brandon got hot sauce all over his face, which, on the right person, is really kind of charming.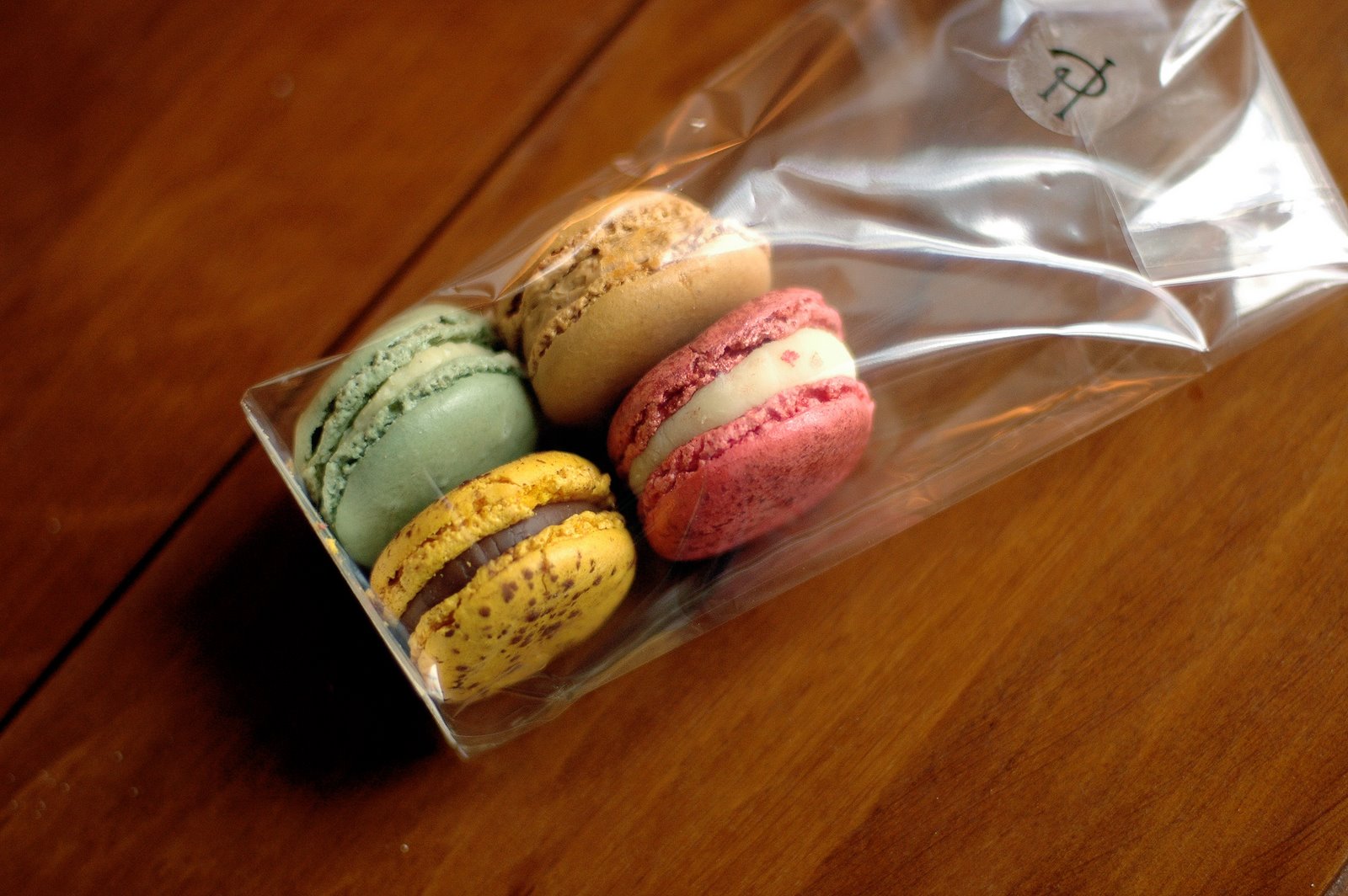 Now, I know this is running on a bit, and you probably have better things to attend to, like working or sleeping or eating ice cream on the couch, but before I leave Paris behind, I should also tell you about The Great Macaron Decision. I consider it a public service.
One of the first specialty pastries I ever tasted in Paris was the macaron. My host mother told me about them, I think, and advised me to go to Ladurée, the famous and very posh tea salon, to try the best ones in town. In the years since, I have eaten a lot of macarons, but none could equal Ladurée. But now, oh, I don't know what's happened. Brandon and I tried four mini macarons – praline, caramel, coffee, and pistachio – and all of them were totally, totally lackluster. They were too sweet, for one thing, and the flavors tasted somehow muted, the way voices sound when you're listening through a wall. We only finished them because the mangled, uneaten bits on the plate looked too sad to leave there. I guess I should have expected as much – I had been warned – but still, I was surprised. Even when I tasted them with my mother last spring, they seemed more interesting somehow. So sad.
But! On the bright side, I can quite confidently tell you that in my personal address book, Pierre Hermé is now the name that sits beside the heading "Best Macaron." It's decided. His – pictured above in olive oil, caramel, passion fruit with milk chocolate, and Ispahan – are what every macaron should be. The meringue cookies were crisp, light, and slightly chewy inside; the fillings were smooth, airy, and rich with flavor; and put together in a single mouthful, they tasted impossibly vibrant, a flavor and texture that made me think of fireworks and symphonies and first love and all sorts of other analogies that make me feel like gagging a little. Suffice it to say that they were very, very good.

I could go on and on, but I guess I should leave it there. That's enough about Paris, I think. But before I bring this to a close, I have to tell you about one more thing.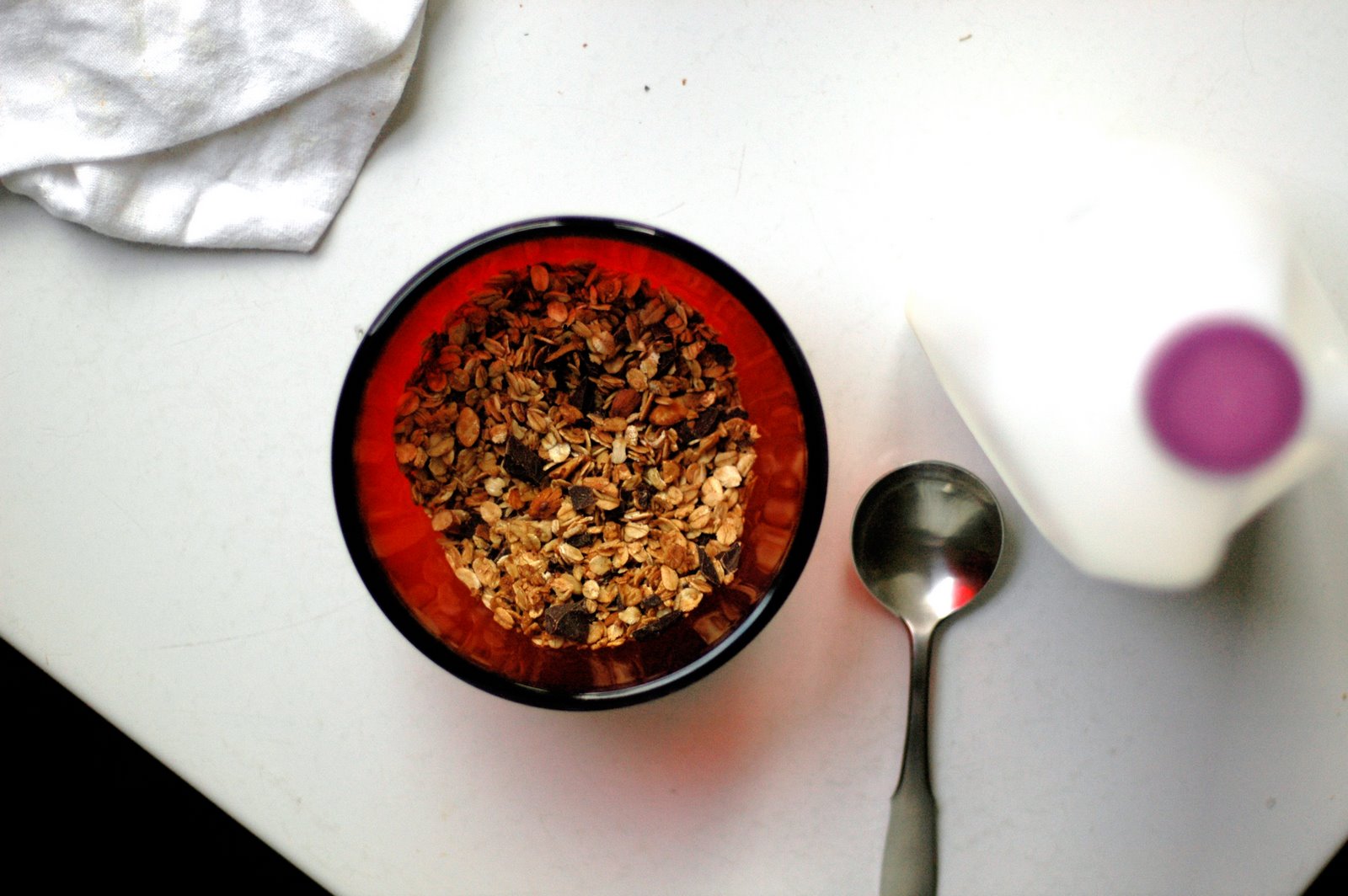 When Brandon lived in Paris, his favorite breakfast was a particular brand of granola – the cheap Franprix / Leader Price brand – flecked with bits of chocolate. On our first morning in town, he went out immediately in search of some. I was skeptical. Chocolate at breakfast has always seemed wrong to me somehow. It seemed too decadent and lusty, entirely out of place, like watching a sex scene on television when your parents are in the room. But I have now spent eight mornings eating chocolate granola for breakfast, and I have concluded – with all due gratitude to Brandon, my personal granola pusher – that chocolate is, once and for all, perfectly acceptable at any time of day. I had been a doubter for so many years, but now, good lord, I get it. And I think this revelation might, quite possibly, be the cosmic purpose of our marriage.
Chocolate granola took some getting used to, I will admit – that stuff is sweet – but doused in 2% milk, it went down more than easy. Brandon noticed that his usual brand seems to have revised its formula – it isn't as good as it used to be, he tells me – but still, it was damn fine. (The Monoprix brand, however, was a little better. (Yes, we tried both.)) We ate it every single morning, and when it was gone, we stared mournfully at the box.
And a few days ago, once the jet lag had subsided, I decided to try to recreate it. Now, I know it was only a few weeks ago that I was telling you about my usual granola, so you probably aren't exactly itching for another one, but I hope you'll pardon me. It's entirely worth it, I promise. This recipe is a keeper. And I figure everybody needs a couple of granola recipes up their sleeve, am I right? I mean, hell, breakfast happens every day. You might as well be prepared for it.
Happy week, friends.
French Chocolate Granola
I guess it's a little unfair to call this granola "French," since you can buy something similar in Belgium too – and probably, for that matter, pretty much anywhere. Besides, the concept of granola seems pretty all-American, no matter how you tweak it. But because I first had chocolate granola in France, French it'll be. So there.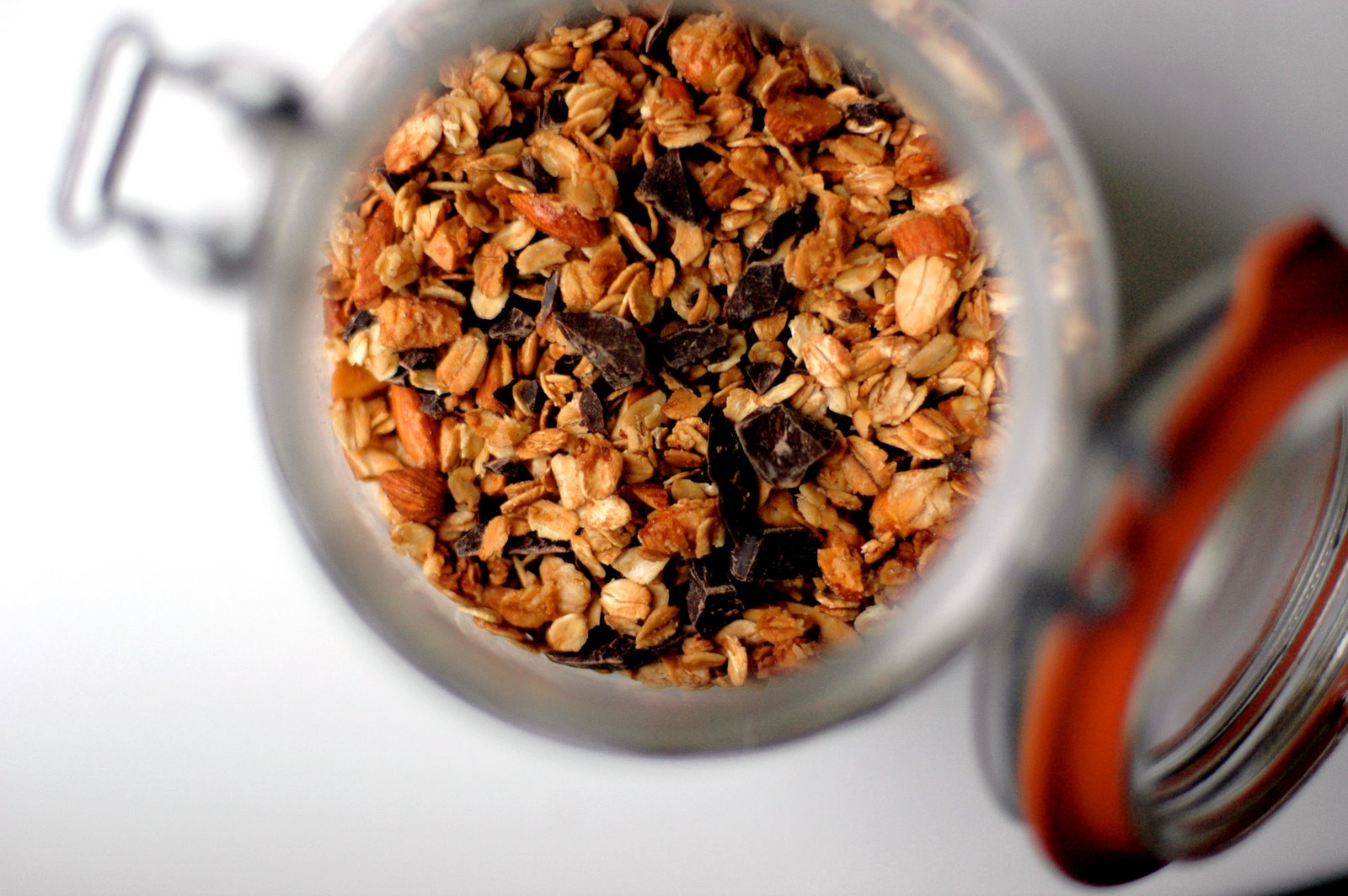 This granola is essentially a very good basic recipe – inspired by the Honey Crunch Granola in David Lebovitz's ice cream book – that's been tweaked to boost the sweetness ever so slightly, and to include chocolate. It's quite different from the commercial granola we ate in Paris – much less sugary, for one, and without any ingredients with scary names – but its flavor pushes all the right buttons. It's toasty, a little sophisticated, and way better, if I may say so, than the specimen that inspired it. We can't keep our hands out of the jar.
For the chocolate, you'll want something that's bittersweet, but not too bittersweet. I think Trader Joe's bittersweet Pound Plus bar – the big one with the brown wrapper – has the perfect flavor for this recipe: dark, yet still slightly sweet. (The back of the package says that it has a minimum of 54% cocoa solids.) Whatever you use, feel free to chop it to your desired size. I like mine finely chopped, as indicated below, in bits roughly the size of a pencil eraser. But you could go larger or smaller, if you like.
Oh, and consider doubling this recipe. Really. We're plowing through it over here.
3 cups rolled oats
½ cup raw almonds, chopped
½ cup unsweetened shredded coconut
2 Tbsp. granulated sugar
Pinch of salt
6 Tbsp. mild honey
2 Tbsp. vegetable oil
½ cup, or more, finely chopped bittersweet chocolate (see above)
Preheat the oven to 300°F.
In a large bowl, combine the oats, almonds, coconut, sugar, and salt. Stir well to blend.
In a small saucepan, warm the honey and oil over low heat, whisking occasionally – watch out! the oil will want to splash – until the honey is loose. Pour over the dry ingredients, and stir to combine well.
Spread the mixture evenly on a rimmed baking sheet. Bake for about 20 minutes, or until golden. Set a timer to go off halfway through the baking time, so that you can give the granola a good stir; this helps it to cook evenly. When it's ready, remove the pan from the oven, stir well – this will keep it from cooling into a hard, solid sheet – and cool completely.
When cool, transfer the granola to a large bowl, storage jar, or zipper-lock plastic bag. Add the chocolate, and stir (or shake, if using a jar or bag) to mix.
Store in an airtight container. Serve with plain milk; soy milk and plain yogurt overwhelm the chocolate flavor.
Yield: about 5 cups
***
Addresses
Chez H'anna
54, rue des Rosiers; 4th arrondissement
Métro: St.-Paul
Closed Monday
Eric Kayser
8, rue Monge; 5th arrondissement (main shop; there are others elsewhere)
Métro: Maubert-Mutualité
Closed Tuesday
Pierre Hermé
72, rue Bonaparte; 6th arrondissement
Métro: St.-Germain-des-Prés
Open 7 days a week, I believe
Not mentioned here, but also recommended
Fromagerie Quatrehomme
Exceptional cheese shop; prepare to be overwhelmed
62, rue de Sèvres; 7th arrondissement
Métro: Vaneau
Closed Sunday and Monday
La Cave à Bulles
A small shop specializing in artisanal French beers; very helpful service
45, rue Quincampoix; 4th arrondissement
Métro: Rambuteau
Closed Sunday and Monday
La Campanella
Shop carrying mostly Italian goods, but don't miss the Brittany honey (miel de la côte des Légendes); also, the shop's owner is a gem
36 bis rue de Dunkerque; 10th arrondissement
Métro: Gare du Nord
And for more, see this older post. And Clotilde's forthcoming book, of which I've had a sneak peek. It's terrific.