I hate to say it, but I had an awfully hard time getting here today. It's not that I didn't want to stop by and say hello; I like you guys too much for that. It's just that it's been way too pretty lately to be sitting inside at the computer. As I type this, the front door is open wide and an enormous, gauzy swatch of sunlight has stretched itself along the wall. Yesterday afternoon, when the light was glowy and golden, we rented a rowboat and paddled out onto Lake Union. Then we just sat there for a while, oars up, admiring the white-bellied yachts with frilly names like Princess and Dream Catcher, and let the current pull us slowly back to shore. That's all I ever want to do, really. Just sit in a rowboat all day, maybe with a blanket for extra warmth, and a large thermos of hot chocolate, and let the waves teeter-totter me around. I'm not sure where Rainy Old February has gone, but I hope it stays there for a little while longer. Until tomorrow, at least.
But hm, now that I'm here, I guess I might as well make the most of it. The sun is already starting to dim – that thing is so damn fickle – and anyway, it would be a shame not to tell you about this recipe. It's been kicking around my files for a few years now, since I first found it and fell in love, and in the past ten days alone, we've made it not once, but twice. A rowboat it ain't, but it does have the distinct advantage of being edible. (How's that for a sell job? Impressive, no? In my next life, I'm going to be a car salesman.)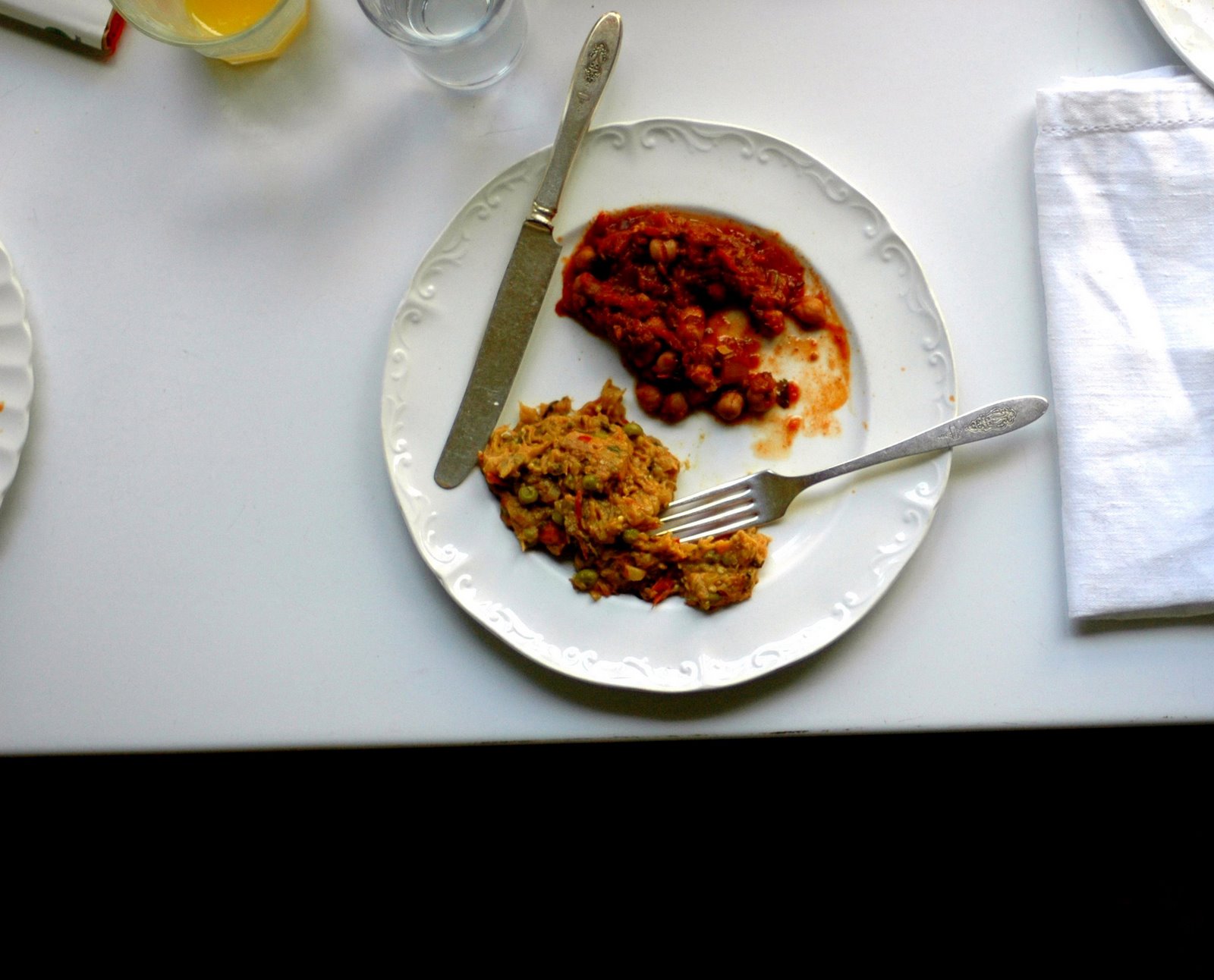 The dish in question is adapted from something I found in Food & Wine in early 2005, an Indian-spiced mash of eggplant, tomato, and peas, smoothed with a swirl of yogurt. I stumbled upon the recipe while visiting my mother in Oklahoma – she always has a stack of food magazines on the coffee table, and sometimes underneath it too – and I packed it in my suitcase and brought it back to Seattle. I was living alone at the time, and it was one of those dishes I could make on a Sunday night and eat from all week, with a piece of roasted chicken or a fried egg. It was warming and fragrant and a little exotic, and each day, while other leftovers went limp and stale, it only got better. I made it over and over again.
But then Brandon came along, and by the by, I got kind of distracted, what with all the cross-country swooning and then moving in and then marriage and so on, and I forgot about it, to tell you the truth. Sort of like I forgot about eating fresh ricotta straight from the container, or cottage cheese on baked potatoes, or watching The Cosby Show while I cooked dinner, other staples of my single days. So sad. I tear up a little just thinking of it. Except maybe the cottage cheese part.
But a couple of Sundays ago, we were playing around with Brandon's recipe for chana masala, retesting it for the book – you didn't think I could leave it out, did you? – and we needed a vegetable to eat with it, to round out the meal. Suddenly, I remembered my old favorite eggplant. It was just the thing. And so long as you don't mind a little chopping – an onion, some garlic, a chile, some fresh ginger – it's really quite easy. The eggplant gets roasted whole in a hot, hot oven, until the flesh inside yields like an old pillow. Then you scrape it out, mash it, and stir it into a skillet with a few aromatics, tomatoes, and frozen peas. To finish, it gets a good dose of chopped cilantro and a scoop of whole-milk yogurt, which rounds out the flavors and unites the whole mess – because it does look like a mess; I'm warning you – into a cohesive, softly spiced mash. We ate it with our chana masala and some flatbread, and it was so good that we had to make the whole meal again last Wednesday. My mother was in town for a visit, and she scraped her plate clean like a champ. Then she asked for the recipe. I gave it to her, but I forgot to tell her that I tore it out of one of her magazines. (Sorry, Mom. If you wondered where that page went, now you know. And thank you for my new flats! I'm wearing them today.)
I'm feeling so smitten, actually, with my old eggplant standby that I'm already thinking about making it again. Redundancy has never bothered me much, you know. I embrace my inner bore. Anyway, I'm sure February will be back soon, with all its usual huff and puff and bluster. My rowboat fantasies will no doubt wither under a raincloud within the next few days. But then, there's always dinner to dream about.
Spiced Eggplant with Peas and Yogurt
Adapted from Food & Wine, March 2005
When choosing eggplant, be sure to look for firm, shiny specimens, with skin that looks like patent leather. To try to get ones with the fewest seeds possible – the seeds can lead to bitterness – you might check the small spot on the blossom end, the end opposite the stem. From what I've heard, eggplants with a dimple or indentation on the blossom end can tend to have more seeds, whereas the ones with a flatter (or more outwardly pointed) end tend to have fewer. I have also found that the heavier and rounder an eggplant is, the more seeds it tends to have. But if you get one that tastes bitter, don't sweat it: just try adding extra garam masala or some good curry powder (and even a pinch of sugar) while cooking, to sweeten and deepen its flavor.
Also, since tomatoes aren't so great right now, consider using cherry tomatoes instead of the three standard-size ones called for below. Cherry tomatoes tend to be tastier in the winter than their full-size cousins. You'll want about a scant pint of cherry tomatoes for this.
3 large eggplants (about 3 ½ lb.)
2 Tbsp. olive oil
1 tsp. cumin seeds
1 medium yellow onion, finely chopped
1 small jalapeño, seeded (or not) and finely chopped
2 garlic cloves, finely chopped
1 ½ Tbsp. minced fresh ginger
¼ tsp. red pepper flakes
3 medium tomatoes, finely chopped
½ tsp. paprika
¼ tsp. turmeric
1 cup frozen peas, thawed
¾ cup chopped cilantro
1/3 – ½ cup whole-milk plain yogurt
Salt, to taste
Garam masala, for serving
Preheat the oven to 500° F. Put the eggplants on a rimmed baking sheet, and pierce them all over with a paring knife. Bake for about 1 hour, or until the skins are blackened and the flesh feels very soft when pressed. Set aside to cool slightly. Then slice them open lengthwise and, using a spoon, scrape the flesh from the skin onto a large bowl. Using a potato masher or a large fork, mash the flesh coarsely. (This part can be done a day or so ahead, if you like. Refrigerate the prepared eggplant in a covered container.)
Heat the oil over medium-high heat in a large (12") skillet. Add the cumin seeds and cook until they begin to sizzle and pop, about 10 seconds. Add the onion, and cook, stirring occasionally, until it is soft and beginning to brown, about 5-10 minutes. Add the jalapeño, garlic, ginger, and red pepper flakes, and cook, stirring constantly, for 2 minutes. Add the tomatoes, and stir well. Cook until all the liquid has evaporated, about 10 minutes. Add the paprika and turmeric, and cook, stirring, for another 2-3 minutes. Add the eggplant, stir to combine, and cook over low heat for 10 minutes. Add the peas, and cook to warm through. Reduce the heat to low, and stir in the cilantro, yogurt, and salt.
Serve hot or warm, sprinkled with garam masala.
Note: This dish gets better with age. I like it just fine the first day, but by the second day, it's even better.
Yield: 6 servings